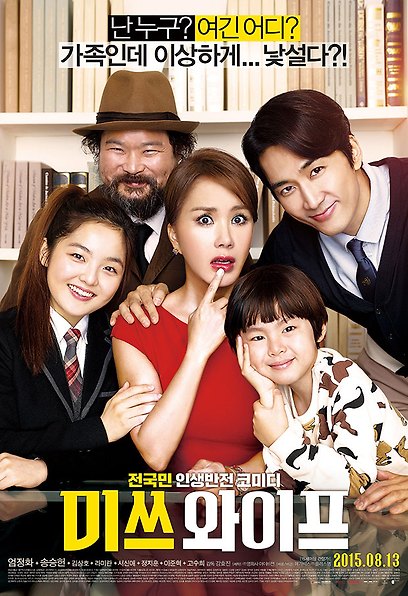 Wonderful Nightmare, 2015
release

2015.08.13
genre

comedy
country

Korea
ranking

Audience over 15
running time

125 minutes
grade

8.4
cumulative audience

988451 people
Synopsis
'Lee Yeon-woo', a single lawyer with a 100% win rate
Ahead of the announcement of the New York headquarters, Yeon-woo (Uhm Jung-hwa) has a sudden car accident. A mysterious man named Sojang Lee (Kim Sang-ho) appears before Yeon-woo, who is in danger of life and death, and offers to return him to his original life if he lives with someone else for a month.
However, after accepting the offer, what came to her was the war-like daily life of an overly caring husband and an aunt with two children! Yeon-woo falls into a panic due to a life reversal like a clear attack, and her husband Seong-hwan (Song Seung-heon) and children start to panic because of their wife and mother who have changed without even knowing English… !
In just one month, her reverse life, which must be completely hidden, begins!
[ About Movie ]
'Miss' until yesterday, 'Wife' from today
With a pleasant, cool smile and a touching emotion
Captivating Korea this summer!
The movie <Miss Wife> is a film about a happy life reversal that occurs when a successful single lawyer, 'Yeon-woo', becomes an aunt with her husband and two children for a month due to an accidental accident. Yeon-woo, a career woman who only wishes for success in life, and believes that both love and marriage are futile. <Miss Wife> depicts the story that happens when Yeon-woo, who has no regrets as a single person and is at his best as a lawyer, turns his life 180 degrees into someone's wife and mother in one day, with a light touch and pleasant humor.
For the first time in her life, she meets her husband and two children, from morning to go to work and school, and when she is caught up in a storm with local women, and when it is time to prepare dinner, Yeon-woo's appearance in a panicked single life until yesterday was a splendid single life. It contrasts with and doubles the laughter. In particular, she looks like an ordinary woman on the outside, but on the inside she still can't throw away the attributes of a single lawyer. The family is also portrayed in shock at the mother's 180-degree change from usual, adding to the dramatic fun. The time given to Yeonwoo, who must never reveal her identity, is 'only one month'. The change of Yeonwoo, who realizes what 'becoming a family' is among those who are born for the first time, is similar to the appearance of us that we can feel in everyday life, providing a wide range of sympathy and emotion. <Miss Wife> is the only comedy that will captivate the audience this summer, with pleasant laughter and touching emotions following <Suspicious Woman> and <Dancing Queen>.
An Ajumma who is not an Ajumma?! 'Yeonwoo'
Her needlessly handsome husband, her deep children and neighbors!
An ensemble of characters full of reversal charm and humanity!
<Miss Wife> evokes richer fun and empathy with the special reversal charm and overflowing human beauty of the characters surrounding her, including 'Yeon-woo', whose life was changed in an instant. 'Yeon-woo' is an ajumma, not an ajumma, who consistently rejects the reality of becoming an ajumma and causes accidents without letting go of past habits. In the process of turning a single woman into someone's wife and mother, and even in the midst of her life changing, she does not lose to an unreasonable situation as she speaks as a lawyer and does everything she has to say.
On the other hand, the husband 'Sung-hwan', a ward official, the eldest daughter 'Haneul' in middle school, and 'Haru', the youngest in kindergarten, stimulate sympathy with the appearance of ordinary family members that we can see next to us. Here, the one-sided love that 'Seong-Hwan', who is unnecessarily handsome and openly cares about his wife's changes, does not lose faith until the end, brings laughter in conjunction with the ironic situation, and his tone and actions are rough, but he is still worried. The teenage daughter who wants to share with Eun's mother and the youngest son who gives me menopausal medicine every day because she is worried about her strange mother, conveys a heartwarming smile with a loving heart. Also, 'Sojang Lee', who suggests to 'Yeon-woo' to live someone else's life and advises not to reveal his identity, shows a human charm behind the mysterious atmosphere. 'Miseon', a neighbor of 'Yeon-woo', who breathes life into the play, shows the essence of 'Jumma's charm' as a friendly and friendly person who worries about a friend who makes mistakes as if he is joking with Pinzan. As such, the reversal charm and sympathetic episode released by various characters such as 'Yeon-woo', her family, and neighbors will amplify the emotion and fun of <Miss Wife>.
The charm of the eight colors that traverse the screen, CRT, and stage!
<Dancing Queen> Comedy Queen Captivated 4 Million Audiences
Uhm Jung-hwa returns with 'Miss Wife'!
Actress Uhm Jung-hwa, who overwhelms screens and CRTs with a new transformation in each work, acting with all her heart, and a strong presence, returns as an all-time reversal of characters through <Miss Wife>. Uhm Jung-hwa, who has shown charm and excellent acting in a variety of genres, from melodrama, drama, thriller, to comedy. After mobilizing 10 million viewers with the movie <Haeundae>, Uhm Jung-Hwa, who solidified her position as a top actress through <Princess Aurora> and <Bestseller>, received the Grand Bell Awards Best Actress Award and Baeksang Arts Awards Best Actress Award with <Montage> and <Dancing Queen>. By winning the award, she has established herself as a leading actress in the Korean film industry, both in name and reality. In particular, through <Dancing Queen>, Uhm Jung-hwa became a comedy queen by mobilizing 4.05 million viewers by perfectly digesting the double life of a Seoul mayor's wife and a gorgeous singer. The actress who best expresses daily dramas and emotions, the owner of a friendly charm loved by all audiences of all ages and genders, and actress Uhm Jung-hwa, who believes in and sees every work, has a unique pleasant charm and sympathetic acting through <Miss Wife>. will be presented
Uhm Jung-hwa expressed special feelings about acting as 'Yeon-woo' in <Miss Wife>, saying, "I was fascinated by the way a woman who was locked in a wall of success felt unexpectedly moved through her family and broke down the wall of her heart and changed." He continued, "It was a time to experience emotions that a single woman could not feel, and it was a good opportunity as an actor because, while filming the movie, Yeonwoo's emotions felt like my own." showed affection. Uhm Jung-hwa, who not only doubled the charm of the character based on a special empathy for the work and the character, but also led the play with excellent acting that naturally goes back and forth between comedy and drama. Chungmuro's representative actress Uhm Jung-hwa's potential and delightful charm will become a special viewing point not to be missed in <Miss Wife>.
Korea's representative attractive man who captivated women's hearts
Take off the charismatic real man and turn your wife into a foolish lover!
Song Seung-heon, Sotal-Neungcheong-Empathy's reversal charm radiates!
Song Seung-heon, who drew attention for his outstanding performance in his previous work <Human Addiction>, after collecting topics with his charming appearance and charismatic character through CRT and screen. Song Seung-heon, who has mainly played masculine and serious characters in the previous work, takes on the role of 'Sung-hwan', a homely and caring husband, through <Miss Wife>, showing a new charm as a friendly character that sympathizes with. Seong-hwan, a caring wife who only knows his wife, and a sincere ward official, is truly a perfect husband. However, she is deeply troubled by the sudden change of her wife, who refuses to even approach her, let alone touch her, and doesn't even like her good looks. Nevertheless, Song Seung-heon, who plays 'Seong-hwan', who trusts his wife at every moment and shows endless affection, will deliver a new impression with his familiar father and husband's sympathetic daily acting.
"It's ridiculous, but he's a pure man who loves his wife, and he's an ordinary person we can easily see around us. As the most common and comical character I have ever played, I wanted to break the image and frame of the existing actor Song Seung-heon." In order to transform into a comical and friendly character that has never been shown before, Song Seung-heon spared no effort, such as planning and preparing detailed settings from the habits of the character whose lover is her husband and a ward official. Therefore, when he was hurt by his wife, he created a comic scene in which his pants were raised to the max. Uhm Jung-hwa said, "Song Seung-heon made everyone laugh in an unexpected scene. Song Seung-heon, a reversal laughter point that cannot be missed in <Miss Wife>, will shake the hearts of the audience by adding a pleasant couple breathing with Uhm Jung-hwa, who met her first breath, and special chemistry.
100% character synchronization, pleasant comic energy
Tasty smoke & extraordinary interior
Popular actors you can trust and watch, Kim Sang-ho, Ra Mi-ran, and Seo Shin-ae!
The movie <Miss Wife> draws attention with the addition of Kim Sang-ho, Ra Mi-ran, and Seo Shin-ae, the box office trendsetters in Chungmuro, full of personality and charm, following the first meeting of Uhm Jung-hwa and Song Seung-heon and acting breathing. Kim Sang-ho, who has shown impressive acting and humanistic charm in various works such as <Wandeuk>, <Moss> <Wish> and recently <Sea Fog>, in <Miss Wife>, the unidentified man 'Chief Lee' who changed the life of 'Yeon-woo' Leads a dramatic tension through the station. "When I first read the scenario, I felt that it was very warm, and I thought, 'Oh, I want to try this work'." .
In addition, Ra Mi-ran, who energized with her unique witty acting and humor in <Kukje Market> <My Love, My Bride> <Wish> and <Spy>, plays the role of 'Mi-seon', a neighborhood aunt, in the right place, with delicious acting and lines. brings a smile "Leading the Ajumma Corps, I paid the most attention to working with the actors. Ra Mi-ran, who drew more than 100% of the character's charm and fun, said, "It was fun filming like real ladies chatting." In particular, Ra Mi-ran, who worked well with Uhm Jung-hwa in <Dancing Queen>, appears again as Uhm Jung-hwa's strong friend in this work, demonstrating perfect acting synergy. In addition, Shin-ae Seo, a child star who has been recognized for her acting skills in the drama [Queen's Classroom] and the movie <My Love, My Bride>, plays the role of 'Haneul', the teenage daughter of 'Yeon-woo' and 'Seong-hwan', having fun with her harsh and chic charm. add <Miss Wife>, with all the actors who believe and see it, will fill the play with pleasant comic performances, special ensembles, and pleasant energy.
Before & After
Efforts for dramatic change in characters, hot passion that melted the cold wave
Create cool laughter and fun!
In completing <Miss Wife>, director Kang Hyo-jin, as well as the actors and crew, put the most focus on portraying the dramatic change of the character convincingly. How naturally can a single lawyer who lived an arrogant, sophisticated, and glamorous life transform into an aunt with two children from an ordinary family? After contemplating this, director Kang Hyo-jin tried to portray the psychology and appearance of 'Yeon-woo', who could not accept and reject himself as an aunt, in an extremely realistic situation. In addition, Uhm Jung-hwa also added thorough preparation and worries about the character, and the lawyer 'Yeon-woo' is a more selfish and cold-hearted character, while the aunt 'Yeon-woo' is a character who has only changed her appearance but has the same tone and habits as a lawyer. The character of 'Single vs Ajumma' was perfectly expressed. In particular, Uhm Jung-hwa showed a passionate passion for the work, leading the scene with an unchanging pace and acting, despite having digested a large amount of about 40 episodes out of a total of 45 filming episodes.
On the other hand, in the art work, the focus was on capturing the space of the single lawyer 'Yeon-woo' and the family of 'Yeon-woo', who became a wife and mother, with conflicting concepts. Art director Lee Mi-kyung, who participated in <Going to the End> and <Gone with the Wind>, said that the space of the lawyer 'Yeon-woo' is urban and cold and sophisticated. focused on In this way, <Miss Wife>, which made various efforts so that the audience could sympathize with the dramatic changes of 'Yeonwoo' before and after, added sweat and effort of the actors and staff, who showed passion that did not cool down even in the harsh cold of winter during the three-month filming period. , will deliver a cooler laugh and fun to the audience this summer.
Related Videos