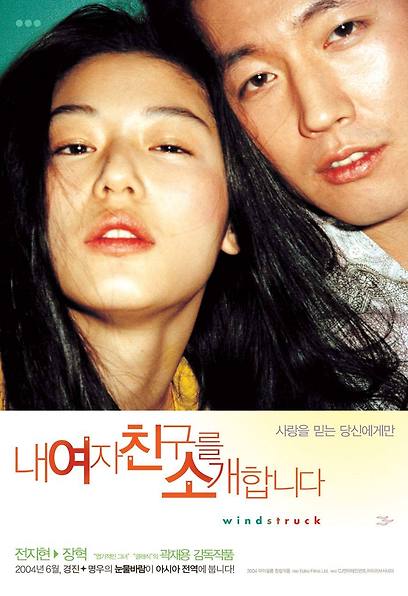 Windstruck, 2004
release

2004.06.03
genre

Comedy/Romance/Melodrama
country

Korea
ranking

Audience over 15
running time

108 minutes
grade

7.2
cumulative audience

1298666 people
Synopsis
Kyungjin's Love Letter… Myungwoo, where are you?
no? You were so funny at first.
i'm a cop I couldn't let you go, who was suspected of being the culprit.
I just wanted to make fun of you for asking for an apology while crying out.
I didn't know then. I thought it would be so insecure that you weren't by my side…
Suddenly, I went to class during class and declared that you were my boyfriend in front of the students.
Making stew of unknown nationality and insisting on eating it,
I don't mean to spoil you, it's because I love you.
Do you know how reassuring it is for you to come to the scene of a dangerous incident?
I'm worried about getting mad at you not to come. I'm afraid you'll get hurt because of me.
I… I'm just saying I love you.
But where are you now?
Are you listening to what I'm saying?
I'm mad because I miss you so much.
But I'll do it. Because I can feel that you are always by my side
Myung-woo, are we going to meet again?
Myungwoo's Love Letter… I will always be by your side.
no? At first, you were so mean.
It's amazing that you're being treated like a pickpocket by a decent person and holding up without saying you're sorry.
I keep thinking of you and wanting to see you, but now if I don't see you for even a day, I feel like I'm going to go blind.
It wasn't as romantic as other lovers, but the day I first held your hand while chained in handcuffs,
The night I spent together at the police box, the summer trip I left with you,
Our love that we confirmed there, and your long hair blowing in the wind.
how can i forget
I love you enough to be careful to say I love you.
Now I can't even answer your calls,
You can't change the fluorescent lamp, and you can't eat stew of unknown nationality.
I will always be by your side can you feel it
So, you don't have to worry about anything and you can live a good life.
You just have to love and live beautifully.
Kyungjin-ah, goodbye for a moment.
Related Videos