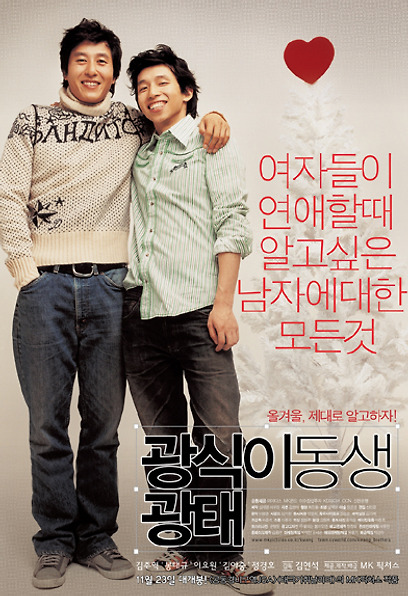 When Romance Meets Destiny, 2005
release

2005.11.23
genre

Comedy/Romance/Melodrama
country

Korea
ranking

Audience over 15
running time

104 minutes
grade

7.8
cumulative audience

2024818 people
Synopsis
Kwang-shik's sincerity: Searching for 7 years, I love you, but I'm ashamed to confess!
Kwang-sik, a "peacekeeper in the dating world," who never confesses in front of the woman he likes, and hides for peace when a rival appears. Seven years ago, when she was in college, she runs a photo studio without forgetting her unlucky unrequited love, 'Yoon-kyung', which ended without even confessing as usual. However, at the wedding of his friend Myung-chan, he meets Yoon-kyung again, and Kwang-sik does not know where to stand in front of her, who clearly remembers his name and school number. To Kwang-sik, Yoon-kyung leaves with only the strange words that he will go out to play whenever he wants. Gwangsik's heart begins to thump again.
Gwangtae's black heart: 365 days of work, there's nothing to confess because you only give your body!
Although he is 7 years younger than his older brother, he has met 70 times more women than his younger brother, Gwangtae. He said, 'I never sleep more than a dozen times with a woman.' 'When I sleep with a woman, I keep my inner heart in my jacket pocket.' 'Don't touch a woman you know.' As a "cute playboy" with his own iron rules, he is a liberal who adheres to his own freestyle (?) in life and love. Kwang-tae, who is drawn to the hot body line of a sexy woman 'Kyung-jae' in a marathon where she participated with a full black heart for a slim woman. A few days later, he meets Kyung-jae again by chance, and Gwang-tae, who can't miss the second chance God has given him, begins a hot and cool romance with her. Will his feelings for her be safe from his 'inner pocket of his jacket' again this time?
Kwang-shik's younger brother Kwang-tae: Can I tell you my true feelings now?
Yoon-kyung, who finally came to find Gwang-shik. However, Gwang-sik is still frustrated by his own words. Besides, his assistant and friend of Kwang-tae, Il-woong, gives Yoon-kyung an unusual look… Kwang-sik is in danger of becoming a "peacekeeper" again.
Meanwhile, as time goes by, Gwang-tae suffers from self-pressure to break up with Kyung-jae before going to bed 12 times. But what? Again, Kyung-jae sends Kwang-tae a notice telling him to stop meeting him. It's a situation that should be happy, but unlike usual, the upper part of the navel, not the lower part, starts to move…
Gwang-shik who has been searching for 7 years, Gwang-tae who has been working 365 days a year,
This moment when it seems like you'll miss them forever if you stay still!
Will they be able to tell their true feelings?
1. Visual consideration that enhances the sensibility of the movie, a romantic comedy that is pleasing to the eyes!
<Kwang-shik's younger brother, Gwang-tae> features a lot of special visual effects that are not commonly seen in other romantic comedies. Kwang-sik, nicknamed 'the peacekeeper of the romantic world', has become a real peacekeeper. Quite a number of scenes such as dreams are processed with CG, contributing to the unique sensibility of this film.
In addition, <Gwang-sik's younger brother, Gwang-tae> is a DI (digital color correction) work that makes these special visual effects work, which is rare for a romantic comedy, and allows you to freely adjust the color and tone of the entire movie to show high-quality screens and images. In parallel, it was completed as a romantic comedy full of visual consideration that revives the film's sensibility.
2. The main actors, each showing their skills (?) in various fields, become a hot topic!
Photographer Kim Joo-hyuk Kim Joo-hyuk, who has played Kwang-sik, a professional photographer with more than 10 years of photography experience running 'Kwang Photo Studio', made a poster of <Kwang-sik's brother Kwang-tae> before filming in order to take pictures as naturally as possible and handle the camera. He was taught photography skills by photographer Yoon Hyung-moon who took the picture. Kim Joo-hyuk, who was praised by artist Yoon Hyung-moon, said, "As you can learn, your poses became professional in no time." In the end, he went to the filming set to take photos of the actors and staff he was working with, carrying a Polaroid camera, and heard the sound of 'shooting in the field'.
100% Real Acting Bong Tae-gyu When Kim Joo-hyuk was taking pictures on the set, Bong Tae-gyu, who played 'Gwang-tae', who runs a 'optical video rental shop', shot 6mm. Bong Tae-gyu, who said he wanted to record the small details of the filming site, showed pro-level shooting skills, but it is said that he is refusing to disclose it to the outside (?) because it contains too many corruptions (?) on the set. In addition, Bong Tae-gyu performed 100% real acting in many scenes. Bong Tae-gyu actually drank alcohol in most of the scenes to play Gwang-tae, who likes to drink and the film is cut off when he drinks alcohol, and in some scenes, he acts in a state of almost intoxication. I opened it up, but it was because of the power of alcohol (?) that I got OK every time. And because of 'Gwangtae', who had a lot of ties to marathons, the distance I ran on the road was actually 42.195km in the marathon.
Art binding agent Kim Ah-joong After studying in France, Kim Ah-joong, who plays 'Gyeong-jae' in Korea, learned the binding technique as a disciple of Baek Soon-deok, the number 1 art binding agent in Korea, before filming. Kim Ah-joong, who was praised for 'good hand movements', received applause for acting 100% of the time, which is not easy even in the actual filming scene. And for his disciple Kim Ah-joong, Baek Soon-deok lent out his one-of-a-kind works in the world, which was priced at millions of won, to display on the set.
3. Sweet Home (?!) Romantic Comedy? "I like the filming set better than the house!"
Throughout the filming, the teamwork of the main actors of <Kwang-shik's younger brother, Gwang-tae> is the strongest! Actors with strong personalities who didn't seem to get along with each other not only got together like close friends, but from the end of filming, they went around saying, "I like the filming location better than my house!" Kim Joo-hyuk, who seemed reticent but showed a cute and quirky side, Bong Tae-gyu, a maker of the always pleasant atmosphere on set, Lee Yo-won who enjoyed filming comfortably with his bubbly personality, Kim Ah-joong who was assertive as a new generation, and polite but polite as a new generation, Jung Kyung-ho, the youngest who followed his seniors well, Go home These five protagonists, who said that the filming set was disgustingly fun, named <Kwangsik's younger brother Gwangtae> as a 'sweet home (?) romantic comedy'. Their friendly atmosphere is reflected in the movie as it is, and although they do not look alike, Kim Joo-hyuk and Bong Tae-gyu are similar, and after watching the movie, they feel like real brothers.
4. Songs you will never forget once you hear them!
The hidden gem of <Kwangsik's younger brother, Gwangtae> is music! First, the theme song "Memories of Shoveling". As the unique title suggests, it contains cute and pathetic (?) of the days of shoveling and the process of reflection experienced by men who never seem to be mature. This song was specially sung by director Kim Hyun-seok, who made full use of his own experience, and composed by music director Lee Byung-hoon, and the lead actors Kim Joo-hyuk and Bong Tae-gyu sang a duet 100% for the movie <Kwangsik's younger brother, Gwangtae>. Gwangtae> was completed as the theme song. In addition, "Guangdong Gwangsong", which has been used in the trailer and has already become a hot topic on the Internet, is a cheering song that plays whenever Gwangtae runs hard for his work. Only the lyrics containing the cry of 'Kwang-shik's younger brother, Gwang-tae' are endlessly repeated, making it addictive to follow once you hear it.
<Memories of Shoveling>
Lyricist: Kim Hyun-seok
Composed by Lee Byung-hoon
Song Joo-hyuk Kim, Tae-gyu Bong
I used to shovel a lot in the old days when I wasn't iron
Now that I think about it, I wonder how
Looking back, my life was full of shovels
If I forget, it torments me like a nightmare
Things you shouldn't have done
Words I couldn't say
Why did I become such a shovel man?
Baby, know that you are the cause of all this shoveling
it's because of you
(regard)
Looking back, my life was full of shovels
If I forget, it torments me like a nightmare
Things you shouldn't have done
Words I couldn't say
Why did I become such a shovel man?
Come back if you can, I won't shovel anymore
i'm different
Yesterday was a shovel, but today it becomes a memory and wraps around me
Memories of shoveling
Related Videos