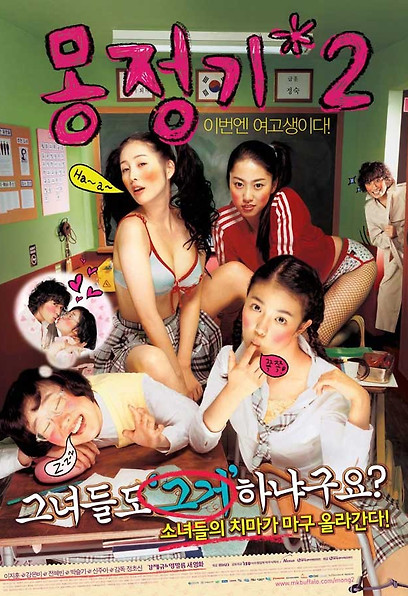 Wet Dreams 2, 2005
release

2005.01.14
genre

comedy
country

Korea
ranking

Audience over 15
running time

101 minutes
grade

4.0
cumulative audience

813164 people
cookie video

One
Synopsis
17-year-old high school girls, their whole body is full of curiosity about 'the first night'!
Oh Seong, who is completely ignorant of sex, knows a lot but has no practical experience, and Misuk Kim, who seems to know but does not know what is inside. The three of them are thirsty for questions about 'the first night' after the wedding of Seong-seong. A curious curiosity about the 'first night' that no one tells you for sure, and no one shows it anywhere! This sexual curiosity, rising up and down, does not leave the heads of the three high school girls…
Bong-goo, a wonderful student, receives the girls' love attack at once!
Then one day, a teacher named Kang Bong-gu, who boasts the best working mode and the best work mode, is assigned to their class. Seong-seong, who waited for the prince riding a white horse, dreaming of a fateful love, as well as Su-yeon and Mi-sook, and even the sexy high school girl talent Baek Se-mi, 'steamed' Bong-goo, causing a commotion. In an instant, teacher Bong-goo becomes the subject of direct observation (?) and experimentation (?) of sexual curiosity as their perfect ideal type.
However, the gang learns by chance that teacher Bong-gu, who looks flawless on the outside, is in fact suffering from an incurable disease (?) that causes him to fart when he sees a sexy beauty. The three curious people, underlined in 'Sexy Beauty', start an operation to make Bong-goo, a teacher, fart.
Will the 'Curiosity Trio' be able to get love with teacher Bong-goo's fart (?!)?!
However, the three of them realized that they could not even compete with Baek Se-mi with their lack of sexual knowledge. They call Seok-gu, who has a crush on Seong, but has a lot of sexual knowledge and is coached to 'look sexy'. Meanwhile, Mi-sook finds herself in an awkward situation when she is caught by Seok-goo, who is single-mindedly looking at Seong-man at first sight.
On the other hand, Bong-gu, a teacher who was relaxed thinking that high school girls are 'children', is now very nervous about the provocations of high school girls. Following Seok-gu's advice, the three curious people who performed clumsy but quirky provocations such as putting on a pony bra, moaning in the ears, and folding a 7-tier school uniform skirt, showed Bong-gu's high-level sexy provocations, such as unbuttoning Baek Se-mi's school uniform buttons and spilling ice cream. Desperate to see symptoms worsen. What's more, Baek Se-mi, a bull fox, openly teases Seong-eung as a child who hasn't even started menarche yet. She's furious, and she makes a bet on 'Bong-gu's attack'.
It's a random bet, but anyway, it's the judge's version of the 'first night'!! Bong-gu, who is the incarnation of charm, and the three curious people who want to try the 'first night' in order to defeat the thorn in the eyes of the wealth organization, are gradually being built up…
Related Videos