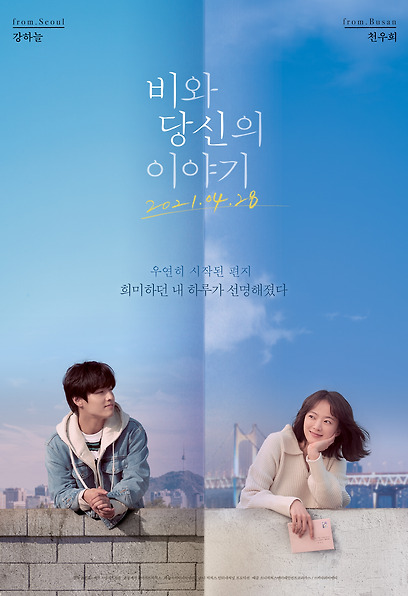 Waiting For Rain, 2020
open

2021.07.26
genre

Drama/Romance/Melodrama
country

Korea
ranking

all spectators
running time

117 minutes
grade

7.8
cumulative audience

401193
cookie video

One
Synopsis
"This is a story about waiting"
'Young-ho' (Kang Ha-neul), who was living a boring three-year life without clear dreams or goals,
Reminds me of a friend I have cherished for a long time and sends a letter recklessly.
So-hee (Chun Woo-hee) runs an old bookstore with her mother without finding her dream.
You receive a letter from 'Young-ho' that has arrived from 'So-yeon', your sister.
"I just want you to follow a few rules.
No questioning, no asking to meet, and no visiting."
'Sohee' sends a reply on behalf of her sick sister, and the two continue to write letters.
The letter that started by chance begins to color the life of the two people, which was achromatic, with excitement and waiting,
'Young-ho' makes a proposal that is unlikely to meet if it rains on December 31st…
[ PROLOGUE ]
to Soyeon.
I don't know if I was embarrassed by the sudden letter.
We went to the same elementary school, but we didn't go to the same class, so you probably don't remember.
I think it might come to mind Anyway, thanks for the letter.
I just want you to follow a few rules.
Not asking questions, not asking to meet, and not coming to visit.
If you give me a chance, I want to see you in a better way.
Can we meet at the end of this year?
How about in front of our elementary school? It's gone now though.
Let's just meet if it rains that day.
This is the only promise I can make.
Don't ask any more, just do it. please.
[ ABOUT MOVIE ]
˝Is there someone who comforted you in your youth?
Unforgettable over time
The story of me and you, all of us
A movie that comforts all those who are going through youth or who have experienced youth is coming. The movie <Rain and Your Story> is an analog emotional movie written by Youngho and Sohee, who comforted each other's lives with a letter delivered by chance, and they made a low-possible promise to 'Let's meet on December 31st in the rain'. .
Director Jo Jin-mo, who wanted to portray youth where radiant beauty and anxiety coexist as a 'universal and everyday story', illuminates those brilliant times through Yeong-ho's long wait, which may seem reckless. Young-ho, a three-year student who has neither dreams nor goals, and So-hee, who adapts to a reality that is nothing new, are ordinary youths you can see often. The two, who are anxious about an unknown tomorrow, and lose their vitality in the repetitive and boring daily life, change when Yeong-ho starts sending letters. The dimly lit day of the two begins to shine with the excitement of waiting for a letter, exchanging comfort and courage with the letters that come and go. Those who have permeated each other's daily life regain their forgotten vitality and move forward in search of their own answers. Kang Ha-neul and Chun Woo-hee said, "It reminded me of my 20s a lot," "a warm story that both those who have passed through youth and those who are now young can relate." It makes you look forward to the warm stories of the main characters. Like director Jo Jin-mo's wish, "I hope the film will be a film where the audience can remember the imperfect but brilliant times and the people they met at that time", <Rain and Your Story> is a warm welcome to all of us who have passed through youth and passing this spring. It will convey sympathy and condolences.
A page of youth written by Kang Ha-neul & Chun Woo-hee
The best emotional chemistry in 2021 that I want to keep for a long time
The dazzling story of ordinary youths, written by director Jin-mo Cho, was completed with "a miracle-like casting without any doubt". From the drama [When the Camellia Blooms] that caused Hwang Yong-sik Syndrome in 2019 to the play [Fantasy Fairy Tale] that shook Daehak-ro by recording a sold-out procession, Kang Ha-neul, who is in its heyday that does not cool down, wants to rain like a miracle. will make a comeback to the screen after 4 years. Kang Ha-neul, who has won the support of the audience by showing portraits of youth in various eras such as the movies <Twenty>, <Cesibong>, <Dongju>, and <Youth Police>. He is an ordinary young man in his twenties who continues to live a boring three-year life while contemplating on the subject, and he draws sympathy again. ˝I was thirsty for emotional movies. As soon as I read the script, I thought that I would meet this work" and said, "Rain and Your Story" at once, said Kang Ha-neul, "so that many people can sympathize with the excitement and waiting that I felt while waiting for the person I liked." did. When Kang Ha-neul liked someone in her early 20s, she raised her sincerity by projecting her excitement while waiting for the other person's text message. Director Jo Jin-mo applauded his performance, saying, "It must have been difficult because Yeong-ho was not a clearly defined character, but the moment Kang Ha-neul acted, I felt relieved."
Chun Woo-hee, who has proven his irreplaceable presence with unique characters that only he can digest such as movies <Sunny>, <Han Gong-ju>, <Haeohwa>, <Wailing>, and the drama [Argon], throws off the intensity and becomes a friendly and ordinary character. return to Chun Woo-hee, who proved her wide acting spectrum by portraying two opposite faces in her 30s in the 2019 drama [Melodramatic] and the movie <Vertigo>, this time writes down the growth record of youth at the beginning and end of her twenties. Chun Woo-hee, who showed a deep affection for the work, saying, "I wanted to properly express the times and emotions I have been through," has a courageous appearance that does not lose hope despite the harsh reality, and the letters she accidentally exchanged for her sick sister, but her gratitude and sorry for Yeong-ho are growing. portrayed Sohee's inner side with solid emotional acting. Director Jo Jin-mo exclaimed, "Each tone of his voice should have had complex emotions, but actor Chun Woo-hee expressed it so well" and he said, "You will be able to admire 'Chun Woo-hee had such a face. Expectations have also been raised to a high level.
Even the most powerful acting corps joined in, adding to the richness of the film. Kang So-ra, who once worked with Kang Ha-neul and Chun Woo-hee in [Misaeng] and <Sunny>, will make a special appearance as Soo-jin, who is honest and outspoken about her feelings. ˝I have no hesitation in approaching anyone. As Kang Ha-neul said, "I felt comfortable as if I had filmed [Misaeng] just recently", Kang So-ra, who boasts perfect synchronization with Su-jin, injects lively energy into the disassembled play as Su-jin, a friend of Jae-su academy who actively approaches Young-ho, who is passive. In addition, fresh rising stars such as Lee Seol as Young-ho's first love and So-yeon's older sister, Kang Young-seok as So-hee's only friend Bookworm, Lim Joo-hwan, who plays the older brother who clashes with Young-ho, and Lee Yang-hee, a father who quietly trusts Young-ho, and two daughters Even veteran actors, such as Lee Hang-na, who plays the role of So-hee's mother, who is like a friend, who gives credibility just by her name, are in full force to perform. As director Jo Jin-mo said, "I wanted to show the small influence that people can have on other people through the people around them," they will sometimes bump into each other and sometimes give sincere advice, adding color to the story of Young-ho and So-hee.
At that time, our splendid moments
In the spring of 2021, the birth of an analog emotional movie that will wet the screen
<The Story of Rain and You> evokes nostalgia by capturing the mood of that time when there were no smartphones or social media. First, the letter, which is a medium connecting Youngho and Sohee, and an important material that penetrates the film, evokes the emotions of handwritten letters that require waiting for today's audiences, where it has become a daily routine to communicate quickly through short texts. From the moment he begins writing a letter to an old friend he has forgotten to the moment he receives a reply, Yeong-ho fills his daily life with excitement and happiness. To Yeong-ho's letter, who repeatedly found and erased words that could convey her feelings, So-hee responds with her own upside-down letter and builds up memories of the two of them. Director Jo Jin-mo, who said, "I chose the letter to show sincerity when communicating between two people," paid close attention to even the design of the stationery. The two people carefully writing down each letter, imagining the reaction of the recipient, and the way they gradually seep into each other's time while waiting for an unconfirmed reply, reminding the audience of the meaning of true communication and reminding them of the meaning of true communication in a world where distance has become a routine. make it warm until
Set in 2003 and 2011, the production team had to reproduce the visuals of that time, which many generations clearly remember, due to the nature of the work that captured Yeong-ho's long-awaited film. Delicate props reminiscent of those days, from the horizontal instinct cell phone that caused a sensation at the time to the fashionable fashion style and the red mailbox that are disappearing one by one, lead the audience into memories. Director Jo Jin-mo, who said, "I wanted to create a space that represents the characters," created a space where the innocence and long-awaitedness of the two characters are reflected, not just showing the times. The used bookstore, which is Sohee's space and now forgotten by many, goes beyond selling books, and contains the time and memories of those who read and kept the books. Chun Woo-hee expressed his sympathy for the special sensibility of the space, saying, "I liked the feeling of a second-hand bookstore in that Sohee finds new relationships with things that are no longer needed." The studio, the space of Yeongho, resembles Yeongho, who has been waiting for a long time. In his father's long-time workplace, where traces of the years remain, Young-ho's image of making gifts for So-hee, one stitch at a time, doubles the analog sensibility and stimulates the nostalgic sensibility. Even Kang Ha-neul and Cheon Woo-hee said, "Even a car, even a single landscape reminds me of that time", "It contains the images of the 2000s that we longed for, so we can see them in memory." The delicate props and spaces that made them admire him It will provide memories to those who have passed through the times and fresh sights to those who have not experienced it, and will make you immerse yourself in the warm atmosphere of those days.
[ PRODUCTION NOTE ]
<Rain and Your Story> captures the unique warm sensibility
The emotional production behind the scenes revealed by the veteran producers!
# Shooting & Lighting: Recording the time of youth that shines brightly like spring
<Rain and Your Story>, which Kang Ha-neul and Chun Woo-hee say together, is like a "watercolor-like film," elevates the emotions with its warm visual beauty. Director Jo Jin-mo beautifully captured the growing pains of those who are going through an uncertain period through abundant light, said director Jin-mo Cho, who said, "There is a lot of pain that the characters feel in the play, but I wanted to express the time they spend in a beautiful and splendid way." Also, unlike other works that differentiate the passage of time through the difference in color and light, the tone for 2003 and 2011 was set to be the same, expressing that their story is not limited to one era, but is a story of all of us. Young-ho and So-hee, who color a dry day with a pleasant trembling due to a letter that came like fate will tell
# Art: Completing the space where the character is alive
The main task given to the art team was to create a space that represents the character beyond a simple background due to the nature of the play, where they exchange letters in their own space and fill their daily lives with small miracles. Art director Kim Hyeon-ok said, "There are living spaces of several characters, and I tried to give each character an emotional feeling while maintaining reality."
Youngho and his father's workshop is where the production team, who had to produce most of the space as a set, put the most effort into completing it. The workshop shows Yeongho's character of wanting to preserve old things under the influence of his father. The production team, who thoroughly researched the images of studios around the world to create a space with a sense of reality, transformed the place that was used as an actual photo studio into my father's old leather workshop. His father's long time and craftsmanship are expressed in the work tools, handmade crafts, and faded colors that give a sense of life. ˝I wanted to express Yeongho's space, who grew up watching his father's craftsmanship, as a genuine space." Art director Kim Hyun-ok decorated Youngho's umbrella workshop with an industrial interior to reflect changes in time and trends, and a space that resembles his father's workbench. to express how he was influenced by his family. The 400 or so umbrella props completed by the production team after three months of design work reveal the way Yeongho sees the world. An umbrella depicting someone's precious memories, such as a stopped watch and his father's old shoes, captures Youngho's heart, who cherishes past memories and promises.
Even though Chun Woo-hee was a set, I thought it was a real used bookstore. The smell of used books, old LPs, and cassette tapes gave me a warm feeling." The space filled with 25,000 books and the bright lighting illuminating the space embodies the life of a mother and daughter who do not lose hope despite a difficult day due to the absence of their father and Soyeon's battle with illness. Art director Kim Hyun-ok, who said, "I tried to create tone and manner by giving each character color and texture," expressed So-hee regaining her forgotten self in a letter with Young-ho through a change in saturation. If a used bookstore expresses a space where two people live together by adding Sohee's faded warm color to the warm wood tone that expresses a mother, the magazine bookstore where Sohee started to stand alone after independence is a more vivid warm color series such as orange, red, coral pink, etc. of colors and cute props. The image of Sohee, who was blurry in the used bookstore, gradually becoming clearer in her space, raises curiosity about the footsteps of her, who gained courage through a letter.
In Soyeon's hospital room, where Art Director Kim Hyun-ok said, "It's a space of painful reality, but I wanted to give you rest and hope," you can see director Jin-mo Cho's warm gaze comforting those who are going through a difficult time. The hand-knitted blanket made by her mother, travel photos and props So-hee prepared for So-yeon who cannot go out of the hospital room, and the dazzling sunlight and blue sky coming through the large window offset the cold and gloomy feeling of the hospital, creating warmth. In this way, the spaces where the characteristics of the character are alive will enhance the empathy and immersion in the character and the story, providing a deeper emotion and lingering sound.
Related Videos