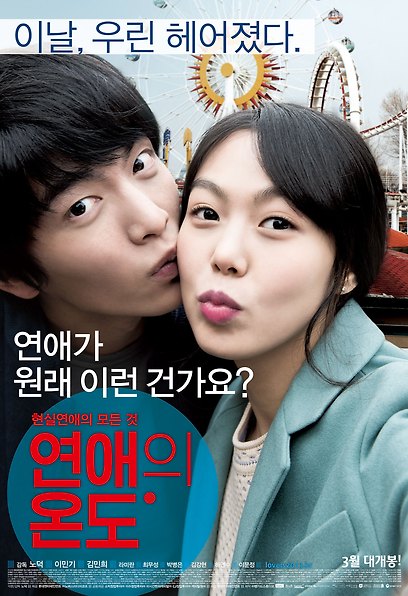 Very Ordinary Couple, 2013
release

2013.03.21
genre

Romance/Melodrama
country

Korea
ranking

Youth not allowed
running time

112 minutes
grade

7.6
cumulative audience

1865354 people
Synopsis
break up,
and everything got hotter.
Co-workers Donghee and Youngeun have been secretly dating for 3 years.
I loved it thrillingly, avoiding the eyes of others, but today, we parted.
The next morning, the two met again as co-workers.
Destroying each other's goods and sending them on cash on delivery, throwing a bill bomb through internet shopping before canceling the couple's rates.
Even when they say that they have a new lover, from searching SNS to following them!
After saying goodbye, everything started anew.
We broke up and started again, lifted and released, pushed and pulled,
Donghee and Young became hotter than when they were in love,
Is love like this?
[ Intro ]
spring 2012,
We were all someone's first love.
One year later, in the spring of 2013,
We all break up with someone we loved.
and … It got hotter?!
[ About Movie ]
The first love fantasy shown in <Introduction to Architecture> and <A Werewolf Boy> in 2012,
2013's <Temperature of Love> is shattered!
Did you know that love would only be happy and good? Everything about real love is revealed!
The films <Introduction to Architecture> and <A Werewolf Boy>, which caused a syndrome with a beautiful fantasy about first love in 2012, moistened Korea. And in the spring of 2013, the movie <Temperature of Love> is coming, which will break that beautiful fantasy one after another. The movie <Temperature of Love>, which is about to be released in March, delicately expresses the various events and emotions we experience while dating. It's a good movie to learn about.
The couple, Donghee and Young, who have been in a secret relationship in the company for three years, turned around, swearing at each other, saying 'Crazy X' and 'Dog XX', but they soon shed tears because they miss each other. In front of him, he treats him coolly, telling him to meet a good person and be happy, but at home he secretly spies on the other person's SNS and does not hesitate to follow him. Chimi, unable to overcome her anger, breaks each other's belongings and sends them cash on delivery, and gives a small payment bomb to the couple's plan. The movie <Temperature of Love> boldly rejects the formula of the existing melodrama film, which starts with an accidental meeting and shows a beautiful love. Director Noh Deok said, "Like a movie, life-threatening love cannot be easily experienced in everyday life. However, there are a lot of fun elements in the romance we experience in real life, and that's why it seems like we're constantly dating." There is no beautiful fantasy in a vivid drama that tells the story of the director himself as well as the director's friends. The candid and straightforward scenario captivated the actors in an instant, and is now preparing to win the hearts of the audience. It's like my story that was broken a few days ago, and a story like the story of my friend who started dating a while ago. The movie <Temperature of Love>, which will captivate the hearts of all men and women in Korea who are in love or want to date, will pioneer a new field of melodrama. will be.
Overwhelming visuals! Fantastic chemistry! 'Lee Min-ki ♥ Kim Min-hee'
If men and women of Wannabe icons in this era meet, what will they look like?
It is Lee Min-ki and Kim Min-hee, who are the best wannabe stars of our time, who will portray the ever-changing reality of love. From photos taken during a break between filming to teaser trailers, the public's intense interest every time content is released shows how much attention the two actors are now. The two, who debuted as models, but are reborn with a new look in each work, and are receiving increasing expectations from the audience and critics as time goes by, had to make extraordinary efforts to play Donghee and Young, a third-year couple in <Temperature of Love>. Since we have been lovers for a long time, we had to express familiar and familiar feelings like old friends rather than thrilling and excited when we see each other. In particular, Lee Min-ki had longed for her enough to pick Kim Min-hee as the first celebrity he liked, but he took control of his mind to treat him as a spirit rather than Kim Min-hee, and actually called her older sister Kim Min-hee only after filming was over. In fact, Lee Min-ki also confessed that he felt that he had a proper relationship through this work. Kim Min-hee also captured the feelings of the young by drinking together before crank-up to become even closer with Lee Min-ki. Two people who are deeply immersed in the character regardless of time and place, whether in front of the camera or behind the camera. It reproduced the image of a real lover well. The love story of Lee Min-ki ♥ Kim Min-hee, who is curious by acting as a realistic lover while filming <Temperature of Love>, will be revealed in March.
Do you really think like this?! Cool in front! Turning back is hot!
An interview with him and her that goes back and forth between honesty and secrecy,
Pioneering a new format for cinema!
Another story is hidden in <The Temperature of Love>. This documentary tells the candid feelings of lovers who meet and break up and the people around them, revealing the hidden minds of Young and Dong-hee as well as their bank colleagues. Interviews with Donghee and Young and their bank associates create a unique fun by contrasting each other. Dong-hee, who broke up with Young, shouts hurray in front of the camera for a sense of liberation, and Young calmly says that he would have broken up when he was even a year old. But soon the two miss each other and cry, and it is revealed that what they just said in front of the camera was a blatant lie. On the other hand, the testimonies of bank colleagues who have been watching the two for a long time accuse Donghee and Young of how secretly they have been dating. As <Temperature of Love> deals with a different story from existing films, director Nodeok, who thought that the film format also needed a twist, boldly brought the interview setting. It could have been dangerous because it was rarely attempted in other movies, but as a result, the interviews of each character explain the relationship and situation between each other using the Jeonggong method to enhance the understanding of the film as well as the best experience that can only be seen in <Temperature of Love>. It has become a unique attraction. <Temperature of Love>, a movie that will give you special fun with a different material and a different format that has never been seen before. It will be an interesting story that goes back and forth between innocence and honesty.
Real love only in words? No!
100% handheld, natural lighting, and even color to match the character!
The secret of the vividly alive video is revealed!
The most important keyword in the movie <Temperature of Love> is 'realism'. Director Nodeok and the staff worked hard to present a more honest and truthful video than any other film. Director Noh Deok was looking for a way to express the concept of 'let's unconditionally look real' more effectively, and director of photography Park Jong-cheol boldly recommended shooting with 'handheld'. While shooting with 100% handheld method, the actors and staff had to shoot twice as hard as in other movies, but thanks to the hard work, the movie was vividly expressed as if it were a part of our reality. The lighting could not miss the 'realism'. Lighting director Kim Jae-geun replaced most of the scenes with natural light to create a lively, undecorated image. However, in order to maximize the emotion of the actor who plays the loneliness, color was added to the screen, such as putting the feeling of the setting sun on the back of the actor, helping to convey the emotions of each character. Art director Lee In-ok, who was in charge of art in <Temperature of Love>, also focused on color. The bank, the representative space in the film, expresses a realistic space where anyone can come and blend in by using achromatic colors that do not stand out. On the other hand, Donghee and Young's house was filled with details, reminiscent of a country that matches the character's personality. Dong-hee's house, approached with South American colors, uses a lot of primary colors and solid colors, such as painting one wall with green paint, to express Dong-hee's energetic and passionate personality. Young borrowed the Nordic style to express her inner side, which is cold on the outside but easily hurts on the inside. Wallpaper with lace, lighting, and patterns in the interior also played a part in expressing this. Also, it is impossible to describe the efforts of the production crew who mobilized all kinds of personal connections to find a space that has been stained with human hands as much as possible, and invited each character's house. The film <Temperature of Love>, in which the top staff in Korea, such as filming, lighting, and art, put their heads together and thought about it. The real and beautiful visuals that perfectly harmonize with the emotions flowing between Donghee and Young are other main characters of this film.
Related Videos