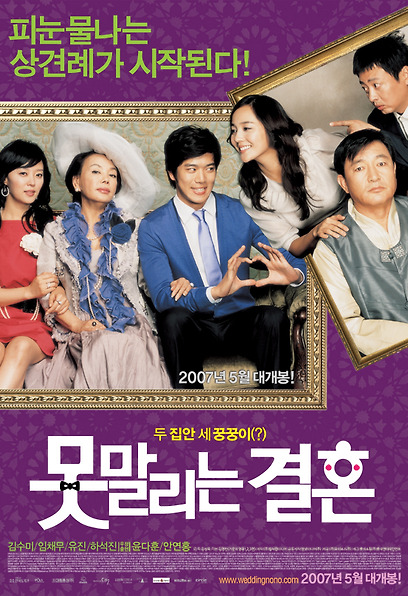 Unstoppable Marriage, 2007
release

2007.05.10
genre

Comedy/Family
country

Korea
ranking

Audience over 15
running time

115 minutes
grade

7.4
cumulative audience

1188326
Synopsis
Eun-ho (Eujin), the only daughter of Ji-man (Lim Chae-moo), a feng shui geography who practices traditional inheritance, and Ki-baek (Ha Seok-jin), the only son of late Nyeon (Kim Su-mi), the representative of luxury in Gangnam, fall in love. But the problem is that even though they are different, they have to get permission from two very different families.
They mobilize all means to get the permission of both parents, but they all end in failure, and the two try to arrange a meeting between their parents, aiming for a sudden change in their situation. However, their war of nerves, such as oil and water, becomes more and more intense day by day, and as a result, another feud over the land owned by the later years is revealed and the situation is getting out of control. Ji-baek and Eun-ho, who can no longer see Ki-baek and Eun-ho's meeting, engage in unimaginable sabotage to separate them, including Eun-ho's uncle Ji-ro (Yoon Da-hoon) and Ki-baek's older sister Ae-suk (Ahn Yeon-hong). In addition, the situation is only getting more and more twisted…
Will it be possible to successfully form an in-law in-law between two very different families?
[ABOUT MOVIE]
The pride of the famous comedy <Family Glory> series
A delightful family drama with laughter and emotion, written by Kim Young-chan.
Writer Kim Young-chan was behind <The Glory of the Family>, which conquered the Chuseok season in 2002 by making the son-in-law of the 3J family, a living legend of the fist world. He made a name for himself as a TV drama writer, starting with <Family Glory>, starting with <Family Crisis> and <Resurrection of the Family>. They plan to create a mission and deliver laughter and emotion once again through the unstoppable marriage tumult between parents and children.
It is a delicious film that blends evenly with the family covered in luxury goods with money, the clash of two families that value tradition like a heavy beam even though they live in a collapsing house, and the sweet love between two men and women and the unexpected final reversal of two parents who try to disrupt their marriage. will be
Even if they are very different, make an in-law in-law from two very different families
Romeo & Juliet is so much fun when you come to Korea!!
If Shakespeare's classic Romeo & Juliet dealt with the tragic love between a man and a woman from two families that cannot be reconciled, <An Unstoppable Marriage> has a happy ending on the contrary. At the end of the Warring States period, there is a saying, "Gangnamjonggyugangbukwiji," an ancient history book of Prime Minister Anyeong (晏瓔), famous in the Qi Dynasty. 'If a tangerine planted in the south side of the river is transplanted to the north side of the river, it becomes a tangerine.' This old adage is the cause of the conflict, which expresses the 'unstoppable marriage' in one word.
The wife of a rich family in Gangnam, who has no need for poverty, raises both arms and opposes marriage when her only son, whom she raised dearly, falls in love with a woman from a low-ranking family that she cannot imagine. The story of being reborn as a good tank is comically presented.
Dealing with the custom of regretting even if you do or not regret, <A Marriage That Can't Be Stopped> will become a modern comedy drama of Romeo & Juliet, which will give us a happy smile during the blooming spring and March.
can only be seen in Korean society.
A family comedy that showcases marriage culture and values.
The main subject of <An Unstoppable Marriage> is a story about a marriage in which a man and a woman bear fruit in love. Our marriage doesn't necessarily happen if it's just the two of us. Regardless of East and West, Inryunji
Sign This marriage is always a lot of talk and a lot of wear and tear.
Although generations have changed a lot, the premise of marriage is only established when the family traditions of the two families, the ability of the parents, the property, and the occupation are matched first. And after the meeting, the adults will engage in a second nerve war over coma and house issues.
Perhaps this complicated problem is something that every adult male and female in Korea has experienced at least once. These small stories are a staple in TV dramas, but <An Unstoppable Marriage> goes beyond common sense and differentiates it by focusing on two parents who interfere with marriage.
A family comedy that delightfully depicts the process of healing and conflict between two families, a family that values tradition and whether tradition feeds them. Going beyond <Marriage Story>, it will be a fun family entertainment that can only be seen in Korean society.
Let me show you the essence of a character comedy movie!!
All the really funny actors go out
1. Kim Su-mi vs Im Chae-moo
Zion is one! The amazing transformation of Korea's top middle-aged actors
I can't stand it without seeing you
Kim Su-mi, an eternal daily tusk who is ushering in the second heyday by leading <Mapado>, <Crisis of the Family>, and <Resurrection of the Family>, changes 180 degrees this time and tries to transform into a luxurious woman Shim. In the meantime, in the TV drama Power Diary, she has always been slender in pants and short hair, and in this <A Marriage That Can't Dry>, she becomes a wealthy man in Gangnam and plays the role of the wife of a wealthy family who wears only luxury goods.
Lim Chae-moo, who is enjoying explosive popularity by parodying the referee Moreno in a certain ice cream commercial, appears as a man against this. This man transformed into a strict and strict character who values tradition and manners.
As much as the spectacular transformation of Lim Chae-moo, who has a comical image beyond imagination in 'My Neighborhood Real Story Theater', and Kim Su-mi, a 'luxury sim' in Cheongdam-dong, who runs shops for world-class luxury brands such as Chanel, Armani, and Louis Vuitton, their collision is already expected. becomes Who will be the ultimate winner?
Let me show you the essence of a character comedy movie!!
All the really funny actors go out
2. Eugene VS Ha Seok-jin
please let us get married
New generation chicken meat couples who can't dry
Good deeds vs. zero demeanor met!!
Eugene, who has changed jobs from singer to actor, and Ha Seok-jin, a rising prospect in Chungmuro, became a chicken couple in <An Unstoppable Marriage>. Eugene, who will present the character of a traditional yangban family woman in Gangbuk, is a pure beauty in a word, while Ha Seok-jin was born in a new wealthy family in Gangnam, and is a style zero of conduct that has covered her body with Apgujeong fashion. However, this well-behaved and pure beauty falls in love with Apgujeong mamaboy Ha Seok-jin, who is the opposite of her style. Eugene's father Lim Chae-moo and Ha Seok-jin's mother Kim Su-mi, who oppose Eugene, step out as an unimaginable marriage impediment.
3. Dahoon Yoon VS Yeonhong Ahn
If we fall out, steamed buns without anko
6 years after <Three Friends>
A comedy of a couple who can't stop again begins.
Da-hoon Yoon and Yeon-hong Ahn, who established themselves as comic actors by showing the peak of their comic acting in the drama sitcom <Three Friends>, met again after about six years. After the sitcom <Three Friends>, Yoon Da-hoon, who showed a comical performance in the role of a playboy in <Come back, Mrs. Soon-ae>, and the two people, who have shown brazen comedic performances in the drama <One Fine Day>, and are always playing a popping role, are <Three Friends. > and recently worked together for a bidet CF and appeared in <An Unstoppable Marriage>. Another comic couple will add a comical element to the movie.
Eugene and Ha Seokjin learn paper crafts, Taekkyeon, and paragliding
Busy, busy~ Immerse yourself in sweaty characters!
Eugene, who runs a traditional Korean craft dak paper workshop, spent a hectic time before filming to create her own character in the movie, from the traditional martial art Taekkyeon to paragliding, which is synonymous with fear of heights.
The first screen lead role is also trembling, but it is more like learning dak paper crafts or Taekkyeon, this time learning paragliding, which is scarier than bungee jumping, and shows off a new side. Ha Seok-jin, who works with Eugene, became a breast plastic surgeon and flew in the sky while paragliding with a job as a doctor.
The wonderful transformation of these people, who are busy making sweaty characters even before filming, will create another interesting spectacle and bring out the taste of the movie even more.
Related Videos