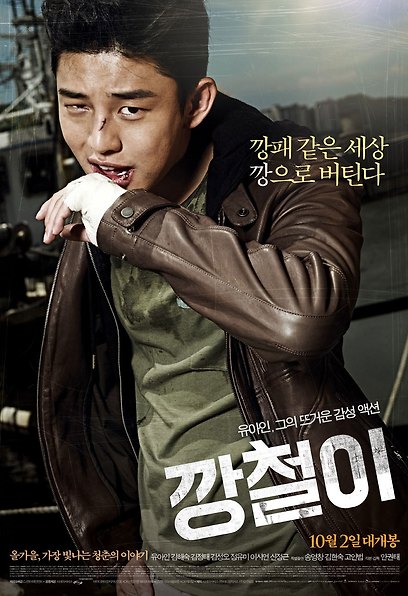 Tough As Iron, 2013
release

2013.10.02
genre

family
country

Korea
ranking

Audience over 15
running time

108 minutes
grade

7.0
cumulative audience

1209363 people
Synopsis
Has the world ever been on our side?
Cheol-i lives day by day working at a docking dock in Busan.
I don't have a stable job, a family I can depend on, and I don't have a reliable 'back'.
Still, he is a Busan man who never said that it was difficult.
In addition, the painful steel who has to take responsibility for the sick mother,
One day, he meets Suzy, a free-spirited person who travels from Seoul.
After regaining his laughter for a while, Cheol begins to dream of going out into the world for the first time.
However, the condition of the mother, Soon-i, who had only had accidents in the neighborhood with her ungrateful body, suddenly deteriorated.
His only friend, Jong-su, is deceived and puts even Kang Cheol, who urgently needs money, in danger.
If you can't raise money right away, you will lose your mother, friends, and even your own life.
The boss 'Sang-gon' in the back alley of Busan presents a dangerous choice to Cheol…!
[ Prologue ]
There are people I want to protect.
There are moments I want to share.
But the world…
It was never on my side.
a thug world
canned
For all youth in Korea
<Gangcheol>
[ About Movie ]
In October, Korea is known as 'Gang'!
A thug-like world, a painfully shining story of youth!
This fall, a movie for 20-30 million 'Kang-cheol' in Korea!
The movie <Kang-cheol> is a movie depicting the process of confronting the world as a Busan man named Kang-cheol, who lived in a harsh world with the power of positivity and one 'Gang' even though he has nothing, is at the crossroads of a choice that will shake his life. In a world where money, power, and ability are enough to live well, Kang Cheol has to take care of even her sick mother without having anything. A thug-like world does not easily allow Cheol Cheol, whose only wish is to live happily with her mother, Soon-i. Nevertheless, the story that begins when Kang Chul, who has never lost his last hope, is in danger of losing everything in the end creates a special impression by adding Kang Chul's passionate sincerity. In addition, the events unfolding intertwined with Kang Chul, mother Soon-i, friends Jong-su and Suzy, and the Gon brothers in a back alley in Busan are rich dramas that cover the rough world of youth, family, and men. makes With such colorful characters and stories, the emotionally-packed movie <Kang-cheol-i>, which will come this fall, will warm everyone's hearts with the desperate emotional action of Yoo Ah-in, who tries to protect herself and her mother in a harsh world.
<Kang-cheol> is a painfully shining story of a man who is unbearably hard but doesn't say it's hard, a son who sometimes throws everything for his mother, and a young man Cheol-cheol who fights with a gang in a thug-like world. Cheol Cheol is a figure who represents the youth of today living in a difficult reality, and his appearance, who does not give up hope even if he collides with the world and gets hurt, shows the deep sympathy of the 10 million Koreans in their 20s and 30s who live in the harsh reality of today. lead to The movie <Kang Cheol-i>, which combines the sympathy of wanting to get close to him and rub his back, a warm smile, and intense action, will deliver an unforgettable impression to the audience this fall through the appearance of Kang Chul, who is growing over the bitter reality.
come back rough!
Yoo Ah-in returns to Busan's 'manly man' for the first time in her life's action challenge
A very special breath with innocent mother Kim Hae-sook!
Yoo Ah-in, who played the role of 'Wan-deuk', a timid rebel, in the hit drama <Wan Deuk-i>, which mobilized 5.3 million people nationwide, received favorable reviews for her charm and solid acting skills that perfectly matched the character. Yoo Ah-in, who captivated women's hearts with the coexistence of charisma and romance, and established herself as Korea's leading screen actress in her 20s along with Song Joong-ki and Kim Soo-hyun, returns to Busan's 'manly man' through her comeback after two years. Yoo Ah-in, who has completely transformed into a rough but deep Busan man, shows a more sympathetic and realistic performance through the character 'Kang-cheol', who is closest to her actual age. Yoo Ah-in, who challenged not only perfect Busan dialect acting, but also wire action, shooting action, and car chasing, for the first time in her life, will fill the screen with masculine charm that goes beyond the strong emotional acting that leads the drama and dynamic action acting. In particular, Yoo Ah-in's emotional acting and action in the pre-monitor preview recorded high satisfaction with unanimous praise and praise from the audience, collecting topics. In this way, Yoo Ah-in will break away from the image of a boy and show remarkable growth and potential as an actor through <Kang-cheol-i>, solidifying his position as a representative male actor in Chungmuro.
Yoo Ah-in, who has been working with the best actresses in Korea, met with special partner Kim Hae-sook in this work. Kim Hae-sook and Yoo Ah-in, who play the role of mother 'Soon-i', have an unrivaled presence, and the breathing of the two children is a viewing point unique to <Kang-cheol-i> that cannot be missed. The reversal charm of 'Soon-i' Kim Hae-sook, who is naive despite all kinds of illness, and Yoo Ah-in, who is infinitely warm in front of such a mother, make the best ensemble by adding the fresh charm of the character and the acting skills of the two actors. In addition, Yoo Ah-in and Kim Hae-sook, who show a reversed side of the existing mother-child relationship through the appearance of a child taking care of their parents, will give a deep impression that surpasses the fever of father and mother love in the film industry in the first half of 2013. From the perfect breathing with Kim Hae-sook, who returned from a national mother to a reversal mother, Yoo Ah-in's new appearance, which exudes the vivid charm of youth in her twenties, will become a strong central axis of <Gangcheoli> and will touch the hearts of viewers.
Popular actors Kim Jeong-tae, Kim Seong-oh, Jung Yu-mi, Lee Si-eon
A solid actor with acting, charm, and personality
In <Kang-cheol-i>, actors who have impressive performances with their acting skills and unique charms across the CRT and screens come together to provide a variety of fun and emotions. Kim Jung-tae, who recently captivated 10 million viewers with his charming character and his indescribable presence in <The Gift of Room 7>, took on the role of Sang-gon, the boss of the organization that took control of the back alleys of Busan in <Kang-cheol-i>. Kim Jung-tae, who left a deep impression mainly with comic acting, transformed into a cold and cold image that was never before in <Kang-cheol-i>, adding tension with a heavy presence that forms a tight confrontation with steel in the play. Kim Seong-oh, the younger brother of 'Sang-gon' and the hot-blooded second-in-command leading the organization, took on the role of 'Hwi-gon', who drew attention for his intense villain performance in <The Mister> and captivated the audience with a human comic character in <Banchangko> and <Tower>. Kim Seong-oh, who plays the role of Hwi-gon, who threatens steel with his acting power that does not cover the front and back, is expected to show a villain performance that is different from <The Mister>.
The role of Suzy, a new friend of Cheol and a free spirit who came on a backpacking trip from Seoul, will be played by Jung Yu-mi, who has become a unique actress among actresses of her age by collecting topics in many movies such as <The Crucible>, adding rich fun and vitality to the work. And the role of 'Jong-su', a bamboo shooter in 'Steel', was played by actor Lee Si-eon, who received attention through the drama [Reply 1997] and [Shark]. Si-eon Lee, who showed a natural dialect and savory charm in the previous work, shows a more mature acting ability through the role of 'Jong-su', who puts his friend Cheol-cheol into a bigger ordeal. In this way, <Kang Cheol-i>, featuring the best actors, will captivate the audience with the conflict, fun and emotion created by the characters completed with the brilliant acting and charm of each actor.
Meet the raw Busan!
Yeongdo Sanbok Road, Songdo Beach,
Gamcheon Port Loading Dock and International Seafood Wholesale Market Ice Factory
From outdoor to open set, 100% all-location shooting in Busan
The movie <Kang-cheol>, set in Busan, was actually filmed in Busan All Locations while traveling around Busan. In order to capture Busan as a workplace for steel's livelihood and a daily space where all of steel's life, including family and friends, is buried, the production team chose not a famous tourist destination, but hidden spots where Busan's unique topography and vividness are oozing as the filming location. Busan Yeongdo Sanbok Road is a place where mother Soon-i makes a fuss on the chimney, Songdo Beach appears as a place where Cheol and Suzy are together, and places where mother and Cheol are enjoying a motorcycle drive are also filmed all over Yeongdo and Songdo, giving a cool and lively feeling. Adds a touch of flair to the overflowing scene. In particular, the loading dock and the ice factory, which are workshops full of sweat, are actually filmed at the ice factory and wharf of the Busan Amnam-dong International Seafood Wholesale Market, and at the tuna loading dock in Gamcheon Port, which doubles the vivid sense of reality. Even though the inside of the tuna loading dock reached minus 60 degrees in the cold weather in the middle of winter, and the ice-making factory also had bad conditions with the room temperature being 15 to 30 degrees below zero, the actors and staff all took pictures while taking turns with 4 cameras every 5 minutes. It was possible to capture the real scene full of vitality of life with the passion of
In addition, in <Kang Cheol-i>, the indoor spaces such as the house of steel, the Japanese restaurant where Sang-gon and Hwi-gon appear, and the guest house where Suzy is staying were also filmed with an open set of a building in Busan rather than a studio set filming. Police boxes and hotels were all conducted through local hunting. In this way, <Kang Cheol-i>, which captures a new face of living Busan through all locations in Busan, will deliver a sense of reality and vividness as if breathing together in the space in the movie.
Completion of emotional and intense video and music!
<Sunny> <The Maid> Lee Hyeong-deok, Cinematographer &
<Berlin> <New World> <Bat> Cho Young-wook Music Director
Through the participation of the top producers in Chungmuro, the video and music of <Kang Cheol-i> stimulates the viewer's emotions by dramatically portraying the conflicting emotions of the warmth that cares for the youth in their 20s and the urgency to face the harsh world. Cinematographer Lee Hyeong-deok, who delivered the intensity with a sensual and powerful video through the movie <The Maid> and the warmth with the most cozy and emotional video in <Sunny>. Cinematographer Lee Hyeong-deok, who has produced excellent images for each work, captured the vivid atmosphere and vivid daily life of Busan with his camera, and the dark side of youth facing the hard world within it. The happy moments that Cheol spends with those with whom she shares her heart are brilliantly, and the video that captures the other side of the harsh reality that contrasts with it from a realistic perspective will add immersion and emotion to the work.
The various emotions that Kang Chul feels and experiences, such as joy and sorrow, excitement and fear, vagueness and hope, and the dramatic twists and turns of events unfolding in it, double empathy and emotion through the melody completed by Korea's best music director, Cho Young-wook. From <Connection> to <Oldboy>, <Kind Venus> and <Bat>, director Park Chan-wook's works, as well as <War Against Crime: The Golden Age of Bad Guys>, <Berlin> and <New World>, the history of Korean film music is recorded. Director Jo Young-wook, who led the film, will touch the hearts of the audience with music that leaves a deep impression even after the movie ends.
Related Videos