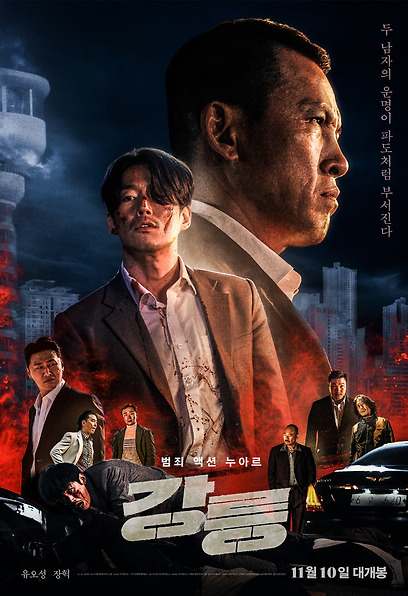 Tomb of the River, 2021
release

2021.11.10
genre

Action/Crime
country

Korea
ranking

Youth not allowed
running time

119 minutes
grade

4.4
cumulative audience

306809 people
Synopsis
'Gilseok' of Gangneung's largest organization
In front of him who valued peace and loyalty and lived an orderly life.
'Min-seok', a man who was aiming for ownership of Gangneung's largest resort, appears
The two have a cool atmosphere from the first meeting,
As 'Min-seok' begins to move in earnest to achieve his goal,
An uncontrollable war begins between the two organizations…
Two men faced with a rough fate
November, their story begins
[ INTRO ]
Oh-seong Yoo and Hyuk Jang, reunited after 6 years
<Beat> <Friend> Yoo Oh-seong's noir trilogy
Action of self-proclaimed action actor Jang Hyuk
Park Seong-geun X Oh Dae-hwan X Shin Seung-hwan X Lee Hyun-kyun X Lee Chae-young, etc. Gorgeous lineup
Fantastic synergy provided by famous actors!
A war of rough men unfolding in the East Sea as a background
Cool confrontation and rough action, as well as romance
this fall,
Here comes the crime action noir that will drive the wild waves!
<Gangneung>
director's disclaimer
<Gangneung> – A story of one person accepting the era.
Gangneung is a place that has always been pushed back from the priority of development in modern history. Until the Yeongdong Expressway was straightened out in the mid-2000s, it was only reached through the winding Daegwallyeong Road, and perhaps because of its geographical isolation, people also had a somewhat exclusive character.
Even in Gangneung, the wind of development began to blow along with the Pyeongchang Winter Olympics. A large amount of capital began to flow into the small and medium-sized tourist city that used to live as tourists during the summer, and large hotels and resorts were built on the beach accordingly. In this way, Gangneung entered an active competitive society that it had never experienced before.
<Gangneung> tells the story of people who adapt to the times. Unlike in the past, supermarkets now have to compete with hypermarkets or convenience stores, and small motels and guesthouses by the sea have to compete with hotels. The time has come for individuals to compete with huge capital. Now, surviving and winning have become synonymous, and it has become a society in which common prosperity and coexistence are no longer possible.
The characters in <Gangneung> also try to resist the changes of the times with their whole body, but in the end, they succumb to the times without even realizing it. Even though they are gangsters, they live with their own rules. In order to survive or have more, they betray their friends for the first time and start killing people for the first time. And the city that seemed like heaven turns into hell.
At some point in your hand, who did your best to simply survive, you may have a blue blade in your hand. I hope that everyone who survives the battle without victory or glory, can enjoy the movie in their own way. Even if it is regret, even if it is comfort.
Through the story that takes place in Gangneung, a large city.
<Gangneung> Director Yoon Young-bin
[ ABOUT MOVIE ]
The encounter that Korea has been waiting for! Oh-seong Yoo X Hyuk Jang!
The acting performances of the two actors who believe and watch are unfolding!
<Gangneung> is receiving a lot of attention in that it is the birth of a movie that can feel the charm of authentic crime action noir. In particular, the point that adds to the expectation of <Gangneung> is the casting. Yoo Oh-seong and Jang Hyuk, who played the two lead roles, work together again after the drama [God of Trade – Gaekju 2015] aired in 2015. is the biggest reason.
Yoo Oh-seong, who captivated the public with his intense charisma in each work, will play Gil-seok, a member of the largest organization in Gangneung, to show off his unique presence without regret. At the production report meeting, he said, "I thought it would be like a noir trilogy that connects <Beat> and <Friend>" about the opportunity to appear in <Gangneung>. Even 20 years later, the fact that a movie to follow the legendary movie Friend, which still records the highest number of audiences ever for a movie released in March, has created a lot of anticipation in itself.
Jang Hyuk, who played the villain 'Min-seok' in <Gangneung>, said, "The role I've been playing is a villain. By introducing the character, we added expectations that we would be able to meet a three-dimensional villain. In addition, Jang Hyuk, who has emerged as the best action actor recognized by himself through works such as [Chuno] and <Swordsman>, will also be able to meet the unstoppable action, which is drawing more attention.
The intense charisma of the two men, who will be working together again after 6 years, will satisfy 100% of the expectations of the audience who want to feel the charm of the crime action noir genre.
<Only Deliver Me from Evil>, <New World>, <City of Crime>
The success story continues!
A crime action noir with romance is coming!
Crime action noir is a genre that has been consistently loved for a long time. From the neo-noir represented by <The Godfather> and <Chinatown> to the Hong Kong noir that once received great love such as <The True Color of Heroes> and <The Ceiling District>, the area was gradually established, but in Korea, <Friend>, < Vengeance is Mine>, <Sweet Life>, <Sunflower> and other noir films received a lot of love one after another and continued the noir craze. With the success of <The Mister> and <The New World>, this noir genre has become more popular, and even now, crime action noir genres such as <Inside Men>, <The King>, <Crime City>, and <Save us from evil> continue to grow every year. It has shown great popularity and is loved by the public.
<Gangneung> is drawing attention as a film that will succeed the box office genealogy of this crime action noir. The fierce battle of men unfolding against the backdrop of the East Sea is expected to give the audience a genre-specific rough and cool charm. are collecting Yoo Oh-seong, who played 'Gil-seok' in <Gangneung>, mentioned about the movie, "I think it is a movie where you can feel romance in a very rough age", raising curiosity about the romantic crime action noir. situation to do. Park Seong-geun, who played 'Hyeong-geun', also said, "<Gangneung> is a movie that smells of people," heralding the birth of a new crime action noir with warmth that goes beyond simply exuding a rough and crude charm. there is.
Actors Park Seong-geun, Oh Dae-hwan, Lee Hyun-kyun, Shin Seung-hwan, etc. are all in attendance!
Equipped with charm with an overwhelming presence!
The strongest actor corps foretelling amazing synergy!
<Gangneung> is receiving a lot of attention because the lineup of supporting actors who will work with two veteran actors, Oh-seong Yoo and Jang Hyuk, is also strong. First, Park Seong-geun, who received a lot of love for his role as an honest and upright prosecutor 'Kang Won-cheol' in the drama [Secret Forest], plays 'Bang-hyeon', a friend of 'Gil-seok' and a detective after 'Min-seok' in 'Gangneung'. He plans to present a three-dimensional character with the appearance of a detective trying to keep law and order, as well as showing loyalty to 'Gil-seok', the second person in the Gangneung organization. Oh Dae-hwan, who is active in various fields, played the role of 'Hyeong-geun', the right arm of 'Gil-seok' in <Gangneung>. He has done a great job of invigorating the play in each work, and it is predicted that he will play the role of a scene stealer in this film by utilizing his strengths 100%. Lee Hyun-kyun, who left a strong impression through <1987> and <Young Client>, is expected to captivate the audience with a different charm than before by taking on the role of 'Chung-seop', the third person in the 'Chairman Oh' organization that checks 'Gil-seok'. Shin Seung-hwan, who has been walking for a long time recently, is attracting attention that he will show a unique chemistry with Jang Hyuk, who has been building a strong friendship with him for over 20 years. Appearing as 'Jeong-mo', a subordinate of 'Min-seok' played by Jang Hyuk, he plays a charismatic character who has lost his smile, adding to the expectation that he will show a new side to him that has not been seen before.
<Gangneung>, with actors who can digest 200% of the characters like this, will provide the audience with endless fun just by watching the performances of the leading actor ensemble.
Humor and deep lingering sound in the beautiful scenery of Gangneung
It offers both a rough charm and a warm charm!
<Gangneung> is attracting a lot of attention as a title that translates the city name as it is. The title of <Gangneung> is attracting more attention as works with the names of cities such as <Miryang> and <Gokseong> have been loved both domestically and internationally, as well as raising awareness of the city. Gangneung is one of the best tourist cities in Korea along with Busan, and various attractions such as Gyeongpo Beach and Jeongdongjin are gaining popularity. In addition, after all the ice skating events of the 2018 Pyeongchang Winter Olympics were held in Gangneung, recently, a large-scale cafe street was built on Anmok Beach, attracting attention as a city where tourists do not stop visiting.
The movie <Gangneung> is attracting attention as a work that will show the charm of the city of Gangneung. For the film set in various places in Gangneung as a background, most of the scenes were filmed on location at Gangneung attractions while minimizing the set shooting, raising expectations that the colorful colors of Gangneung will be able to be seen. Director Yoon Young-bin, who directed <Gangneung>, said, "Gangneung is a place where the emotions of my childhood are buried to me as a native of Gangneung. I wanted to tell a story about Gangneung at least once, so I wrote the script with love." The film is drawing attention as a work that will give you the charm of a comprehensive gift set, as it foretells that it will contain the various charms of Gangneung within the genre of crime action noir, while also containing humor and lingering vibes that add vitality to it.
[ PRODUCTION NOTE ]
Classical charm is added by utilizing the feeling of authentic crime action noir!
The director's effort to contain not only fun, but also comfort and empathy!
Director Yoon Young-bin, who made his directorial debut with <Gangneung>, expanded his scope in Chungmuro by participating in various films as a staff early on. <Gangneung>, where he caught his first megaphone, is expected to offer a variety of charms by utilizing the charm of the city of Gangneung, which he has seen and felt since he was a native of Gangneung. He said, "I think deep emotions and deep emotions are in a universal story. If the actors express it differently, it becomes a completely different movie, but the acting of the actors who expressed the story in a new way is memorable." It is expected that this work will be a gift for those who have fond memories and nostalgia for the genre of crime action noir. In addition, "I wanted to offer comfort and sympathy in an era when the scale of competition has changed. I think comfort is not a great thing, but knowing that I am having a hard time and knowing that there are people like me. It was made with the hope that people who are having a hard life will find comfort and sympathy by watching our film," adding that the film is arousing more interest in the film. A lot of things change day by day, and as they change, the competition becomes fiercer, attracting attention to what kind of hot and heavy power <Gangneung> will provide. On the other hand, the director, who started casting with acting ability as the number one priority during the casting process, demonstrated the extraordinary teamwork of the <Gangneung> team by showing the actors Oh-seong Yoo and Jang-hyuk as the lead in various scenes. . The perfect synergy with fantastic actors cast by the director who has been preparing the screenplay for a long time is another reason to look forward to the movie <Gangneung>.
Related Videos