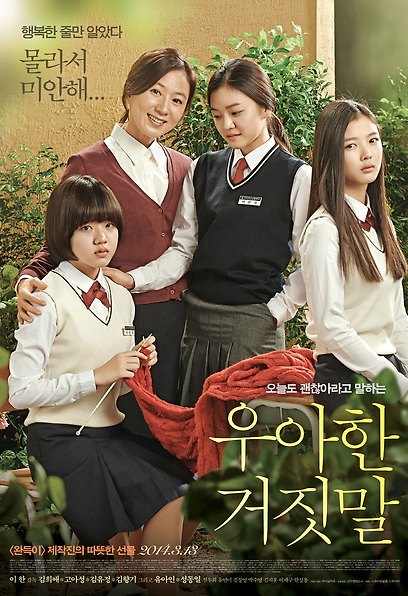 Thread of Lies, 2014
release

2014.03.13
genre

drama
country

Korea
ranking

Audience over 12 years old
running time

117 minutes
grade

8.3
cumulative audience

1619983 people
Synopsis
"Your brother is dead.
But no one knows why…"
Hyeon-sook (Kim Hee-ae) is a cool and confident mother who works at a mart and takes responsibility for her livelihood, but she always gets the job.
Manji (Go Ah-seong), a chic-minded older sister who doesn't care about other people's affairs and is quiet about family affairs.
The youngest, Cheon-ji (Kim Hyang-gi), who was always kind and kind to her mother and older sister, suddenly dies one day.
Hyunsook and Manji are puzzled by the sudden death of the youngest, the brightest and most laughing of the three families.
The courageous Hyun-sook tries to get used to life without heaven and earth with Manji.
Then, one day, Manji meets Cheonji's friends by chance.
Another hidden story that the family did not know,
And he finds out that Hwa-yeon (Kim Yoo-jung), who was closest to Cheon-ji, is at the center of it.
Manji is looking for the secret of his brother who left without a word.
He finds out that there is a message that Cheonji left behind in the red yarn…
This spring, the story that will change the lives of all of us begins!
[ Prologue ]
not hard
not lonely
not sad
Happy
You say it's okay today
"How are you?"
[ About Movie ]
A warm impression and lingering aftertaste that comes after a pleasant laugh!
A movie for everyone who lies saying "It's okay" today!
Whether for good or for evil purposes, everyone is lying. And there are lies that not only deceive others, but also hide their true feelings or to protect themselves. We hide our hearts with lies that we are not lonely, we are not sad, we are not happy. Because of this, <Elegant Lies>, which captures the images of those who find it unnatural and difficult to tell the truth even in really difficult, lonely and sad moments, and those who have been consistent with indifference and indifference even though they know the lie, is a warm-hearted look at the story behind the lie. draw with
<Elegant Lies> is a movie about a 14-year-old girl named Cheon-ji, who passed away without a word, and her mother, Hyun-sook, and her sister, Man-ji, and friends, Hwa-yeon, and the people around them, looking for the hidden secrets. Frustrated families do not know why the sweet and deepest youngest child who never complained or complained a word chose death. However, in the process of uncovering the hidden truth after the death of Cheon-ji, the mother and sister belatedly remember the image of Cheon-ji, who one day only wanted to tell the truth to them. And the friends of Heaven and Earth and the person at the center, Hwa-yeon, also confesses their true intentions by turning back the events that cannot be unrelated to the death of Heaven and Earth. In this way, <Elegant Lies>, which depicts the process of finding the truth through the stories of the people left behind with the death of a girl, is a story where laughter and sadness coexist by adding sympathetic lines to the warm and bright gaze and pleasant laughter to the material and story that can be a bit heavy. , shows the true value of 'funny' movies. <Elegant Lies>, a movie that captures with laughter and emotion how precious changes can be made by a warm word, 'How are you,' to my friends, family, and neighbors who are struggling with the word "Elegant Lies" is the It will tell the audience a heartwarming and heartwarming story that will change their lives.
The second collaboration between writer Kim Ryeo-ryeong and director Lee Han
A warm gift from the production team of <Wandeuk>!
Directed by Lee Han, based on the bestseller of the same name by Kim Ryeo-ryeong, the movie <Wandeuk> was released in 2011 and mobilized 5.31 million viewers. Wan Deuk, a timid rebel, and Dong Joo, a timid rebel, delivered fresh fun as an ensemble of unexpectedly lively characters, as well as social topics such as multicultural families and educational issues with a warm gaze. It captivated a wide audience. And in 2014, another bestseller of the same name by Kim Ryeo-ryeong, directed by Lee Han and co-produced by the production team of <Wandeuk>, <Elegant Lies> is also a sympathetic character and a material that could be heavy with witty lines and warm eyes. The story provides special fun and emotion.
The novel 'Elegant Lies' begins with the death of an ordinary 14-year-old girl, and depicts the process of an older sister who could not understand her sister's death to find the hidden truth through the traces left by her younger sister. The intersecting development of the characters captivated the readers by delicately depicting the emotions and events of the characters. In particular, 'Elegant Lies', which adds a deeper and wider concern to writer Kim Ryeo-ryeong's witty and lively handwriting, is newly recreated on the screen through the touch of director Lee Han, who added cinematic fun with excellent directing skills to the charm of the original through <Wan Deuk-i>. was born Regarding the selection of <Elegant Lies>, director Lee Han said, "Writer Ryeo-Ryung Kim's work always has a unique charm where fun and meaning coexist. <Elegant Lies> is emotionally deeper than <Wandeuk>, so I think it's a film that can be seen with more immersion in the characters. I wanted it to be a film that contains joy and sorrow just as there is pain and joy in life, and as if there is joy even in difficult situations, I wanted to make a story that anyone can feel and empathize with." The movie <Elegant Lies>, completed through a special collaboration of the second meeting between the original author and the director, which was built on trust, preserves the strengths of the original, while the acting and charm of the actors, plus the visual beauty and warmth of emotion and laughter. will reach the audience.
Kim Hee-ae, Ko Ah-seong, Kim Yu-jeong, Kim Hyang-gi
A meeting of the best actresses that transcends generations!
And Yoo Ah-in and Sung Dong-il, who have undergone a special transformation, join us!
<Elegant Lies> is an ensemble of performances created by the encounters of the best actresses who transcend generations, adding vitality and tension to the play, while at the same time multiplying laughter and emotion. Kim Hee-ae, a national actress who showed her perfect acting skills in a number of dramas and recently exuding a new charm through the entertainment program [Sisters Over Flowers], is returning to the screen after 21 years as her mother 'Hyun-sook' in <Elegant Lies>. Kim Hee-ae, who is a cool and dignified mother to the point of being blamed, and a character who struggles to live as before after the death of her youngest daughter, creates deep sympathy with her bare face with minimal makeup and deep emotional acting. And actress Go Ah-seong, who has proven her acting skills and box office success by appearing in Bong Joon-ho's works from <Monster> to <Snowpiercer>, radiates a more mature acting and charm through her chic older sister, Manji. In particular, Kim Hee-ae and Go Ah-seong, who show a mother-daughter relationship that deepens little by little while fighting after the death of Cheon-ji, lead the play with a perfect acting ensemble. Here, Kim Hyang-gi, who is called an acting genius, plays the role of the youngest, Cheon-ji, and Kim Yoo-jeong, a national sister, plays the role of Hwa-yeon, a close friend of Cheon-ji and at the center of the story behind death. It fills the <elegant lie> without gaps.
Not only the meeting of actresses representing each generation, but also the special casting of Yoo Ah-in and Sung Dong-il provides fun not to be missed. Yoo Ah-in appears as 'Chu Sang-bak', a civil servant who lives next door to the mother and daughter Hyun-sook and Man-ji. In addition, Sung Dong-il takes on the role of 'Man-ho', who likes 'Hyun-sook' and pursues him, and presents a variety of fun by showing off his powerful acting. <Elegant Lies> with Yoo Ah-in and Sung Dong-il, who have undergone a special transformation into such a strong character, will captivate the audience this spring with the new charms and passionate performances of the actors.
A cool mother, a chic older sister, a deep younger brother, a friend who hides his inner feelings…
and even special characters
A wealth of fun created by various characters!
The movie <Elegant Lies> evokes empathy with the appearance of our mothers, older sisters, younger brothers, and friends, while the appearance of characters full of personality provides fun that cannot be missed. Hyeon-sook, a mother who does her best to do her best for her daughters, who is barely making a living while making breakfast, and Man-ji, an indifferent older sister who doesn't care much about other people's affairs, and Cheon-ji, the most kind and deepest youngest. It conveys intimacy through the ordinary, everyday appearance of a single family that can be seen. And after the death of Cheon-ji, Hyun-sook, who tries hard to regain her usual appearance, but suddenly pours out the sadness she swallowed without knowing it, and Man-ji, who can't hide her belated regret for her younger brother while harassing her mother not to pretend to be bright, not to overdo it. It adds empathy and stimulates empathy. In particular, the lines that do not forget the wit even in sad situations breathe life into these characters.
In addition to these family members, various characters that capture the emotions of their peers, including 'Hwayeon', who had no choice but to lie to protect themselves, and the friends of Cheonji, can be seen in real life and at least once. It doubles the emotional immersion with ordinary people around you that you've seen. In addition, <Elegant Lies> delivers a wealth of fun by adding special personalities and stories, such as 'Chu Sang-bak', who appears as the man next door to Hyun-sook and Manji, and 'Man-ho,' who likes Hyun-sook. In this way, the characters of ordinary and friendly charm that are no different from those of ourselves and our neighbors, and delicate emotional descriptions and lines that add empathy and immersion to this, will be the main viewing points of <Elegant Lies>.
The story of all of us in need of communication, interest, and understanding!
A lingering aftertaste that soothes the heart! A message that comes with deep empathy!
The movie <Elegant Lies> conveys a strong reverberation and emotion through the process of uncovering the heartbreaking truth of Heaven and Earth, who passed away first. Chunji was the youngest to laugh and talk less at school, but to her mother and older sister, she was the sweetest and kindest youngest. For this reason, the fact that Cheonji chose death on its own, and the reality that they do not even know the reason, remains an indelible pain and question for the family. Also, I think it has nothing to do with the death of Heaven and Earth because it did not directly hurt them, but the truth is that no one is free from the guilt of indifference and indifference. Beginning with the death of Heaven and Earth, where even the closest family and friends could not communicate properly, <Elegant Lies> is a story of all of us who have many relationships, but it is difficult to share true communication within them, and forms a broad consensus.
On the other hand, <Elegant Lies> excludes provocative settings and expressions in dealing with rather sensitive subjects, and treats each character's story and story in a completely emotional and warm tone. "Elegant Lies" tells the story of Hyun-sook and Manji who look back on themselves as mothers and older sisters as they search for the cause of Cheon-ji's death, and Hwa-yeon, who also wanted to be the object of interest and understanding from someone. > delivers a deep impression with a message that naturally permeates into the heart even without trying to teach it. Through this, <Elegant Lies>, which gives a warm word to everyone, will warm the hearts of all of us who need sincere communication, interest and understanding this spring.
Related Videos