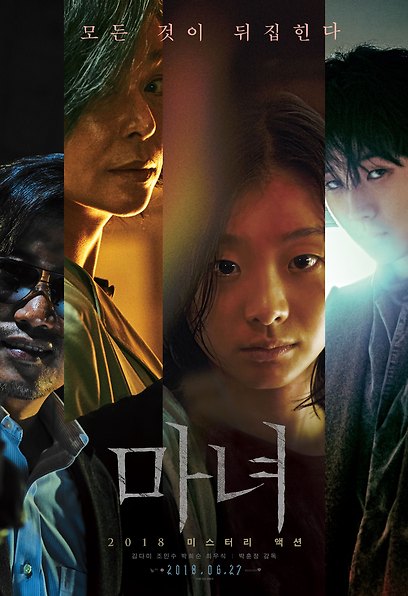 The Witch : Part 1. The Subversion, 2018
release

2018.06.27
genre

Mystery/Action
country

Korea
ranking

Audience over 15
running time

126 minutes
grade

8.0
cumulative audience

3189091 people
Synopsis
A mysterious accident in which many people died at the facility.
After escaping alone that night, in front of high school student 'Ja-yun' who has lost all her memories.
Mysterious characters start to appear,
Ja-yun is engulfed in confusion by the appearance of them, who know the past that they can't remember…!
Everything changed after they appeared
[ About Movie ]
new! exhilarating! refreshing!
Unpredictable and tense development
A witch, a mystery action like never before is born
'Ja-yun', who helped her family with farm work, lived an ordinary and happy day as a good daughter and exemplary student. One day, unknown people begin to appear in front of her. They do not believe in the child they are looking for, no matter how much they deny that they are not themselves. The approach that was gradually tightened gradually turns into a powerful threat, and everything in Ja-yun's peaceful daily life begins to change.
<Witch> is a mystery action movie depicting the story of a mysterious accident in which many people died in a facility, and a mysterious person appears in front of high school student Ja-yun, who has lost all her memories after escaping alone that night. Ja-yoon is enduring the unknown mark left behind her shoulder and the pain of unknown reason that comes periodically, but she can't remember anything about the past. The appearance of characters who seem to know too well about her, which she does not know herself, pushes Ja-yun into even greater chaos. With such a mysterious and fresh setting, the movie <The Witch>, which stimulates curiosity from the beginning, is like a hyena looking for prey, someone's gaze looking at her location and behavior from a distance, saying, "Did you get that new name?" Yoon evokes a strong tension with just a single word from the mysterious man 'Governor' approaching as if puzzled. In addition, 'Doctor Baek' and 'Mr. Choi' also start chasing Ja-yun, raising immersion by stimulating curiosity about the relationship between Ja-yun, Dr. Baek, Mr. Choi, and the nobleman. In particular, as curiosity about Ja-yoon's past and memories is rising at the center of all these incidents, the tense nerve war that unfolds around her maximizes cinematic pleasure with fresh and explosive action that has never been seen before, and the climax of the second half that reaches the pole is easily It leaves a strong, unforgettable afterimage. As such, <The Witch>, which contains new materials, unpredictable developments, and original action highlights that are rare in existing Korean films, will capture the theater scene strongly this summer, heralding the birth of an unprecedented mystery action.
2018 NEW FACE Kim Dami
Min-soo Jo X Hee-soon Park, who believes in and sees, and Choi Woo-shik, a powerful transformation
Witch completes powerful synergy
<Witch> completes a powerful synergy with the addition of Kim Da-mi, a rookie who makes a new discovery in the Korean film industry in 2018, Jo Min-soo and Park Hee-soon, who have solid acting skills and charisma, and Choi Woo-shik, a popular actor in Chungmuro. The role of 'Ja-yun', which raised curiosity from the casting stage, was played by Kim Da-mi, a rookie who was selected through a fierce competition of 1,000:1. Kim Da-mi, who perfectly expresses the complex aspects of Ja-yoon, from the appearance of an ordinary high school student to the process of confronting people who know her past and getting engulfed in confusion, is a notable newcomer in the Korean film industry following <Eunkyo> Kim Go-eun and <The Handmaiden> Kim Tae-ri. foretells the appearance of Choi Woo-shik, who has proven his acting skills by working with high-trust directors such as Yeon Sang-ho's Train to Busan, which captivated 11.56 million viewers, and Bong Joon-ho's Okja, which was well-received by critics around the world, is a mysterious figure who suddenly appears in front of Ja-yun one day. He takes on the role of a male 'noble man' and shows off a strong transformation. Choi Woo-shik, who challenged action acting to digest the character of a nobleman who creates cracks in Ja-yun's peaceful daily life, took off his pure and clear image and completed an attractive character by adding sharp and explosive acting.
If newcomers Kim Dami and Choi Woo-shik with unstoppable charm lead the play with fresh energy, the representative actors Jo Min-soo and Park Hee-soon, who believe and watch, fill the play with solid acting skills. Jo Min-soo, who captivated the world with his extraordinary performance in <Pieta>, which won the Golden Lion Award at the 69th Venice Film Festival, will return to the screen after 4 years with <The Witch>. Jo Min-soo, who played the role of 'Doctor Baek' who knows her past, which Ja-yun cannot remember, presents a unique character with coolness and charisma with a unique presence. Park Hee-soon, who showed impressive performances in <1987> and <Namhansanseong>, took on the role of 'Mr. Choi', who pursues Ja-yun at the direction of Dr. Hee-soon Park, who completed Mr. Choi, who fiercely pursues Ja-yun from the moment of the mysterious accident, with heavy charisma, adds tension to the play and immerses the audience. In this way, <Witch>, which combines the casting harmony of newcomers and veterans from Kim Da-mi to Jo Min-soo, Park Hee-soon, and Choi Woo-shik, will overwhelm the screen with the explosive acting synergy created by the combination of actors with unrivaled charm and acting skills.
<Along with the Gods> <Secret> <Inside Men> production team participation
Synergy of original visuals and music
The witch creates a sensual style
The talented producers of Chungmuro, who have captivated the audience with their high-quality visuals and original attractions, gathered for <Witch>. With cinematographer Kim Young-ho and art director Hwa Seong, costume director Jo Sang-kyung, martial arts director Park Jeong-ryul-Kim Jeong-min, and music director Mog joined, <The Witch> adds an intense and sensual style to the unpredictable tension-filled development.
Cinematographer Kim Young-ho, who was well-received for his shooting style that conveys a vivid sense of reality such as <Pirates: Bandits to the Sea> and <Haeundae>, not only captures the emotions of the characters in detail, but also minimizes the cuts of the action sequences and The scene was filled with excitement by capturing it in a straight-forward style. Art director Hwa Seong, who has shown sensuous spaces across the ages such as <Taxi Driver>, <Veteran> and <Missionary>, has enhanced the perfection of sights through the sharp contrast between Ja-yun's house and facilities, the main background of the film. The house where Jayun grew up normally was completed as a cozy and comfortable space that harmonizes with nature, and the facility where a mysterious accident occurs was designed as a mysterious place that looks like an ordinary hospital from the outside, but special spaces are hidden inside. Costume director Jo Sang-kyung, who has won the Daejong Film Festival and Blue Dragon Film Awards Costume Award for participating in works such as <Along with the Gods>, <Spying>, <The Handmaiden> and <Assassination> The character's personality was expressed through costumes such as 'Dr. Baek' and 'Mr. Martial arts directors Park Jeong-ryul and Kim Jeong-min of <Inside Men> and <The Mister> deliver exhilarating pleasure with a differentiated concept, sensual style, and high-intensity action with fresh attempts. Here, music director Mog of <The King> and <Spying> increases immersion with music that captures the flow of the play, from a lyrical and peaceful melody to an intense and impactful score based on an electronic instrument. In this way, <Witch>, joined by top production crews in each field, from photography, art, costumes, martial arts, and music, will mesmerize the audience with new sights and explosive actions that have never been seen before.
Intense hit! explosive pleasure!
Original action that has never been seen in Korean movies.
Witch opens a new world of mystery action
The production team of <Witch> made a special effort to build a new speedy and destructive action style that has not been seen in existing Korean films. In particular, the action using a limited space was the main focus due to the nature of the place, and the surprising action, such as climbing a wall or jumping high in the ceiling, delivers a strong impact by using the characteristics and limitations of a narrow space exquisitely. Here, the scene where numerous characters collide in the hallway is also perfectly calculated for each movement and movement, maximizing the tension with high-quality, large-scale action. In addition, the resilient and surprising speed of the action, which is different from the existing movies, focuses on the action style of <Witch>.
On the other hand, detailed actions such as designing different styles of action in consideration of the character's personality, as well as adjusting the intensity of the action according to the character's abilities and story development, are enough to enhance the immersion in the movie. To this end, the actors also made efforts to immerse themselves in training from action movements and postures to facial expressions from about three months before filming. In addition, the high-level shooting that goes beyond the limits of the action that an actor can directly digest, such as soaring into the air, was completed through the late CG work using digital characters. A more exciting and creative action scene was realized by filming the background source and then combining the digital character realized by scanning the actor's whole body into the video. Here, in order to emphasize the powerful and strong action and the cool and refreshing action without blockage, not only the precision technique was chosen instead of the flashy technique in the filming, but also the music focused on creating a strong atmosphere that can raise the heart rate to the maximum. In this way, the action of <Witch>, which thought about the movement, speed, characteristics of space, and even a character concept, and paid special attention to filming and music, will deliver shock and pleasure beyond the existing limits.
Related Videos