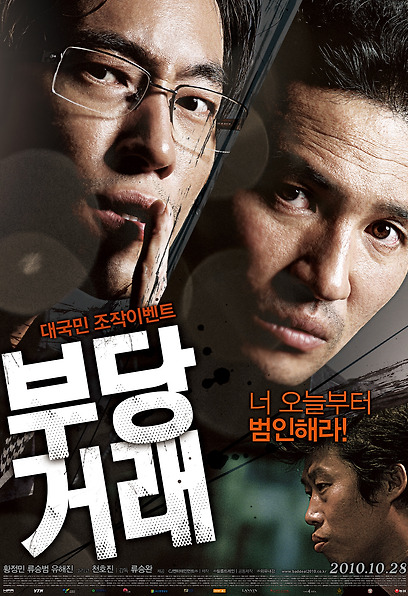 The Unjust, 2010
release

2010.10.28
genre

crime/drama
country

Korea
ranking

Youth not allowed
running time

119 minutes
grade

8.1
cumulative audience

2725860
Synopsis
The event that rocked Korea in 2010!
If the culprit doesn't exist, make it!
A serial murder case that shocked the entire nation. The president intervenes in the case due to the continued failure of the arrest, and when an accident occurs that a leading suspect dies during the investigation, the National Police Agency pulls out the last card. Closing the case by making an 'actor' who is a fake criminal!
Cheol-gi Choi (Jung-min Hwang), the ace of the Metropolitan Investigation Unit, was named in charge of this case. Without a line or backing because he was not from the police force, he accepted the condition of his superiors to guarantee a promotion and jumped into the case. He uses his sponsor Haedong Jang Seok-gu (Yoo Hae-jin) to establish an 'actor' and complete the event for the general public.
Meanwhile, prosecutor Joo-yang (Ryu Seung-beom), who is sponsored by Chairman Kim Tae-kyung, a big hand in the real estate industry, is outraged that Choi Cheol-gi arrested Chairman Kim for bid corruption and begins to dig behind him. At the same time, while investigating the culprit of a serial murder case assigned to him, Joo-yang realizes that there was a deal between Cheol-gi Choi and Seok-gu Jang, and proposes another deal to Cheol-gi Choi.
A prosecutor who writes a script, a police officer who directs, a sponsor who acts…
Their dirty and terribly twisted trade begins!
[ Intro ]
No choice. There must be a culprit.
It's also alive and fluttering
We have to get our hands on it and get it published in the press.
keep in mind It is an event that the nation is watching.
A serial murder case that made the Republic of Korea uproar!
The perpetrator was arrested
He's just an 'actor' that someone set up!
Started an unfair transaction over a fabricated case
The public manipulation event of the police, prosecutors, and sponsors begins!
<Unfair transaction>
[ About movie ]
Serial Murder Case = Public Manipulation Event!
The birth of a well-made entertainment movie with exciting material
Two works, <Reconstruction of Crime> and <Operation>, received favorable reviews from critics and audiences for novel themes of bank fraud and stock wars. These works have in common that they contain a unique setting centered on a curious event, a rapid development of events, and an unpredictable ending. Not only that, both works showed a fierce appearance that did not choose any means and methods for the hidden desires and desires of those living today, bringing tension and interest at the same time.
<Unfair Transactions> is an exciting depiction of unfair transactions between the police, prosecutors, and sponsors around the serial murder case that caused a stir in the Republic of Korea. In particular, the setting that the murder case, which is the beginning of all transactions, is a 'manipulation event for the public' itself stimulates the curiosity of the audience and amplifies the curiosity about the development of the case. The difference between the existing works and <Unfair Transactions> is that they deal not only with one subject, but with multiple subjects at once, such as the corruption of the authority class surrounding the murder case, the problem of prosecutors and sponsors, and the problem of bidding corruption. In addition, each event is completed as one big event through a dense and meticulous composition, providing the audience with fun and tension in following the story. <Illegal Transaction>, which completed a structured story based on such an exciting material, is expected to captivate the five senses of the audience by unfolding an unpredictable drama every moment.
More vivid than news and more sympathetic than dramas.
A real drama that captures today's Korea as it is
<Unfair Transactions> adds to the fun by unfolding exciting events based on political and social issues such as serial murder cases, corruption in the authority class, prosecutors and sponsors, and corruption in bidding for large buildings. It is noteworthy that the various events in the movie are very similar to the actual events that have adorned the front pages of news and newspapers in recent years. In particular, not only the facts reported through the news, but also the truth behind the incident and the story behind the resolution process, leaving a deep impression on the audience. Director Ryu Seung-wan, in charge of directing this work, put the most emphasis on reality at the time of filming in order to fully utilize the charm of a well-crafted story and realistic story. The completed <Unfair Transactions> unfolds today's Korea more vivid than the news, and gives viewers something to see and enjoy more than just a movie.
However, what <Unfair Trade> is really trying to capture is not the social message of 'social accusation' or 'criticism of reality', but the image of modern people struggling to make a living in a fiercely organized society. Police, prosecutors, sponsors, etc. have special situations and jobs, but they all jump into the case by any means and methods to survive in the organized society to which they belong. Accordingly, the audience will be able to find themselves in the appearances of Choi Cheol-gi, Jooyang, and Jang Seok-gu in the movie <Unfair Transactions>, and will be able to sympathize greatly with their unfair dealings to make a living.
<Illegal Transaction>, which captures both the vivid material than the news and the image of modern people who are more sympathetic than the drama, will capture the hearts of modern people living today in 2010.
There is neither good nor evil!
A rediscovery of terribly bad, so terribly attractive characters
Most of the films so far have delivered messages such as 'Kwon Seon-Jung-eak' and 'Justice triumphs' to the audience through a clear distinction between good and evil. However, <Unfair Trade> breaks away from the previous conventions and presents the three main characters, Choi Cheol-gi, Jooyang, and Jang Seok-gu, as mean, cunning, and vicious characters, showing the characters 'extremely bad and so terribly attractive'.
Choi Cheol-gi, a mean police officer who was not recognized for his abilities because he was not from the police force, and started a deal on condition of a promotion. Jang Seok-gu, a vicious sponsor who finally gained power through prosecuting Jooyang and minorities, but uses trades to get bigger prey. They all have different ideas, but they share a common belief that ultimately, they must survive to the end of the food chain to be eaten and eaten. In particular, they show terribly evil aspects, such as committing corruption, cover-up, and even murder while starting an unfair transaction. also do
Through <Unfair Trade>, which contains such exciting material and the drama of police, prosecutors, and sponsors to survive to the end, the audience will be able to discover 'extremely bad, so terribly attractive' characters that have never been seen before.
Hwang Jung-min, who gives trust
Ryoo Seung-beom, who adds novelty
Hae-jin Hae, who has a presence
A three-way battle of three men representing Chungmuro!
Hwang Jung-min, Ryu Seung-beom, Hae Hae-jin. The three actors from Chungmuro, who are preferred by the Korean audience the most, and whose name alone adds to their trust, gathered for <Unfair Transaction>. Those who have already proven their solid acting skills as well as their box office power through numerous individual works, play a tight three-way battle in <Unfair Trade>, adding to the depth of the film.
Hwang Jung-min, an actor who gives trust to the audience by perfectly digesting the characters that go back and forth from the naive rural youth who loves a woman to the mean corrupt police officer, plays Choi Cheol-gi, a gangster police officer who has no lines or backs in this work. do. He has a strong belief, but shows the dual side of good and evil through the role of Choi Cheol-gi, who starts a deal for promotion. And actor Ryoo Seung-beom, who always adds newness to his outstanding image transformations such as a bad student, a cold-hearted murderer, and a nobleman Doryung, takes on the role of a prosecutor Joo-yang, who jumps into another deal to escape the threat that is squeezing his breath. He also showed off an elite aspect that he had never shown before. Lastly, actor Yoo Hae-jin, who has a strong presence with acting regardless of genre, from clowns, human dogs, to a young man in a secret village, plays the role of the sponsor Jang Seok-gu, who uses a deal for bigger food, showing another extreme of meanness from previous characters. postpone In this way, the three men representing Chungmuro will not only draw a more suspenseful and exciting story, but will also make a strong impression on the audience by making use of the true taste of the movie.
Cheon Ho-jin, Ma Dong-seok, Cho Young-jin, Lee Seong-min, Song Sae-byeok!
Chungmuro Scene Stealers who add power to the drama
In <Unfair Trade>, scene stealers from Chungmuro, led by Hwang Jung-min, Ryu Seung-beom, and Yoo Hae-jin, mobilize to provide various attractions and enrich the story. First of all, actor Cheon Ho-jin, who crosses the main role and adds a sense of weight to the work, in this work, plays the role of a boss who instructs police officer Choi Cheol-gi to set up an actor in a serial murder case. In front of Choi Chul-gi, he praises him as an 'ace', but when he turns around and thinks he is a 'good guy', Kang Guk-jang was perfectly portrayed as a cynical character through Cheon Ho-jin's powerful acting. In addition, Ma Dong-seok and Jo Young-jin, who performed impressive performances in various works, took on the roles of Choi Cheol-gi's junior, Ma Dae-ho and Jooyang's sponsor, Tae-kyung Kim, respectively. Ma Dong-seok plays Ma Dae-ho, who trusts and follows his senior Choi Cheol-ki to the end, further enhancing Choi Cheol-gi's human side. further emphasizing the power of In addition, Lee Seong-min and Song Sae-byeok, who have rapidly emerged as the best supporting actors in Korea through active activities this year, are responsible for the laughter of the play. Lee Seong-min, who has both charisma and laughter, appeared as the chief prosecutor of the Seoul District Prosecutors' Office and played a role in highlighting Joo-yang's flaws. Taking on the role of the immature brother-in-law, he brings a lot of laughter to the audience with his unique weak dialect and facial expressions.
In this way, the scene stealers of Chungmuro, who returned their individual personalities as home appliance characters, will leave a strong impression with the best acting skills and presence that are comparable to the main characters, giving the audience the pleasure of enjoying the character battle.
I'm back with exciting events and realistic dramas, not action!
Director Ryoo Seung-wan's new work of style
Screenplays for strong personalities such as <Death or Bad>, <Without Blood or Tears>, <Operation Arahant Long Wind>, <Fist Crying>, <Correspondence>, and <Tachimawari: Evil, Ride the Express Train to Hell> , director Ryoo Seung-wan, who completed his own style through directing. Director Ryoo Seung-wan, who always wanted to make a movie he wanted to see, has presented works that are strongly remembered in the minds of the audience with his youthful sense and unique style. In particular, director Ryoo Seung-wan has stood out in the action genre to the extent that the modifiers 'action supreme' and 'action director' follow. In October 2010, through <Unfair Transactions>, he draws an exciting setting of a public manipulation event rather than an intense action and a drama full of tension in his own style.
Director Ryoo Seung-wan, who directed a film based mainly on the story he wrote himself, chose Park Hoon-jung's Unfair Transactions, which is about the unfair dealings of detectives, prosecutors, and sponsors, as his first new work in three years. <Illegal Transaction> is a work that systematically captures the exciting setting that all this is a manipulation event for the public and the transaction of terribly bad characters based on the big subject of a serial murder case. Apart from that, he focused on realistically portraying events and dramas. In addition, in the process of capturing the dark side of today's society in terms of story development, he did not miss a single moment of urban and sophisticated sense by making full use of his own style. Through <Unfair Trade>, completed with director Seung-wan Ryu's new color, you will be able to confirm his outstanding sense and unique style once again.
[ Production Note ]
Korea in 2010 on the screen!
Locations for 86 days to bring out a vivid sense of presence
<Unfair Transaction> is a realistic depiction of unfair transactions between the police, prosecutors, and sponsors around the serial murder case that caused a stir in the Republic of Korea. In order to add realism to the tense and exciting story, the production team went on a grand campaign to find the best location and travel all over the country. During the filming period of 86 days, the best places hidden in various places such as Cheongju, Daejeon, Busan, and Jeonju as well as the Gyeonggi area of Seoul were found and captured in a realistic way.
The first mission given to the production team was that the space where Cheol-gi Choi and Seok-gu Jang and Cheol-gi Choi and Yang Joo-yang took place should be a public place familiar to the audience. It was intended to show realistically that a 'manipulation event for the people' is taking place around us, breaking the prejudice that the place where unfair transactions are generally made is a closed and dark space. First of all, the place where Choi Cheol-gi proposes to Jang Seok-gu to make an 'actor' to be set up as a fake criminal in the case is the rooftop of a high-rise building in the city owned by Jang Seok-gu. The scene of the transaction, which was safely filmed against the backdrop of the rooftops of two buildings in Seoul and Daejeon, adds to the interest of those who see it as a setting in which a huge amount of manipulation is taking place around us. The secret transaction scene between Cheol-gi Choi and Yang Joo in an ordinary open-air cafe crowded with men and women of all ages is another setting that dazzled the audience. To this end, the production team created an open-air cafe that did not exist in the Daejeon Arts Center plaza and maximized the sense of reality by mobilizing all extras regardless of age or gender. The transaction scenes filmed in this way will be another point to watch the movie <Unfair Transaction> with a different approach that a 'manipulation event for the public' begins in an open space in bright broad daylight.
Fighting the terrible methane gas & unbearable stench!
Behind-the-scenes story at the Busan garbage disposal site
In the scenario, the place where the fake culprit of the serial murder case, the 'actor', was created was none other than a garbage dump. The garbage disposal scene, which shows Jang Seok-gu's viciousness to the extreme, was also very important for the emotional expression of Yoo Hae-jin, who played the role of Jang Seok-gu. The key to this filming was his gruesome acting, which goes beyond assault and conciliation, along with a terrible threat that he would bring a man to the garbage disposal and make him disappear with the garbage if he doesn't become an 'actor'.
As soon as filming started at a garbage incinerator in Haeundae, Busan, a huge variable arose. The terrible methane gas and unbearable stench from the garbage was so severe that it caused vomiting. This is a place where even real employees do not go inside and work remotely through a glass wall, and in this harsh environment, the director and staff had to endure so much pain that they could not breathe even though they were wearing masks. Actors were also put in a situation where they had to immerse themselves in acting by controlling their breathing in intense emotional scenes.
However, even in such a vulnerable situation, actors Hae-jin and others showed amazing concentration and went to the filming without wearing a mask until the end, receiving enthusiastic praise from the staff. As a result, this scene was born as a famous scene in <Unfair Transactions> where you can see the terribly bad and more attractive side of Jang Seok-gu, a person who does not choose any means to survive.
Couldn't be more real than this!
Former Jeonju Northern Police Station Open Set Camera
The building of the National Police Agency, which is the space of Cheol-gi Choi and his classmates, is a place that takes up a large part in the movie <Unfair Transactions>. Choi Cheol-gi, ace of the Metropolitan Investigation Team, who is pushed out every time from promotion because he is not from the police force, has conflicts with other teams and his juniors who believe in him. This is because the National Police Agency is a space where various situations occurring within an organized society are unfolded realistically.
The place that appeared as the National Police Agency building in the movie is the former Jeonju Bukbu Police Station located in Deokjin-gu, Jeonju. This building, which was left as the Jeonju Northern Police Station, which was originally located here, was relocated to another location, was the best place to preserve the realism that director Ryoo Seung-wan and the production team wanted. However, for a realistic work, the staff and actors suffered difficulties in filming without even operating the air conditioner in the building that was hot in the scorching heat of early summer. This is because the electricity supply to the building was cut off after the last task force left here withdrew. As such, the wide area investigation team scene, which was full of sweat and effort by the staff and actors, delivers a more realistic sense of presence to the audience than any other scene. In particular, in the special room where Choi Cheol-gi and his classmates spend all night investigating the suspects in the case, there are also items that clearly show the efforts of the staff to preserve reality, such as hundreds of photos of the suspects and a glass wall with their personal information written on them. It was filled and created an indispensable spectacle of <Unfair Transactions>.
Chungmuro's dream team 'Ryu Line' is formed, led by director Seung-wan Ryu!
Laughter-filled on-site story of men united by loyalty
Director Ryoo Seung-wan, who was well-received for his own style of depicting the stories of tough men, starting with <Dead or Bad>, <Crying Fists>, and <Compatibility>. In this <Unfair Transaction>, he formed a dream team with the best men in Chungmuro and showed off his loyalty as much as his style of work that exudes a manly charm.
The so-called 'Ryu Line', led by director Ryoo Seung-wan, is splendid regardless of the actors and staff. Leading actors Hwang Jung-min, Ryu Seung-beom, and Yoo Hae-jin, as well as producer Han Jae-deok and martial arts director Jeong Doo-hong, who has already shown off his fantastic collaboration with director Ryu Seung-wan through several works, and cinematographer Jeong Jeong-hoon who worked with director Ryu Seung-wan for the first time, the best men in Chungmuro Forming the strongest dream team for this work. It is said that the filming site they worked together was always full of pleasant laughter. As it is a work that deals with heavy topics such as corruption, concealment, and intimidation between the police, prosecutors, and sponsors, laughter is necessary for mental health, and the director, actors, and staff went out of their way to evoke an atmosphere of hopelessness. In particular, those who knew each other well before they met through this work agree that the secret to their best teamwork was that they were able to quickly immerse themselves in the work without going through the process of exploring each other's tendencies at the beginning of filming. As if to prove this, Hwang Jung-min, Ryu Seung-beom, and Yoo Hae-jin showed off the men's close friendship by visiting the scene, helping the staff, and enjoying simple games together even on days when there was no filming schedule. Such a scene atmosphere created a synergistic effect that allowed actors to comfortably immerse themselves in acting, giving the actors the strength to show off their best acting skills.