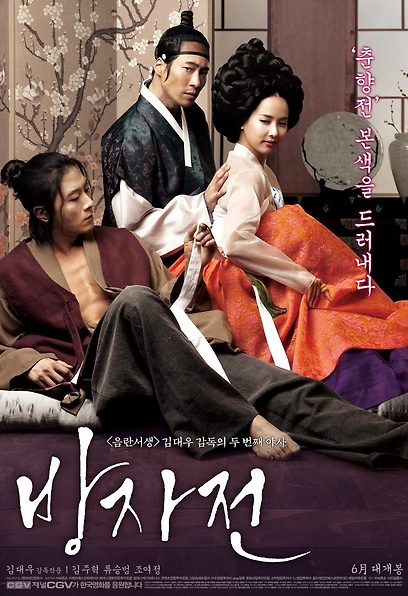 The Servant, 2010
release

2010.06.02
genre

period drama
country

Korea
ranking

Youth not allowed
running time

124 minutes
grade

6.8
cumulative audience

2985556 people
Synopsis
Bangja, embrace Chunhyang
At Cheongpunggak, who followed Mongryong, he fell in love with Chunhyang, the daughter of a gisaeng, at first sight. The master tries to give up on the fact that he is also paying attention to her, but he reveals his feelings for Chunhyang with hostility to Mongryong's demeaning attitude toward him. Chun-hyang is also shaken by Bang-ja's manliness and kindness, and Bang-ja finally embraces Chun-hyang.
However, Chun-hyang, unable to stop dreaming of rising in status, makes an oath of love before Mong-ryong leaves for Hanyang for a past exam, and Bang-ja knows this, but cannot break her heart for Chun-hyang. Then, one day, Mongryong, who took a high grade in the manor, returns and proposes a deal to Chunhyang for greater success…
Another man Bangja who wanted Chunhyang, but…
Mongryong, love was also a strategy for success, so…
Love and rise in status, Chunhyang who tried to have everyone, and…
Director Kim Dae-woo's lewd saga, secret colors, rude humor, and bold imagination <Bangjajeon>
[ Introduction ]
"Who would read your life if you write it as it is?
It's like this, Chunhyang was riding on a swing one day
I met Lee Do-ryung and fell in love at first sight.
And I waited patiently while the master went to Hanyang and took the manor salary system.
I'm talking about a hundred years.
I don't even care about servants like me…
It's really beautiful… Please write it as a story loved by the master.
The title is… Chunhyangjeon!"
The 'Chunhyangjeon' you know is a lie!
[ Introduction ]
犯 (perpetrator)
Director Kim Dae-woo, the best lewd student of this era, commits [Chunhyangjeon]!
He imprinted 'Writer Kim Dae-woo' in the public mind through works such as the films <King of Fouls>, <Affairs> and <Scandal: A man and woman in Joseon>. Director Kim Dae-woo, who established the coffin. Director Kim Dae-woo, who builds a world of his own color with solid storytelling, boldly breaks away from the staleness of historical dramas drawn in other dramas and movies through the historical dramas that lead to <Scandal: Men and Women in Joseon> and <Seosaeng>. Thus, he created a sensation by adding a modern sense, witty lines, and secret colors.
In particular, the unconventional setting that started with the bold imagination of 'Destroying chastity women' (<Scandal – The Confessor of Joseon men and women>) and 'The writers of nightmares in the Joseon Dynasty is a yangban' (<Sexist in Obscenity>) is also the same for director Kim Dae-woo's new work <Bangjajeon>. is on the line It is foretelling another sensation by overthrowing the classic [Chunhyangjeon] that all Koreans know. 'The Story of Chunhyang as we know it is a false story glorified by Bangja who loved Chunhyang', with a humorous humor that reflects modern trends, and a covert drama by Bangja Chunhyang and Mongryong, subtle eroticism and humor. It will serve as an opportunity to reaffirm director Kim Dae-woo's directing and writer abilities.
顚 (before turning over)
Is [Chunhyangjeon] a story that is beautified by the Bangja who loved Chunhyang?
<Bangjajeon> breaks down the myth of classic romance!
If there is [Romeo and Juliet] in the West, [Chunhyangjeon] can be said to exist in Korea. [Chunhyangjeon], which has established itself as the essence of Korean classic romance, is a love that transcends the status of Chunhyang, the daughter of a gisaeng and Mongryong, the son of a noble family, and the pressure of a Byeonhakdo to listen. Despite this, Chunhyang's fidelity, which she kept to the end, and the virtues of realizing justice by appearing in the secret temple, have already been treated as the subject of many dramas and movies. And in 2010, the story of Chunhyang and Mongryong started with a drastic reversal of '[The Story of Chunhyang] is a false story glorified by the Bangja who loved Chunhyang'. It depicts love and welcomes a completely new development.
<Bangjajeon>, which started from an interesting question, 'What was Bangja doing when Chunhyang and Mongryong were having a happy time?' Goes. 'Another man who wanted Chunhyang, Bangja', 'Mongryong, a mean strategist who also used love for success', and 'Love and status, a woman who wanted everything, Chunhyang' are the unrealistic ideal characters of the existing <Chunhyangjeon>. The new setting of 'Bangja's love for Chunhyang' adds depth and three-dimensional effect to the drama, which makes the drama richer and more interesting. In this way, the characters and drama lines that boldly break down the myths of [Chunhyangjeon], such as the loyalty of the Bangja, the justice of Mongryong, and the fidelity of Chunhyang, will give the audience a different resonance.
感 (feeling)
19禁 Shows the evolution of historical dramas! 2010's popular work <Bangjahan>
A more secretive color (color), a deeper 感 (persimmon), a darker 弄 (darkness)
<Scandal: Men and Women in Joseon>, <Lawful Confession>, <Beautiful Island> and <Ssanghwajeom>. Those who captivated the audience with their solid storyline and hot charms of '19 禁', 'Destroy the virtuous woman', 'The writer of obscene novels from the Joseon Dynasty is a yangban', 'The best painter Shin Yun-bok is a woman', and 'The bodyguard loved by King Gongmin' Along with the bold setting of
In addition, <Bangjajeon>, which will be released in June 2010, maintains the dignity and 'beauty' of a historical drama, but with a more secret 'color', a deepened '感', and a deepened '弄 (nong)' ' will be added to show an upgraded charm from the existing historical melodrama. Mongryong, who is blind in his career, Chunhyang, who wants to improve his status, and Bangja, who started from hostility and has the purest love than anyone else, adds sincerity and desperation to the drama of the three people, and Bangja and Chunhyang's love is the existence of Mongryong. This makes it even more dreadful and secretive. Not only that, <Bangjajeon> expresses a satire on class society by portraying Bang-ja as a bold and attractive man and Mong-ryong, a symbol of justice, as a person blinded to success. <Bangjajeon>, with its witty lines and delicious supporting characters added to a deeper humor, stimulates the audience's emotions with a solid and fresh drama line, and at the same time differentiates it from other works with hidden colors and darkened tones. It will captivate the audience's senses.
Beauty (beautiful beauty)
The beauty of Joseon created by the people of Chungmuro
A feast of visual spectacles emanating from every part of the film
The movie <Bangjajeon>, which is derived from the original [Chunhyangjeon] set in the Joseon Dynasty, is also set in the Joseon Dynasty. <Bangjajeon> transcends the limits of the historical drama genre, where imagination and creativity are limited due to the prescribed historical background, through the originality and harmony of the set, art, location, and costumes.
<Bangjajeon> captures the beauty of Korean scenery on the screen through locations in every corner of Korea, including Chuknyeongsan, Oebangcheon, Miryang Pumpkin, Andong Gunja Village, Gyeongju Yangdong Village, and Hapcheon Gayasan Mountain. In particular, the ending scene of the movie, which took place in Yangdong Village, Gyeongju, where the entire village is a national cultural property, is enough to catch the audience's attention with the plum blossoms in full bloom and the scenery of the village. Here, art director Park Il-hyeon, who created a space filled with emotion in <Christmas in August>, <Spring Days Goes> and <Glamorous Holiday>, captures the eye through the harmony of simple bright colors and splendor in <Bangjajeon>. added Also <Blood Nue> <Detective; Director Jeong Kyung-hee, who was in charge of the costumes for Duelist>, <Sexual Life> and <Shinjeon>, created a creative and beautiful costume that goes beyond historical evidence, rather than the standardized costumes in historical dramas. Inspired by the Rococo style and the style of Marie Antoinette, the various costumes in the movie, which show familiar yet differentiated beauty by combining the design of hanbok with Western patterns and fabrics, make the movie richer. In this way, the new beauty of Joseon in <Bangjajeon>, created by the best dream team in Chungmuro, will approach the audience as another pleasure to watch the movie.
變 (change to change)
Kim Joo-hyuk, Ryu Seung-beom, Jo Yeo-jeong! Overturning [Chunhyangjeon] with their own colors
A daring bastard never seen before, a mean Mongryong, and a bewitching Chunhyang are coming!
Kim Joo-hyuk, Ryu Seung-beom, and Jo Yeo-jeong have changed. That is, in <Bangjajeon>, which boldly overturned the classic romance [Chunhyangjeon], they broke down into Bangja, Mongryong, and Chunhyang, respectively, and destroyed the original image of each actor as well as the formula of the [Chunhyangjeon] character. Kim Joo-hyuk, who has captured women's hearts by showing the side of a romanticist who is infinitely weak in the face of love in various movies and dramas, transforms into a daring and attractive man Bang-ja and shows off a new look. For his sake, he gave the character a three-dimensional effect by drawing as a mean strategist who also uses love. In addition, Jo Yeo-jeong, who has pure charm, is expected to show Chun-hyang, who throws herself in the scale of love and rise in status, rather than the virtue of incision, sometimes innocently and sometimes enchantingly, and will show a daring performance that has never been seen before.
The new character created by overthrowing the stereotyped character adds freshness to the play, and Kim Joo-hyeok's transformation for the character, Ryu Seung-beom's creation, and Jo Yeo-jeong's challenge add depth to the film, making the film richer. In addition, their strong acting skills and their strong ensemble and acting synergy, which come from new interpretations and challenges, are definitely the highlight of <Bangjajeon>.
[ Production process ]
The beauty of Joseon in 100 days of production
Captivating the eyes with the harmony of bright colors and splendor!
From October 1, 2009 cranked-in until January 10, 2010, <Bangjajeon> screens the beauty of various parts of the country, including Chuknyeongsan, Oebangcheon, Miryang Pumpkin, Andong Gunja Village, Gyeongju Yangdong Village, and Hapcheon Gayasan, for about 100 days. contained in According to the judgment of director Kim Dae-woo and art director Park Il-hyun, who thought that 'the beauty of Joseon lies in the frugality of light colors', the nature and set in <Bangjajeon> boast simple yet subtle colors. In particular, the production team worked hard to create a beautiful scene by airlifting flowers of all natural colors to capture the appearance of Bangja and Chunhyang, which was like a warm spring day, even during the shooting during the late autumn-winter period, turning the fallen leaves into a flower path.
Unlike the location that contains the colors of nature, Cheongpunggak, the home of gisaengs, exudes a splendid atmosphere with intense colors. The Cheongpunggak, which is in harmony with the appearance of parasitics such as hydrangeas, and decorated with trees, is antique accessories and furniture in eye-catching colors according to the concept of 'not heavy, light and lively, but without losing classical beauty and elegance'. keep the balance with Among them, Chunhyang's room is the place where the secret love with Bangja takes place, exuding a secret atmosphere with toned-down colored props and lighting.
A new beauty inspired by Western clothing is born!
In response to director Kim Dae-woo's request to 'actively express elements that have not been shown through the costumes of the times', costume director Jeong Kyung-hee tried to break free from the familiar form of 'our clothes'. However, costume director Jeong Kyung-hee, who had no choice but to take into account the extremely Korean environment and hairstyle, followed the model of our clothes, but created another style with novelty added. That is, inspired by the Western clothing of the 18th century with a similar historical background, he designed a new skirt with a narrow waist and a puff shape, and created a short-length jeogori that barely showed the chest. In particular, Chunhyang's costume was made with a long white waist, giving a point with a norigae, and shortening the length of the outer and inner pus. In addition, she added a brilliance to the outfit by creating a see-through look style by using a double layer of a thin old room.
Bang-ja's costume concept- Bang- ja belongs to one of the characters in the play, but in that he is a servant who is not subject to any restrictions, his costume was also the most freely expressive character. Accordingly, Bangja's costume consisted of a half-coat-length outerwear and bottoms that were appropriately combined with poly and hemp fibers based on natural chestnut color and black.
Mongryong's costume concept- Mongryong's costume , which is calm and yangban dawoo at home, but on the other hand, freely moves in and out of the room, reflects the paradox of the paradox through the taffeta material, in which the luster is doubly different depending on the angle of light. In particular, he reveals his splendid life with colors such as blue, yellow green, and orange.
Chunhyang's Costume Concept- Chunhyang's costume, which weighs love and status, shows a change from a cute and innocent image to a mature and sophisticated woman. If the youthful figure of Chunhyang is depicted in a yellow jacket and pink skirt, the dark khaki and wine-colored clothes reflect her becoming an adult. In addition, Chunhyang's costumes, which focus on the details to reflect the Western Rococo style, stand out with three-color goreum and brooches, a soother and arranging, a rainbow skirt and a silhouette emphasizing the waist, and colorful flower shoes.
Kim Joo-hyuk, Ryu Seung-beom, and Cho Yeo-jeong,
The first historical drama, the first bed scene challenge!
The three actors, Joo-hyuk Kim, Seung-beom Ryu, and Yeo-jeong Jo, who returned to Bang-ja, Mong-ryong, and Chun-hyang, each made a new attempt through <Bangja-jeon> that had never been done before in their acting careers. First of all, Kim Joo-hyuk took on the role of a servant in his first historical drama, and during the winter filming from October to January, he suffered from having to wear only one layer of clothing. While Ryu Seung-beom, who plays the role of a nobleman, put on a hot pack and put on his underwear, he was a servant because he had to crouch, kneel, and crawl in the cold wind with even his underwear cut off his neck and arms. In addition, in the scene where Bang-ja rescues Chun-hyang's shoes from drowning, he performed uncompromisingly in a valley where ice freezes even in midsummer. At that time, the depth reached 6m, which caused eddies and it was difficult to walk out due to slippery rocks. It is said that he walked out from the inside and gave Chunhyang a flower shoe as if nothing happened and captured the director and staff at once.
In addition, veteran actors Ryoo Seung-beom and Jo Yeo-jeong have become a hot topic for their first bed scene in <Bangjajeon>. Although the filming was not easy, the two showed a professional spirit and perfectly performed the scene in 1 or 2 takes, receiving praise from the staff. In particular, according to the style of director Kim Dae-woo, who struggles to make the actors look the most beautiful, their bed scenes will immerse the audience more in the play. The three actors, who have been reborn as the new Bangja, Mongryong, and Chunhyang, will challenge new things with their passion for acting, bringing fresh fun to the audience.
[ Plus ]
How to captivate women in the Joseon Dynasty
one. 'tuk' technique
The 'tuk' technique, developed by Jang Pan-bong, Hallyang, Jeolla Province, is one of the techniques to keep a woman on the lookout when trying to get what she wants. During one-on-one face-to-face, if you talk about your business without worrying about whether there is a reaction or not, and the other woman takes a break from her negligence and grabs her 'there', if it's a hundred, then you lose a hundred strength and listen to what you want. do.
two. chill
The technique of 'going cold' applied in the teachings of Mencius and Analects is a technique that disturbs a woman's psychological state by acting contrary to her expectations. It is a technique that corresponds to 'push' among 'push and pull' in modern society, and it can make women fret by using the technique of 'rolling cold' in a situation where warm consideration is expected.
three. silver
'Silver-kol-pyeon', a technique that causes agitation in the mind of the other person, is an abbreviation of 'a secretly sulky letter', and it is a secret technique that can lift and release the other person's heart with a single letter. Instead of direct expression, it has the effect of making any yangban run one step at a time by using subtle and breathtaking expressions that stimulate the imagination.
four. view from behind
The 'look from behind' technique is a technique that allows you to lay down your opponent without direct physical contact. If you lie on your back and look intently at the shoulder of the other woman with love and sincerity, the woman will feel a hot gaze, and her mind will be disturbed. .