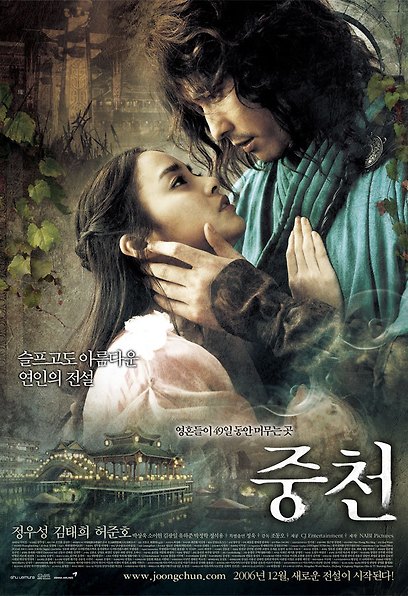 The Restless, 中天, 2006
release

2006.12.20
genre

Romance/Melodrama/Action/Fantasy
country

Korea
ranking

Audience over 12 years old
running time

102 minutes
grade

6.4
cumulative audience

1421412 people
Synopsis
Winter 2006, a huge fantasy masterpiece is coming!
__'Wait, I'll go.'
In the midst of the world of death, he who is alive has entered!
'Lee Gwak (Jung Woo-seong)', an exorcist who lives without forgetting his lover who died on his behalf, enters the world of death, the middle heaven, through a barrier that has been broken by the rebellion of the demons. In Jungcheon, where the souls who died waiting for reincarnation stay for 49 days, Lee Kwak made the dream reunion with his dead lover. However, she erases all her memories and becomes 'Sohwa (Kim Tae-hee)', a heavenly person who protects Jungcheon, and no longer recognizes him.
__'I will never leave you alone again.'
A fateful confrontation with love that transcends the death of the living and the dead begins!
In the rebellion of the demons, Jungcheon is in danger, and Sohwa, who has a spiritual necklace that can save Jungcheon, becomes their target. Meanwhile, Lee Kwak learns that the demons who caused the rebellion are the exorcist colleagues who lived like brothers in this world. ..
middle heaven
when a person dies
A middle ground between earth and heaven.
The souls who entered the midst of heaven
Touring 7 spaces for 7 days each
wash away the smell of sin,
Organize your relationship with Lee Seung-gi.
The greatest regret left behind in this world,
I have to shake off the most painful memories
After the last 7 days
On the 49th day,
some are
Ascending to heaven for reincarnation…
some are
Remaining as a celestial man who threw away all human memories…
some others
He became a ghost floating in the middle of the sky.
A demon turns into a demon and runs rampant
When even the order of reincarnation is broken,
The exorcist who holds the key to all relationships,
a man with a living body
led by fate
Enter the world of the dead, the middle heaven.
…
About Movie
The meeting of Asian lovers Jung Woo-sung and the best star Kim Tae-hee!
Asian lovers Jung Woo-sung and top star Kim Tae-hee met as lovers in the fantasy world!
Movie star Jung Woo-sung, who is expanding not only in Korea but also in Asia, through <Eraser in My Head>, which ranked first in the box office for Korean films in Japan, and <Daisy>, an international project directed by Yu Yu-gang, various activities in popular commercials and dramas. Kim Tae-hee, a top star who is gaining popularity throughout all generations, meets for the first time as a beautiful and sad lover in <Jungcheon>. Jung Woo-sung, who has transformed into an exorcist who risked his life for an old love who can't remember himself, will present a completely new concept of high-level action along with his signature delicate and poignant melodrama. Kim Tae-hee, who challenges her first screen starring role with <Jungcheon>, takes on the character 'Sohwa', who has become a heavenly person after erasing the memories of her lover, Jung Woo-sung, and transforms into a goddess with human charm and heavenly beauty. You will be able to see a new side of actress Kim Tae-hee, who is not just a star, through the character of Sohwa, who is strong and soft, and sometimes innocent and cute.
Jung Woo-sung and Kim Tae-hee, who met as fateful lovers who cross the middle world. The romantic romance that the star couple they met for the first time through <Jungcheon> will unfold beautifully in the background of a huge fantasy space!
A new Asian imagination about the world of the dead, 中天!
The imagination of <Jungcheon> started from curiosity about 'in what kind of space do people really exist after they die?' The world after death is a space that no one has been to, but everyone has drawn at least once, so special consideration was necessary. The production team was inspired by the concept of Buddhism, which is also known as the '49-jae 九齋' or 'Chilchil-jae 七七齋', which is familiar to Asian audiences including Korea, China, and Japan. The basic concept of 'Jungcheon', a fantasy space that organizes memories and prepares for reincarnation, was established. After that, from the scenario stage, a separate art team was formed for the space concept, and a lot of effort was put in to show a new Asian imagination.
As a result of thinking about the space concept for over two years, the 'Tanchwitang', where souls soak for 7 days to wash away the smell of sins committed in this world, is a 'tanchwitang' that can only be entered through the door only by remembering the worst thing. The village of chamseon' and 'chamseongwan', where there is a huge incense burner that burns fig leaves, spreads the scent of painting that calms the hearts of souls all over Jungcheon. Fantasy spaces of novel imagination similar to the real world, such as 'Street of the Otherworld', which were made with lanterns, were created. Now, you will enjoy the unique pleasure of checking the 49 days after death with your own eyes through the newly created 'Jungcheon' by the Asian imagination.
The combination of 'Young Blood' of Korean cinema and Asia's best staff
International project <Jungcheon>!
<Jungcheon> is a project in which the young second-generation production team of <Warrior>, which is still considered a successful example of a joint film in Asia, combines with the best staff in Asia to take on a new challenge. First, producer Cho Min-hwan and director Kim Seong-su, who had accumulated know-how in Asian collaboration with <Warrior>, took charge of the production. In addition to director Dong-oh Cho, who was the assistant director and director of the B unit in <Warrior>, producer Choi Jeong-hwa, cinematography Kim Young-ho, lighting Yang Woo-sang, simultaneous recording After participating as the first assistants in <Warrior>, such as Kim Kyung-tae, colleagues who had always dreamed of a new Asian project joined forces as a second-generation producer. In addition, world-famous designer Emi Wada, who took on the costumes for director Jang Ye-mo's <Hero> and <Lovers> and won the Academy Award for Best Costume for Akira Kurosawa's <Ran>, said, "We are willing to join the young people's new imaginations, challenges, and ambitious adventures. I will do it," said Han Chung, art director of <Hero> and <Lovers>; Lee Myeong-san, who was in charge of props in director Chen Kayker's <The King of Kings>, director Lee's <Wow of the Dragon>, and director Jang Ye-mo's <Hero>. The best staff in Asia, including music director Sagisu Shiro of the Japanese animation <Nadia of the Mystic Sea> and <Neon Genesis Evangelion>, the Korean film <Samurai>, and Korea's best martial arts director Jung Doo-hong, contributed their strength.
<Jungcheon>, a combination of the 'young blood' of Korean cinema and the best performers in Asia, will meet the audience as a high-quality project that is difficult to see in Asian films as well as Korean films.
The first digital actor action in Korean cinema, the infinite challenge of Korean film technology!
As <Jungcheon> is a full-fledged fantasy movie that takes place in the virtual space 'Jungcheon', the highest level of technology and capital investment will be made in relation to computer graphics. Based on the Asian imagination, the various spaces of <Jungcheon> and computer graphics for major fantasy scenes and action with various concepts such as swordsmanship with a string hanging from the tip of a sword, chains emanating from the body, and duel in which the lights of the five colors explode. DTI, a representative CG company that achieved new technological challenges and achievements in each work such as Janghwa and Hongryeon> <Some> <Sweet Life> and <Ghost Lives>, took the lead. DTI has several teams in charge of CG by space, effect, and main scene to create a new color unique to 'Jungcheon', from space realization to various fantasy effects, and subdivides the work to create high-quality visuals with detailed details. will be presented.
In particular, the action scenes of digital actors are revealed for the first time in a Korean film through <Jungcheon>. The unique 'digital actor production software' developed by the Electronics and Telecommunications Research Institute (ETRI), an agency affiliated with the Ministry of Information and Communication, with a budget of about 30 billion won and developed over a period of 3 years will be unveiled for the first time in <Jungcheon>. The splendid and daring action of digital actors, which could only be seen in Hollywood blockbuster movies such as <Spider-Man>, can now be seen in Korean movies with an upgraded level of perfection.
Related Videos