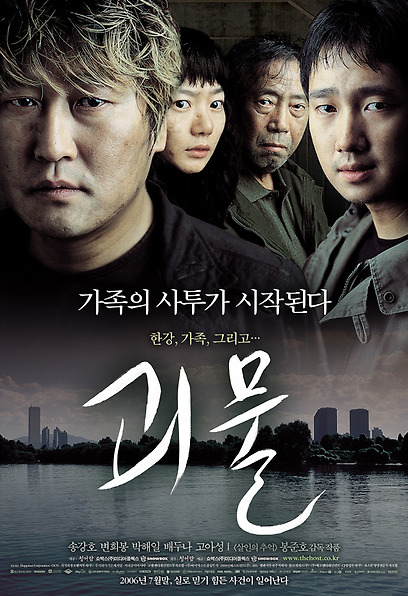 The Host, 2006
release

2006.07.27
genre

Thriller/Family/Drama/SF
country

Korea
ranking

Audience over 12 years old
running time

119 minutes
grade

8.9
cumulative audience

10917400 people
Synopsis
Peaceful side of the Han River full of sunshine
Han River canteen run by my father (Byeon Hee-bong),
Kang Doo (Song Kang-ho), who was taking a long nap,
I wake up to the sound of 'Dad' in my sleep.
Hyeon-seo (Go Ah-seong), who is a middle school student this year, is very angry.
An old cell phone that was embarrassing to take out and
It's because of my uncle (Park Hae-il), who came to the class with the smell of alcohol.
After contemplating, Kang-du takes out a bowl of cup noodles filled with coins that he has secretly collected.
However, Hyeon-seo is just upset and immersed in her aunt (Bae Doo-na), who has just started, in the national archery competition.
I lost my daughter right before my eyes
Kang Doo, who delivered squid to the banks of the Han River,
By chance, he witnesses an unusual sight among the crowd.
Something that has never been seen before is hanging from the Hangang Bridge and moving.
People are just curious and take pictures with their cellphones and digital cameras.
But for a while… An unknown monster
It rises above the ridge, crushes people without hesitation, and begins to bite indiscriminately.
The Hangang River that turns into a chaos in an instant.
Kang-doo also runs away with his daughter Hyun-seo belatedly, but
In the midst of the screaming and scattering people, he loses the hand of Hyeon-seo that he held tightly.
At that moment, the monster snatches Hyeon-seo as if waiting for it and slowly disappears into the Han River.
A family battle begins
The sudden appearance of a monster closes the Han River and paralyzes the entire city.
Kang-doo's family lost everything, including their home, livelihood, and the most precious Hyunseo in one day…
They have no money and no support, and no one helps,
He sets out to find Hyeonseo somewhere in the Han River, which has been declared a dangerous zone.
Since ancient times, monster movies have been a genre full of intense cinematic stimulation and excitement.
However, for such cinematic excitement, the appearance of a realistic monster is absolutely necessary.
So I really did my best to create a more realistic monster on the screen.
To say "darely", I am proud that I poured my blood and sweat into a meticulous plan.
But… Nevertheless…
The monster is only the starting point of the film.
The true protagonists of this film are the Park Gang-doo's family who fought against the monster.
Our families who had to fight a desperate and lonely battle without anyone's help…
Just thinking about them still makes my heart ache.
In fact, this film is dedicated to them.
Director Bong Joon-ho
About Movie
The Han River, which always flows by our side,
In the most peaceful and familiar place
One day, a terrifying monster suddenly appears.
An unexpected incident brings unbearable misfortune to the Kang-doo family, who runs the canteen.
nothing special, ordinary
A family who grilled squid and sold cup noodles
For inevitable reasons, we have no choice but to fight monsters,
The situation is only getting more and more difficult.
The movie <Monster> is in this situation.
only to protect their family
It's a movie about a family struggling to lose everything.
In the movie <Monster>, like a normal monster movie,
There are no giant monsters that trample the entire city,
There is no hero fighting that monster.
Rather, with a poor family,
In the real situation where you have no choice but to fight a lonely battle without anyone's help
There is a center of the story.
Therefore, the movie <Monster> is set amidst intense tension-filled scenes.
Through the transformation of a family
It will provide exciting cinematic fun that all generations can relate to.
Special Issues
Director Bong Joon-ho challenges a monster movie with his dream project!
<Memories of Murder>, which is based on the Hwaseong serial killings as a subject, not only has cinematic fun, but also has social and emotional repercussions and even forms a syndrome. Since then, director Bong Joon-ho challenges a monster film that no one could have imagined. He is now trying to realize the dream he thought he would make into a movie about the 'Monster Climbing the Hangang Bridge', which he happened to see in high school.
The movie <Monster> started from a simple, but above all, pure passion that I wanted to make into a movie for a long time.
The screenplay that director Bong Joon-ho completed while running his feet on the banks of the Han River and the bridges for three years was sold to Japan by itself (minimum guarantee of $3.2 million, investment of $1.5 million, and contract of $4.7 million in total), which can not be seen in Korean films. The combination of characters full of personality and delicate dialogues stand out in the solid composition and detailed storyline that was never before.
It is interesting to see what director Bong Joon-ho will look like in an entertainment movie that anyone can enjoy, even though it is a strange genre in Korea.
The <Memories of Murder> team reunited.
The actors and staff who made <Memories of Murder> in 2003 reunited for the movie <Monster>.
Song Kang-ho, one of the best actors in Korean cinema, Byun Hee-bong in her second heyday, Park Hae-il, who always shows new acting, and Bae Doo-na, who delivers a charming performance. And the appearance of supporting actors full of personality, such as Kim Roe-ha, Park No-sik, Yoon Je-moon, and Ko Soo-hee, is a hot topic. The actors who worked with director Bong Joon-ho in their previous works are the most trusted actors in the Korean film industry, and they are the best actors with infinite passion and energy for acting.
Meanwhile, Korea's best cinematographer Kim Hyung-koo, lighting director Lee Kang-san and Jung Young-min, art director Ryu Seong-hee, and music director Lee Byung-woo all worked together for the movie <Monster> based on absolute trust in director Bong Joon-ho.
The meeting of those who made <Memories of Murder> in 2003 makes the audience flutter by itself.
The movie <Monster>, which raises high expectations only with the work of the best actors and staff, will be the best film of 2006.
Rewriting the history of the Korean movie genre!
Movies featuring monsters have been consistently loved all over the world and have established themselves as a genre called 'Creature movie', providing plenty of original excitement and cinematic tension, forming a fanatic base.
However, in Korean movies, there were only a few movies featuring some monsters as the subject of horror movies in the 60s and 70s, and it was difficult to find a genre called 'monster movies'. This is because a non-existent creature called a 'monster' had to be newly created and expressed, but it lacked specialized skills, capital, and a high-quality scenario. So, for a long time, the genre of 'monster movies' in Korean cinema remained a taboo area that no one could easily touch.
However, in 2006, the wall of the genre, which had been taboo, finally collapsed with the movie <Monster>.
The movie <Monster> not only creates a new creature, a 'monster', and perfectly embodies it in the movie, but it also transcends the limits of imagination and expressiveness, which have been the factors that have given rise to distrust of monster movies.
Through the 2006 movie <Monster>, the audience will be able to feel a new visual impact and cinematic fun.
<King Kong> <The Lord of the Rings> <Harry Potter and the Goblet of Fire>
The world's best visual effects team has come together.
The completion of the 'monster', an unidentified creature, is the most important key and key in the movie 'Monster'.
This is because it is a task to create a new creature, not simply imitating monsters, animals, or other characters that appeared in existing movies.
Searching for a team with experience and talent, creature designer Jang Heechul designed the 'monster', the Weta workshop of <King Kong> and <Lord of the Rings> worked on the 'monster' modeling work with designer Jang Hee-cheol, <Harry Potter and the Goblet of Fire> Operage of <Superman Returns> took charge of the CG work. In particular, this visual effect work was supervised by Kevin Rafferty, who has been recognized for his skills in works such as <Jurassic Park>, <Shark> and <Men in Black 2>.
Through all of their work, the appearance of a living 'monster' was finally born.
As if becoming a creator and creating a living being, it was born after a long time and hard work.
A new view of the Han River unfolds.
The movie <Monster> is a film in which a specific spatial point is more important than anything else.
So, director Bong Joon-ho worked on the screenplay and hunted the Han River for about two years. According to the season, the time of day, and the distribution of clouds, the daily life of the Han River and Citizens Park, which shows different appearances each time, was created by taking photos continuously. In addition to the 21 bridges connecting Gangnam and Gangbuk, I was able to find both the most ordinary and cinematic spaces in the Han River after searching for the dark and gloomy cement caves under the bridges, and the rain and sewers intertwined like a maze.
In the movie <Monster>, the Han River is a new image that is different from the Han River we have known before. Through thorough location work for a long period of time, a special space that cannot be found anywhere else in the world, a new aspect of the Han River, unfolds without filtration through the movie <Monster>.
Character & Cast
Father Park Kang-doo (male, 36)_Song Kang-ho
"Hyeon-seo is right in Dangsan Girls' Middle School, but she's dead… I didn't die… "
The eldest son of a canteen at Han River Citizens Park and Hyeon-seo's immature father
Hyun-seo's father is immature for his age. He has a slurred tone and a simple mindset that can only think one thing at a time. His daily routine is to spend his free time running small errands at the kiosk, and he usually sleeps a lot, so he sleeps at any time and place. He has no interest in everything in the world and no worries. However, he also has the only pleasure and happiness in life, his daughter 'Hyunseo'. When he hears Hyunseo's voice even while sleeping, he runs out barefoot to meet him.
"The role of Park Kang-doo, who can fight the most desperately because he is the stupidest person, is
I couldn't imagine any other actor besides Song Kang-ho.
Song Kang-ho is an actor like a 'monster' who unleashes a terrifying and explosive energy at an unexpected moment."
– Director Bong Joon-ho
Grandfather Park Hee-bong (male, 59)_Byeon Hee-bong
"Have you ever smelled the smell of a lost parent?
Once the inside of the parent is rotten and rubbed, the smell vibrates to a distance of ten miles."
Father of three children, owner of a canteen at Hangang Citizens Park
A father who raised three children by himself while running a canteen in the Han River. As I have been running a canteen for several decades, I have paid more attention and interest to trivial things, such as a squid leg and a type of cup noodles, than any other history in the world. I didn't learn anything, and I don't have a lot of greed. With only concern and affection for his family, he is the head of the family who holds the center of the family without losing his composure no matter how difficult the situation arises.
"I saw Byeon Hee-bong and Song Kang-ho's endless ad-libs in <Memories of Murder>,
found an interesting combination of father and son
He is a great actor who contributes to the whole of the work with his best skill."
– Director Bong Joon-ho
Uncle Park Nam-il (male, 29)_Park Hae-il
"Are you sleeping (kicking your head)? are you sleeping? I fell asleep in an emergency."
The second son of a canteen in the Han River Citizens Park, a college graduate Baeksu
He's the only one in the family to graduate from college, but he's idle. He is dissatisfied with the world because he can't get a job, and he doesn't have anything to do, so he often wanders around and complains to himself. A typical raw thug with a hot-tempered personality, easily agitated and always swearing. But even though he looks like a fool on the outside, his heart is warmer than anyone else.
"Park Hae-il, who is running towards his peak as an actor,
An actor full of uncontrollable energy like a freshly ripped battery."
– Director Bong Joon-ho
Aunt Namjoo Park (Female, 25)_Bae Doona
"Stop whining. At that time, look for one more sewer… "
The youngest daughter of the canteen at the Han River Citizens Park, an archery player
National archery player. He started archery from a young age, but his actions are sluggish and his reflexes are dull, unlike an athlete. He usually moves very slowly and reacts half a beat slower than others, so he is often harassed. As the only woman in the family, she is like an older sister and mother to Hyun-seo.
"Bae Doona shows outstanding concentration to immerse herself in the work and transform into a character in the work.
He is an actor who brings great joy to the director."
– Director Bong Joon-ho
Park Hyun-seo (Female, 14)_ Go Ah-seong
"Is this all a lot of change? Reach Grandpa."
Park Kang-doo's daughter, the treasure of the concession stand
A middle school girl who has many things and wants to eat a lot, just like children of her age. She has a broad heart and is strong enough to take care of her bubbly father first. He has a bright and warm personality who knows how to think of others before himself and does not lose his courage even in difficult situations.
"Even though she is young, she is fierce and confident, not a child actress, but just an actress. "
– Director Bong Joon-ho
monster (♀ or ♂, 7)
unidentified monster
In the summer of 2006, a monstrous creature appeared on the banks of the Han River in Yeouido.
This creature, presumed to have been born by mutation among fish, amphibians, and reptiles in the Han River,
It is the size of a bus, and has a pair of legs and one deformed leg that cannot move properly, a protrusion that stops when it becomes a hind leg, a long, slender tail, and a mouth that splits into five parts like a lotus petal and opens in a ghastly shape. . They also have a habit of swallowing prey whole due to unbearable appetite and greed, and storing food in their hiding places.
This creature, whose main activity is the Han River and its surrounding banks, is very hysterical and unpredictable because of its sensitive and sharp nerves. So, sometimes he brutally attacks people and shows a violent appearance, but sometimes he is grumpy and sullen, such as shivering.
People call this creature a 'monster'.
"If you compare yourself to a Hollywood actor,
It's not 'Arnold Schwarzenegger' who pulls out a muscular, solid body.
I wanted to give surprise to the character of 'Steve Buscemi', who is clumsy and mean, cute and violent."
– Director Bong Joon-ho
The best character in Korean film history 'Monster'
'Monster' is a creation born after two years and six months of painstaking work from the scenario stage, starting design work with the creature designer, to being born as a living creature in the movie with special visual effects. Based on the finalized design after a lot of trial and error, it was born as a living creature on the screen of a movie through delicate and realistic movements and surface work, considering detailed factors such as size, weight, skin, and muscles.
Dec. 2003 Started designing 'Monster'
March 2005 'Monster' design confirmed
July 2005 'Monster' reduced size modeling completed
August 2005 'Monster' reduced size modeling 3D scan
December 2005 Muscle movement, skin details completed
May 2006 'Monster' was born
Another family on the Han River
Sejin_Lee Jae-eung
"Do you know what frost means?
The generation gap is serious. After all, frost will be the prerogative of the hungry. This is it"
A child who lives day by day courageously, taking care of his younger brother Se-ju without parents. The way he walks around the Han River in messy clothes and frosts at the stalls is similar to an antler. Despite his young age, he is an adult who learned about the world too quickly.
Seju_Lee Dongho
"I don't have a home… there are several
I have a brother… Well… No mom or dad."
Sejin's only immature younger brother. He is a child of the same age who wants to eat a lot, is afraid, and is foolish. He has always been with his older brother, but after the monster attack, he changes a lot.
Noraengi_Kim Roe-ha
"Now pay attention! Everyone! Those who were at the scene of the Yeouido incident! And those who have come into contact with such a person.
All hands up! "
With the risk of a deadly virus caused by a monster, a quarantine officer who controls the people at the scene of the incident.
Heungshinso employee_ Park No-sik
"We don't get this. If cash is JPY, pay by card."
An employee who sells the Gangdu family the things they need to fight the monster.
Nurse _ Ko Soo-hee
"I'm anesthetized… Come on, relax your arms… "
A nurse giving an anesthetic injection to Park Kang-doo for a virus test.
Homeless _ Yoon Je-moon
"This bastard is this! I tried to dress him up and put him to sleep, but ying "
A man who is homeless near the Han River Bridge and enjoys a leisurely life. I help Nam-il, who accidentally fell off the bridge over the Han River.
It plays the most decisive role in the battle against monsters.
Han River's All Things
; we know or don't know
The Han River originates from Mt. Taebaek, passes through southern Gangwon-do and Chungcheong-do, and flows into the West Sea through Gyeonggi-do and Seoul. The total length of the Han River is 514 km, and the annual precipitation is 1,200 to 1,300 mm, boasting abundant flow.
Citizen's Park on the Han River
A sports and relaxation space provided by the Seoul Metropolitan Government on the Han River. Citizens' Park has been reorganized into eight districts and each district has different sports and leisure facilities. Not only that, because of the charm of being able to feel the cool river breeze while looking at the superb view of the Han River, it is full of people on weekends without a break.
Han River Comprehensive Development Project
The Han River began to be developed in earnest in the 1980s, during the reign of Chun Doo-hwan of the 5th Republic. The government promoted the Han River Comprehensive Development Project to solve the problems of Seoul, where severe traffic and environmental problems are emerging. The construction of the Han River Comprehensive Development Project, which began in September 1982 and completed in September 1986, was a large-scale project with a total project cost of 956 billion won, 4.2 million people in Dongwon, and 12,000 units of Dongwon equipment.
As part of the Han River Comprehensive Development Project, transportation facilities were expanded, a wharf was built, and a sewage treatment plant was built. As a result, the water quality of the Han River was improved and the transportation problem was solved to some extent, and the so-called 'Miracle of the Han River' was used as a symbol of Korea's rapid growth and development.
However, excessive push-and-pull development has created another problem. As aggregates were excavated from the bottom of the Han River for construction, it caused enormous ecological destruction of the Han River. In addition, during the construction of bridges, parking lots and roads, the Han River and surrounding rivers large and small were covered with cement and repeated construction was carried out. At present, there are about 20 Han River Bridges, and under the Gangbyeon North Road and Olympic Boulevard that are connected to these bridges, it has become a dark cement cave where no sunlight can enter. The stench of corrupted water that has not flowed and stagnated in it, seems to show the dark side of the Han River development project.
Sewers and storm drains in the Han River
There are two types of public sewerage systems: a classification system that divides sewage and rainwater and a merging system. Most of the Han River follows the merging system.
On the banks of the Han River, storm drains and sewers are intertwined like a maze to discharge rainwater collected from city buildings, houses, and roads into the Han River. When it rains, sewage and rainwater from all over Seoul pours in through storm drains and sewers.
Han River canteen
In Hangang Citizen's Park, there are stalls packed in rectangular containers with an average width of 5m, height of 3.5m, and depth of 2.5m.
If you go back to the history of the concession stand, you can see its relationship to the 1988 Seoul Olympics. At that time, the Chun Doo-hwan administration had forcibly demolished about 200 places, including Sanggye-dong, where the urban poor lived densely since 1986. The reason was to make Seoul aesthetically clean under the pretext of successfully hosting the 1988 Seoul Olympics.
The residents of Sanggye-dong demolition fought against the government, insisting on guaranteeing a minimum living space. Currently, most of the elderly residents of the Han River canteen were evicted from Sanggye-dong.
Two teams have the right to operate the concession stand, and it is operated in two shifts per day in a group of two. And once every two years, the location of the canteen is decided through a lottery. In winter, few people visit the Han River, so waiting for customers inside the canteen is very boring. So, when a person comes near the store, an ultrasonic wave that can be detected is installed in the store to greet customers who come from time to time.
Related Videos