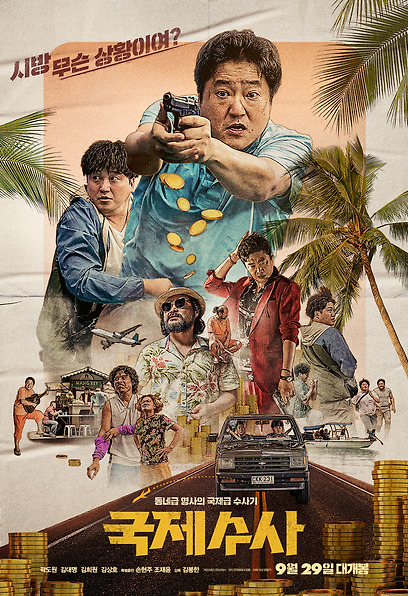 The Golden Holiday, 2020
release

2020.09.29
genre

Action/Drama/Crime
nation

Korea
rank

Audience over 15
running time

106 minutes
grade

5.1
cumulative audience

537470 people
cookie video

One
Synopsis
A detective in the countryside of Korea gets caught up in a global crime!
Inspector Hong Byung-soo (Kwak Do-won) of Daecheon Police Station's strong team, who went on his first overseas trip to the Philippines.
Even a short dream of travelling, 'Byung-su' gets caught up in a crime setup by a criminal gang killer 'Patrick' (Kim Hee-won) and becomes a murder suspect.
However, unlike the heart that is boiling with detective instincts, 'Byung-soo''s body and English do not follow, and 'Yong-bae' (Kim Sang-ho), a stilt-like man who is reunited in the Philippines, intervenes, and the investigation continues in an unintended direction. But…
Will 'Byung-su', a detective in the countryside, be able to return to Korea safely?
"I am Korean Police!"
An international-level investigation by a neighborhood-level detective begins!
[ ABOUT MOVIE ]
A local investigative drama about a rural detective who is caught up in a global crime
#Set-up crime material #Spicy comedy #Exciting investigation The action movie <International Investigation> is a local investigation drama about a rural detective who gets caught up in a global crime on his first overseas trip. Detective 'Byung-su' (Kwak Do-won), a detective from the powerful team in the countryside of Korea, goes on his first overseas trip to the Philippines with a fluttering heart. However, while enjoying the leisurely and beautiful scenery is short-lived, he gets caught up in a set-up crime designed by 'Patrick' (Kim Hee-won), an unidentified killer of a huge Filipino criminal organization, and becomes a murder suspect overnight.
While crime investigation dramas of various genres have recently been loved, the movie <International Investigation> deals with 'setup crimes' that have not been illuminated until now. A 'setup crime' is to frame an innocent person by manipulating the actual crime situation, and the victim is caught in a crime without his or her own knowledge, so even if he realizes that he has fallen into a trap, he has no choice but to be helpless. This is a method to pass on one's sins to others, and it is emerging as a global social issue by mass-producing numerous victims.
Director Kim Bong-han leads the audience's sympathy by delightfully solving the social issue 'set-up crime', which can feel heavy at times, through the genre fun of the investigation play. 'Byung-su' gets caught up in an unexpected 'set-up crime' and struggles to get rid of his frame, running around the Philippines with his feet. The salty global investigation story of 'Byung-soo', who has only a detective instinct, will provide a pleasant laugh and a different kind of fun. Kwak Do-won said, "When threatened by international crimes, he fled like death, and when the investigation began, he tried very seriously to catch the criminal. However, the seriousness will bring a lot of sympathy and laughter to the audience." In this way, the exhilarating local investigation carried out by a gangster detective in the countryside against a huge criminal organization in the Philippines will give the audience an exhilarating pleasure.
Kwak Do-won, his first comedy acting challenge!
#Chungcheong-do dialect #Baked chase action #18m underwater action
Actor Kwak Do-won, who has shown a strong presence with his bold acting in each work such as <The Attorney> <Wokseong> <Steel Rain> <The Managers of Namsan> and <Steel Rain 2: Summit>, made his first comedy acting in the movie <International Investigation>. to challenge
In <International Investigation>, Kwak Do-won takes on the role of 'Byung-su', a detective in a rural area of Korea who is embroiled in a global crime. Although the investigation is not qualified and his English is not good enough, he is a person who continues the hard-fought investigation with one 'assistant detective'. Passports, wallets, and cell phones are all picked up, framed for crime, and funny situations that do not follow the heart cause unexpected laughter. ˝Kwak Do-won is an actor with the best acting skills. As director Kim Bong-han said, "I started with the belief that I could express the character perfectly", Kwak Do-won opened his eyes and his nose was sloppy, to the charismatic detective of the powerful team.
In addition, various efforts were made to express the character of the Daecheon Police Department's strong team detective. First, in order to use the realistic Chungcheong-do dialect, I practiced not only by taking classes from the dialect teacher, but also by conversing with the staff in the dialect. In particular, Kwak Do-won, who "was not simply following the words, but tried to catch the emotions of the region," added a different point of laughter by embodying the dialect and acting so that even the English accent could be heard in the Chungcheong-do dialect. In addition, he received special training at the gym before filming started in order to master various actions of rolling and running all night long even in the heat, and acquired a skin scuba license by overcoming a phobia of water for underwater action. As a result, he added vitality to the character by completing an all-time high-level pursuit action that plunges himself into the investigation by throwing himself off the second floor of the building and an exhilarating underwater action that descends to a depth of 18m.
As such, actor Kwak Do-won, who took on the challenge of acting in a comedy for the first time in filmography, will captivate the audience with a new look that he has never seen before through various performances ranging from investigations to action and comedy.
Global actors who completed the prenatal and international war investigation action
#Kim Dae-Myung X Kim Hee-Won X Kim Sang-Ho Challenging Chemie
#A popular Filipino actor who adds reality
<International Investigation> foretells a different chemistry with the first meeting of the leading actors in Chungmuro, Kim Dae-myung, Kim Hee-won, and Kim Sang-ho. In addition, real popular Filipino actors appear to add to the reality of the movie.
Actor Kim Dae-myung, who has shown strong characters across screens and CRTs, took on the role of Man-cheol, a local tour guide who suddenly became the investigation partner of 'Byung-su' (Kwak Do-won) in 'International Investigation'. ˝This is the rediscovery of Kim Dae-myung. As Kwak Do-won said, "Those who watch the movie will probably be surprised", Kim Dae-myung perfectly transforms into a guide character who is 100% adapted to the local language by fluently digesting not only the Chungcheong-do dialect but also the local language. Here, actress Kim Hee-won, who has played impressive villains in various works, comes to play the role of 'Patrick', an unidentified killer of a Filipino criminal organization. Kim Hee-Won adds tension to the play with a different dimension from the villains he has shown so far, from flashy fashion to a vicious personality. In addition, actor Kim Sang-ho, who boasts full acting skills, took on the role of 'Yong-bae', a stilt-like figure in 'Byung-su', who was reunited in the Philippines. Kim Sang-ho stimulates curiosity as it is said that he received applause at the scene for his passionate performances, from diving to directly digesting underwater actions.
As 80% of the film was shot in the Philippines, the actors had to work in harsh conditions such as record heat and typhoons. The passionate acting and fantastic breathing that do not spare the body such as running and rolling without a break for the chased and chased investigation action, as well as performing underwater actions, foreshadows a strong acting chemistry. Director Kim Bong-han said, "Acting, breathing, and chemistry are so good that you will think that it is a fun combination. All I did was lay the plate and watch the actors play well", raising expectations for the delightful synergy that Kwak Do-won, Kim Dae-myung, Kim Hee-won, and Kim Sang-ho will show.
Meanwhile, the appearance of Filipino actors helped complete the film's exotic atmosphere. Actor Mon Confiado, who played the role of a mysterious local police officer 'Shawn', played the role of 'Yonggu', played by Ryu Seung-ryong in the Philippine remake of the movie <The Gift of Room 7>, and is known as a national actor, raising expectations. In addition, local actors such as Lauren Burgos and Cindy Miranda will appear to enhance the immersion of the play.
Philippines location 80% Exotic scenery and colorful attractions
#Full control of 13 lanes in downtown Manila #Coron Island, Palawan
#First Korean film to be filmed as a UNESCO World Heritage Site in the Philippines
In <International Investigation>, 80% of the film was shot in the Philippines to vividly capture the global investigation of a detective caught in a set-up crime. The production crew conducted a preliminary investigation for about a year and received direct filming permission from the Philippine Film Promotion Commission, local governments of each state and city, and numerous organizations such as the Tourism Administration. In addition, in the midst of sudden heavy rains and heat waves caused by 24 typhoons during the filming period, various backgrounds such as beautiful natural landscapes, downtown Manila, Coron Island, casinos, actual prisons, and cockfighting grounds were captured.
In particular, about 200 people including staff and on-site control Philippine police were mobilized for the urgency of 'Byung-soo' in front of the Korean Embassy in the Philippines, and about 100 vehicles were put into it, realizing the scale of the vehicle action. A large-scale vehicle action that completely controls a round-trip 13-lane road in downtown Manila, which boasts a huge traffic volume like Korea's Tehran Road, was carried out under the tension of many. After many rehearsals and meetings, we were able to complete the full-fledged vehicle action through repeated trial and error.
In addition, it is the first overseas film to be filmed at the UNESCO World Heritage Site 'St. With the background of 'St. Augustine' of 'Intramuros', a walled city where you can feel the taste of Spain in the Philippines, it creates an exotic scenery that has never been seen before. In addition, Coron Island, which boasts the most beautiful scenery among filming locations, was able to capture the actors and staff after a long journey of 1 hour by plane and 18 hours by boat from Manila. The wonderful natural scenery of Coron Island, which seems to have gone through CG work, will give you a different experience as if you are actually traveling.
The global location, completed by filming every corner of the Philippines like this, is known for the dedicated efforts of the local staff and attracts attention. The veteran staff, who have participated in many Hollywood films, were a great help in resolving unexpected problems in the local area, and they spared no effort to ensure that the filming was completed with extraordinary affection for the film.
Related Videos