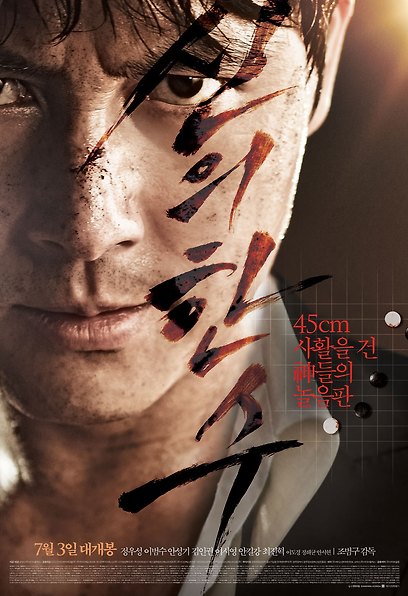 The Divine Move, 2014
release

2014.07.03
genre

crime/action
country

Korea
ranking

Youth not allowed
running time

118 minutes
grade

7.1
cumulative audience

3566852 people
Synopsis
The game board of the gods turned into crime
A number that risked your life begins!
Tae-seok (Jung Woo-seong), a professional Go player, loses his brother due to the conspiracy of the Sal-su (Lee Beom-soo) team at the betting board. He is even framed for murder and ends up serving a sentence in prison, and a few years later, he gathers players from all over the country for a confrontation with Salsu.
Tae-seok (Jung Woo-seong), Lord (Ahn Seong-gi), Gong-su (Kim In-kwon), and Heo Mok-soo (Ahn Gil-gang), who have gathered for their revenge and the final bout, form a board to win the game. A planned battle against the infamous Salsu (Lee Beom-soo) team, who never saves even a single loss, begins one after another… …
A famous match unfolds in the betting board that has been scorched due to crime!
[ABOUT MOVIE 1]
Action board meets checkerboard!
The game board of the gods who have turned into crimes is unfolding on the screen!
<A Divine Move> is a movie that will bring you the best pleasure when the world of go betting and action crimes meet. <God's move> will introduce the world of betting baduk that we have not known until now by combining Go, which has been considered only a sport for gentle gentlemen with a long tradition, with the crime action genre. The moment you enter Kiwon, which is located in the alleys dotted around Seoul, a world you could not have imagined unfolds. The state-of-the-art surveillance network and the place where billions of stakes come and go reveal the other side of Go, which until now was only known as a new game.
Go requires a higher level of brain fighting than various gambling games such as Hanafuda and poker. In fact, in the world of go betting, there is a well-known myth that "none of those who play Go well will be caught by the police." As such, 'Baduk' is the best brain game that requires wisdom and judgment, so <God's Move> boasts the perfect combination of brain, crime and action. The production team completed the reality under the supervision of Korea Kiwon, the best Go group in Korea. From the shape of the hand that plays Go according to the color of each character, to the appearance of touching the stone, and various Go terms appearing in the movie, they were born through the hands of Korean origin. The actors' performances were also the best combination to bring out the reality. The skill of those who read each other's numbers from a distance of only 45 cm has been enhanced by the actors representing the Republic of Korea's perfect eyes acting.
<A Divine Move> presents a deep drama that puts weight on the wretchedness of those who are ready to lay down their lives for a single match, and runs towards the end for their revenge. Recently, the webtoon 'Misaeng' has been dramatized, and Baduk is once again receiving national attention, such as being recognized as a kind of strategy book for living. will give
[ABOUT MOVIE 2]
Seven players who will show off their transformation and hot performances appear!
Jung Woo-sung – Lee Beom-soo – Ahn Sung-ki – Kim In-kwon – Lee Si-young – Ahn Gil-kang – Choi Jin-hyuk – Multicasting!
It is the first crime action movie to open the door this summer, and <Faith> will follow the genealogy of multicasting films that opened in July and recorded unprecedented box office hits, such as <The Thieves> and <The Watchers>. Seven players boasting a splendid lineup performed a reversal of transformation and passionate performances.
From <Beat> to <Nom. Nom. Nom> and <Watchers>, the self-proclaimed action legend Jung Woo-sung representing Korea. Martial arts director Jung Doo-hong said, "The actor who performs the best in Korea is Woo-sung Jung." Jung Woo-sung, who boasts of his action skills to believe and see, has completely transformed into a former professional Go player who risked his life for revenge through <A Divine Move>. . Jung Woo-sung will announce the birth of a perfect action hero through action details that only he can do in Korea.
The runner who opposes Jung Woo-sung is Lee Beom-soo. Lee Beom-soo, who returned as a villain after 9 years after <Partner>, took on the role of 'Salsu', the axis of absolute evil against Tae-seok (Jung Woo-sung). Lee Beom-soo shows the essence of vicious acting as if to quench his thirst for acting. Lee Beom-soo's charisma, which overpowers the opponent with just one glance, foretells that <A Divine Move> will be an action movie that will run without a break until the end.
Ahn Sung-ki took on the role of 'Lord' for the first time in his life as a blind actor and a make-up actor. It can be said that the new challenge of a veteran actor who has dedicated his life to acting was a 'God's move' of actor casting. He actually learns the technique of playing blind Go and shows realistic acting.
Kim In-kwon, the box office star of the 10 million movie, appears in the role of 'Kong-soo' and shows the essence of a life-type go player. Kim In-kwon's performance, who will give the audience a restful laugh, is dazzling due to the weight of the crime action genre.
Next, Lee Si-young took on the flower of the betting board with the role of 'navel'. Although she was a promising professional Go player, she is now standing on the side of Salsu and immersing herself in the world of betting Go.
Ahn Gil-gang takes on the role of 'Heo Mok-soo', a betting board engineer who lost one arm due to the baduk game. His acting, which digests everything from action acting to inner acting, adds another number.
Lastly, Choi Jin-hyeok, the youngest of the 7 players, will perform an action performance equal to Jung Woo-sung. Choi Jin-hyeok, who has recently emerged rapidly, takes on the role of a 'player', a broker of a betting board in <God's Move>, and takes on the screen as a real person who monitors the origin and manages the stake.
[ABOUT MOVIE 3]
The intensity and style of the action have increased by one level!
Cool action pleasure that you can't take your eyes off of for even a single moment!
The actors in charge of the betting board that have turned into crimes worked together at the action school for several months to digest the various action scenes in the play, improving the perfection of each scene. In particular, Woo-Sung Jung, Beom-Soo Lee, and Jin-Hyeok Choi acted as the main actors in the action acting in the movie, acting with a manly scent. Beyond the frame of existing male action movies, <God's Move>, which makes it impossible to take your eyes off for even a single moment with various actions in every scene, is expected to provide an action pleasure that only entertainment movies can show.
Action legend Woosung Jung is back! The scale of the action has grown!
First of all, Jung Woo-sung plays an action with a physique and fast speed that was not easily seen as an Asian actor. His splendid action, taking full advantage of his long arms and long legs, reminds us of the movements of Hollywood action stars such as Liam Neeson and Christian Bale. It has created an action scale that has never been experienced in Korean movies. In particular, the action scene at the beginning of the movie that completely changed the life of Tae-seok (Jung Woo-sung), who knew nothing but Go, clearly confirms the health of Korean action legend Jung Woo-sung.
Lee Beom-soo returns as a villain after 9 years! Added restraint to cruelty!
Lee Beom-soo made use of the character's color with a restrained action that oozes coolness. The character of Sal-su (Lee Beom-soo), who uses a sharp knife to stab the opponent's vital points with a bold yet restrained knives, would not have been completed without Lee Beom-soo's unique acting. Thanks to the charisma of the veteran actor, an equal contrast with Jung Woo-sung became possible, making the confrontation between sharp-edged men even more stark.
Jinhyuk Choi heralds a new action star! Feel the explosive energy of a young actor!
The challenge of the youngest, Jinhyuk Choi, is not inferior to this, and heralds the birth of a new action star. Choi Jin-hyuk, who will catch the audience's eyes with his detailed action acting in perfect proportions, performed an action scene equal to Jung Woo-sung in the frozen warehouse. The smell of sweat from tough men is an attractive scene that makes even female audiences fall in love with action movies.
<God's Move> heralds the birth of the best entertainment movie this summer with a variety of action attractions. In particular, various action keywords such as undressing action, freezing action, 20:1 action, life and death action, etc. will be the viewing point. In addition, he plans to once again solidify his position as the best action actor in Korea by challenging the large-scale action that only Jung Woo-sung, who has celebrated his 20th anniversary this year, can do.
[ABOUT MOVIE 4]
Now the entire area of Seoul is a betting board and action board!
Noryangjin Fish Market-Jangwi-dong-Gwancheol-dong, a map of Seoul betting that was completed through careful preliminary research!
The story of Seoul is buried in <God's Move>, with the premise that 'every space has a story', 7 gangsters are placed forward to explain each place. The spectacle of <God's Move> going back and forth between Gangnam and Gangbuk is expected to deliver reality to the audience by completing the 'Seoul Betting Baduk Map' based on the premise that we can meet in the real space we live in.
Salsu's Hideout – Noryangjin Fish Market
If you go upstairs through the alleyway of Noryangjin Fish Market, which smells like people, there is a spacious Salsu office. Breaking the conventional wisdom of the audience that there would be a gambling place in a dark place, this place was selected through a preliminary research by the production team. It is designed with the motif of illegal gambling places in various parts of the city as a hideout for sprinkling. Gambling is not separated from people's lives, and the space with the risk that anyone can fall into a pit at any moment is transformed into a betting room where billions of stakes come and go as soon as the door is opened.
Taeseok's Vengeance Space – Jangwi-dong's Black and White Origins
The black-and-white origin where Tae-seok (Jung Woo-sung) seeks his first revenge is also a space found in Jangwi-dong, Seoul. This place was found by the production team after searching all over Seoul for several months, judging that the origins are generally getting neater and that it would not be suitable as a background for revenge. It is the place that made Tae-seok fall into the abyss and the space where his first story is completed.
The Lord's Activity Site – Gwancheol-dong Alleyway
Gwancheol-dong, where the Lord (Ahn Sung-ki) is active, is actually a mecca and symbol of Baduk. Even now, if you go to Gwancheol-dong, you can witness a lot of old people playing go bets, and this reality is captured on the screen.
Navel's Mahjong Bar – Cheongdam-dong luxury bar
The mahjong bar operated by Navel has selected a BAR, which is actually located in Cheongdam-dong, as the location location. In this place where Orientalism is strangely mixed, the appearance of those who are playing mahjong creates an exotic landscape in another space in Gangnam.
[DIRECTOR'S COMMENT]
"I wanted to expand the scale of Korean action films." Director Jo Beom-goo
There are infinite dramas and stories that can be said to be a microcosm of life, but due to the nature of the sport, it was not made into a movie because it was static. However, <God's Move> was a work that started with a lot of thought about how to combine Go and action from the planning stage. The mental realm of Go and the physical battle of action are the same in that 'it risked life' in the end, so <God's Move> started with the idea of unraveling the perfect match between mind and body as a story.
In terms of casting, <God's Move> is a blessed movie. All the actors radiated their charms according to their roles, and as a director, I was happy just to see their performances on set. Please look forward to <God's Move>, where various spaces and various stories will unfold in the spectacular city of Seoul, where more than 10 million people live.
[KEY-WORD]
patching [敗着]
bad number to lose
start [start]
place stones on a checkerboard
paving stone
camp for battle
move [short horse]
harmonize
singular [單手]
With just one more move, you can win the opponent's stone.
whipping up [滾打]
Attack rushing into the podium
Konma
A stone that is in danger from being chased by the enemy
life and death
the crossroads of life and death
family [計家]
play all the games and decide who wins or loses
Related Videos