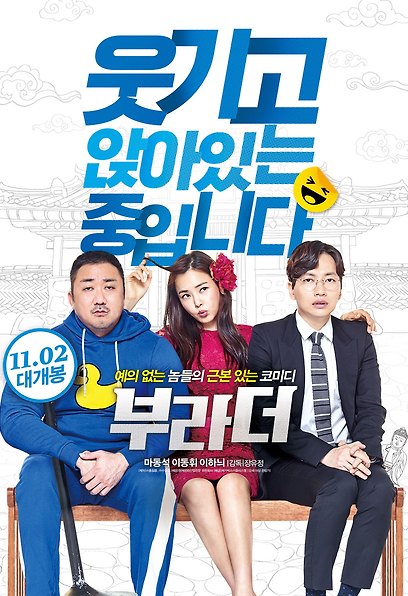 The Bros, 2017
release

2017.11.02
genre

comedy
country

Korea
ranking

Audience over 12 years old
running time

102 minutes
grade

6.7
cumulative audience

1492903 people
cookie video

One
Synopsis
The older brother who sells heirlooms VS the younger brother who sells his family, bought and hit properly!
He dreams of becoming Indiana Jones and puts all his fortune into excavating relics, but the reality is his older brother Seok-bong (Ma Dong-seok) has only increasing debt and useless equipment.
Joo-bong (Lee Dong-hwi), a younger brother who works for a well-known construction company with a brilliant appearance and a brilliant brain that represents the family, is in danger of losing his job due to a momentary mistake.
The brothers, who were forcibly summoned (?) to their hometown after 3 years, hit Aurora (Lee Honey) in an accident.
Now they start moving!
Was it because of an accident or was it
Aurora, a woman with a strange (?) mentality that makes her brother gasp (!) with unknown words and sudden actions.
She enters the brothers' lives and tells them a great secret, and at Aurora's words, Seok-bong and Ju-bong, who are tired of the harsh weather, begin to see Andong as a bonanza…
[ INTRO ]
great dong unity
Harmony with the public through laughter!
Ma Dong-seok
go go ho ho
Movies that people of all ages can enjoy without restrictions
Lee Dong-hwi
ripe line
A good movie to watch with your loved ones
Honey Lee
camel fire mouth
Once you fall in, you can't get out!
Director Jang Yoo-jung
[ ABOUT MOVIE ]
Personality explosion! A different kind of comedy is born!
This fall, a determined and funny comic buster is coming!
After <Lucky> (6.7 million viewers), which announced the revival of the comedy genre, which had been particularly sluggish in Chungmuro, where films of various genres such as thriller, mystery, action, crime, and drama poured like a flood, followed by action comedy <Cooperation> (7.81 million people) , and the youth comedy <Youth Police> (5.63 million people), the Korean comedy film industry has reached a revival after successful comedies with different charms. Here comes the work that will reach its apex. The comic buster <Brother>, which is released this fall and awaits a meeting with the audience, is expected to give the audience a nuclear-bomb-grade laugh with the fantastic breathing and solid scenario of Chungmuro's leading actors, Dong-seok Ma, Lee Dong-hwi, and Lee Ha-nui.
Director Jang Yoo-jung, who directed <Brother>, said, "I didn't want to make a movie that was pleasant and bright, but too wholesome or edifying. From the characters to the story, we focused on making the natural story in a non-obvious way." As she said, the character with a mysterious state of mind that can be found in any neighborhood and the setting of a brother without roots in a skeleton family boasting a 100-year tradition provides the joy of unexpected reversal. In addition, the lines and situation settings that contain humor and satire on traditional culture, rather than the laughter provided through simple slapstick comedy, will help you laugh and enjoy to your heart's content, and then leave the theater to think about the birth of a comic buster with a different dimension. make you expect
Ma Dong-seok X Lee Dong-hwi X Honey Lee, form a comic trio that will make you laugh just by looking at it!
Comic acting potential exploded with the best hard carry in filmography history!
It would not be an exaggeration to say that the movie <Brother> was able to proudly stand out as a comic buster that will bring the best laughter in 2017 thanks to the comic chemistry provided by the extraordinary combination of Ma Dong-seok, Lee Dong-hwi, and Lee Ha-nui, who are proud of Korea's representative actors. will be. Director Jang Yoo-jung, who directed <Brother>, said, "They were all active and smart actors who worked with a professional mindset. Every moment was always touching, grateful, and it was a family honor."
First, Ma Dong-seok, who has built a unique presence in various genres such as <Train to Busan>, <Goodbye Single> and <Chronicles of Evil>, plays the role of Seok-bong, the older brother who sells heirlooms, and plays the most comical character in his filmography, raising expectations. He, who is gaining popularity with overwhelming cuteness such as 'Mayomi' and 'Marble', showed a hard-carry performance that will mark the culmination of Ma Dong-seok's comedy through this movie. In addition, Lee Dong-hwi, who rose to the rank of a popular actor through the tvN drama [Reply 1988], joins and presents an all-time bro chemistry. Lee Dong-hwi, who took on his first lead role in the movie <Brother>, will take on the role of 'Jobong', his younger brother who sells his family, and will show off his unique and pleasant charm and his presence that will never be defeated by Ma Dong-seok as an ad-library. Lastly, through various works such as <Fabricated City> <Robot, Sound> <Tazza-God's Hand> <Love Poetry>, and MBC drama [Rebel: Thief Who Stole the People], he perfectly digested various roles as well as overwhelming visuals. Honey Lee, who has broadened her acting spectrum, shows off her unrivaled charm as 'Aurora', a mysterious woman who suddenly appears in front of her brother and tells her secrets. Through 'Aurora', Honey Lee plans to continue the genealogy of a unique female character that surpasses Kang Hye-jung in <Welcome to Dongmakgol> and Chun Woo-hee in <Gokseong>.
Ma Dong-seok, Lee Dong-hwi, and Lee Ha-nui said, "Rather than trying to be funny, I just tried to immerse myself in the character and show humor with lines and situations." The comic buster <Brother> is expected to bring the best laughter to the audience through the pleasant charm of the three actors and fantastic acting synergy.
The original musical [Brothers were Brave], the classic musical that captivated Daehak-ro for 9 years!
The birth of a super comedy that will sweep beyond Daehangno to Korea!
Broadway musicals [The Sound of Music] [Chicago] [Mamma Mia!] [Rent] [Hedwig] and the Korean musical [Finding Kim Jong-wook] have in common that these performances have all been made into movies thanks to the love of critics and audiences. As such, the so-called 'one-source multi-use', which turns a musical into a movie or a movie into a musical, has established itself as a trend in the cultural world early on. This is a ripple effect by applying a single material to different genres, and the synergy is maximized while the solid composition and storyline of the musical satisfy both the fan base of the musical and the movie. In particular, [Finding Kim Jong-wook] [Mamma Mia!] [Les Miserables] is a musical that was loved in Korea made into a movie, and the magnificent scale and various directing techniques that have limitations in realizing it on a limited stage are on the screen, so it is different from the performance. With another charm, he captivated many audiences.
Based on such a powerful musical as the original, a movie that will raise the credibility of the workmanship is expected to come to theaters in November. The movie <Brother> is the first movie in 9 years of the classic musical [Brothers were Brave], which has been loved since its premiere in 2008. The musical [Brother was Brave] is a work directed by Jang Yoo-jung, who fills the audience for every musical he makes, such as [Finding Kim Jong-wook] and [The Days]. As it is a work that boasts splendid awards in musicals, such as the Best Director Award at the Korea Musical Awards, The Musical Awards, Best Screenplay, and Best Picture at the Korea Musical Awards, it drew attention from the cultural world when it was decided to be made into a movie. In particular, director Jang Yoo-jung, who directed <Brother>, worked hard to create a tight structure, not only in the musical script, but also in the movie script. Lee Dong-hwi, who worked with him, said, "I wrote the script for the original movie and directed it myself, so my database was accurate. It was easy to approach the character because he knows the work more accurately than anyone else." <Brother>, reborn based on the power of the original, doubles expectations for the movie by foretelling a different ending from the original musical.
Song Young-chang, Jo Woo-jin, Song Sang-eun, Oh Man-seok, Seo Ye-ji
From Chungmuro trend to acting actors! A super-special comedy that was born into a fantastic ensemble!
The 2017 comic buster <Brother> draws attention once again with a diverse cast of actors, from popular actors in Chungmuro to solid actors. In particular, in the filming site of <Brother>, where there were more group shots than individual shots, the pleasant breathing between the actors stands out in a warm atmosphere, showing fantastic synergy.
Actor Song Young-chang, who exudes a unique presence for each blockbuster such as <Veteran>, <Pandora> and <The King>, adds to the weight of the play, takes on the role of 'Dang-suk', a strong supporter of the family's family, and is in constant confrontation with the brothers 'Seokbong' and 'Jobong'. to energize the play. In addition, actor Jo Woo-jin, who has imprinted his unrivaled presence with acting transformation regardless of genre through the bloody 'Sangmu Cho' in <Inside Men> through the tvN drama [Goblin] and movies <The King> and <The Sheriff> Through the role of 'Mi-bong', a police officer responsible for security and a sheriff who protects the family heirloom, it is also attracting attention by foretelling the transformation into a different comic character. In addition, actor Song Sang-eun, who has built up solid acting skills through works such as musicals [The Days] and [Rebecca], is expected to show off the chemistry of a couple with Jo Woo-jin as the daughter-in-law 'Mi-bong-cheo', a daughter-in-law who longs for Seoul life.
On the other hand, Oh Man-seok plays the role of 'CEO Oh', a construction company that does not hesitate to pursue a highway construction project in <Brother>, and energizes the play with a passionate performance full of personality. Through the musical [The Days] and the movie <Finding Kim Jong-wook>, he made a special relationship with director Jang Yoo-jung and decided to appear in <Brother> despite the small amount to support his new work. After that, Seo Ye-ji, who made her face known through works such as the movie <Sado> and <Bongi Kim Seon-dal> and captured the small screen with her delicate and explosive performance through the recent OCN drama [Save Me], took on the role of 'Sara', the company boss of 'Jubong'. Joo-bong' and subtle emotional tightrope will be unfolded, while witty comic acting will bring laughter to the audience.
As such, the popular actors who radiate various charms from Ma Dong-seok, Lee Dong-hwi, and Lee Ha-nui, Song Young-chang, Jo Woo-jin, Song Sang-eun, Oh Man-seok, and Seo Ye-ji, as well as Ma Dong-seok, Lee Dong-hwi, Lee Ha-nui, are drawing attention just by gathering for <Brother>, and their fantastic acting ensemble Expectations for a super comedy that was born with
[ PRODUCTION NOTE ]
From the location that captures the 500 years of tradition to the acting that contains the soul of the actors!
An endless challenge to bring laughter begins!
With a real Jongtaek as the background!
The production team of <Brother> traveled around the country for several years to find a suitable place to realize the realistic look of Jongtaek. We tried to find out filming locations near Seoul based on environmental requirements such as distance and time, but it was judged that it would be unreasonable to convey the feeling of reality as it is with a set or CG, which is the most important factor in the film, which is the tradition and elegance of a 500-year-old house. because it did Thanks to director Jang Yu-jeong's passion for the location, who stayed in Wonju for about a month and a half and almost commuted to and from the closing house of Toegye in Andong, <Brother> was directed by Toegye Tae-sil (Toegye in Andong), where you can feel the 500 years of time. We were able to film at the birthplace of Mr. Lee Hwang) and at the Jongtaek of the Kim clan in Uiseong. In particular, the Jongtaek of the Kim clan in Uiseong, designated Treasure No. 450, retains its traditional appearance with little to no modern transformation, giving the movie a lively feel. In addition, Toegye Taesil, designated as Gyeongsangbuk-do Folklore Cultural Heritage No. 60, has never been used for commercial purposes before, but for the first time in the movie <Brother>, it was filmed with permission from the Cultural Heritage Administration and Toegye Jongtaek, which adds a deeper meaning.
Thoroughly calculated costumes!
Each character in <Brother> has its own color that matches its characteristics. As the background is winter, where achromatic colors dominate, the characters are distinguished by color. First, in the case of 'Seokbong', the parka with orange and yellow added to the character of the character who pursues dreams brightly. 'Jubong', a smart and successful construction company team leader, wore a khaki coat and achromatic suit, emphasizing his cool and rational personality, selling his family for promotion. Lastly, 'Aurora' is a character that stands out more with color, and it delivers a mysterious image more effectively by matching a mysterious purple coat with a yellow dress reminiscent of the moonlight in the night sky. In response, Honey Lee said, "I wore a lot of colorful costumes in other works, but in <Brother>, there was no shortage of characters to express the unique character of 'Aurora' in <Brother>." In addition to this, the mourning clothes in the movie are not made in a simplified modern style, but in a well-equipped oyster uniform from head to toe, as well as shoes made of sandals, which preserves the family tradition with realistic visuals. This mourning dress is used not only for the meaning of mourning, but also as a device to reveal the desires of the characters 'Seokbong' and 'Jubong', which reminds us of the meaning of the mourning and comedy at the same time.
Actors' performances!
The passionate performances of the actors are fully melted in the movie <Brother>, which was filmed for two months in the cold as if it was -16 degrees below zero, and the sharp wind that blew even harder because it was next to the river. First, when filming the scene where 'Seokbong' entered the house and looked around looking for treasure, it actually snowed and the filming almost stopped, but the actors and staffs' will to continue filming, and the filming was forced to take place while meeting the snow. was able to contain In response, Ma Dong-seok boasted of the strong camaraderie that overcame even the cold, saying, "It was a very cold weather, but we were united and read together and had fun filming." Honey Lee, who had to digest every scene in a single outfit, also had to show off her ringer fighting spirit. Honey Lee's positive energy, saying, "Even in the cold of -16 degrees Celsius, I had to wear a yellow single-piece dress to film, so it was difficult to say that I couldn't hear my voice after filming, but it was a fun and enjoyable scene." it's the back
Related Videos