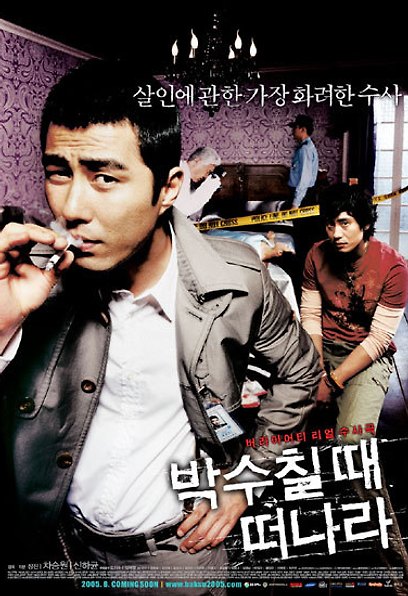 The Big Scene, 2005
release

2005.08.11
genre

Comedy/Mystery/Drama
country

Korea
ranking

Audience over 15
running time

115 minutes
grade

8.1
cumulative audience

2073641 people
Synopsis
No one can escape!
48-hour live broadcast, a breath-taking investigation begins!
A copywriter's death, a mysterious suspect arrested at the scene
At the top-class hotel in Gangnam, Room 1207
A-class copywriter Jeong Yoo-jeong was found stabbed nine times.
Kim Young-hoon, a mysterious suspect who was arrested on the spot with a gasoline can.
Amid the busy movement of the investigative teams deployed to the scene to secure evidence of the case,
There was a group that moved quickly with them… It is the broadcasting station PD and staff.
"This is a show after all! Let's make sure we pull out only what we can pull out… "
For the first time since the founding of the Republic of Korea, as part of the 'Creating a Crime-Free Society' campaign,
The pretentious 'Live Broadcast of the Investigation of a Murder Case' is about to be broadcast live on the airwaves.
Name Haya special live broadcast "Jung Yoo-jung murder case, who killed her?".
Inside the broadcasting studio, the opinions of panelists, experts, and audiences come and go,
At the on-site investigation headquarters connected by CCTV, a sparking investigation takes place between the prosecutor and the suspect.
Their purpose is to extract the 'maximum audience rating' through the live broadcast of the investigation!
Choi Yeon-ki (Cha Seung-won), a prosecutor with animalistic senses, and Kim Young-hoon (Shin Ha-kyun), a sharp but shy suspect.
Amid the unprecedented participation and interest of the entire nation, the 'variety of investigation drama' for 2 days and 1 night is vigorously conducted.
The beginning is great, but the end is weak… ? Investigation increasingly falling into a labyrinth
In addition to Kim Young-hoon, as the number of witnesses such as hotel managers, bellboys, and gas service workers increases,
The investigation, which initially pointed out the culprit as Kim Young-hoon, is in danger of falling into a labyrinth.
Amidst the confusion of the investigation desk and the concerns of broadcasters
The audience rating, which was close to 50%, also plummets, and the investigation show gradually loses interest.
The broadcasting station, which has become urgent, decides to write a prescription for extreme medicine…
Investigation show, you can't back down like this! Take your time as much as possible!
show! For that final highlight…
Related Videos