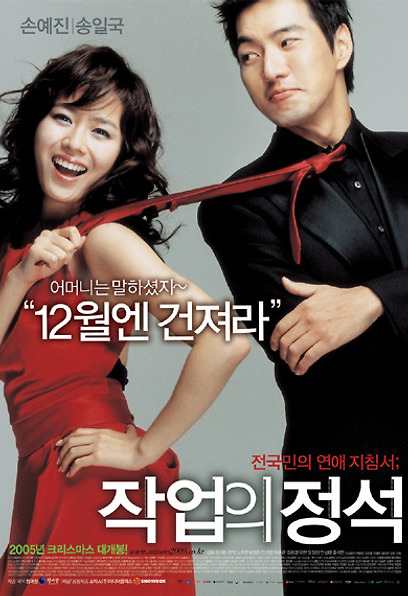 The Art Of Seduction, 2005
release

2005.12.21
genre

Comedy/Romance/Melodrama
country

Korea
ranking

Audience over 15
running time

100 minutes
grade

7.1
cumulative audience

1853623 people
cookie video

One
Synopsis
The full story of a player's life that captivates and engulfs them
Pride competition between national team players
Athletes Meet Athletes!!
Explore… Athletes recognize players!
Min-jun and Ji-won, representative players of the work world, met.
Athletes How to Recognize Athletes! Those who are strongly attracted at first sight know that their opponents are never easy.
Our working men and women sneak a peek at each other in a way that we usually do for men and women!
But the plain version won't work for them. Finally, the battle between Min-Jun and Ji-Won, who meets an opponent who will test the secret work skills he has honed, begins to heat up.
Clash.. Finally meet the enemy!!
The first date is a strategic expedient after meticulous under-water work. Their first round search battle, which took place amidst the tense tension, ended with Min-jun's small victory thanks to Ji-won's returned skirt incident (?). But it's not the only support you're getting.
The full-fledged work battle begins now!!
It shakes.. A series of mistakes!! Attracted.. Dangerous!!
Min-Jun and Ji-Won are going into a full-fledged confrontation, but their work, which has paid off in white, keeps ticking.
As absolute supremacy, his inner strength collapses as soon as it collapses, and when even his pride as the best player starts to shake, he vaguely realizes that there is no secret to overcome the natural movement of the mind, neither the know-how of supporting only himself, nor Min-jun's technique. start to go
However, a true professional doesn't stop playing until they see a match.
Who will be the final winner in the battle of the work?
And can they also enjoy the sweetness of romance given only to those who survived countless works?
Production Note
The work of the players is different from the scale!
From large helicopters to light aircraft to the duel of Moorim…
A romantic blockbuster comedy?!
From the first meeting, the nervous battle between the two working men and women is uniquely expressed, like a scene from a martial arts movie. To this end, Son Ye-jin hung on a wire rope for the first time in her life and ran on the lake countless times until she was drenched in water. Song Il-gook also practiced the moves while watching martial arts movies such as <Wow of the Tiger> and <Hero> before filming for a natural sword fighting action. Besides, I was exhausted when I repeated the difficult scene several times in which I was hung upside down on a wire and plunged into the water. However, he finished all the filming without a double, and received applause from the field staff. As such, in <Standard of the Work>, various directing techniques that are not easily seen in romantic comedies were used. Director Oh Ki-hwan said, "As it is a story of masters, I wanted to unravel the story in a different way." His wish filled <The Standard of Work> with more dynamic and splendid sights, and there are hidden devices in the film where the director's new directing power shines, such as helicopter scenes and light airplane scenes.
Thanks to this, we can enjoy not only the 'players' dating guidelines', but also unexpected cinematic fun.
Luxury fashion sense, basic for players
From Manolo Blahnik to Dolce & Gabbana, the costume cost is in billions!!
The fashion sense of well-known players is different. Son Ye-jin and Song Il-guk, who became an issue with style change as they have mainly adhered to a modest and gentle image, provide a splendid attraction with luxurious costumes and props from top designers throughout the filming. First of all, if you look at the clothes of Son Ye-jin, a natural working woman, the cost of one costume is almost 10 million won. As a money-making fund manager, he wore Y&K, Chloé, a world-famous designer from the New York collection for the stylish suit that became the main outfit point, Louis Vuitton and Prada for the bag, Manolo Blahnik for the shoes, and Louis Vuitton for the watch. How about Song Il-guk, who has transformed into a ready-made working man 'Seo Min-joon'? To give off a soft yet chic impression, the sophisticated outfits were finished with Givenchy Collection Line, Dolce & Gabbana, and Yohji Yamamoto. In particular, the Geomonaco watch worn by Song Il-guk in the pawnshop scene was worth 6.5 million won, and the diamond-studded Geomonaco watch worn by the pawnshop owner was 13 million won.
However, most of the expensive items were sponsored, so there was no burden of production cost due to the cost of clothing. It was possible that Jiwon and Minjun were the best players who were doing well. At first, the two mainly wore monotone clothes to emphasize a sophisticated and urban image. As they enter the full-fledged work battle, they will change into colorful costumes to bring out a lively and pleasant image. When it comes to fashion, it's not inferior to being the main character of a movie.
"If you work in a house like this, the success rate is 100%"
Endless hard work of the art team for the 'setting' of a working man?!
Song Il-guk, no, Seo Min-jun, the protagonist of <The Standard of Work>, which shows with his whole body that the life of a working man is 'setting'!
'Minjun's House' made for him is the pinnacle of the setting achieved by the art team. First of all, it is not unusual from the moment you walk in. A luxurious entrance hall made of Italian marble, a two-story ceiling reminiscent of a penthouse, and a collection of hundreds of books fill one wall. High-quality furniture that is unusual even at a glance, high-quality paintings that can be mistaken for a gallery, and a professional-level audio set are accompanied by sweet jazz. However, filling this set was more of a problem than building it. First of all, more than 7,000 books were needed to fill the enormous bookshelf that occupies the second-story wall, and the books on the bookshelves set up in the Cheonggyecheon area are only available for rental at 2.5 million won per day! Here, three expensive artworks adorned the walls were set up with paintings by Hong Soo-yeon, who cost more than 50 million won each. Of course, I borrowed it for free because I was close with the art director, but I had to concentrate on the painting to avoid damage.
But above all else, the most unusual setting of Min-Jun's house is a luxury cola vending machine! The idea of having a vending machine in the house itself was an idea that broke common sense, but it was a special ornament that perfectly matched Min-jun's house in the movie. It has been transformed into a vending machine that is the only one in the world with new colors and designs to match the luxurious space.
If you are tired of the perfection of Min-Jun Seo, a working man that would not have been possible without the hard work of throwing the body of the art team, their sweat is not in vain.
Related Videos