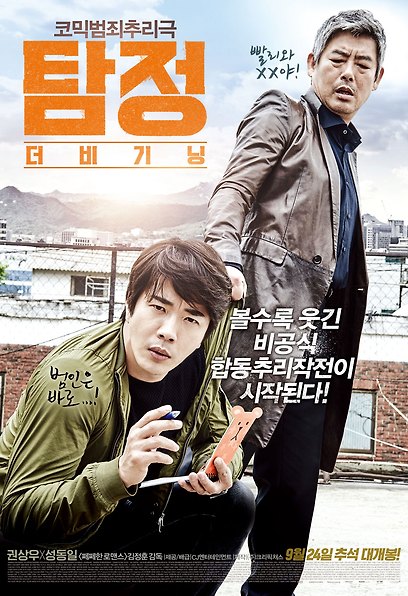 The Accidental Detective, 2015
release

2015.09.24
genre

Comedy/Crime/Thriller
country

Korea
ranking

Audience over 15
running time

120 minutes
grade

7.5
cumulative audience

2625686 people
Synopsis
"I'm not the culprit just by looking at it!"
VS
"What a fool with no horns pretends to know!"
Power blogger Kang Dae-man (Kwon Sang-woo), who runs the nation's largest unsolved murder case cafe, is hit by daily routines whether to take care of the baby, run a comic book store, or watch his wife. The only pleasure is snooping around the police station and meddling in the investigation! Legendary detective Noh Tae-soo (Seong Dong-il), a former detective from the Metropolitan Investigation Unit, is just a thorn in the eyes of Taiwan with the skills that are comparable to a detective.
Then one day, Junsu, a friend and homicide detective, is arrested as the culprit in a murder case. A second murder case occurs in front of them, who only bumped into each other like that…
"It's time for us to go out!"
In September, the strongest detective combo is coming!
[ ABOUT MOVIE ]
The only comedy movie this Chuseok season is <Detective: The Beginning>
"It's time for us to go out!"
Following the box office boom of Korean films that hit theaters this summer, the Chuseok big match has begun! Compared to previous years, it is expected that Korean films of various genres and various materials will play an all-out war on Chuseok this year. Among them, the most competitive genre is comedy. The comic crime mystery drama <Detective: The Beginning> draws attention as the 'only comedy film' in this Chuseok clash.
<Detective: The Beginning> is a movie about a secret joint mystery operation between detective Gang Dae-man (Kwon Sang-woo), a detective who dreams of becoming a Korean 'Sherlock', and legendary detective Roh Tae-soo (Seong Dong-il) of the metropolitan investigation team. Sung Dong-il, who will show a different charisma with his first silver hair transformation, returns to the comic acting of Kwon Sang-woo, who transformed his detective-like reasoning power into a useless comic book owner, and his excellent acting ability that does not disappoint. The meeting of these two combos is already receiving a lot of attention. In particular, even though they see each other as obstacles in the investigation, the scenes where they share their sorrows after being found out about their low positions at home form a consensus, and the exquisite combination with the mystery and mystery genre gives a fresh charm that has never been seen in Korean films. .
"Nice to meet you, Kwon Sang-woo!" The return of the once(?) comic legend Kwon Sang-woo
"It's good, Sung Dong-il!" The crazy charisma of Seong Dong-il, the Great Demon King of Acting Skills
Expect the birth of the strongest and freshest comic combo ever!
Kwon Sang-woo, who was selected as the best comic icon for <Teaching Students of the Same Age> and <Youth Manga>, is returning to comedy. Unlike his sculptural face, Kwon Sang-woo, who has brought a lot of laughter to the public with his anti-war comic acting, culminates in comedy acting in <Detective: The Beginning> with a natural and sensible life performance that surpasses the existing comical appearance. Kwon Sang-woo, who is loved by the public for his homely appearance, is the back door that he was ranked 0 in casting as the best actor to digest the image of 'Kang Dae-man', an ordinary father and immature father.
Sung Dong-il, who showed his so-called 'crazy acting skills' by mixing laughter and emotion in <Beauty is Suffering>, <National Representative>, <Suspicious Woman>, dramas [Chuno], and [Reply] series, etc., was murdered with 'Kang Dae-man' He plays the role of 'Detective Noh', a wide-area investigative team who investigates the Seong Dong-il, who played the role of 'Detective Noh', plans to show the best performance of his 25 years of acting life, such as dyeing his hair unconventional and performing dangerous underwater actions. Sung Dong-il, who breathed life into the story with his savory acting, is expected to bring laughter to the audience with vivid and realistic lines in <Detective: The Beginning>.
Expect a solid scenario that broke through the competitive ratio of 588:1!
Director Kim Jung-hoon coordinates sympathetic laughter!
The screenplay for <Detective: The Beginning> was the winning piece in the '8th Youngest Scenario Contest' in 2006. This work, which won the grand prize through an overwhelming competition ratio of 588:1, was written by director Kim Jeong-hoon, who grabbed the megaphone. He made his successful Chungmu-ro debut by mobilizing 2.80 million audiences with the romantic comedy <Crazy Romance>, and through <Detective: The Beginning> satisfies the five senses of the audience in 2015 with a fresh story that combines reasoning with his specialty comedy.
Director Kim Jung-hoon said, "The events and stories of this work are quite heavy. However, I didn't want to tell the story too heavily, so I created the characters 'Kang Dae-man' and 'Detective Noh' with more comical side. It is <Detective: The Beginning> that adds fun and creates sympathetic laughter as unique characters lead the story."
[ PRODUCTION NOTE ]
Cinematography Ki Se-Hoon, Lighting Kim Seong-Kwan, Art Choi Yeon-Sik, Kim Jun, etc.
A large number of talented people called Chungmuro Naero participated!
Birth of a complete comedy mystery play
<Detective: The Beginning>, which will captivate theaters this Chuseok with the perfect harmony of comedy and mystery, was born as a highly complete comic mystery drama with the participation of many talented people from Chungmuro. First of all, cinematographer Ki Se-hoon, who has produced major works such as <Love Poetry> and <Secret Investigation>, participated and captured the charm of <Detective: The Beginning> on the screen, from the comical appearance of Kwon Sang-woo and Sung Dong-il to the action. Best lighting director, Kim Seong-gwan, who won the Lighting Award at the 34th Blue Dragon Film Awards and the 50th Daejong Film Festival in 2013 for <Berlin>, naturally connected two completely different colors, comic and mystery, with bold and detailed lighting. <Broken Arrow>, <Namyeong-dong 1985>, <Cyrano; Art director Choi Yeon-sik of Love Manipulation Team and Art Director Kim Jun of <Taste of Money> and <Roller Coaster> will work together to present intense visuals with realistic spatial composition appropriate to the situation.
Completed with Kwon Sang-woo's hand, casting a 7-month-old child?
Seohyun-yang Hong, the best scene stealer in <Detective: The Beginning> with all-out acting (?)
While child-rearing entertainment has been receiving a lot of love from viewers due to its high ratings recently, <Detective: The Beginning> also has a very special child role casting that is no less interesting. Hong Seo-hyeon, who plays 'Hong-ji', the daughter of 'Kang Dae-man', is the main character. Hong Seo-hyeon, a 7-month-old child, is said to have captured the attention of field staff by showing veteran facial expressions and crying performances that are appropriate for the situation, although she cannot speak.
Infants less than a year old are not easy to control, so it is true that casting is avoided in film shooting where the on-site situation is flexible. However, the casting was completed with the strong recommendation of Kwon Sang-woo, who is confident in parenting. Perhaps thanks to her father Kwon Sang-woo's devoted care in the play, Hong Seo-hyun showed a perfect performance that completely washed away the concerns around her, and it is said that she received a lot of love from the actors and crew for 'Flower on the Set'. Kwon Sang-woo, who worked with the youngest actress ever, admired Hong Seo-hyun's acting skills, who burst into tears and laughter in the right place, calling her a 'true scene stealer'.
Sung Dong-il's first intense underwater action in his 25-year acting career!
5m deep underwater fighting scene without band
Sung Dong-il, who took on the role of 'Roh Tae-soo' in <Detective: The Beginning>, will present intense underwater action for the first time in his 25-year acting career. In this work, Sung Dong-il perfectly digested the scene of an underwater fight with a criminal in a 5-meter-deep aquarium without a band. It is said that the filming was completed perfectly even in situations where movement was restricted due to heavy clothing such as trench coats and suits, as well as not being able to see the front as soon as you take off your goggles due to intraocular pressure.
Seong Dong-il said at a press conference for <Detective: The Beginning> held on the 24th that underwater shooting was the most difficult filming of his acting career so far. In other words, the difficult process of action shooting was sublimated into laughter.
Director Kim Jung-hoon also said, "The filming was not easy for the crew because the cinematographer had to stay in the water for a long time enough to use four oxygen tanks alone. Thanks to Sung Dong-il and the filming staff, who showed an uncompromising performance, we were able to shoot the best scenes that add to the tension of the movie."
Related Videos