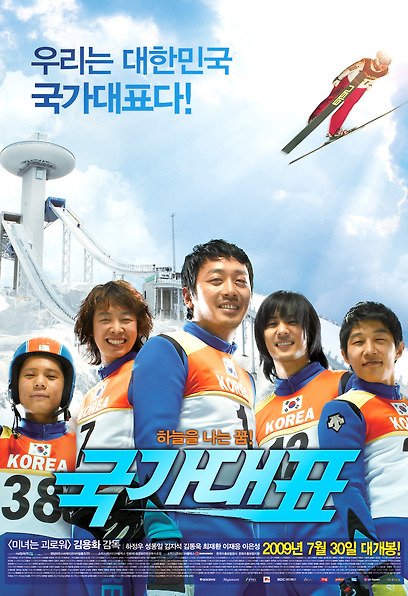 Take Off, 2009
release

2009.07.29
re-opening

2009.09.10
genre

drama
country

Korea
ranking

Audience over 12 years old
running time

137 minutes
grade

9.4
cumulative audience

8035181 people
Synopsis
"What are you going to do with this garbage?"
The guys who became the national team of the Republic of Korea for an impure purpose (?),
In order to host the Winter Olympics in Muju, Jeollabuk-do in 1996, the national ski jumping team, one of the official sports, is rushed. As a result, former children's ski classroom instructor Bang Jong-sam (Sung Dong-il) is appointed as the national coach, and the elite (?) members gather around his all kinds of eloquence. Bob (Jung-Woo Ha), an adoptee who came to Korea after being a former junior alpine skier in the United States, came to Korea to find his mother, Heung-Chul (Dong-Wook Kim), a nightclub waiter who could not survive a day without a woman. From his son Jae-bok (Choi Jae-hwan), who has lived in a restaurant, Chil-goo (Kim Ji-seok), a quiet boy who has to take care of his grandmother and younger brother, and Bong-goo (Lee Jae-eung), a 4D brother who loves him so much! Coach Bang promises an apartment for Bob who needs a house to live with his mother as if he were a god, and exemption from military service for brothers Heung-cheol, Chil-gu-Bong-gu, and Jae-bok, who must stay with them because of love or dependents. But if you win a gold medal!
"Ah! What scientific training is this!! this!!"
If you don't have a jumpsuit, wear a sweatshirt! If you don't have a helmet, wear a helmet! If you don't have a jumper, make one!!
I don't know what ski jumping is, but the first national ski jumping team in Korea is formed as people who are chosen because they've been skiing for a while gather. However, the training of coaches who do not know the spelling of Ski Jump and the national team players with no experience is difficult. I had to go back and forth at the construction site of the jump platform without a proper training ground, and I had to wear only a motorcycle helmet and a safety helmet at the construction site without proper protective gear or jump clothes. Nevertheless, starting with ground training in the front yard of Jaebok's meat restaurant, aerial stunts (?) hanging from the top of a tree (?), dangerous sprinting in a ski jumping position on a van at 90 km/h, and Flume Ride at the abandoned amusement park. Athletes armed with scientific (?) training, such as risking their lives to jump by remodeling into a jumping platform! Even with this kind of stage training, they gradually become more and more athletes, and the moment they fly in the sky relying on a single ski becomes a happy moment.
"Now, there is only one week left until the World Cup. If you get into 6th place there, it's the Olympics!!
Can't we be 6th out of 8 teams?!"
Finally, for the first time on the world stage! World Cup? Next is the real Olympics!!
Finally, after many twists and turns, the Korean national ski jumping team participated in the Oberstdorf World Cup. Despite the ridicule and ignorance of foreign players, they do their best, but in the end they fail to achieve good results due to an unexpected incident. Still, the Korean national team, who got the qualification to participate in the Nagano Winter Olympics after catching a frog while running backwards, is quite a bit of a gold medalist and is buoyed by the dream of advancing to the Olympics. However, Korea was eventually eliminated from the selection of the host city for the Winter Olympics, and the national ski jumping team is in danger of disbanding. For exemption from military service, to find my mother, I am looking forward to going beyond these personal causes and competing only with love, passion, and challenging spirit for ski jumping.
Will they be able to fly again without hesitation?
[ Prologue ]
"In Korea, we are the only people who fly.
There is a thrill that other people have never felt."
"The feeling of being lifted up in the cool breeze, that fluttering feeling is indescribable."
"At first, I was very scared. It really makes me want to give up.
But I have no choice but to swallow the scary thing inside and leave.
"Once you start, you can't stop or give up on ski jumping."
"There are times when I feel threatened with my life, but once I get into it, there is definitely a charm that I can't get out of."
people say
Humans can't fly.
However, we do not think so.
We are people who fly with one ski.
Dream of flying! <National Team>
[ Hot Issue ]
<National Actor Project>
We are the national team of Korea!
In the movie <National Team>, a large number of national actors who will be responsible for 2009 participated and played an active part.
Ha Jung-woo, who emerged as a blue chip in the domestic and foreign film industry with his best performances in <The Chaser> and <A Wonderful Day>, plays the role of 'Cha Heon-tae', an adoptee from an American junior alpine skier, and presents a serious yet witty performance. Kim Dong-wook, who was loved for the role of 'Harim' in MBC's <Coffee Prince's 1st Store>, shows a rough but cute performance as 'Heung-cheol', who used to be a waiter at a nightclub with a flamboyant female background and joins the team after falling in love with the coach's daughter. In addition, Kim Ji-seok, who was well-received for his immature son 'Kang Baek-ho' in the daily drama <Miuna Gouna>, which was popularly aired with an audience rating of over 40%, disassembles 180 degrees into 'Chilgu', a boy who lives steadily while supporting his grandmother and younger brother. . The role of 'Bong-gu', the younger brother of 'Chil-gu', was played by Jae-eung Lee, who received attention for his amazing acting skills in the movies <Monster> and <I love you, Malsoon>, and brought the innocent and erratic four-dimensional character to life in three dimensions. In addition, Choi Jae-hwan, who showed a unique performance in the recent dramas <Sikgaek> and <Cain and Abel>, took on the role of 'Jaebok', a papa boy who cannot escape from his father's shadow even after he has grown up. Senior actor Seong Dong-il took on the role of 'coach room', who persuades these five players with all kinds of cowardice and improvises the national ski jumping team. As a coach who leads the national team, he added depth to the film not only with his comical acting, but also with his sincere emotional acting.
After 3 months of sweaty training before filming and 7 months of dramatic filming together, they united with solid teamwork and finally made the representative movie of their life in the summer of 2009.
<National Ski Jumping Project>
Dream of flying! The world's first ski jumping movie, Flying over the screen!
The world's first film based on ski jumping will be made in Korea. Ski jumping, which is said to come from a Nordic game that competes for how far and in a wonderful posture, can fly on skis, is an attractive sport that embodies the long-standing human desire to fly. Since it is a game where you have to glide from an artificial structure on skis and fly 90~120m from a jump platform, real athletes say that they were able to ski jump for more than 10 years after overcoming hard training and poor environment because of the thrill of staying in the air for more than 10 years. am. Now you can experience the thrill of ski jumping, the only sport that flies in the sky without any auxiliary equipment or equipment such as airplanes or hang gliders, through the screen.
Director Kim Yong-hwa and the production team of <National Team> hope to show the charm of ski jumping and gain more public expectation and interest by capturing the image of flying in the sky with bare body in the wind as realistically and elegantly as possible.
<National Team Director Project>
Director Kim Yong-hwa, <Beauty is Painful> <Oh! Brothers> completed the human trilogy!
The movie <Oh! Director Kim Yong-hwa, who communicated with the public by expressing the complexities of appearance and the value of happiness in the movie "Beauty is Suffering", which mobilized 6.62 million nationwide, showing brotherly love and family love in Brothers. Having dealt with the extremely personal and simple salvation of humans living in desperate moments through his previous works, he presented the movie <National Representative> as the culmination and completion of his human trilogy. <National Representative> is a drama about people who have pain and wounds in common with his previous works, but it is a story of people who overcome their obstacles and challenge their dreams. it would be a movie.
The movie <National Representative> is the third human drama directed by Kim Yong-hwa, who opened the era of well-made popular films that breathe and sympathize with the audience at the level of the audience.
<National representative moving story project>
The moving drama of the first ski jumpers in Korea unfolds!
The movie <National Team> is based on the true story of 7 ski jumpers registered in Korea, 4 of them from the national team, and successful ski jumpers who succeeded in a challenge that everyone believed was impossible in the harsh reality. In fact, if the sprinkler on the jumper breaks down, athletes not only practice by spraying water directly with a rubber hose, but also have a hard part-time job to cover their living and training expenses. He said he was wearing it and came to the game. Even now, only 2 out of 4 national team members belong to the unemployment team, and the rest of the players continue to train hard and work part-time with insufficient support. Despite this, they followed the '2003 Tarvisio Winter Universiade individual and team gold medals', '2003 Aomori Winter Asian Games team gold medal', '2007 Turin Universiade individual and team silver medals', followed by '2009 Harbin Winter Universiade individual and team gold medals' in February this year. ' and is raising the global status of ski jumping in Korea.
This summer, you will be able to see on the screen the hopeful flight of the national ski jumping athletes of the Republic of Korea, who silently fly towards their dreams over all adversity.
[ Production Note ]
Don't miss even 0.1 second! Capturing the scale and realism of flying in the sky!
In order to capture the elegant visuals of the moment of flying in the movie <National Team>, a simulation 3D story was created before filming and the cuts were meticulously coordinated. . Efficient shooting of fast-paced matches was conducted with the Red One camera, which boasts the most vivid image quality and mobility similar to that of film. I was able to capture the moment perfectly. In particular, CamCat attaches a camera to a wire of several hundred meters and controls it freely in the air while moving at a high speed of 100 km/h with ski jumping athletes, so that the exhilarating visual of the moment they are floating in the sky is as close as possible. realistically captured in As it has never been attempted in Korea, professional staff from Austria, a world championship filming team, visited Korea and filmed directly, and succeeded in capturing the dynamic and vivid visuals of ski jumping. In addition, in consideration of the nature of the event, where each athlete can only run 5-6 times a day due to severe physical deterioration, 10 cameras are simultaneously filmed to capture the moment when athletes jump from as many different angles as possible. The scale of the game was captured.
Intensive training for 3 months with the main actors of <National Team> and real ski jumping players!
The actors of the movie <National Team> had a training camp with the actual national ski jumping players three months before filming. From basic physical fitness training such as running, jumping hurdles, and stair jumping, to intensive ski training in which equipment adaptation training is performed with regular skis at an indoor ski resort in midsummer, and then changed to actual ski jumping skis, one-on-one training with real national team players. have been trained Intensive training with real players, who became the motif of the movie, externally trained the actors' bodies to resemble the players' physique as much as possible, and internally, the actors understand the dreams and challenges of real players and communicate with each other. It became a process and it was meaningful.
Filming from overseas sources three times!
Director Kim Yong-hwa and the crew of <National Team> filmed overseas sources a total of three times to perfectly reproduce the elegant and moving ski jump scene. The visual and sound of the large-scale competition was vividly captured by the Oberstdorf Ski Jumping World Cup, a prestigious German competition where ski jumping is gaining great popularity. The hot heat and shouts of the European spectators captured through three elaborate source shots, and the cool snow scene unique to ski jumping competitions, were combined with domestically filmed game scenes to create a scaled highlight scene.
In addition to the Korean national ski jumping players, players from Germany, Austria, and Japan all appeared!
In the case of ski jumping, not only is it not a game that amateurs can do, but real A-class athletes are needed to reproduce the perfect Olympic scenes. So, not only did all of the Korean ski jumping athletes appear, but also foreign athletes from Germany, Austria, and Japan, the ski jumping powerhouses, were invited to complete the game scene of <National Team>. The athletes who appeared at the time met the expectations of the staff and performed high-level jumps that were reminiscent of actual Olympic games. They jumped as many times as physically possible and helped film the film, saying, "I heard that ski jumping is a popular sport in Austria, but not in Korea. I hope ski jumping gets more attention in Korea with this movie."
Related Videos