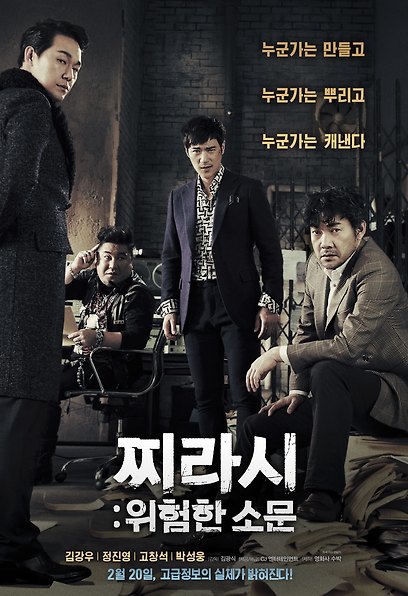 Tabloid Truth, 2014
release

2014.02.20
genre

crime/drama
country

Korea
ranking

Audience over 15
running time

121 minutes
grade

7.7
cumulative audience

1221420 people
Synopsis
"Who is the one who sprayed this?"
'Woo Gon' (Kim Kang-Woo) is a passionate manager who has nothing but an eye for people and a tenacious tenacity.
For the success of an actress who believes in herself and has been with her for a long time, she goes all-in without hesitation in working at the bottom.
A large-scale scandal ensues due to the stock market sting, and the actress who gets caught up in it loses her life.
Let's lose everything because of the one-line content of the unsubstantiated and non-substantial chirashi.
Woo Gon went directly to the first distributor of Chirashi.
Dr. Jang (Jung Jin-young), a former reporter who is now a chirashi distributor,
Woo-gon meets Baek-moon (Koh Chang-seok), a legend in the illegal wiretapping world.
Through them, you get to know the secret world of Chirashi where information is created, produced, distributed, and consumed.
Even Cha Seong-joo (Park Seong-woong), a solver who has neither blood nor tears, appears and is threatened.
Woo-gon begins to pursue the root of Chirashi and the truth hidden in it… !
Surrounding the invisible entity 'Chirashi'
A breathtaking chase begins!
Related Videos