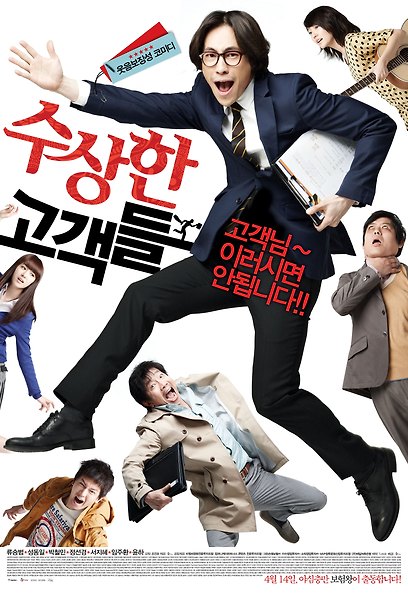 Suspicious Customers, 2011
release

2011.04.14
genre

comedy
country

Korea
ranking

Audience over 15
running time

124 minutes
grade

8.3
cumulative audience

1059350 people
Synopsis
Ambitious insurance king, meet customers with flaws!
Bae Byeong-woo, the industry's best insurance king, once dreamed of becoming a baseball king. One day, he faces the greatest crisis of his life due to a customer's aiding suicide.
Melancholy mode Goose father, chief five, rude girl head So-yeon, young flower beggar Young-tak who swears when he opens his mouth, and Bok-soon, a stubborn widow with four children. Byeong-woo mobilizes all kinds of cowardice and pretentiousness and struggles to prolong their lives. Byeong-woo approaches them with impure intentions, but is gradually influenced by their unexpected innocence and family love. Will his A/S for suspicious customers be successful?
In April, we extend your smile!
[ HOT ISSUES ]
Ryoo Seung-beom + Sung Dong-il + Park Chul-min met!
Veteran actor, idol, handsome boy, flower girl, and even a special cameo!
Super luxurious casting <Suspicious Customers>
Actor Ryu Seung-beom, who was reborn as a successful actor in Chungmuro with the successive hits of <No Forgiveness>, <Bangjajeon> and <Unfair Transactions> in 2010, met with Chungmuro's best talkers and licorice actors Sung Dong-il and Park Chul-min. Ryoo Seung-beom, who returned as the ambitious insurance king in the movie <Suspicious Customers>, paired up with his assistant professional actor Sung Dong-il to show off his powerful breathing, and actor Park Chul-min, who boasts outstanding ad-lib skills, is adding more expectations. In addition, talented idol Younha shows off her acting skills comparable to that of a professional actress, and model-turned-boy actress Lim Joo-hwan makes a radical transformation into a homeless person with Tourette Syndrome. In addition, Kim Soo-mi, a master of comic acting that needs no explanation, appears as a granny who does not return change, and actors Ahn Gil-kang and Jeong Man-sik, who boast a special relationship with Ryu Seung-beom, and composer Kim Hyeong-seok, who is in charge of film music. The performances of the actors in the movie are high, such as special cameos appearing in various places in the movie to provide a different sight.
A total set of unparalleled characters in the history of Korean cinema!
Ambitious insurance king vs bad customer who desperately needs help from social leaders
<Suspicious Customers>, a movie that offers a variety of attractions with characters unprecedented in the history of Korean cinema. In the movie, the ambitious insurance king and the unpredictable appearance of bad customers stimulate laughter.
Bae Byeong-woo, a former baseball player who became the insurance king by showing his natural talent for catching people using his natural speech skills to succeed. With a dynamic personality as much as a dynamic life, he boasts more ambitious and arrogant than any character in the movie. Ryu Seung-beom, who appeared in 'Byung-woo', perfectly expresses 'Byung-woo' with his unique wit and delicious tone, but shows the strongest synchronicity. And the four bad customers who put 'Byung-Woo' in trouble – the father of a goose in a melancholy mode (Park Cheol-Min) who specializes in accidents, the hard-headed girl head (Youn-Ha) being chased by a loan shark, the young Euljiro flower beggar (Im Joo-Hwan) who swears when he opens his mouth, Even a single widow with four children (Jeong Seon-kyung). The movie <Suspicious Customers>, armed with a character that has never been seen before, will give the theater the most laughter in the first half of 2011.
Things to see & hear A rich comedy is coming!
Authentic variety movie <Suspicious Customers>
Comedy movies are small and there is nothing to see?!
<Suspicious Customers>, a film that will dispel misunderstandings and prejudices about comedy films. The visual beauty of different scales and beautiful music will meet to show the essence of a full-fledged variety movie.
A baseball game scene that appears in the middle and second half of the movie. It is a short scene that appears to show the past of former baseball player 'Byeong-woo' (Ryu Seung-beom), but the passionate performances of Ryu Seung-beom and Seong Dong-il, who boast a lively visual that makes you sweat as if you are watching an actual baseball game provides a different attraction. In addition, the 100% location, which was carried out in every corner of Gangnam and Gangbuk in Seoul, amplifies the realism of the movie, and at the same time helps the understanding of the play by realistically depicting the situation of 'Byung-woo', who is struggling to find customers. Also, in the movie, familiar songs such as 'Two People' and 'Reminiscence' by 'Soyeon' (Younha), aspiring singer, and beautiful movie music add a calming feeling and are expected to please the ears of the viewers. The audience's anticipation is rising for the full-fledged variety film <Suspicious Customers>, which is armed with a wealth of things to see and hear.
A suspicious meeting of the strongest staff!
<Miracle on 1st Street> Writer Yoo Seong-hyeop + Music Director Kim Hyung-seok of 'I believe'
+ MV 'How to Avoid the Sun' Directed by Jo Jin-mo
The best talents in the entertainment industry gathered for the movie <Suspicious Customers>.
Through the movies <Miracle on 1st Street> and <The Most Beautiful Week of My Life>, writer Yoo Seong-hyeop received attention for a scenario with a solid storyline, a human-filled character, and laughter and emotion. He returned to the 2011 movie <Suspicious Customers>. It is planned to spread the virus of happiness to theaters once again by delightfully depicting the confrontation between the ambitious insurance king and the customers who dream of suicide.
Music director Kim Hyung-seok, who has been making songs for top domestic singers such as 'I believe', 'The road to me', and 'I miss you', joined here, and a beautiful melody that goes beyond the movie <My Sassy Girl> and the drama <Stairway to Heaven>. The film's music enhances the perfection of the play. In addition, director Jin-mo Cho, who has been active as a popular CF director and music videos for World Star Rain, Fly to the Sky, etc., grabbed a megaphone for the first time and showed meticulous directing ability that encompasses various characters as well as elegant camera walking and sophisticated visuals. foretells the appearance of
Related Videos