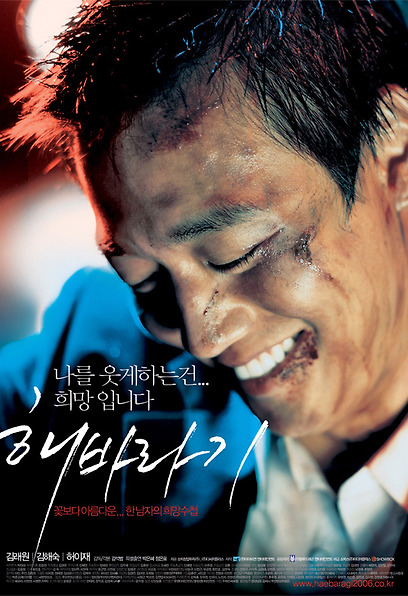 Sunflower, 2006
release

2006.11.23
genre

drama
country

Korea
ranking

Audience over 15
running time

116 minutes
grade

9.1
cumulative audience

1305024 people
Synopsis
I don't drink, I don't fight, I don't cry
…from now on, there is hope
I'm back!
…Crazy dog Oh Tae-sik goes home with a notebook.
Oh Tae-sik (Kim Rae-won), who after dropping out of high school, swept the streets with his bare hands. He was called a 'crazy dog' for his cruelty, who said that he sees blood when he drinks and sees blood when he fights. He was released on parole. Min-seok, whom Tae-shik bullied, became a detective, and Yang-gi and Chang-mu, who were Tae-shik's sidebars, became enemies, so people get nervous for different reasons. However, Tae-sik takes an old notebook in his hand, as if he doesn't know what he is doing with them, and does the things he wants to do written in it. He goes to the bathroom, eats walnut cookies, removes his tattoo… The notebook contains not only the things he wants to do in prison, but also three promises to keep. 'I don't drink', 'I don't fight', 'I don't cry'…
changed!
…the one who hit is right. The scary guy laughs. why?
Tae-sik visits Deok-ja (Kim Hae-sook) who gave him the notebook. Deok-ja welcomes him warmly than his own son, who is not even a drop of blood. Hee-joo (Heo Yi-jae), the daughter of an aunt who does not understand the English language of hospitality to a man she does not know, and does not hate Tae-sik, but does not hate her. Now, Taesik is about to start a new life with them, with hope. However, except for the mother and daughter at the Sunflower Restaurant, everyone does not believe in Tae-shik. And at the end of that cold disbelief, a counterattack of despair that no one could have imagined was beginning… Will hope come true?
[prologue]
It all started with one notebook.
A middle-aged woman who did not learn much
Letters written with a blunt pencil
'don't drink'
'Don't fight'
'don't cry'
Three promises that you will be happy if you keep them
Write down what you want to do
'Go to the public bath'
'Eat walnuts'
'Give a gift'
'Smoking'
'Dye your hair'
'Going on a picnic'…
The less I want to live
I wanted to love
.
I have hope…
Always,
in any situation
Can you see only hope?
Crazy Dog Taeshik Oh, He Did
【 movie 】
November 2006,
For the overwhelming sound of hope that will be cherished forever –
<Sunflower>
Do you think it's over? In fact, it's just the beginning.
The movie <Sunflower> contains 'the sincerity of a man who wants to make a new start with hope'. Oh Tae-shik, the crazy dog who made the whole neighborhood tremble with one fist, who always saw blood if he clenched his fist. But when he returns from prison, he smiles brightly. From the brink of despair towards bright hope. Really, can we start over?
New beginning. It is a wish everyone has had. <Sunflower> speaks to everyone who doesn't know where it came from or why, but wants to start a new life that is different from what it was before. 'What I thought was the end is actually another beginning, and if I desperately want it, my life can be renewed…' The story of the movie <Sunflower> starts from the heart of hope that everyone wants.
The greatness of the world is rather small.
In light of the invisible value of everyday life…
Taesik is holding a notebook. In the notebook, the things he wanted to do were written down. 'Take a bath in a public bath', 'Eat walnut cookies', 'Go on a picnic'… These are very trivial and everyday things. But aren't those little wishes that make life?
It is not the grandiose things such as wealth, fame and power that sustain life. The things that make our lives happy are the little joys that are always with us, but forgotten, such as the warmth of a cup of tea, the glare of a handful of sunlight, and the smile of those who are with us. Tae-sik of <Sunflower> has a 'Hope Notebook' in which the joys are written. Instead, he is keeping the 'book of hope' that each of us would have kept in our hearts. And the gestures he makes through the notebook are 'the hope we will keep.'
I will give you a notebook of hope that you will keep.
In the name of the movie, in touching letters…
However, Taesik's notebook does not contain only 'hopeful things'. The first chapter contains three promises. 'I don't drink. don't fight I don't cry…' He promises to say goodbye forever from alcohol, fights and tears that seem to have compressed his past life. The harsher the world, the stronger his hope must be. So he risked everything and decided to keep that promise.
Keeping the promise of hope at any time and under any circumstances. That is the sincerity Taeshik shows in <Sunflower>. To those of us who give up easily and despair easily, he shows with his whole body how precious hope is.
A film that opens up our notebook of hope that we couldn't take out while living under the weight of life. So, the most needed movie for everyone who is weary of life right now. That is <Sunflower>.
【 issue 】
A movie space with a lively feel
We invite you to the scene of <Sunflower>
1) New Mecca of Human Movie – Gimhae
The main filming location of <Sunflower> is Gimhae, Gyeongsangnam-do. Even though it is a large city with an airport, Gimhae has the vastness of Gimhae Plain, one of the three major plains in Korea, and where the friendly village scenery and the tradition of historical sites coexist. same location. The main scenes of <Sunflower> were filmed all over the city of Gimhae – Jangyu-myeon, Yeonji Park, Bonghwang-dong Historic Site, Memorial Park, etc.
2) The most beautiful gift for emotion – BEST SET 3 of <Sunflower>
In order to convey the depth of emotion of the scenario as it is, <Sunflower> is a set where the actors' acting naturally unfolds as if they walked out of the scenario, and any angle is possible. I made all the spaces for the movie. The Sunflower Restaurant, Mother's House, and Oracle Nightclub appearing in the film are all perfect creations, painstakingly crafted by the crew.
i) Space of Hope/ Sunflower Restaurant
Sunflower Restaurant is a space in the midst of development, at the pole opposite to the splendor and bustle of the development stage in a bustling city center. A new town where the recently built apartments of this set are starting to appear! There, a new space was completed where the cruelty of the new and the warmth of the old intersect.
ii) A space of love/ Mother's house
Like a mother's heart, a place where anyone can feel the warmth of a warm rest. -A wide yard, a floor, a rooftop with night stars, and familiar props placed in every corner of the room that you saw as a child – A mother's house, born as a space where everyone can remember the home they want to return to, is the first family Taesik has in his life. It is planned to be able to convey a vague emotion in the arms of
iii) Space of Wrath/Oracle
The Oracle is a concentration of emotions that explodes in the world's despair and Tae-shik's anger that blocks Tae-shik's hope. Instead of building the exterior of a model house in Haeundae, not Gimhae, the interior of the entire nightclub was built on the set of Haeundae. It took three months to design the set and a full month to build the set. The filming in this space also takes one month, so the staff of <Sunflower> have special expectations for the Oracle. The interior of the Oracle, which will be produced on a scale of 130 pyeong, was adopted in the form of an opera house, that is, an amphitheater, considering that the last secret rose of the movie will be displayed. A grand feeling with high ceilings, it will be created as a space with irony that is the concentration of desires and ultimately their judges!
【 promise 】
Trust me!
The best 3 moving promises guaranteed by the staff
1. Expect a passionate performance from the lead actor as well as Jordan.
In addition to Kim Rae-won's new look, Kim Hae-sook, the owner of a skill that does not need explanation, and the newcomer Heo Yi-jae.
The other supporting actors in <Sunflower> are gorgeous and build deep trust. Kim Byeong-kwan, Ji-han, Kim Jeong-tae, Han Jeong-soo, the Oracle four, and the other cast members will also show off their formidable skills. We don't know their names, but we don't know their names, but we don't know their names, such as Ho-seong Lee, the president of Wellness Car Center, Eun-pyo Jeong, who plays the doctor at the hospital where Tae-shik went to get a tattoo, Eun-hye Park, who plays Eun-mi, to the employee at the sauna that Tae-shik found. will be given a big round of applause.
2. Hee-ju and Tae-sik's happy daily life
The daily life that Tae-sik and Hee-joo spend together is the process of assimilating Tae-sik into ordinary life, and Hee-joo accepting Tae-sik as his older brother. The way their emotions are ripening beautifully is the process of opening up Hee-joo's heart, and the way Tae-shik's happiness is ripening, and it is expected to bring a warm smile. In particular, the appearance of Tae-sik and Hee-ju studying on the roof of their house raises expectations. Their appearance in the setting of the sunset while looking down on the scenery below the rooftop symbolizes the heart of Hee-ju, who is starting to open up, and it is a scene that visually raises expectations.
3. Yiruma's last gift, a special OST for <Sunflower>
Yiruma, a pianist who created a New Age aesthetic aesthetics in the Korean music scene, left the last gift for his military service. The OST of the movie <Sunflower>. Yiruma has been loved by the public for her lyrical and resonant performances since she began her full-fledged activities in 2001 with the release of 'Love Scene'. Music director Lee Wook-hyeon, who composed all the piano pieces for <Sunflower>, decided that Yiruma's emotional and warm performance would be the most appropriate for expressing the emotion of <Sunflower>, which talks about a man's new hope, and recommended Yiruma to participate in the OST. I fell in love with the movie script and gladly accepted it.
Yiruma's melody, which was played after being deeply impressed by the screenplay of <Sunflower> and the mournful melody of director Lee Wook-hyun, the music director of <… It offers a lyric that inspires you.
Also, in the OST of <Sunflower>, not only Yiruma's piano song but also Taesik's emotional lines are inserted to add a guitar performance to the OST. participated, further enhancing the album's perfection.
[epilogue]
It's called Taeshik Oh…
I didn't learn much…
I was in prison…
I'm an orphan But there is a family!
I drank… a lot.
We fought… a lot…
So… I cried.
I don't want to live like that anymore.
I'm different Seriously…I promise…
don't drink
don't fight
don't cry
…Three promises to one man
Hope starts now
Related Videos