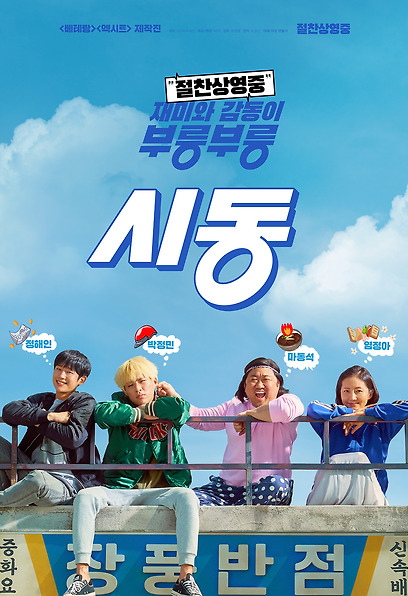 START-UP, 2019
release

2019.12.18
genre

drama
nation

Korea
ranking

Audience over 15
running time

102 minutes
grade

7.6
cumulative audience

3318676 people
Synopsis
I hate school, I hate home, I hate studying even more.
Taek-il (Park Jung-min), a rebellious child who earns 1 spike a day for his 'mom' (Jeong-ah Yeom).
When 'Sang-pil' (Jung Hae-in), best friend, rushes into society saying that he wants to make money quickly.
Taek-il, who recklessly ran out of the house,
At a restaurant he found by chance, he meets 'Geo-seok-hyung' (Ma Dong-seok), a chef with a unique force.
As soon as they greeted each other intensely, 'Geo-seok-hyung' and 'Taek-il' became the biggest enemies of their lives.
'Taekil', which had nothing to fear in the world, met unexpected people at a luxury store.
You get to taste the real world⋯
what's your life
Let's live it once!
[ About Movie ]
Presented by the production team of <Veteran> and <Exit>
The most pleasant and warm ending of 2019!
Laughter and fun are booming!
Winter theater box office hit <Startup>!
<Startup> is a film depicting the delightful story of a clumsy rebel named Taek-il, who meets an unidentified short-haired chef, 'Geo-seok-hyung', and a rebel Sang-pil, a highly motivated rebel who recklessly jumps into society. <Veteran> (13.41 million), which depicts the activity of a veteran wide-area investigation team chasing the third generation of a tycoon who is a chaebol, who is a child independent, in 2015; The production team, who has captivated the audience with their delightful laughter and fun until now, will present <Startup> in the winter of 2019.
<Startup>, which is a film adaptation of a webtoon of the same name that started serialization in 2014 and recorded a rating of 9.8 and formed a strong fandom, is expected to spark a fever once again with a solid story and consensus. 'Taekil', a rebellious child who earns a hawk wherever he goes because he doesn't hesitate in everything; From 'Junghye' to 'Geo-seok-hyung,' an unidentified chef with a shocking visual, the movie <Startup> creates lively fun with colorful characters forming an ensemble. And as time goes by, the main characters gradually getting to know the real world will create a warm sympathy for us who have lived or are living in a time when we wanted to go somewhere outside of our daily lives. Here, 'Taekil' fights with the chef 'Geo Seok-hyung' as if there is no tomorrow, shares a 100% pure friendship with his best friend 'Sangpil', and shares realistic breathing with his mother 'Jeong-hye'. The chemistry conveys a pleasant sense of humor throughout the movie. Filled with such unpredictable bursts of laughter and colorful episodes, <Startup> is sure to captivate people of all ages in the winter of 2019.
Full of acting and charm
This is the smokehouse restaurant!
The delightful transformation and synergy of Ma Dong-seok X Park Jung-min X Jeong Hae-in X Yeom Jung-ah!
From Dong-seok Ma, who has an irreplaceable and unique charm, Jung-min Park, who has both solid acting skills and personality, Jung Hae-in, who is receiving the attention of Chungmuro, and Jeong-ah Yeom, who shows a perfect character transformation in each work, Korea's top-ranked actors will be performing <Startup> in 2019. united for
From <Train to Busan>, <Crime City>, <Along with the Gods – Causal Kite>, <Bad Guys>, and <Bad Guys: The Movie>, Ma Dong-seok, who has built an unrivaled territory with his strong presence and unique character digestibility, is outstanding. He has completely transformed into the unidentified chef 'Geo-seok-hyung' who is in charge of making Jangpung spots with his hands. In particular, he shows a variety of facial expressions that he has never shown in his previous works, and visuals beyond imagination. Ma Dong-seok, who catches the eye with his short hair, hairband, and colorful clothes with the impression that his fists are stronger than his hands, shows a 100% synchro rate with the original, and heralds a new character in life. Park Jung-min, who has shown a coherent performance with each character from <Dong-ju>, <That's My World>, and <Sabaha>, is returning as the rebel 'Choose One'. Park Jung-min, who has been transformed from head to toe into a 'choice of choice' due to deep thought and understanding of the character, shows unrivaled charm as a rough and rough but pure and human character. Park Jung-min, who plays 'Taek-il', who has nothing to do and wants to go somewhere, will lead the audience's sympathy with his unique life acting and personality. In addition, actor Jung Hae-in, who is actively working on the screen and the CRT, shows off his anti-war charm as 'Sangpil', a rebel full of enthusiasm and best friend of 'Choice'. Jung Hae-in, who took off her soft and romantic appearance that stimulates women's hearts and played the role of 'Sang-pil', who has an easygoing and unstoppable charm, is expected to captivate the audience with unique characters and acting that they have never seen before. In addition, Yeom Jung-ah, an actress loved by all generations, who has studied movies, dramas and entertainment shows, plays the role of 'Jeong-hye', a mother of a former volleyball player. Yeom Jeong-ah, who has completed an impressive character with deep acting skills, has completed a new character different from her previous work with a more three-dimensional performance, from the appearance of a mother who is worried about her son to wire action shooting for a strong taste. The delightful acting ensemble and perfect synergy that Korea's representative actors will bring together will captivate the audience by amplifying the fun and sympathy of the movie.
Captivating the winter of 2019 cheerfully
The greatest character sacrament ever!
Characters of otherworldly charms that you can't forget once you see them!
From the unidentified chef 'Geo-seok-hyung', to the rebellious children 'Taek-il' and 'Sang-pil', and Taek-il's mother 'Jeong-hye', you can't miss a moment of fun with the performances of characters with strong personalities that you will never forget. do.
Chef 'Geo-seok-hyung', whose past is as unusual as his unusual visuals, starts living a quiet day with 'Taek-il', who suddenly comes to Jangpungbanjeom one day and lives with him unexpectedly. 'Mega-seok-hyung' not only brings laughter with amazing visuals to watch over and over again, but also holds the standard of long wind spots with unique charisma, but also delivers a reversal of laughter with his surprisingly timid ability to cope with crises. 'Taekil' ran away from home because he didn't like school, home, or study, and wanted to get out of the boring neighborhood. He settles at the Jangpungbanjeom, which he found by chance, and lives a life without a single day due to his rebellious temperament that earns hawks wherever he goes. It's not something he'd dreamed of, but Taek-il, who works at Jangpoongbanjeom by chance, goes through unexpected things in a new environment, and gradually gets to know the real world. 'Sangpil', the best friend of 'Chooseil', conveys pleasant energy with his best friend chemistry while fighting each other, while he has his own story and wants to quickly go out into society to earn money, but it is a story of experiencing the harsh taste of an unexpected world. and draws another axis of the film. Taek-il's mother 'Jeong-hye', who lives alone raising her one and only son, 'Taek-il', is worried about her son who keeps falling apart from her heart Fill more abundantly. Taek-il's mother, who is anxious every day because of her son's worries, is going to give him a refreshing shot with a strong spike that seems to burn in an unexpected moment. Characters of otherworldly charms with such colorful charms will captivate theaters in 2019.
The story of all of us who started the world!
Rating 9.8 Original webtoon!
A production with perfect synchronization!
<Startup> tells the story of a young man who has nothing he wants to do, nothing he wants to be, and who just wants to get out of his current position, gradually getting to know the world and finding himself in a new environment and situation. The figures of various characters, including 'Taekil', who live their daily lives in direct confrontation with the world even without grandiose dreams, convey a natural sympathy with stories that are no different from ours. Even if the engine starts running slowly at times, even if the engine turns off at some point while running, the movie <Startup> will cheer you on even the smallest steps toward the world, ending the end of this winter in a pleasant way.
In this way, the story with a high level of sympathy and the abundance of things to see throughout the art and costumes will make the viewing fun even more. In particular, the production design that connects the emotions and the space of the characters is perfectly synchronized with the original, and amplifies the fun and sympathy of the movie. The production team, who focused on finding a space where the emotions of the characters could be portrayed more naturally, chose Gunsan as the stage where the story of 'Taekil' who left home will unfold. The production team, who chose Gunsan as a place that is not too far or too close from Seoul, has a reasonable psychological distance, and can embrace the heart of 'choice of choice' It was produced by maximizing the feeling of the everyday life they lived together. Meanwhile, Nam Ji-soo, who has been working closely with Ma Dong-seok through works such as <Crime City> and <Angry Bull>, wore a pink sweatshirt, polka dots, and hair to express the character 'Mega-seok-hyung' differentiated from his previous works. Even the bands were handcrafted by selecting bold colors and items to enhance their charm. In addition, 'Choice''s clothes use glossy fabrics to express their distinct personality, and 'Sangpil', usually casual style, creates a contrasting atmosphere with a leather jacket and a deeply pressed hat after stepping into society. did it In addition to the costume, the short-haired wig of 'Mega-seok-hyung', which was completed after two months of production, was completed with a chemistry with Ma Dong-seok, creating a pleasant laugh, and after repeated bleaching and dyeing, the hairstyle of 'Taekil' was born. Brings the character to life. <Startup>, completed as a production that encompasses characters and spaces, will deliver pleasant energy to the hearts of winter theater audiences.
The most pleasant and warm ensemble that will captivate you this winter!
From rookie Seong-eun Choi to Jong-su Kim, Kyung-ho Yoon, Kyung-deok Kim, Doo-shim Ko
Actors from all generations
<Startup> completed a rich ensemble with actors from all generations, from Choi Seong-eun, a rookie with a unique personality, to Kim Jong-soo, Yoon Kyung-ho, Kim Kyung-deok, and Ko Doo-shim, who have captivated the audience with their solid acting skills.
New actor Choi Eun-eun takes on the role of 'Gyeongju', an unusual dark force, and leaves a strong first impression with a sporty style with red hair that catches the eye at once. For the character who plays boxing, Choi Seong-eun, who put an extraordinary effort into training by going back and forth between action schools and gyms for three months, exudes a special chemistry with the 'choice of choice' that she met by chance, adding to the unpredictable fun. Kim Jong-su, who has shown impressive acting and presence regardless of genre and character, from the owner of the chicken shop in the movie <Extreme Job> to the father of Park Jong-cheol in <1987>, takes on the role of 'the construction site', the owner of the Jangpoong Spot. shows Kim Jong-su, who plays the 'construction site', who is a person who provides an opportunity to get to know the world by accepting the 'choice of choice' from the house recklessly as a long windswept spot, and maintains his composure no matter what happens, is warm with a single word that seems to be indifferent. Brings joy and laughter. Here, Kim Kyung-deok, who started acting on the screen through <Startup>, took on the role of 'Volleyball Man', a delivery man who dreams of becoming a chef. 'Volleyball Bay', which grows a dream over the shoulder of 'Mega Stone', is expected to bring a happy smile to the viewers and energize the vivid chemistry of the Jangpoongbanjeom family. Yoon Kyung-ho, who has shown a natural and unique acting in each work after taking a snow stamp with <The Perfect Other>, going back and forth between the screen and the CRT, took on the role of 'Fairy Tale' who leads 'Sangpil' into a rough world. As a person who teaches the financial industry's survival method to 'Sangpil', who is full of the will to earn money, he shows off a special chemistry with Jung Hae-in, which doubles the fun of the movie. In addition, Go Doo-shim, a national actor who gives credibility only by his name, will focus on the rich casting line as the grandmother of 'Sang-pil'. Go Doo-shim's acting, who cares for 'Sang-pil' with warm eyes and facial expressions, will bring out deep sympathy and emotion from the audience. Filled with a rich casting combination of talented actors who prove the acting taste like this, <Startup> will captivate the audience this winter with the charm of colorful characters who live and breathe vividly.
Related Videos