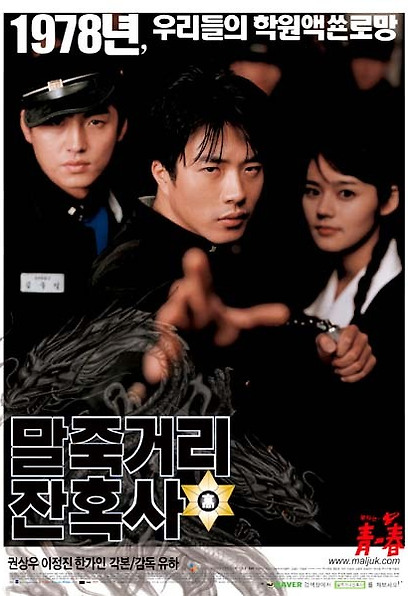 Spirit Of Jeet Keun Do – Once upon a Time in High School, 2004
release

2004.01.16
genre

Romance/Melodrama/Action/Drama
country

Korea
ranking

Audience over 15
running time

115 minutes
grade

8.0
cumulative audience

604972 people
Synopsis
In 1978, in the spring of Maljuk Street, a student Hyeonsu transferred to Jeongmun High School!
Jeongmungo is not quiet for a day due to teacher violence and children's power struggles.
Breathtaking school life, a special friendship with school-chang Woo-shik awaits for the student Hyeon-soo.
Hot-blooded Bruce Lee, Kid Hyeon-soo and Woo-shik! Being excited about Bruce Lee, the two became friends.
Two great friends, Hyunsoo and Wooshik!
The bus on the way home from school is not unusual today. Kang. Eun. Joo!!!'
Eun-ju, whose bag was stolen by rogues,
'Give me back the bag..' Woo-shik's right kick kicks in before the timid Hyun-soo's words are even finished!
Eun-ju is drawn to the charm of rough caries.
Before the title of "School-chan", leader Jong-hoon vs. great cap-chan Woo-shik!
Jong-hoon beats Caries in a mean way, and Woo-sik leaves the school.
Jungmungo where Wooshik left! Hyun-soo was under intense pressure from Jong-hoon because he was best friends with Woo-shik.
In the end, anger explodes when the disgusting school violence, relegation to an inferior class, and even Eun-ju, whom she loves, chooses Woo-shik.
Hyunsoo heads to the roof of the school with the nunchaku that he has been practicing all night…
Related Videos