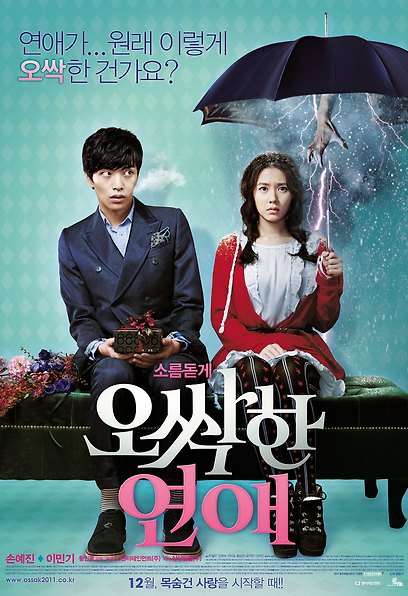 Spellbound, 2011
release

2011.12.01
genre

Romance/Melodrama
country

Korea
ranking

Audience over 12 years old
running time

114 minutes
grade

7.5
cumulative audience

3009406 people
cookie video

One
Synopsis
All love in this world…
so sweet? Exciting? romantic?
This couple's love affair is creepy!
Yeo-ri (Son Ye-jin), a woman who has never had a normal life and never had a proper relationship because of her unusual 'trick', and Jo-goo (Lee Min-ki), a wretched horror magician who is obsessed with her. The meeting between two people who should be sweet is a special feature of horror every day because of the ghosts that interfere with their happiness. Unlike Yeo-ri, who is accustomed to this kind of life, Jo-gu feels threatened every time. Yeo-ri and Jo-gu, unable to give up on this relationship despite creepy difficulties, bite their molars tightly and start a life-threatening relationship…
winter 2011,
A creepy love affair unfolds between a creepy woman and a cowardly man!
[ INTRO ]
It's hard to fall in love, isn't it?
Money, fame, family, education, appearance…
Why are there so many things that hinder love?
How long can you endure?
You have nothing to fear in front of love?
then… What if your lover sees ghosts?
That's not enough, what if that ghost tortures you to break up with you?
Are you still confident in dating?
[ Why 'Chilling Romance'? ]
Add horror to romance? A provocative approach to a boring romantic comedy!
Son Ye-jin and the next-generation romantic icon Lee Min-ki, returning to the screen after 2 years!
A moderately cute and lively female protagonist and a moderately dandy and funny male protagonist fall in love, break up and meet again? A romantic comedy that is the most preferred genre for female audiences, but nothing new. However, in December 2011, a new shock of romantic comedy finally arrives.
<Chilling Romance> is drawing attention as a new approach to asking about the essence of real love by combining two genres, romantic comedy and horror, that do not seem to fit at all outside the frame of the existing romantic comedy. The true love story of the two protagonists, who overcomes the fear together even in a chilling and creepy horror situation, will be an important observation point unique to <Chilling Romance>, which selects a complex genre of horror and romantic comedy. Sweet moments that audiences will fall in love with and terrifying horror situations intersect, bringing laughter and tension at the same time. In particular, the elevator horror sequence that follows Yeo-ri's romantic blind date scene in the play is a perfect mix of romance and horror, and it will be counted as a masterpiece that doubles the emotions and fun of the troupe.
'I don't have to be this woman, but it seems to be a very difficult and difficult choice for me to make such a choice. As director Hwang In-ho said, "It's rare to find true love, and that's why it's so beautiful." The wit and wit of <Chilling Romance>, which metaphorizes a love that can't always be sweet as a cinematic device of horror, is tired of boring romantic comedy. It will provide fresh fun to the audience.
<Chilling Romance> is a work that is attracting attention with another acting transformation and challenge of Son Ye-jin, who returned to Chungmuro after 2 years after <Baek Night Trip> in 2009. <Chilling Romance>, which created a different character and displayed various charms, will be her new representative work.
Lee Min-ki, who is in the spotlight as a popular Chungmuro man with the successive successes of <Haeundae> and <Quick>, is expected to create a box office syndrome again by perfectly presenting the character Jogu, who is timid and stupid but sincerely protects women through <Creepy Romance>. see. Through <Chilling Romance>, Lee Min-ki is expected to establish himself as the next representative romantic icon following the leading romantics of Chungmuro such as Lee Seon-gyun and Kim Joo-hyuk.
[ ABOUT MOVIE ]
Eternal Romance, Son Ye-jin + Lovely Wan So-nam, Lee Min-ki
Winter 2011, creepy sweet Ye♡Min couple is born!
Son Ye-jin is an actress who never lost her sweetness even when she was a provocative wife who wanted to have two husbands, and even when she was a working woman who was a 100-year-old woman. Son Ye-jin is a hot topic when she declares a creepy transformation. In the movie <Chilling Romance>, she was portrayed as Yeo-ri, a woman who had difficulties not only in dating but also in her ordinary life because of her extraordinary 'touch'. Son Ye-jin is expected to excite the male audience once again by exuding a creepy charm that has never been seen before, as well as the lovely and youthful appearance of the exclusive patent.
Lee Min-ki, a lovable actor who has disarmed the hearts of female audiences with his boyish eyes and sullen tone, finally risked his life for love. The reason Lee Min-ki, who was always shy and clumsy in front of love, had to risk her life for love, even when she was a speed freak who ran all over Seoul, and when she was a marine lifeguard with 100 times the courage of sacrifice. because. In the play, Lee Min-ki will transform into Ma Jo-gu, a cowardly horror magician who has had a hard time dating because of his poor 'Gang', and will captivate the female audience by demonstrating his charm. The meeting of two actors, Son Ye-jin, the eternal romance of Korean men, and Lee Min-ki, a lovely young actor, foreshadows the birth of the sweetest couple in the history of Chungmuro cinema, raising expectations for the movie.
The perfect mix and match of horror and romantic comedy!
Korea's first creepy romantic comedy is coming!
Horror and romantic comedy, two genres that do not seem to go well together, met. Yeo-ri, a woman whose life is fearful, and Jo-gu, a cowardly horror magician. Contrary to the wishes of those who dream of a sweet romance, because of the ghosts that appear from time to time, the love story between the two is a series of horror specials. If most romantic comedies so far have been sweet, thrilling, and romantic, <Chilling Romance> is expected to break away from the existing frame and present a perfect mix and match of horror and romantic comedy, giving a different kind of fun and fresh anticipation. The unpredictable story in which ghosts appear at every sweet moment and romantic moments turn into horror is expected to provide fresh fun to the audience who are tired of ordinary romantic comedies. In particular, the setting alone doubles the curiosity and anticipation of the movie by setting it in line with the modifier of Korea's first creepy romantic comedy, which tells the story of a life-threatening love story between a woman who sees a ghost with an unusual 'trick' and a man with a wretched 'Gang'.
Rookie director Hwang In-ho who enjoys genre variations!
Announcing the birth of a talented new director in Chungmuro!
Director Hwang In-ho, who was recognized for his skills in Chungmuro and received attention for the script of <Sicily 2km>, a full-fledged horror comedy that showed the essence of a bloody laughter, and <Two-faced Girlfriend>, which featured multiple personalities as romance female protagonists, which appeared mainly in thriller films. Director Hwang In-ho, who has clearly expressed his own colors with unique characters and solid stories, as well as a unique combination of two completely different genres that no one expected, will present his first directing with an upgraded genre mix through <Chilling Romance>. Director Hwang In-ho, who created a new genre by trying a fresh romantic comedy with a skillful directing that is not like a rookie through <Chilling Romance>, will draw attention from inside and outside the film industry by announcing the emergence of a new talented director in Chungmuro.
Chul-min Park, Chul-min Kim, Hyun-sook, an individualistic luxury actor in Chungmuro!
Yes♡ Self-proclaimed love coach for Min Couple!
Park Chul-min has been receiving explosive responses from the audience by revealing his crazy presence in a number of works that divide Chungmuro movies into movies in which he has appeared and movies in which he has not appeared. Kim Hyun-suk, who was recognized for her stable acting skills by showing a unique single female character through the cable drama 'Mr. Two unique actors appeared on the screen as a special dating coach for the couple Son Ye-jin and Lee Min-ki. In <Chilling Romance>, Park Chul-min is Lee Min-ki's senior at work, and Kim Hyun-sook is Son Ye-jin's best friend. In the play, Chul-min Park, who has only studied the theory of love as a single mother in the play, will provide a realistic dating coach, and Kim Hyun-sook, who is strong in real life, will present a real-life love coach that comes from experience, providing savory fun in the movie.
[ HOT ISSUE ]
A ghost appears in a romantic comedy movie?
Yes♡The creepy disturbers who interfere with the dating of the min couple!
In Korea's first creepy <Creepy Romance>, an existence never found in existing romantic comedies appears. The main character is a ghost. 'Yeo-ri', who insists that good insurance such as injury and life is essential to meet him, and 'Jo-gu', who jokes that the baby ghost on his back is at the level of a 'fisherman'. start to reveal It is cute to sleep at night because of the ghosts that appear all the time, and the signboards suddenly fall into the dry sky, so it is the beginning of a life-secured love affair. The ghosts in <Chilling Romance> are of different ages and genders. First of all, sister ghosts who wear the same clothes and have the same face. A sister ghost suddenly appears in Yeo-ri's house and terrorizes her. The second ghost is a mischievous little ghost on Jogu's back who came to Yeo-ri's house to play. Finally, even the virgin ghost that haunts Yeo-ri 365 days a year and interferes with her happiness without fail. The creepy ghosts that interfere with the romantic relationship between Yeo-ri and Jo-goo are expected to suddenly appear at unexpected moments and provide thrilling fun to the audience.
Is the heroine's house supposed to be romantic, a spooky waste?
Unique Yeori-jip maker where you can feel the history of Yeo-ri
Yeo-ri's house, where she has been alone for a long time because of her extraordinary ability in the play, is one of the parts that director Hwang In-ho worked on the most before filming. Director Hwang In-ho ordered art director Song Hye-jin, 'I want it to be a space where you can feel the deep space, long space, and the history of a woman living there alone', and Art director Song Hye-jin created a perfect woman's house that exceeded the director's expectations. The wallpaper was not just old wallpaper, but with multiple layers of wallpaper, which made the most of the details, and made it feel like an old house and traces of ghosts in each space, highlighting the current situation of living alone with the character of Yeo-ri.
Here, Yeo-ri's house, where she pitches a tent alone in a spooky mansion with a unique atmosphere, is creepy enough that it is not strange to see a ghost whenever a ghost appears. Yeo-ri's house, which cannot be imagined by ordinary romantic comedy female protagonists, perfectly expresses her character and enhances the perfection of the film.
Son Ye-jin, Lee Min-ki's step-by-step kissing method revealed!
Creepy imaginary kisses, sweet tent kisses,
From shy morning kisses to romantic airport kisses!
The creepy girl Son Ye-jin and the timid man Lee Min-ki show off a variety of kisses through <Chilling Romance>. The two actors, who have performed various kissing performances through numerous works, will show step-by-step customized kissing through this work.
Step 1. creepy imaginary kiss
Jo-goo begins to enjoy Yeo-ri's creepy injection, which rips off his shirt every time he drinks. He falls into a creepy and sweet fantasy of a drunken Yeo-ri ripping her shirt off and kissing her actively.
Step 2. sweet tent kiss
The two finally confirmed their feelings for each other and started dating. In the cozy tent where Yeo-ri lives alone, she shares a sweet kiss.
Step 3. shy morning kiss
A shy morning kiss after spending a creepy (?) night with a ghost. They share a happy kiss without knowing that a ghost is watching from afar.
Step 4. romantic airport kiss
The romantic airport kiss that every woman dreams of. Yeo-ri decides to leave Jo-gu after being disturbed by ghosts. To catch her, Jo-gu runs to the airport, where the two share a deep kiss.
[ SPECIAL TIP ]
Son Ye-jin's Creepy Day
10:00 AM
A beauty that can't be hidden even with a jacket
Wear tights to a horror magic show
Start the day with rehearsal.
6:00 PM
I'm fine.
Happy birthday party alone
12:00 PM
One line of kimbap for lunch.
I'm afraid that someone might ask to eat together, so I'm alone
7:00 PM
Jogu calls for a drink
Advise without hesitation
4:00 PM
When was your last kiss?
In practice kissing against a bear
9:00 PM
do you know me
Driving a surrogate business card on the forehead and turning on alcohol
End of a creepy day.
Lee Min-ki's timid day
PM 7:00 A horror magician who appeared like a comet
A popular magician who beats celebrities
foamy finish
12:00 AM
Who's the guy on my back?
I think I saw it at Yeo-ri's house, huh?
8:00 PM
His name is a horror magician…
Watch a horror movie with your eyes wide open
I can't see it anymore because I'm afraid.
1:00 AM
Yeori..I think I saw a ghost.
End the day timidly by visiting Yeo-ri.
10:00 PM
this woman… again like this
I guess I just told him to come out.
but it's ok Knowing this, I prepared an extra shirt.
Related Videos