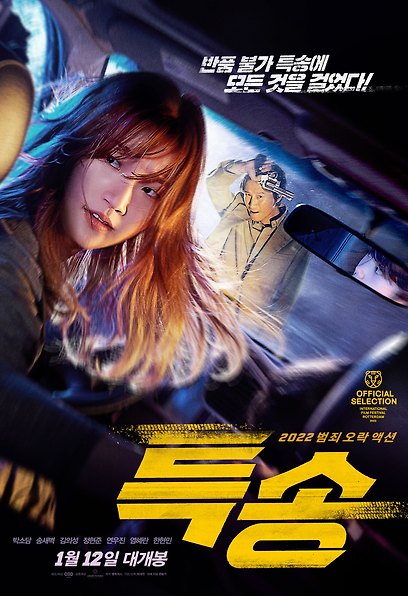 Special Delivery, 2020
release

2022.01.12
genre

crime/action
country

korea
Rating

Audience over 15
running time

108 minutes
grade

6.9
cumulative audience

444417 people
Synopsis
The birth of the most exhilarating crime entertainment action in 2022!
Get caught up in an out-of-control incident due to an unexpected delivery accident
Special express driver 'Eunha'.
Up to 30 billion won in non-returnable baggage that I accidentally checked in!
Becoming a target for police and NIS
In the middle of the city, there will be a chase for everything…
NO BRAKE! FULL Excel!
100% success rate A professional driver is coming!
[ ABOUT MOVIE ]
Action explosion!
NO BRAKE! FULL Excel!
Birth of exhilarating girl crush crime entertainment action!
Global actor Park So-dam, who captured the world with the movie <Parasite>, will return with the delightful crime entertainment action <Special Song> in January 2022. The movie <Express Delivery> is a work depicting a chase that takes place when Eunha, a professional express driver with a 100% success rate, gets caught up in an unexpected delivery accident. Expectations for the girl crush charm that Park So-dam, who has established herself as a trusted and watched actress in Korea in name and reality, will appear on the screen is growing.
The character 'Eunha', who is at the center of the story that induces a thrilling chase and tension, will present powerful car chasing and action, providing a cinematic experience that evokes exhilarating pleasure. Actress Park So-dam is also foretelling the renewal of her life's character by perfectly digesting everything from style to car chasing to realistic naked action for the character of 'Eunha'. Director Park Dae-min's challenging spirit was behind the creation of this unique female character 'Eun-ha'. Director Park Dae-min said, "I wanted to make a modern film in which a female protagonist who does a professional job leads the play." In particular, director Park Dae-min, who wanted to increase the reality of the character in the female-dominated action genre, devised a car chasing that can create extremely speedy actions without gender boundaries. As a result, a special express driver who delivers anything for money I was able to complete the character 'Eunha' with a fresh and interesting setting.
Breaking through such obvious clichés and building an unprecedented and unique character with new ideas, <Special Song> is expected to provide an exhilarating genre of pleasure as a female criminal entertainment action that targets the tastes of men and women of all ages.
Pleasure explosion!
If you have money, you will always step on it!
Special delivery 'special delivery' with everything!
<Express Delivery>, which heralds the most exciting and fresh criminal entertainment action in the new year of 2022, arouses curiosity and interest with a novel subject of 'Express delivery that delivers goods and people regardless of money'. In particular, <Special>, which is an immersive story of a chase and chase, and an unconventional car-chasing action that increases the heart rate, is a work that will raise the audience's pleasure index, raising expectations.
The movie <Special Delivery> guides the audience to the world of special delivery from the existence of a junk car disposal business on the surface, and Baekgang Industries, a special delivery company. In addition, 'Eun-ha', who took on the baggage that cannot be returned due to a delivery accident, and the fierce pursuit of those who pursue her, was completed with more excitement thanks to director Park Dae-min's excellent directing skills. From a narrow residential street to a wide road with round-trip lanes, the car chasing scene in <Special Express>, which runs fast without colliding with anything, presents a unique style and differentiated fun. In particular, the extraordinary driving technique of navigating around the city center with vehicles commonly found in various parts of the country, including old cars just before scrapping, is completed with fresh and realistic scenes, which doubles the immersion of the play. <Special Song> is a well-made crime entertainment action movie that you must enjoy on the screen, stimulating the audience's desire to watch it.
The movie <Special Song>, featuring a cool sprint and action that makes you keep your eyes on the heavy exhaust sound of a fast car, is expected to captivate the theater district in the new year by providing an experience that you can feel with your whole body rather than just watching the movie. .
Synergy Explosion!
The appearance of professionals with unstoppable straight, straight, and natural abilities!
The perfect acting ensemble of irreplaceable famous actors!
<Special Song> raises expectations as an ensemble of irreplaceable luxury actors including Park So-dam, Song Sae-byeok, and Kim Ui-seong, Jung Hyun-jun, Yeon Woo-jin, Yeom Hye-ran, and Han Hyun-min.
First, Park So-dam, who has been reborn as a trusted global actor, plays Eun-ha, a special express driver that guarantees a 100% delivery success rate. As can be seen from director Park Dae-min's rave reviews of "an actor who exudes a character's atmosphere and aura even without dialogue," Park So-dam, who has transformed into 'Eunha' in every glance, will present a girl-crush charm by showing off her high-level action acting. . Song Sae-byeok, a master of method acting full of personality, takes on the role of 'Kyung-pil', a vicious police officer who relentlessly pursues 'Eun-ha'. Song Sae-byeok, who perfectly digested the dual character 'Kyung-pil', who does not hesitate to do illegal things even though he is a police officer in order to get 30 billion black money, foreshadows the renewal of his life's character by acting as an all-time villain. Korea's representative box office guarantee check Kim Eui-seong has transformed into a 'white sand beach', a representative of Baekgang Industries, a business partner and strong supporter of 'Eunha'. He added a three-dimensional effect to the 'white sandy beach' character by delicately depicting the figure of a professional businessman who reveals money through perfect character analysis and the human figure for 'Eunha' with sincere affection.
Here, Jung Hyun-jun, who showed impressive acting chemistry with Park So-dam in the movie "Parasite", will once again show perfect acting synergy with Park So-dam by taking on the non-returnable baggage 'Seowon' that 'Eun-ha' took over. Veteran actor Yeon Woo-jin played Doo-sik, the father of 'Seo-won' and the person who commissioned the special delivery that started the delivery accident. Next, actress Yeom Hye-ran, who boasts an acting spectrum regardless of genre, takes on the role of 'Miyoung', the National Intelligence Service (NIS) pursuing 'Eunha' with 'Kyungpil', adding suspense to the fast-paced development. Lastly, model Han Hyun-min, who represents the MZ generation, is expected to show off his presence as a disassembled actor as 'Asif', a vehicle repair expert at Baekgang Industries. The acting ensemble of Korea's representative actors with such irreplaceable charm is expected to increase the audience's pleasure index by adding power to the exciting development.
[ PRODUCTION NOTE ]
Live rhythm! A different variation!
Behind the scenes of the birth of the eye-catching <Special Delivery> action!
Director Park Dae-min, who confidently threw his first crime entertainment action in 2022 with the introduction of "a light and cool movie with speedy car chasing and powerful action". From the flashy car chasing action centered on the express driver Eunha, to the naked action of Eunha, which is full of hitting, he put all his heart into improving the perfection.
<Special Express> catches the eye with its impressive car chasing technique that allows you to freely manipulate the car as if it were a part of your body. Director Park Dae-min made use of the reality by referring to the videos of actual racers and capturing the technical appearance of 'Eunha' skillfully manipulating gears and brakes in the movie. The unique car chasing action of <Express>, which is completed by sudden adjustments such as momentarily switching to neutral gear and naturally sliding the car on a slope, or running fast and then slowing down and evading the enemy, makes it impossible to take your eyes off the screen for even a moment. will make
The key was not only the car-chasing action but also the naked action of Eun-ha, a special express driver who engages in a fierce pursuit, with an impact. He had to show raw action without professional training, while preserving the feeling of a specialist in the industry with a strong reputation for rough 'special delivery' work. When composing 'Eunha''s naked action sequence, director Park Dae-min focused on 'Eunha' overcoming her physical handicap in a one-on-one fight. Scenes in which Eunha uses her driving skills to evade the enemy, or darkens the familiar space to make the situation advantageous, etc.
Reality Limit Exceeded! Overwhelmingly immersive!
Add details to the well-made crime entertainment action movie!
Director Park Dae-min and the production team put a lot of effort into everything from the type of vehicle to the selection of props, lighting, and music to express the unique personality of <Special Song>.
The most interesting thing about <Special Delivery> is that the car-chasing action is carried out with vehicles that are easily accessible around us. The reason lies in the cinematic setting in which special express driver 'Eunha' uses an old vehicle converted into a special express vehicle to escape without being noticed by anyone. Accordingly, the production team chose the E34 model of the old BMW 5 Series, which has a retro look, as the vehicle to show the first driving action in the movie, and thanks to this setting, Eunha's extraordinary driving technique was able to stand out even more. In addition, the vehicle that Eunha uses when escaping is set in a vehicle that can be commonly seen around, adding to the reality of the city chase.
Lastly, the unique lighting direction and the beat-filled soundtrack acted as a factor that added to the fun of the movie. The production team added details so that scenes that may be dark due to the nature of the genre can be painted using point colors such as neon sign lighting with vivid colors, or so that the lighting color can be reflected on Eunha's glossy clothes. Here, in the final black-and-white action scene at the apex of the play, we put a lot of effort into directing lighting, such as maximizing tension using minimal lighting. Not only that, like director Park Dae-min's intention, "I wish it would be music that makes my heart beat," <Special Song> inserted a rhythmic OST in the right place to complete a thrilling action scene. In addition, the retro sensibility that matches the visual of Eunha, who rides an old car, will be melted into the music, capturing both the eyes and ears of the audience.
100% reality set! Various locations!
The unique visual of <Special Delivery> is complete!
Another point of observation of <Special Song> is the location where the exhilarating urban chase takes place against the set of Baekgang Industries that seems to exist in reality.
Baekgang Industrial is the home of express delivery and the most familiar and comfortable space for Eunha. The production team, who wanted to create a comfortable atmosphere like home and work at the same time, decided to create a custom large set for <Special Delivery> instead of using the existing junkyard as a location. The production team, who found an optimal place with a clear view of the Busan Port Bridge as it is located next to the beach in Yeongdo, Busan, created a lively space by arranging colorful containers to break away from the dull image of a junkyard. In addition, while discussing with the art director for a long time to materialize this space, which will become the main base of the final action sequence, we completed an open set that exudes an overwhelming aura by adding sophisticated details and a sense of scale. In response, the actors praised the set of Baekgang Industrial, saying, "It was a set that felt like a real CG, and I remember it a lot."
The location of the city center in various terrains for the car-chasing action that decorates the highlight of <Special Delivery> was also an important task. Director Park Dae-min added the meticulous use of spaces with many changes so that the racing scene that lasts more than 5 minutes in the beginning of the movie does not become boring. For example, from vertical spaces such as an outdoor tower parking lot that stretches endlessly up and down, from wide round-trip lane roads to narrow first-lane roads, demolition villages on hills, and dangerous train tracks, various spaces have been captured. Director Park Dae-min, who hired the location that made the unconventional and exhilarating car-chasing action shine even more, said, "The key was to show a variety of spaces and give the feeling of navigating through various places." to expect
Related Videos