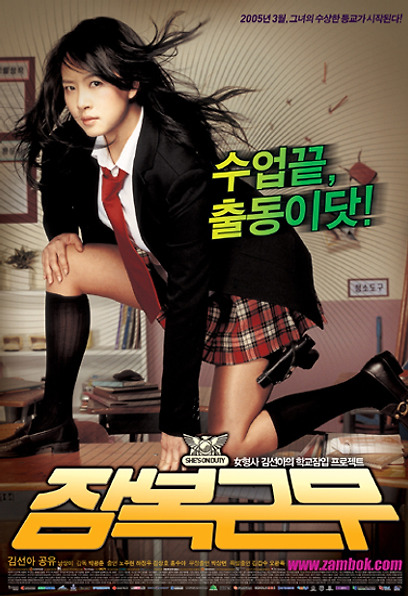 She's On Duty, 2005
release

2005.03.17
genre

Comedy/Action
country

Korea
ranking

Audience over 15
running time

111 minutes
grade

7.0
cumulative audience

1533225 people
Synopsis
dispatch! I'm going to school!
"I didn't want to go back crazy!"
A female detective genius in the violent world. She was a ssamjang who calmed down Gangbuk during her school days, but after hard work, she has been reborn as a 'legal fist job'.
She was given an important mission along with the crisis of a lifetime.
In order to find out the whereabouts of the gangster voodoo, the key to the case,
To infiltrate the hidden daughter Cha Seung-hee's class. "Back to school?!! Oh, NO!!"
"A more difficult school life than the eradication of crime begins!"
The Ice Princess Seung-hee doesn't give her a single glance, who is plotting all kinds of tactics to win Seung-hee's liking, but rather, the school's unique tackles continue like an event every day.
Should I go to work, pressing my boiling fists with reason… to be taken away by my homeroom teacher and punished…
This operation is more painful for Jaein than any other site.
In the midst of all that, there is one thing that makes me happy: Noh Young, a handsome classmate. That was the only thrill and comfort for Jae-in to go to school…
"Will the day come when I will take off this uniform…?"
However, No-Young, who always hangs around Seung-Hee, starts to get suspicious, and around that time, Jae-In and Detective Cheol-Cheon-Ji Wen Su-in are also recruited into the school. Jae-in senses that the case is more complicated than expected.
After many twists and turns, he becomes close with Seung-hee and secures the material of the vice-boss, but
An unexpected variable awaits her…
Will she be able to succeed in this operation…?
Related Videos