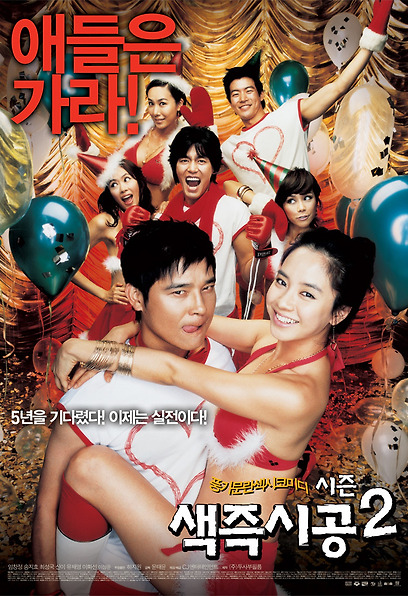 Sex Is Zero II, 2007
release

2007.12.12
genre

comedy
country

Korea
ranking

Youth not allowed
running time

115 minutes
grade

7.6
cumulative audience

2002423 people
Synopsis
1The Exploration of 'Color'
The campus is getting healthier (?) day by day by practicing 'color' with the boiling heat all day and night. Every night there are fights going to the motel, and unpredictable experiments are rampant in the sleepless dormitory…
"After only kissing for 3 years, my lips just blew like chicken nuggets"
Eun-sik (Lim Chang-jung), a high school student, is a campus couple with Kyung-a (Song Ji-hyo), a swimmer who boasts the best S-line in college. However, Eun-sik, who has not made progress on his lips for three years, is only exploring 'colors' while relaxing his energetic body through physical training today.
However, Eun-sik, who has always failed, only accumulates know-how to solve 'color' alone.
2Practice of 'color'
On the other hand, Seong-guk (Choi Seong-guk), a late student, leads the Yame club 'K-1' in one corner of the swimming club.
The swimming club's chubby lines and eagerly pursue 'colors'.
"You must be the first person in the world with a statue of a woman."
"That's because…he said he wasn't ready yet…"
"From my point of view… you are either an eunuch or a sage."
After receiving Eun-sik's complaints, Seong-guk and his subordinates work hard to help Eun-shik practice 'color', but each time Eun-sik is misunderstood as a pervert in front of Kyung-a, and eventually gets taken to the police station as an offender.
3 Evaluation of 'Color'
In front of Eun-sik, who gets more and more entangled in 'color', a man appears openly approaching Kyung-ah… Ki-joo, a prominent incumbent prosecutor and friend of Seong-guk.
"Are you busy preparing for sashimi? So, what about car 1? "
"This is the first round~ Hey, are we going to go to the second round too? "
As an incumbent test student vs. incumbent prosecutor, Eun-shik and Ki-joo are compared the more you look at them,
Eun-sik, who has been devalued every time, is in danger of losing even Kyung-a, let alone 'Saek' Tam…
Related Videos