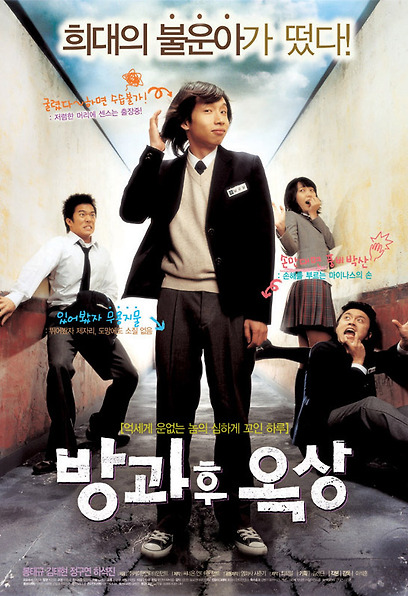 See You After School, 2005
release

2006.03.16
genre

comedy
country

Korea
ranking

Audience over 15
running time

103 minutes
grade

7.3
cumulative audience

773042 people
Synopsis
Nam Gung-dal, the bad man with downpour
The worst misfortune of your life!
A momentary accident grows like a snowball… … A day full of spills!
Last name is 'Namgung', his name is 'Moon' man, 'Namgungdal'
However, everyone mistakenly called him 'Gungdal', so he's never been called properly by his first name.
Gungdal was born with the fate of winning the lottery first place and bad luck with the remaining downpour. Because of that, things always go wrong against my intentions, and I am often bullied at school. In the end, he receives intensive treatment at the bullying escape clinic for a year, and plans to start a new life with the transfer.
The very day when I took my first steps at 'Gongmun High School', which was called 'Gomun High School' because the "ㅇ" base disappeared! Gung-dal meets Yam-saeng, a classmate from the bullying escape clinic. The 'action plan for a good school life', taught by Yam-saeng, who said that he had completely settled after clearing up the past, is to hold onto the weak-looking guy, argue with him, and inflate his position by pretending to be a strong guy!
"Then what if you get hit in the back?"
"It's absolutely perfect! 💯! So you have to choose well."
A prey is caught in the eyes of Gung-dal, who was looking for a target to fight with a strong determination. The jjom tops who tormented Mina, the beautiful queen, who said that the saliva of many men was flowing in every passing place! Gungdal sees this as an opportunity, and argues against them, who seem to have a fairly cheap human nature.
But! Gungdal, who still lacked information about the new school, fearlessly jumped on the opponent, who spreads the legend of blood. He sends a bloody rooftop invitation to Gungdal.
"You are with me today! It's on the rooftop after school!
Even if you run away, you die! If you don't come, you'll die! You will die anyway!"
… …
"me… … Am I right now?"
A place where there are a lot of dragged footprints, but none of them have been brought down!
Rooftop after school!!
At the end of class, Gungdal is dragged to the roof and in danger of being 'beaten backwards'.
He plans a desperate struggle to somehow avoid the rooftop duel.
If you leave early, can you go home before school instead of on the rooftop after school?
If you buy a stronger guy and get rid of his jag before class, he won't be able to get on the roof?
If you have an accident and are taken to the student club, can you be forced to stay in the student club even after school?
However!
In front of the school gate, the guy who bullied Gung-dal at the old school is dying…
At the same time, even the idiots of Deokpoong Nonggo, who came up to receive the official library, were fighting with their stomachs…
The members of the Bullying Club cheering for the wrong (?)
Class is over…
Because of Namgungdal's innate luck
Crisis swells like a snowball, and events twist endlessly.
"Today after school, a big match will be held on the rooftop! The action is right!
Is it really Jaeguk? Kung dah! It's the battle of the century… "
[About Movie]
Deadline of horror at 4pm, 7 hours remaining, you have to survive somehow!
It's not that he was born with the nature of bullying, nor that he chose bad things to do bad things and tormented his friends. However, if Nam Gung-dal has a natural sin, it is that he is twisted in everything he does and that he is unlucky, that's all. Namgung-dal, who transferred to a new school to avoid being bullied, is still! From the first day of transfer, he has a difficult accident that touches the best of the school, and at the end of the 7th period, he is put in a situation where he has to walk deadman to the 'rooftop', a place of fear that 'he will be dragged up and taken down'.
In order to avoid the 'after school rooftop', the movie "Rooftop After School" mobilizes all bases from the 1st to 7th period, from the imaginable to the unimaginable, to avoid the 'Dead-Line 4 o'clock' crisis. To make matters worse, it is a comedy depicting the desperate (!) first day of transfer of 'Namgoong-dal' who is in trouble.
Those guys with unique personalities who won't be of any help for the rest of their lives are swarming!
A poor friend by my side who causes an accident that cannot be dealt with due to a fleeting error of judgment and insufficient information, a helpless naive guy who drives his friend further with inappropriate and subjective advice, a hierarchy that scares the empty vacant lot behind the school roof and canteen No. 1 cap jjang, a talker who swears endlessly in the bathroom and in the canteen whenever he has time, a mature and handsome queen car that shakes the hearts of many high school boys, and a maesoon in the canteen that pleases our hungry stomach and eyes , and the teacher who always pushes us with endless love (!)…
In <After School Rooftop>, immortal characters that existed 20 or 30 years ago, and will always exist around us today, tomorrow, and even in the very distant future, are gathered together. The characters are lively enough to slap on their knees and sympathize, and the characters and witty lines that make you want to run and stroke the back of the head right away will evoke warm memories and sympathy related to your school days with laughter.
After school rooftops… not their own league! It's our league!
At 'Gongmun High School', where Namgung-dal transferred, the place you should never go is the 'after-school rooftop'. It is a space of terrible horror, an abyss from which one cannot escape, and indeed a terrifying infinite hell. However, the unlucky man 'Namgoong-dal', who always never happens, is sentenced to death like "You are on the roof after school!" Go up or run away live or die
<The Rooftop After School> is a comedy that any audience can sympathize with in the time and space of infinite horror that appears under various names such as 'the president's office ten minutes before work', 'emergency call during holidays', and 'waiting after vacation'. The pathetic and steadfast appearance of 'Namgoong-dal', who overcomes the hardships given to him brightly, cleanly, and confidently without having to do anything, gives a pleasant sympathy and warm laughter to the audience of various generations who live every day in the pyramid of the food chain. will hand
Brilliant imagination comes alive everywhere!
<After School Rooftop> is a novel and comical cartoonish imagination that has been transferred to the screen. On the first day of transfer, Nam Gung-dal, a rare misfortune, encounters Yam-saeng, a classmate from the bullying clinic, and learns the secret to fully adapting to school. This impressive animation that doubles the comedy by comparing the school to the world of weak and strong food was worked by the CG team of <Welcome to Dongmakgol> to enhance the film's perfection.
In addition, in Namgung-dal's fantasy scene, Mina appears as a police officer, nurse, and Tarzan's lover "Jane", giving a surprising laugh. In particular, when appearing as Tarzan's lover "Jane", Tarzan appears on a vine from the sky behind him. This absurd and humorous scene was filmed with a crane installed on the slope between the school buildings, and there are dangerous filming episodes, such as stuntmen disguised as Tarzan crashing into the building.
These witty and fresh ideas have already won awards and invitations from the Busan International Film Festival's invitational film <Instant Adhesive> and leading overseas short film festivals. It comes from director Lee Seok-hoon, who has been recognized for his capabilities even before his feature film debut. In <After School Rooftop>, such a whimsical imagination will come alive throughout the film, providing a different kind of fun to the audience.
Directing intention
Looking back on our past lives, when can we say we were the bravest?
Also, when was the most cowardly time?
In fact, I remember more of the cowardly moments than the brave ones.
It may be my mistake, but I think many people are like me.
If you could use a time machine to turn your life back on and set things right, which day would you go back to?
The protagonist of "The Rooftop After School" lives on that very day now.
Today's day for the main character, Nam Gung-dal, could be his most courageous day.
Or it could be the most cowardly day.
Nam Gung-dal's day, who is living a boring life, feels like a microcosm of our lives.
Meanwhile, Namgung-dal has been living a life of running away.
But today, he is faced with a choice.
Will he choose a life where he runs away because it's almost broken?
Or will you choose to live a life that you know how to do, but you bump into it and break it down desperately?
Aren't you curious?

Related Videos