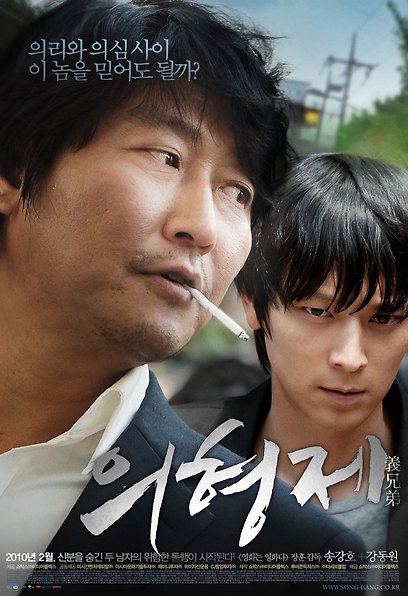 Secret Reunion, 2010
release

2010.02.04
genre

Action/Drama
country

Korea
ranking

Audience over 15
running time

116 minutes
grade

8.8
cumulative audience

5416923 people
Synopsis
A mysterious gunfight in the middle of Seoul
There, the two men met for the first time, NIS agent Han Gyu and Nampa agent Jiwon.
Taking responsibility for the failure of the operation, Han Kyu is fired from the National Intelligence Service, and Ji Won is branded a traitor and abandoned by the North.
Six years later, two men who only thought they were enemies
Two people who meet by chance deceive each other and work together for their own purposes…
Two men who only knew they were enemies. But as time goes by, they start to understand each other as friends and men.
Then one day, Jiwon received an order from the North just like that day six years ago.
Hankyu and Jiwon make the last choice for their lives.
[ about movie ]
Korea's representative actor with the best acting skills and star power
Song Kang-ho and Kang Dong-won's best project of 2010!
Song Kang-ho and Kang Dong-won finally met. The two actors, who have dominated the screen with their unrivaled acting skills, distinct personality, and the best star power, aroused a lot of attention just by the news of their appearance together. This is because of the expectations for the acting ensemble and synergy they will create in the movie.
Song Kang-ho, an actor who gives birth to familiar characters by breathing unique vitality into any character, from a father struggling to save his daughter stolen by a monster, a train thief in Manchuria, and a vampire bride. In this movie, he plays the role of 'Han-gyu', a former NIS agent who was fired due to an operational failure. 'Han-gyu' is a character who approaches his enemy 'Jeon-won' in order to regain his lost honor and collect a hefty spy bounty. Song Kang-ho is expected to provide a generous laugh through the extremely realistic and human character 'Han-gyu'.
Kang Dong-won, an actor who naturally expresses characters that seem to exist only in the imagination, from a handsome high school student armed with looks and fighting skills that dominate the area, an assassin with a secret, and an evil scoundrel master. Jiwon, whom he plays in this movie, is a South Korean agent who has been abandoned due to an operational failure, who approaches 'Han Gyu' in order to get rid of his false accusation and return to the North. Kang Dong-won is expected to show a 'human-smelling' performance through the role of 'Jiwon', who is cold on the outside but has a warm sensibility on the inside.
Actor Song Kang-ho, who is born with the instinct of 'acting', and actor Kang Dong-won, who expands the spectrum of acting in each work, evolves. <Sister Brotherhood>, chosen by two actors representing Korea, will heat up theaters in 2010.
Combination of youthful sense and resilient directing power
Directed by director Jang Hoon, who is receiving the most attention in Chungmuro!
Director Jang Hoon, who has been evaluated as 'The Discovery of Chungmuro in 2008' after his successful debut with <A Movie is a Movie>, will present his next film <The Brotherhood> with Korea's representative actors Song Kang-ho and Kang Dong-won in 2010.
He has already demonstrated his excellent ability in unraveling the conflict, confrontation, and communication between two men with a rough but explicit directing method through <A Movie is a Movie>. Just as the charm was drawn from the combination of characters that do not fit well like a thug-like star and a thug dreaming of an actor, the relationship between an ex-NIS agent who was fired and a South Korean agent who was abandoned is also expected to be interestingly solved with director Jang Hoon's resilient directing power.
In addition to his ability to unravel dramas, he is a director with a differentiated mise-en-scène as if he was an art major. In <A Movie is a Movie>, the tidal flat sequence in which the main characters are tangled in mud and fight as if they became one is still considered a masterpiece that condenses the theme. Director Jang Hoon's unique stamina also stands out in his next work, <Sister Brothers>. Location shooting scenes in the movie, such as an apartment in the city where 'Han-gyu' and 'Ji-won' meet for the first time, or the breathtaking chase scene between the narrow alleys in Namgajwa-dong's residential area, will make his directing power shine even more.
His original mise-en-scène, meticulous story composition, and the harmony of two markedly different characters will not disappoint the expectations of the audience who have been eagerly awaiting director Jang Hoon's next film.
Shooting, lighting, and even martial arts, the best production team for <Sisters of the Brotherhood>
The strongest dream team in Chungmuro forms a brotherhood with <Resident Brother>!
With director Jang Hoon of <A Movie is a Movie> as the head, the production team of <Ritual Brothers> is a talented staff who has created a hot topic in the history of Chungmu.
First, the person who captured the detailed sense of director Jang Hoon on the screen is director Lee Mo-gae. His visual aesthetics, shown in numerous popular works such as <Janghwa Hongryeon> and <Nom Nom Nom>, also shines in <Resident Brother>. Song Kang-ho's realistic acting and Kang Dong-won's more serious acting were completed in a more delicate and dynamic video through the camera work of cinematographer Lee Mo-gae.
Lighting director Oh Seung-cheol, who worked in <Janghwa Hongryeon> and <Nom Nom Nom> along with the cinematographer Lee Mo-gae, was responsible for the lighting that brings out the taste of the video in this <Sister-in-law>. Lighting director Oh Seung-cheol, who created the light that best suits the video in any genre, brought to life the subtle emotional lines of the two that crossed the enemy and brother with just the light of the space where 'Han-gyu' and 'Ji-won' were together.
The last protagonist of the Chungmuro Dream Team who participated in <Responsible Brother> is a professional martial arts director who has mastered films such as <Detective: Duelist>, <The Movie is a Movie>, and <Like a Butterfly Like a Flame> as well as the recent drama [Iris]. am. In this work, while emphasizing a fast and powerful feeling as a whole, he envisioned a dynamic 'real action' and a sophisticated 'intelligence action' according to the character characteristics of 'Hankyu', an agent of the National Intelligence Service, and 'Jiwon', a operative from the South.
In this way, the best project of 2010, <Important Brothers>, will fill the screen with outstanding perfection through the active efforts of the representative producers of Chungmuro, who have made 'Brothers' and 'Brothers'.
Two men who met as enemies, Kang-ho Song vs Dong-won Kang? Song Kang-ho & Kang Dong-won!
<Siblings> is a film about communication!
South and North Korea, which appeared frequently in Korean films such as <Shiri> and <Typhoon>. In most of the films, North Korea has been portrayed as an 'enemy' that poses a national threat, and the protagonists have been conflicting with different ideologies in a consistently heavy atmosphere.
However, in spite of the identity of the main characters as NIS agents and Southern agents, <Sister Brothers> is different from previous North-South films. This is because the characters are only from South and North Korea, and it is a film about 'communication' between two different men, not conflicts based on ideology.
'Han-gyu' (Song Kang-ho) and 'Ji-won' (Kang Dong-won) from <Riot Brothers> first meet as NIS agents and Southern agents. However, the true story of the two men who were enemies under the ideology of South and North Korea begins after 'Han Gyu' is fired from the National Intelligence Service and 'Jiwon' is abandoned by the North. 'Han-gyu' approaches each other to regain the honor he lost, and 'Ji-won' approaches each other to get rid of the accusation that he is a traitor. When personal feelings, not ideologies, communicate, we understand each other's human side. The various episodes that take place in this process, although they meet unusually, are no different from communication between ordinary people, sometimes creating tension and sometimes laughter and emotion. The movie <The Brotherhood>, in which two men communicate through righteousness, is now preparing to communicate with the audience.
behind story
A breathtaking chase scene filmed in a narrow alley in Namgajwa-dong
Penetrate the real alleys of Seoul!
Director Jang Hoon captivated the public with a real action scene that penetrates the essence of a movie through <A Movie is a Movie>. In the second work, <Brothers of Justice>, a car chase scene in the old city of Seoul is presented. Filming took place in Namgajwa-dong, a new town development area. At the time of filming, the Namgajwa-dong was in the midst of demolition work, so it was difficult to film because of the scattering dust, the stench of discarded food, as well as the sudden rain. However, director Jang Hoon wanted the space seen in the movie to be a real space, not a cinematic space, and decided that the narrow alleys of Namgajwa-dong were suitable for showing the complex and dynamic Seoul. In particular, when shooting on a narrow road, it is difficult to control the high speed, so the risk of an accident is high, and it is also difficult to photograph a person in a moving vehicle. Cinematographer Lee Mo-gae, who wanted to capture the detailed expression of the person, cut the bonnet of the vehicle and connected it to a shooting car, and was able to capture Han-gyu's expression even in an alley where a lorry car could not enter. In addition, the Namgajwa-dong vehicle chase scene using special equipment produced by cinematographer Lee Mo-gae, such as Elephant Cam, Crash Cam, and Cylinder Cam, as well as electric vehicles and Steadicams, is expected to provide a thrilling spectacle unique to <Sister Brotherhood>.
Factory in Incheon found by Google satellite
Shooting with hand signals in a fully operating factory 24 hours a day, 365 days a year!
If the first meeting of the two men, 'Hankyu' and 'Jiwon' in the movie, was filmed in an apartment in the middle of Seoul, the second meeting was filmed at a recycling plant in Incheon. The location had to be open to the outside so that 'Jiwon', who was a South Korean agent, could easily hide his identity, and 'Hankyu', who knew the identity of 'Jiwon', could understand the dynamics of 'Jiwon'. It was important in the movie as it is a place where two men meet by chance, as well as a place where intense action scenes are filmed. The production team inquired all factories in Korea to find a suitable place, but it was not easy to find a place that met all the conditions. A few days of factory hunting alone, I found a factory in Incheon by chance while searching with Google satellite in case of doubt. However, obtaining permission to shoot is not an easy task. This factory, which is made of steel frame, is a waste recycling plant that operates 24 hours a day, 365 days a year. After much consideration by the production team, the factory gave permission for filming for a total of 5 days, of which only 2 days would stop the operation of the factory. The production team, who had to finish filming within the set time, decided on a hand signal after deliberation and proceeded with filming. During the operation of the factory, it was noisy enough that it was difficult to communicate even with the person next to it, and the reason we were able to finish filming safely in a situation where it was difficult to breathe due to the sand and dust was the best teamwork that was able to move smoothly with just hand signals and eyes. because there was
Officetel set filming machine where tension and laughter coexist
It captures the dangerous loyalty of two men who only thought they were enemies!
After a mysterious shooting in the city center, 'Han-gyu' and 'Ji-won' reunited by chance six years later. While hiding their purpose, they start a dangerous accompaniment based on 'Han-gyu''s office and residential space, the officetel. This officetel is a set built within the Yangsu-ri general filming studio, and it is a space where the process of gradually understanding each other from the scene where the two men start to accompany each other while being wary of each other is most clearly shown. Because there were a lot of action scenes and outside shooting, the number of shootings of the officetel set was relatively small, so the actors and staff had to digest a tight schedule. Due to the fast-paced filming schedule, the staff were worried that it would be difficult to catch the emotional changes with the passage of time by Song Kang-ho and Kang Dong-won. However, the two actors showed concentration and perfectly expressed the subtle psychological state and relationship of the two men, despite the short filming period. In addition, Song Kang-ho and Kang Dong-won showed a relaxed atmosphere that made the atmosphere of the filming site full of tension due to the tight filming schedule after the cut sign fell. Song Kang-ho, as a veteran of Chungmuro, showed leadership and tolerance without regret, leading the scene full of laughter, and Kang Dong-won showed a guitar performance on one side of the set, drawing the attention of the staff. The officetel set scene, where tension and laughter coexisted like this, will be an important point of observation to watch the changing relationship between two men, 'Han-kyu' and 'Ji-won', who they thought were only enemies.
More Images