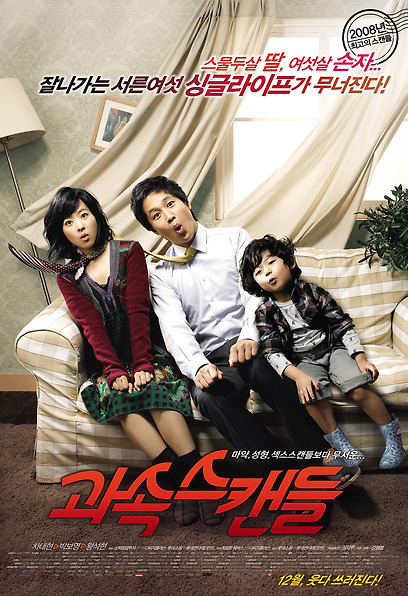 Scandal Makers, 2008
release

2008.12.03
genre

Comedy/Drama
country

Korea
ranking

Audience over 12 years old
running time

108 minutes
grade

9.3
cumulative audience

8223342 people
Synopsis
2008, Incident The accident has not yet begun!
A speeding scandal that is scarier than drug, plastic surgery and sex scandals is coming!
'Nam Hyun-soo' (Cha Tae-hyun), who was once an idol star and the eternal idol of teenage girl fans.
Although he is now in his mid-thirties, he is still a popular entertainer and a popular radio DJ with the highest listening rate.
One day, Hwang Jeong-nam (Park Bo-young), who claims to be a listener and sends stories on the radio every day, suddenly comes to him and starts arguing that he is the daughter of Hyeon-soo's speeding!! He even showed up with a child… …
Hyeon-soo's house as well as Nawabari-in broadcasting station. Hyeon-soo took one hit on a perfect life because of Jeong-nam, a stalker who chases after fire wherever he goes. To make matters worse, he gets caught up in a scandal with Jeong-nam… …
Now, once this one blows, it's really over! End!!
[ Intro ]
Speeding Scandal?!
speeding: [noun] traveling too fast, such as a car. or its speed
scandal: [noun] A very shocking and immoral event, or dishonorable reputation or rumor.
Speeding Scandal: [Proper Noun] A very shocking incident that was caught up in too fast a speed.
[ Prologue ]
On Air
Hyunsoo: Let's start with Nam Hyunsoo's 'Afternoon Break' phone story.
Today's first story will be linked with Hwang Jung-nam, the main character of our bulletin board's most popular story.
Hello Nam-Jung!
Jeongnam: Yes, hello… …
Hyunsoo: It's really nice to meet you, Nam Jeong. You called me for the first time… But where are you going? I see it's noisy.
Jeongnam: Yes, I'm going to see my dad.
Hyunsoo: You really thought about it. You must find your father!
Jungnam: Are you really going?
Hyunsoo: Yes, please come and meet us. Fighting Nam Jeong!
This one phone call!!
Their meeting began like that, not knowing what would change everything.
Scarier than drug, plastic surgery and sex scandals
<Speed Scandal> begins now!!
[ About Scandal ]
The strongest combo was born in 2008!
Celebrity from an idol who is still well-known
Sparkling character showdown! An extravagant comical laugh that a refreshing encounter will give you!
In the winter of 2008, the strongest comic combo that will sweep the Republic of Korea was born. They are Hyunsoo Nam, a radio DJ who is still a well-known idol, and Hwang Jeongnam, a stalker who suddenly appears one day and is the daughter of Nam Hyunsoo's speeding. Besides, they are thirty-six and twenty-two, with a difference of only fourteen years between them! <Speed Scandal>, which depicts the scandal battle between a celebrity and a bizarre stalker who is the object of envy and love of all people, is an upgraded setting that is different from the comedy so far and a sparking confrontation between characters with strong personalities. It provides an inviting, comical laugh. Radio DJ Nam Hyun-soo, who is an idol and enjoys a splendid single life, and Hwang Jeong-nam, a stalker who never loses a word to anyone in the world, presents fresh humor with unpredictable and unpredictable characters. In addition, the embarrassing situations and episodes that take place in their confrontation, and the delicious dialogues that take place in them, bring laughter and fun. Radio DJ Nam Hyeon-soo, who is still a well-known idol, Cha Tae-hyun, a representative of natural comic acting, and I am the daughter you gave birth to because of your speeding around Nam Hyun-soo. I'm a stalker. He breathed life into the character and completed it as the perfect and strongest comic combination. In addition, Hwang Ki-dong, the six-year-old son of stalker Hwang Jeong-nam, and child actor Wang Seok-hyeon, their confrontation without concessions will bring great joy to the audience at the end of this year.
The birth of an art comedy that stimulates the five senses!
The synergy of a solid scenario, sophisticated video, and upbeat music!
Screenplay, directing, and music are called the three conditions for a box office movie. <Speed Scandal> met all three conditions for box office success and completed all preparations to make the audience laugh. Director Kang Hyung-cheol, who makes his first feature film debut with <Speeding Scandal>, chose the 'celebrity scandal', which the general public is most curious about and responds immediately, as the subject matter. It depicts the desperate situation of celebrity Nam Hyun-soo in a comical way. <Speed Scandal> breaks away from the slapstick and pun-like lines that have been most commonly used in comedy movies, and completes the film with a variety of episodes that show the witty and vivaciousness of a new director, characters with strong personality, and an exquisite harmony of plump lines. raised the Here, music that stimulates emotions, ranging from memorable songs like Mosaic's 'Free Age', which was loved by teenage fans with lyrics and melodies like pure comics in the mid-90s, to hilarious pop songs like 'Walking on sunshine' by Aly & AJ. This addition will stimulate the five senses of the audience. <Speed Scandal> is a well-made comedy film that audiences who have been thirsty for laughter can laugh and enjoy comfortably after a long time, and it will create a new wind in the stagnant comedy film industry.
A scandalous comedy that makes you laugh nonstop!
The greatest empathy stimulation on earth regardless of age! The secret of the scandal is finally revealed!
A very shocking, immoral event, or dishonorable reputation or rumor. In other words, 'scandal'!
Regardless of age and generation, scandals have been a subject of interest to everyone. Scandals of celebrities from the entertainment industry to the political and business world are always at the center of the topic and stimulate the public's curiosity, but for those involved in the scandal, it also has a terrible ripple effect, causing everything to collapse in an instant. For celebrities whose image is their life, scandals are the scariest and most frightening existence. The movie <Speeding Scandal> aims to be at the center of the topic by drawing a consensus from the people around the 'celebrity scandal' that everyone is curious about. The truth battle between a stalker who claims that 'Nam Hyun-soo is the daughter she gave birth to speeding in middle school' and a radio DJ from an idol who claims that 'I am not a daughter, but a stalker' has since spread into an outrageous incident, the biggest wave in the entertainment industry in 2008. It will spread into a scandal that will cause The subject of a rather unconventional film, a scandal between an entertainer and a stalker who follows him, is a comical overturning of a serious situation of a scandal with the protruding actions and situations of the characters who do not know where they are going, providing fun and laughter beyond imagination. In addition, the fact that actor Cha Tae-hyun, who has not had a single scandal since his debut in the entertainment industry, took on the role of radio DJ Nam Hyun-soo, who is in the greatest crisis of a celebrity's life due to a scandal, raises curiosity about the story and truth of the scandal in the movie. At the end of 2008, when the full story of the scandal will be revealed, <Speeding Scandal> will cause a 'speeding scandal craze' that is scarier than drug, plastic surgery, and sex scandals, and will spread endless laughter bombs in theaters.
A comic special corps that makes <Speed Scandal> even more special!
Find those who are strong comic helpers!
In the movie <Speeding Scandal>, in addition to Cha Tae-hyun and Park Bo-young, various comic special corps upgrade the fun of the movie. In particular, they appear in unexpected characters and situations throughout the movie, and are expected to provide special fun as reliable comic assistants in <Speeding Scandal>. The main character who will give the first burst of laughter in <Speed Scandal> is Wang Seok-hyeon, a new child actor who plays Hwang Ki-dong, the six-year-old son of stalker Hwang Jeong-nam. Wang Seok-hyeon, who was cast as Hwang Ki-dong in <Speeding Scandal> through a competition ratio of 1,000 to 1, has an uncorrected naturalness that is hard to find in existing child actors, and despite the young age of six, he plays bizarre comic expressions as well as plays the role of a young child. It provides great laughter and fun in the movie with its pure, sudden action. In particular, he announces his presence with a loud voice that is deaf enough and an extremely polite navel greeting, while exuding a unique charm that differentiates him from the stalker Jeong-nam with his go-stop skills that beat any adult, and unfolds dazzling performances throughout the film. In addition, the action of the comic cameo corps, which actively appeared in the close relationship with Cha Tae-hyun, is also a point that should not be missed in <Speeding Scandal>. Singer Hong Kyung-min, who is a close friend of Cha Tae-hyun and a member of the Dragon Club, appears in the movie as a famous scandal maker, a movie actor, and confronts Cha Tae-hyun as a rival. In particular, Hong Kyung-min makes the audience more fun in 'Finding Hong Kyung-min' by making up and filming so that he can't recognize his face well. In addition, Ji-ru Seong, who plays the role of licorice in various works and adds presence to the play, made a special appearance as Sang-hoon, a friend who was active as an idol group member with Nam Hyun-soo, and showed off his unique performance, further illuminating <Speed Scandal>. In addition, The Classic's Park Yong-joon and singer Lee Joo-won will make a surprise appearance to give the audience another fun of 'Finding the Stars in the Movie'.
[ Scandal Note ]
Cha Tae-hyun, acting more real than Real!
Nam Hyeon-soo in <Speeding Scandal> is not too much of a role for actor Cha Tae-hyun. Cha Tae-hyun, the best all-round entertainer of this era, has shown outstanding talents in various fields from acting, singing, MC, and DJ. He takes on the role of ex-idol radio DJ Nam Hyun-soo in <Speeding Scandal>, fully demonstrating the vivid experience of a real radio DJ and singing skills like a singer, and breathes life into Nam Hyun-soo with realism itself rather than acting. In particular, Cha Tae-hyun, as is already known, was broadcast on KBS radio 'Cha Tae-hyun's FM Inkigayo' in 2000 and KBS COOL FM's 'Ahn Jae-wook, Cha Tae-hyun's Mr. Being a talented radio DJ who showed the potential not to miss the first place in listening rate in the same time period with 'Radio'. In the actual radio broadcast shooting, Cha Tae-hyun showed off his DJ skills, which captured the hearts of listeners with his unique witty talk and smooth handling skills, and showed realistic acting enough to create the illusion that the field staff came to the 'Visible Radio' scene. In addition, Cha Tae-hyun, who showed an example of success as a singer and actor by releasing two albums in 2001 and 2003, played the guitar for this movie and sang the movie insert song 'Because I love you' live, showing off his singing skills. perform effortlessly. If it's a song, it's a song, if it's a DJ, it's a DJ. <Speed Scandal> will be full of richer things to see thanks to Cha Tae-hyun, a versatile actor who has nothing he can't do.
Cha Tae-hyun is responsible for selecting the music for the movie!
One of the things that cannot be missed in <Speed Scandal> is the music. The music in the movie is the opportunity and important point of the incident that spreads into a scandal and a wonderful meeting between an idol-turned-dj radio DJ Nam Hyun-soo and aspiring singer Jung-nam Hwang. For that reason, music selection was one of the biggest concerns of director Kang Hyung-cheol and the production team from the production stage. To director Kang Hyung-cheol, who could not easily complete the music selection, Cha Tae-hyun recommended two songs he had been thinking about. After listening to the music, director Kang Hyung-cheol selected it as the main title song of <Speed Scandal> on the spot. In addition, Cha Tae-hyun showed his extraordinary love for the film by recommending not only the songs he would sing in the movie, but also the songs that Park Bo-young would sing. As a result, in the movie, Cha Tae-hyun remade Yoon Jong-shin's song 'Because I love you' and showed his live skills without regret, and 'Maybe that', recommended for Park Bo-young, was also reborn through Park Bo-young's sweet voice. In addition, gem-like songs such as Mosaic's 'Free Age', which gained a lot of popularity for its girly sensibility in the mid-90s, and Aly & AJ's foreign song 'Walking on sunshine', which has an attractive light drum beat, are inserted throughout the movie, making it a highlight of the movie. It not only enriches the film, but also exerts the power to naturally immerse you in the film.
Big Bang, an idol star no less than TVXQ!! I'm a good celebrity
Catch up with luxurious celebrity styles from head to toe!
Forget Cha Tae-hyun's style on the screen so far! Popular radio DJ Nam Hyun-soo in <Speeding Scandal> is a gorgeous, 36-year-old single man who adheres to the celebrity lifestyle from head to toe. In the meantime, Cha Tae-hyun has shown various fashion styles, from an innocent college student in <My Sassy Girl> to a trot singer in a shiny costume in <Masked Moon> and a faded blue jacket in <Fool>. In this <Speeding Scandal>, we tried to make a big change to Nam Hyun-soo's house and fashion style with a luxury concept suitable for a celebrity character. First of all, Hyunsoo's house, which has a modern style interior in black and white, shows the neat personality of a celebrity who is sensitive and wants to protect his privacy. In particular, luxurious furniture and electronic products that seem to have been put together from one cute interior accessory give an indirect contact with the lifestyles of splendid celebrities. In addition, Cha Tae-hyun, who presents a modern and sophisticated British style, often wears a neat black suit to a hat or horn-rimmed glasses, completing a stylish 'celebrity look'. Through <Speeding Scandal>, Cha Tae-hyun, who will show off the face of a trendsetter this winter without regret, makes us look forward to his transformation into a popular celebrity.
Park Bo-young, aspiring singer 'Hwang Jeong-nam' is perfectly transformed!
Rookie actor Park Bo-young took on the lead role on the screen for the first time in her life in <Speeding Scandal>. She was very determined as she was the first screen star. She was an aspiring singer who had a six-year-old son at the young age of twenty-two. In addition, Hwang Jung-Nam went a little further from the existing female character Hwang Jung-Nam, a absurd stalker who insisted on radio DJ Nam Hyun-Soo as 'the daughter you gave birth to'. I started with vocal training to perfectly digest the song. Vocal training was essential in order to play Jeong Nam, an aspiring singer who wants to become a singer in his dreams as the owner of natural singing ability in the play. Park Bo-young, who received rigorous vocal training two months before crank-in, focused on singing practice in the stance of a rookie singer ahead of the release of an album without missing every note from vocal practice. Not only that, but for the scene where he was singing while playing the guitar in the play, he was immersed in guitar practice so much that he didn't even know his hands were calling during filming, and he spared no effort. Park Bo-young, who perfectly portrayed the character of Jeong-nam, showed explosive singing skills in the radio public broadcast scene in the movie, earning the nickname 'the second Kim Ah-joong' from the surrounding staff. Cha Tae-hyun, who was filming with Park Bo-young at the time, saw Park Bo-young's passionate appearance, went up to the stage, checked the movement, and supported Park Bo-young by teaching gestures and manners when singing. As a result, public radio broadcasts are counted as the best of the best scenes in <Speeding Scandal>.
Child actor Wang Seok-hyeon, the secret to acting lies in the 5-step facial expression acting!
Child actor Wang Seok-hyeon, who played Hwang Ki-dong, a go-stop prodigy who was aiming for Nam Hyeon-soo's ssamzie money with a 100-step nun, is considered one of the best of the best comic scenes in <Speeding Scandal>. Child actor Wang Seok-hyeon proudly took on the role of Hwang Ki-dong after a fierce audition of 1,000 to 1. With his differentiated charm and uncorrected natural expression acting from his peers, he drew high satisfaction from the director and crew of <Speeding Scandal>, and served as the film's secret weapon. However, from the beginning, the natural expression acting that the director wanted did not come out. It is true that it is difficult for a child who is only six years old this year to understand 100% of the story and the flow of the movie. After filming several times, director Kang Hyeong-cheol and the production team, who felt a lot of difficulty in coaching Wang Seok-hyeon, came up with a special trick for his acting. It was only then that I was able to create the perfect comic expression scenes. The 'Wang Seok-hyeon 5-Step Facial Expression Acting Guide' is exactly that. Starting with no expression in the first stage, up to the last five stages, so-called 'sucks', the level was divided and the number of the facial expression required for each scene was delivered to the actor. Seok-hyeon, who was completely familiar with the 5-step guide, said that if he said 'Seok-hyeon-ah, number 5' at the scene, he was able to give off a rotten smile and transform into the perfect Hwang Ki-dong.
Related Videos