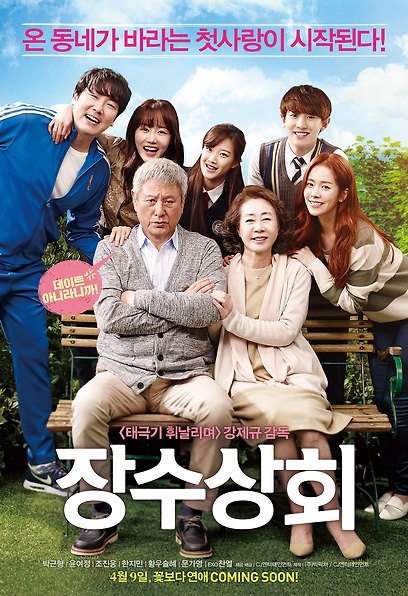 Salut D'Amour, 2014
release

2015.04.09
genre

family
country

Korea
ranking

Audience over 12 years old
running time

112 minutes
grade

8.1
cumulative audience

1167088
Synopsis
The first love the whole town longs for begins!
Every now and then,
Seongchil, a rough old gentleman with no flexibility at all.
As a model employee who has been protecting Jangsu Mart for a long time, he has a lot of pride in being a Marine, but he has long forgotten his caring and kindness.
Geum-nim, who has a beautiful appearance, has moved into the house next door to Seong-chil.
Seong-chil is embarrassed by her girl-like appearance, who always shows a bright smile despite the blunt offensive, and Geum-nim suddenly proposes to him for dinner.
Seongchil pretended to be indifferent, but couldn't hide his trembling heart!
Jangsu Mart president 'Jangsu' secretly passes on the know-how for the first date to Seong-chil, and the meeting between Seong-chil and Geum-nim gets to know not only the locals but also Geum-nim's daughter 'Min-jeong'.
Seong-chil, who finished the first date safely thanks to everyone's support, is awkward and clumsy, but continues the exciting meeting with Geum-nim.
Then one day,
Seong-chil forgets an important promise with Geum-nim, and Seong-chil, who was desperately looking for Geum-nim at the meeting place, finds out her secret that only she knew…
The love story that started at the most shining moment of my life
The secret of the last love is revealed!
[ Prologue ]
I'm more excited than my first love
Clumsy than the first confession
trembling than the first date
The last love story of our life
spring 2015,
Long life if you love!
longevity association
[ About Movie ]
In the spring of 2015, I wake up the sleeping love cells!
First love that started when I was 70!
A heart-warming love story of those who are more beautiful than flowers!
The movie <Jangsu Sanghoe> is a special love story that is more clumsy than first love, more exciting than first confession, and more trembling than first date, from 70-year-old dating novice Seong-chil, to the flower shop woman Geum-nim who shook his heart, and to those who support their last love. A film depicting Seongchil and Geum-nim are entering the second half of their lives. <Jangsu Sanghoe> is a work that depicts the heart-fluttering love that suddenly came to them at the end of their lives, a moment they thought would never come again, with a fresh and lovely gaze. Director Kang Je-gyu, who has captivated audiences with intense dramas such as <Ginkgo Bed>, which captures the exquisite harmony of fantasy and melodrama, and <Shiri>, which melts the dark melodies in Korea's first spy action genre, is directed by Kang Je-gyu in 2015. The first moving drama will be presented through <Jangsu Sanghoe>, which contains
Seongchil, who seems to have lived a life of bluntness and roughness, and Geum-nim, a florist with a kind girl sensibility to anyone, the trembling meeting of two people who are so different even if they are different, and the romantic process of slowly opening the door to each other It stimulates sympathy with an image that is no different from the love of the younger generation. Seongchil, who is bewildered by Geum-nim's request for a date like a teenager, and Geum-nim, who sleeps through the night with his thoughts, gives a smile while retaining the fresh emotions and tremors of love, and reminds us of the faint memories of love. In particular, these days, when cool romances, where they meet and break up easily, have become fashionable, the love story of two people who approach each other with sincerity and deep consideration provides an opportunity to rethink the meaning and value of true love. <Jangsu Sanghoe>, which captures the excitement, trembling, happiness and smile of a special first love that came at the moment that may have been the last moment of your life, with a pleasant and warm sensibility, will captivate the audience with pleasant and warm fun like the spring sunshine in April 2015.
If you love, live long!
The whole neighborhood first love support project
A heartwarming story of characters full of warmth and personality
<Jangsu Sanghoe> adds rich fun to the story of local people who are watching and actively cheering for their love, centering on romance beginners Seongchil and Geumnim, who have just started dating, and characters full of personality.
First, 'longevity' Jo Jin-woong, who has been with Seong-chil for a long time as the president of Jangsu Mart, takes the role of the leader of the love cheering squad by teaching Seong-chil, who is about to go on a first date, styling, menu selection, and manners that shake women's hearts. The process of Seong-chil, who was a strict old man, learning the secret of love from a longevity and awkwardly developing a relationship under the coach of the longevity brings an unexpected laughter, and the gradually changing appearance of Seong-chil and Jangsu watching it make the movie even more special. fill with warmth Here, "Park Yang" Woo Seul-hye, an active 'Park Yang' who teaches the bold fastball style dating methods in their 20s, such as sending greetings and sending selfies, and Ga-young 'A-young' Moon, a teenage couple enjoying a couple date with Seong-chil and Geum-nim while walking the streets of Samcheong-dong and movie theaters under the direction of a longevity And 'Minseong' Chanyeol, and even the people of the neighborhood who walked arm in arm for Seongchil's love affair. The activities of these romantic cheerleaders spanning all generations lead to a delightful story, bringing vitality and laughter to the right place in the play. Conversely, the realistic worries of Geum-nim's daughter 'Min-jeong' Ji-min Han, who wants her mother's happiness more than anyone, but is worried about her sudden meeting with Seong-chil, leads to the tension and drama of the play, and her sincerity, which she could not even tell her mother, gives a touching impression. do.
<Jangsu Sanghoe> adds to expectations with a fantastic ensemble of lively characters surrounding the couple Seongchil and Geumnim. The love story of Seong-chil and Geum-nim, who started a new love in their 70s, as well as the stinky story of people unfolding by various characters will amplify emotion and fun as another viewing point of <Jangsu Sanghoe>.
"What will your last love look like?"
The moment the secret of love is revealed
The most special emotion of 2015 begins!
The movie <Jangsu Sanghoe> stimulates the tear glands through another story hidden in the love process of 'Seongchil' and 'Geumnim', who are clumsy and awkward, but give a warmer smile. From the fateful first meeting, through the tension and trembling of the first date, the anxious times waiting for each other to contact each other, the happiness of sharing what we like together, and the process of quarreling and reconciling due to minor misunderstandings. The story of Seong-chil and Geum-nim, who is more urgent and precious because it may not be the last time, raises the question of whether they have forgotten important values that should not be changed in an era of change in which everything changes easily. Also, it gives everyone who is familiar with the beginning of love but is not good at keeping it, an opportunity to think about what the last love of life will look like and what the moment will be.
There was a secret of Geum-nim that Seong-chil didn't know, and the reason everyone knew but never told Seong-chil was revealed. The moment when the secret and affectionate sincerity hidden in the heart of everyone, including Seongchil and Geumnim, who were only for the other side, not me, are revealed, <Jangsu Sanghoe> will leave an unforgettable impression and impression even after the movie ends. leave behind <Jangsu Sanghoe>, which contains the meaning of true love that goes beyond first love, last love, and simple love between a man and a woman The movie will heat up the spring theater district.
Korea's Al Pacino Park Geun-hyeong + top directors' muse Yoon Yeo-jeong!
The trembling of a teenager, the freshness of a 20's, the warmth of a 30's, it has everything!
100 years of acting experience! A 'Park Geun-Jeong' couple is born!
The movie <Jangsu Sanghoe> raises expectations with the meeting of Park Geun-hyeong and Yoon Yeo-jeong, the representative actors of the Republic of Korea, and their new acting transformation. Actor Park Geun-hyung, who has worked tirelessly for over 50 years, has appeared in more than 200 works and has built up trust through his deep and solid acting skills. Actor Park Geun-hyung, who was born in the same year as Al Pacino in Hollywood, debuted at the same time and walked only one path as an actor, is called 'Korea's Al Pacino'. has led to a warm response from He takes on the role of 'Seongchil', who is disarmed only in front of 'Geumnim' in <Jangsu Sanghoe>, takes off his unique charisma and cool image, and provides fresh fun and laughter. In a stubborn old gentleman who has no flexibility, the character Seongchil, who has various aspects, from the youthful appearance of a boy who falls in love for the first time to the appearance of a young man waiting for a date, to the appearance of a mature man who is in sincere love, is just a sight to see Park Geun-hyung's solid acting and transformation. It leads the play with a lovely charm that makes a heartwarming smile. Yoon Yeo-jeong, who returned from the muse of Korea's leading directors such as Im Sang-soo, Lee Jae-yong, and Hong Sang-soo, to director Kang Je-gyu's new muse, plays the role of 'Geum-nim' and shows an ensemble of Park Geun-hyung and Myung-bul Heojeon. Yoon Yeo-jeong, who has been active on screen and CRT with a bold and strong character, as well as a warm and friendly appearance, is usually a shy florist, but she first approaches Seong-chil and shakes his blunt heart with a girlish innocence and deep eyes. . Director Kang Je-gyu said, "There are many actors in Hollywood, such as Al Pacino, Robert De Niro, and Jack Nicholson, who have a strong presence than young actors, including masculine beauty, charisma, and romantic charm. If I were to pick such an actor in Korea, it was definitely actor Park Geun-hyung, and I wanted to show the great charm of actor Park Geun-hyung through the character Seong-chil. saw. You will be able to confirm it anew through <Jangsu Chamber of Commerce>," he said, expressing his trust and affection for the two actors. Park Geun-hyung and Yoon Yeo-jeong's acting transformation and shining couple chemistry, which will show a completely different charm than before, will captivate the hearts of the audience with warm emotions and laughter.
Cho Jin-woong, the best actor in Chungmuro, lovely actresses Han Ji-min, Hwang Woo-seul-hye, and EXO Chanyeol!
Brilliant casting and perfect breathing that crosses generations!
<Jangsu Sanghoe> features a casting line that crosses generations, from popular actor Jo Jin-woong with acting and box office power, lovely actresses Han Ji-min who captivated the CRT, Hwang Woo-seul-hye, and Moon Ga-young, to Chanyeol of EXO, a group that leads the worldwide K-Pop craze. built Actor Jo Jin-woong, who has shown strong acting skills and masculine charm in various box-office films such as <Going to the End> <Kundo: Age of Rampant> and <Myeongryang>, is the president of Jangsumart, a father of a high school daughter, and a supporter of the love of Seongchil. 'Longevity' brings laughter to the right place in the decomposition play. Instead of strong masculine beauty, Jo Jin-woong, who returned with an easygoing and friendly charm, pushes and pulls with Seong-chil Park Geun-hyung. In the drama [Hyde, Jekyll, Me], actress Han Ji-min, who has captured the hearts of viewers with her innocent and bold charm, takes on the role of 'Min-jeong', the mother of a young daughter and Geum-nim's daughter. Actress Han Ji-min, who has worked with Korea's leading male actors such as Hyun Bin, Park Yoo-chun, and Jung Woo-sung, shows a special mother-daughter chemistry together with Yoon Yeo-jeong as a serious daughter who is blunt on the outside but has sincerity in her through <Jangsu Sanghoe>. In addition, 'Park Yang' Hwang Woo-Seul-Hye's bold and pleasant transformation, who showed bright and feminine charm in various dramas and entertainment programs, and 'A-Young' Moon Ga-Young, who left an impression on viewers with the role of 'Wang Hae-Pak', the youngest daughter of the drama [The Wang Family], is her EXO's Chanyeol's fresh energy, who made his first screen debut through the role of 'Minseong', his naive boyfriend, adds a burst of vitality to the play. The combination of trustworthy actors and young actors who shine in the Korean film industry, which transcends generations, and the different stories from their teens to their 70s will be an unforgettable fun unique to <Jangsu Sanghoe>.
A human-smelling story unfolding in a familiar and warm space!
<Shiri> <Taegeukgi Flying> <The Gift of Room 7> Even the dramatic music of music director Lee Dong-jun!
<Jangsu Sanghoe> that warmly wraps a corner of your heart
<Jangsu Sanghoe> focuses on the location process by excluding sets and lighting that can be artificial as much as possible to capture the familiar scenery of a neighborhood where people who have lived together for a long time feel the strong bond rather than the splendid city view. The green fields that decorate the beginning and the end of the film were filmed in Songnisan, Chungcheongbuk-do, and the date scene that makes viewers smile was filmed on Samcheong-dong Street, which has a simple yet romantic atmosphere. In particular, in order to capture the familiar appearance and atmosphere of the neighborhood where I lived as a child, the street, which became the main space of the film, was able to complete the familiar and friendly atmosphere of the neighborhood by visiting alleys in the downtown area of the country. In addition, through the coordination of dazzling sunlight, clear sky, and light close to nature, we tried to lovingly capture the fresh love between Seongchil and Geumnim. Completed with the delicate direction of director Kang Je-gyu, who said, "I wanted to portray the warm emotions I felt when I was growing up as a child and the background in my memories as much as possible in a realistic and natural way in the movie," <Jangsu Sanghoe> adds warmth to the drama with a visual that is as warm and friendly as the story. And music director Lee Dong-jun, who has worked with director Kang Je-gyu with <Ginkgo Bed> <Shiri> and <Taegeukgi Flying> and touched the hearts of the audience through <The Gift of Room 7>, captivates the ears with a melody full of warm emotions. The special sights, atmosphere, and beautiful music of the touching drama <Jangsu Sanghoe>, which unfolds in the background of a friendly neighborhood where various people come together to understand and love each other, will deliver richer fun to the audience.
* <Jangsu Sanghoe> Director Kang Je-gyu, Actors Talking About Love *
"Life is often compared to seasons, and it will be different for each person which season is the most beautiful.
So, any season is very important. Like the love in the beautiful season that Seong-chil and Geum-nim met in <Jangsu Sanghoe>, I think that love is a precious and precious moment, and therefore desperate and affectionate."
– Director Jee-Gyu Jee –
"Love goes on and on. From parents to lovers, from lovers to children
It is what continuously connects our lives, so it is sublime and noble.
In the end, Seongchil and Geumnim and what surrounds them are love in the end."
– Actor Park Geun-hyung –
"To be able to bloom flowers that open their hearts to people beyond the opposite sex, whether they are married or in love.
Isn't love the purest emotion we can feel?
I thought how wonderful it would be if we could love and live as beautifully as Seongchil and Geumnim in the movie."
– Actress Yoon Yeo-jeong –
"Love is fair to everyone. Regardless of age or age
I think it is a right that is given fairly.
A strange energy and beauty is felt among loved ones. I think that such a strange thing is love."
– Actor Jo Jin-woong –
"Every relationship between people seems to be love in the end.
The closer you are, the less honest you are with your expressions, but understanding each other and being together.
I think the basis of everything that sustains our lives is love."
– Actress Han Ji-min –
"I think love is something that is never wasted even if it is hard to share.
Through <Longevity Market>, love is not something you have to receive as much as you give.
I have come to realize that it is not a waste to just give up my share."
– Actor Hwang Woo-seul-hye –
"I became more affectionate with my family and parents while filming <Jangsu Sanghoe>.
You were always by my side so I didn't notice, but you kept me quietly and resolutely
I realized once again about the love of a supportive family who was on my side."
– Actress Moon Ga-young –
"Watching the love between Seong-chil and Geum-nim, I thought that love is something that can be the same regardless of age.
In addition, it seems that love can be felt not only by the opposite sex, but also by everyone around us.
Through <Jangsu Chamber of Commerce>, I was able to look back on the people around me that I had neglected."
– Actor EXO Chanyeol –
Tips for viewing the special <Jangsu Sanghoe>!
How to enjoy <Longevity Market> even more fun!
Step 1) Be with your loved ones, such as parents, lovers, and friends!
Step 2) Laugh as much as you can while watching the clumsy dating of 70-year-old dating novice Seong-chil & Geum-nim!
Step 3) 100% pure laughter and tears! We sympathize with warm stories like spring weather!
Step 4) Geum-nim's secret that Seongchil doesn't know, Shh! Strong recommendation is OK!
Related Videos