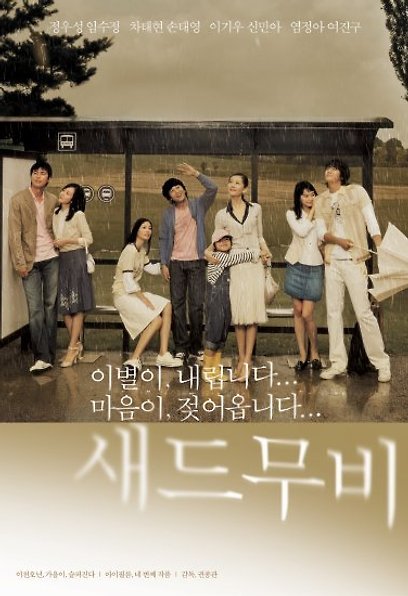 Sad Movie, 2005
release

2005.10.20
genre

Romance/Melodrama/Drama
country

Korea
ranking

Audience over 12 years old
running time

108 minutes
grade

8.2
cumulative audience

902077 people
Synopsis
A 30-year-old firefighter chooses a ring to spend the rest of his life with her beloved.
A white man and a deep-seated woman who have been in love for a long time are getting tired of each other.
An eight-year-old boy who misses his mother is at war with a very busy mother.
Unable to hear, she hides the scars on her face and chases after him, dreaming of her first love.
They don't even notice that parting is so close.
Eight people like you who will face the most brilliant parting in life this fall…
Their beautiful confession to the most precious person in the world begins.
The most beautiful scenario of 2005 that fascinated top Korean stars
The biggest driving force that was able to bring top stars who work on screens and CRTs into one movie was the beautiful and warm scenario of <Sad Movie>. Jung Woo-sung has a deep attachment to the scenario of <Sad Movie> to the extent that he not only decided to appear in the film despite the fact that his next work was planned, but also recommended his close friend Cha Tae-hyun to appear in the role of 'Ha-seok'. In the case of Yeom Jung-ah, who is famous for not doing other works at the same time, she refused to appear because of the work she was filming. The other actors also expressed their desire to participate despite their busy schedules, and were able to complete a splendid cast, unprecedented in the history of Korean cinema.
Challenges of diverse and meaningful actors
Jung Woo-sung, who received special training in the 'Central 119 Rescue Team' for the role of a firefighter and successfully extinguished the fire. Im Soo-jung, who took a sign language private lesson before filming and played the professional job of a sign language interpreter. Shin Min-ah had to wear a doll mask and even sign language in the sweltering heat. Ki-woo Lee, who took painting lessons for acting as a street painter… The meaningful challenge of the <Sad Movie> actors, who worked hard all summer to prepare for filming, made the characters more lively and enriched the fun of the movie.
Jin-goo Yeo, a child actor who proudly competed with top stars through a 150:1 competition
Jin-goo Yeo, a sophomore in elementary school, who had no acting experience, received the full support of the director of 'A child with 100% chance' with 'untainted innocence and vicious image' in an audition that he participated in by chance, and won a tremendous competition ratio of 150:1. After breaking through, I proudly joined the lead role in <Sad Movie>. Contrary to the initial concerns, Yeo Jin-goo surprised the production team by showing a wonderful emotional performance that is not like a child. It would be good to look forward to how beautiful the warm tears of farewell shown by this cute bad boy who reveals his hope for the future as 'a wonderful movie star like Jung Woo-sang'.
The ninth protagonist of <Sad Movie> OST created by Dong-Ik Jo, Pil-Soon Jang, and Tae-Hyun Cha
Another main character that conveys the beautiful and sad emotions of <Sad Movie> is the music. Music director Jo Dong-ik, who has been releasing music that resonates deep in the heart, along with singer Pil-soon Jang, completed a sad and poignant melody suitable for the beautiful video of <Sad Movie>. In addition, Cha Tae-hyun, who was active as a singer, participated in the OST at the same time as the movie appearance, expressing the sadness of parting with a song once again with sad acting.
2.35:1 aspect ratio that conveys a full sensibility, elegant video finished with DI
The emotions of <Sad Movie> are not only conveyed by the actors' performances. The insistence of the production team, who thought that the emotions of the background and setting were as important as the actors' performances, chose an aspect ratio of 2.35:1 and put their heart and soul into filling every corner of the screen. Cinematographer Kim Byeong-seo of <Typhoon, Sun> and lighting director Shin Sang-yeol of <Sweet Life> joined forces to create a beautiful video for <Sad Movie>. In addition, despite the long post-production period, DI (Digital Intermediate) work was performed to enhance the completeness, and a beautiful screen that can remain in the minds of the audience for a long time was completed.
Related Videos