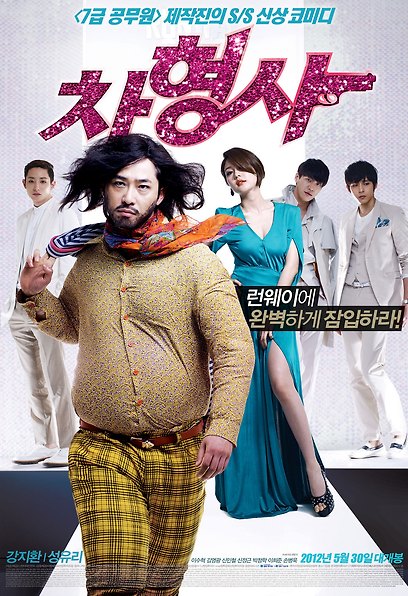 Runway Cop, 2012
release

2012.05.30
genre

comedy
country

Korea
ranking

Audience over 15
running time

110 minutes
grade

6.8
cumulative audience

1346754 people
Synopsis
Demonic D-line, the ultimate scent that can't be denied
Short hair and vintage mountaineering socks that swallowed pants
Detective Cha is a fashion breaker with only a body!
Transform into a fashion model, sneak into the runway!
All he has is the ultimate suffocating smell, the demonic D-line body, but the obsessive 'Detective Cha' who clings to the wake of the criminal. In order to investigate a drug case that has secretly spread in the fashion world, she loses 20 kg in two weeks, transforms into a fashion model, and performs an unprecedented special mission to infiltrate the runway…
A demonic D-line detective who will paralyze your reason
His extraordinary undercover project begins!
[ HOT ISSUE ]
Director Shin Tae-ra + Kang Ji-hwan Return of the famous comedy duo
<Level 7 Civil Servant> S/S new comedy from the production crew, this time it's the runway!
Director Shin Tae-ra, who was recognized for both popularity and box office performance by showing solid directing skills through <7th Grade Civil Servant>, and Kang Ji-hwan, an actor who breathed new energy into Chungmuro by winning the New Actor Award at the 46th Daejong Awards by showing off his outstanding comic sense. The strongest comic combination that captured 4 million viewers through the comic setting of the NIS '7th grade civil servant' couple, who carry out their respective missions while hiding each other's identities, announced the splendid return and moved the stage to 'Runway' this time. Kang Ji-hwan, a rookie NIS agent, who showed off a smooth suit body and 2% insufficient action, transformed into 'Detective Cha', a fashion breaker whose all he had in <Detective Car> was the ultimate breath and demonic D-line body, a mission unprecedented in history. challenge to perform. In addition to director Shin Tae-ra + Kang Ji-hwan, cinematographer Choi Joo-young, music director Choi Seung-hyeon, and martial arts director Ko Hyun-woong, who worked with <7th Grade Civil Service>, also worked together to strengthen them. Through the process of making a tearful 'makeover' by the super-heavy homicide 'Detective Car', and setting up a shaky undercover that has to infiltrate the runway as a fashion model, the fashion world's vivid backside, as well as an upgraded nuclear bomb-like laugh will provide
From a six pack handsome man to a demonic D-line fat man
Transformer-class MAKEOVER that does not spare Kang Ji-hwan's body!
Actor Kang Ji-hwan, who has been loved by the audience as a character exuding human charm in the movies <Movie is a Movie> and <Level 7 Public Official>, who captivated women as a gentle and handsome man through the drama [Kiddo Hong Gil-dong] and [Kyungseong Scandal], does not spare himself. carried out a transformation. The look of a fashion breaker that is close to a visual shock, from a sleek six-pack, a sharp appearance to nowhere, a demonic D-line belly that looks like it's going through a belt, short hair and a shaggy beard, a shirt with doubts about when it was washed, and a jumper that introduced. Kang Ji-hwan completely erased his handsome image and boldly attempted a radical transformation, such as increasing his actual weight by 12 kg and directly suggesting a style with short bob hair for 'Detective Cha''s super heavyweight body. Born. Kang Ji-hwan, who shows the perfect makeover from the demonic D-line 'Fat Detective' to the gorgeous-looking 'fashion model' through <Detective Car>, is expected to captivate theaters at the end of May.
Unprecedented express mission ever!
The bizarre undercover project of fashion breaker Detective Cha who infiltrated the runway!
The 'powerful world' and the 'fashion world', two groups that do not seem to fit at all, met to create a new comic synergy. <Detective Car> depicts the extraordinary process of a homicide detective with a demonic D-line body becoming a fashion model and infiltrating the runway. Detective Cha, who has a D-line body and all he knows about is arresting the criminal, goes through a storm diet to lose 20kg in two weeks and a hard training course reminiscent of Rocky to perform an unprecedented special mission, and then stands on the runway. The second round of the undercover undercover of 'Detective Cha', who has transformed from 'fashion breaker' to 'fashion model' after trying hard to hide his identity, and jumped into a fierce survival battle to become a top model, begins. Missions beyond imagination that are comparable to undercover investigations, such as being dismissed by younger models who are younger than their brother, or suffering from being tied to a pole all night to correct their gait, are expected to give a smirk. In addition, the three model characters who appear with different personalities and stories will vividly reproduce the stories behind the runway stage that were not known until now. The outstanding performance of Detective Cha, who jumped into the flashy fashion world where the spotlight is concentrated, maximizes the charm of two different worlds and adds to the fun of watching.
Three flower models with acting, Lee Soo-hyuk + Kim Young-kwang + Shin Min-cheol
Seducing women's hearts with warm looks and explosive acting skills!
Lee Soo-hyuk, Kim Young-kwang, and Shin Min-cheol, three former models who will captivate the screen beyond the runway. Those with different looks and personalities will appear as three models on the runway where the undercover mission of 'Detective Cha' unfolds, and will provide a different kind of pleasure with their professional acting. First of all, Lee Soo-hyuk, a self-proclaimed top model representing the Republic of Korea, who appeared in the recently finished drama [Deep Rooted Tree] and received attention for his attractive mask and stable acting skills, appeared in <Detective Cha> as 'Kim Seon-ho', a tough and arrogant top model. They show off the cool walking and cool charisma that overwhelms the runway at the same time. In the drama, the role of 'Han Seung-woo', who is a rival to 'Kim Seon-ho', was played by Kim Young-kwang, a handsome model in the world of modeling who captured the heart of Girls' Generation's Yoona through the drama [Love Rain] and attacked the small screen. He is a pure young man who is serious in everything and loves modeling more than anyone else. Lastly, Min-seung Yeo, a 4D model full of talent, won the 2006 survival program "I AM A MODEL MEN" and made a splendid debut on the runway. Even though it is her first acting debut, she will do well in the role of licorice with a natural comic acting, making a strong impression on the audience.
[ PRODUCTION NOTE ]
MISSION 1.
Kang Ji-hwan, a six-pack body, challenge the super heavyweight mission that exceeds 15 kg!
The first mission that fell on the production team of <Detective Cha> and Kang Ji-hwan was to make 'Detective Cha' into an unfavorable character with a dirty and dirty appearance as much as possible. To this end, the makeup team and Kang Ji-hwan put their heads together and came up with ideas one by one to create the skeleton of the 'Detective Cha' character from head to toe. Kang Ji-hwan, who was originally skinny, gained a whopping 12 kg of weight before filming started in order to completely transform into a 'Fat Detective', and the makeup team drew a sketch for the hairstyle and makeup that fit him. In particular, the short haircut, which became a hot topic in Visual Shock stills, was the hair style that Ji-hwan Kang personally selected after trying several wigs alternately. It is rumored that the beard was also suggested by Kang Ji-hwan, and various attempts were made, such as a style that covers one part or the entire face. In order to achieve harmony (?) with the overall unfavorable concept, Kang Ji-hwan has been reborn as a perfect unfavorable 'Detective Cha' after the effort of attaching a beard to the back of his hands and abdomen. Not only that, he had to lose weight again, who had to transform into a fashion model in the play, and by the time filming was over, he lost up to 15 kg and regained his perfect six pack. In this way, he was under a lot of stress in the process of gaining and losing weight, but once he was dressed up as 'Detective Cha', it was said that the staff applauded him for the way he fully enjoyed himself and Jihwan Kang's endless enthusiasm for pouring out his ideas. The greatest comic character ever, Detective Cha, could be born through the fearless acting transformation of the lead actor.
MISSION 2.
Bus chase scene, car action scene along 8 lanes!
100% real! Complete the life-threatening action!
Audiences who remember Kang Ji-hwan's cool boat action scene in <7th Grade Civil Servant> can expect another hot action scene in <Detective Car>. Martial arts director Ko Hyun-woong, who worked with <7th Grade Civil Servant>, came up with a car action scene that literally 'risked your life' after much thought. First, the bus chase scene presents the ingenious idea of using a wiper to open the truck door after the bus collides with the truck from behind. This witty scene perfectly harmonizes with Kang Ji-hwan's unique comic action acting, making director Shin Tae-ra happy. In addition, the 8-lane road car action scene, which has a bout with a gang that interferes with the undercover investigation of 'Detective Car', blocked a bridge in downtown Daejeon and filmed the actual crash scene realistically. The car action scenes shot in 100% realism, rather than synthesizing the chroma key background in the set like normal car action scenes, produced dangerous moments. It is said that as soon as the director's 'cut' sound was over, one of the three wires hung by the actor getting out of the car leaning on the railing broke off, and all the staff swept their hearts out. The splendid action scenes of <Detective Car>, created with the daring challenges of the production team, are expected to catch the eyes of the audience by adding comedy and realism through special situation settings.
MISSION 3.
A colorful runway that catches the eye,
Bring it to life on the screen!
As much as 'Detective Cha', who performs the unprecedented 'Runway Undercover' mission, the production team repeatedly struggled to transfer the splendor of the runway stage to the screen. The highlight fashion show scene in the second half of the drama set in Yang Soo-ri's set was decided with a gangster concept like a 'organizational backstreet' in order to reveal the situation of 'Detective Cha' who infiltrated the runway while hiding his identity. To this end, a container-like background was installed, and a number of accessories that gave a cold feeling of metal were also placed. In addition, the supervisors who direct the runway stage took part in order to keep the feeling of the real fashion show as it is. In addition to the main actors Lee Soo-hyeok, Kim Young-kwang, and Shin Min-cheol, active models such as Kim Woo-bin, Choi Young-min, Yang Yun-young, Joo Seon-young, and Hwang Yun-sang appeared in large numbers. did. In addition, more than 150 auxiliary performers were put into the audience, reviving the vivid feeling of the runway of tension and cheers. In particular, in addition to the 20 costumes handmade by the costume team, more than 100 costumes from the collections of notable designers such as 'Dignac' by Kang Dong-jun and 'Beyond Closet' by Koh Tae-yong were airlifted. The highlight fashion show scene, which lasted for about 48 hours, was born as a famous scene that only <Detective Cha> can show after the efforts of these production crews.
MISSION 4.
Detective Kang Ji-hwan, designer Seong Yu-ri
Poker face Lee Soo-hyuk, living model Kim Young-kwang, and 4th dimension Shin Min-cheol!
Five people, five colors, give your style personality!
Visual shock Kang Ji-hwan, unconventional reversal fashion Seong Yu-ri, luxury body flower models Lee Soo-hyeok, Kim Young-kwang, and Shin Min-cheol are the points of watching <Detective Cha> to see the different styles of characters full of personality. First of all, the D-line fashion concept of 'Detective Cha', which I don't want to follow, but the more I see it, the more I fall in love with it, and as a result of head-to-head discussions with director Shin Tae-ra, the costume team, and Kang Ji-hwan, it was chosen as the 'Chinese version of the flower beggar'. A colorless, twisted shirt, gray T-shirt, and socks swallowing pants are also decisive points to highlight the D-line. Unlike the fashion breaker 'Detective Cha', Sung Yuri presents luxurious and unconventional haute couture outfits like a fashion designer who is about to make her splendid debut. In particular, Sung Yuri participated in the design of the missing hot pink dress of the bottom, which became a hot topic among netizens, adding meaning. Among the three flower models, Lee Soo-hyeok, who is arrogant and harsh, added luxury with stylish monotone outfits, and Kim Young-kwang, a living-type model, mainly wears a basic T-shirt and pants, showing the most simple fashion among the three. Shin Min-cheol, a four-dimensional model full of talent, mainly wore a slightly feminine unisex look, and emphasized his own personality with knits that exposed the shoulder line, and colorful baggy pants.
Related Videos