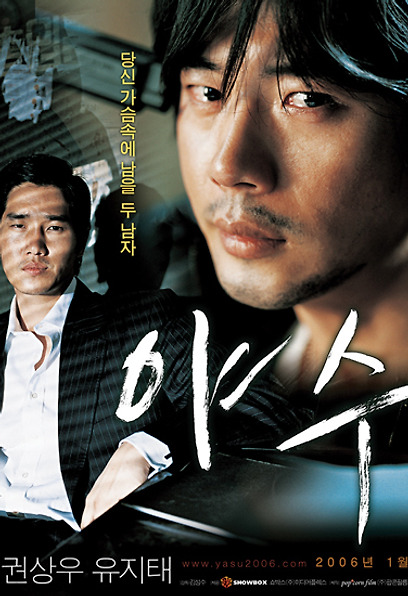 Running Wild, 2006
release

2006.01.12
genre

crime/action
country

Korea
ranking

Youth not allowed
running time

124 minutes
grade

7.8
cumulative audience

837011 people
Synopsis
meeting
; the beast and the beast
Jang Do-young, a hot-blooded detective branded as a problem child in the violent class. Oh Jin-woo, a star prosecutor from the training center.
Yoo Gang-jin, who was captured by Oh Jin-woo recently, is released from prison and prepares to enter politics, and Oh Jin-woo begins a re-investigation into the murder case and corruption involving Yoo Gang-jin.
Meanwhile, Jang Do-young loses her half-brother by Yoo Kang-jin's servant.
coexistence
; Two men, one goal
Jang Do-young and Oh Jin-woo, who had a common enemy, now work as a team to conduct the investigation.
And Yoo Gang-jin, feeling threatened, plunges Jang Do-young and Oh Jin-woo into a conspiracy.
Threat
; who makes them angry
During the investigation, Jang Do-young and Oh Jin-woo are arrested for harassing suspects and are put in court.
Oh Jin-woo feels completely betrayed by the beliefs that have made him so confident.
Jang Do-young lost even her mother, the only blood that was like her own life.
Their anger finally explodes…
And… the last
; Even if I lose everything, I will go to the end
The two beasts' relentless pincer attack towards Yu Kang-jin.
A road that may have a tragic end.
But now there is no one who can stop Jang Do-young and Oh Jin-woo, who the world has not tamed!
[KEY WORD]
wild beast
The dictionary definition
: [Noun] 1. A wild beast. An animal that has not been bred by humans but has grown naturally in the mountains or fields.
2. A very rough and ferocious person.
cinematic meaning
: 1. A man who is not tamed by the world.
2. A gray city where if you don't kill you will die, men who live fiercely with their wild nature.
3. Portraits of beasts destroying each other with an irresistible fate and conflicting desires.
The meaning of 'the beast' in the film is divided into three main categories.
The first refers to two men who are like wild beasts, who are not tamed in a world where they jump into a world of wild violence against a dark-town tycoon. It means men who are obsessed with And third and last, it has the meaning of portraits of beasts caught in a tragedy that cannot but destroy each other due to their irresistible fate and conflicting desires.
All of these are the meanings of the title of <Beast> and the goal of this film.
ABOUT MOVIE
Dramatic structure, realistic action, man's sensibility
A new action masterpiece showing the exquisite trio of three elements
<The Beast>, the story of two men who are like wild beasts, who are not tamed in a gray city, into a world of wild violence against a tycoon in the dark district, is the most notable action masterpiece in the first half of 2006, featuring the transformation of two actors Kwon Sang-woo and Yoo Ji-tae.
Two men with the same goal of destroying him, a tycoon in a position of absolute evil. The dramatic structure they weave provides a sense of urgency that cannot miss even a single moment of tension. In addition, the realistic action that collides with the body makes you experience the world of a rough man.
And here, the emotional part of men's tears is also melted by drawing in detail the pain of those who are engulfed in anger for not being able to punish the 'person who deserves to be killed'.
<The Beast>, completed by harmonizing solid drama, realistic action, and emotional aspects that feel deep in the heart under a sensuous screen, will definitely show a different side from the action movies that are commonly seen in the past.
Kwon Sang-woo, who was reborn as a strong man, and Yoo Ji-tae, who was born as a perfect man
A new combination that comes with surprise and freshness
Kwon Sang-woo, who continues the craze overseas, and Yoo Ji-tae, who stands out in terms of acting among actors of the same time.
The two actors, who had never worked together in any work, finally met for the first time in <The Beast>. The fact that two star actors who fill the screen with only one name met was one of the reasons that made <The Beast> into a film that deserves attention.
It is a well-known fact that Kwon Sang-woo, who has more action scenes than any other movie, directly digested almost all of the action scenes without a double, and that Yoo Ji-tae lost more than 10 kg on a harsh diet for the character. Based on these efforts, he takes on the roles of homicide detective Jang Do-young, who has a strong fist, and Oh Jin-woo, a prosecutor at the Seoul Central District Prosecutors' Office, who believes in justice, showing a different side that has never been seen before. Kwon Sang-woo, who had a rough but slender image of a boy, was reborn as a real man through detective Jang Do-young, and Yoo Ji-tae, who had a strong image of a soft young man with innocence, was completely transformed into Oh Jin-woo, a prosecutor, and solidified his position as an actor.
The transformation of the actors and their new combination created a freshness that has never been seen in any Korean movie.
Discovery of a prepared new director, Kim Seong-soo
World-renowned music director Kenji Kawai joins
In 2005, new directors such as Choo Chang-min of Mapo, Jung Yun-cheol of Marathon, and Park Kwang-hyeon of Welcome to Dongmakgol stood out. Among them, the emergence of new director Kim Seong-soo, who has solid basics and skills, is once again straining the Korean film industry.
When the screenplay of <The Beast> was first released, it drew a lot of expectations with the evaluation that it was unusual for its solid content and unstoppable flow. Director Kim Seong-soo, who wrote this screenplay himself, is a ready rookie who has already swept awards at various short film festivals while in school and has worked as an assistant director for talented directors after graduation. The Beast, which director Kim Seong-soo put out to the world after a thorough preparation period, shows a high level of perfection that it is a work of a rookie. And this will lead to the birth of another outstanding new director.
There is also another filmmaker notable in <The Beast>. He is the world-famous music director, Kenji Kawai. After reading the script, he said that he was willing to work on the job because the sincerity of men came to his heart. His music, which contains both opposing images of intensity and lyricism, will be in perfect harmony with the rough and delicate images of <The Beast>.
PRODUCTION NOTE
100% real action of Kwon Sang-woo, who gave his whole body that should not be missed
Yoo Ji-tae's outstanding acting skills, recognized by others
The fireworks show between Kwon Sang-woo and Yoo Ji-tae, fellow actors of the same age and well-meaning rivals, who filled the filming site with enthusiasm, is a factor that doubles the fun of <The Beast>.
First, in <The Beast>, Kwon Sang-woo performed a 100% real action throwing his whole body, making the movie even brighter with realistic action. Kwon Sang-woo's actions in the movie, where he rushes through the middle of a road with cars at a speed of 180 km/h, jumps off a running bus, and jumps from car to car, are beyond imagination. In particular, the group fighting scene, which captures the fight between gangsters with various weapons and blood and blood with bare hands and bare fists, in a long take without a single cut, will surely be referred to as the best fighting scene in Korean cinema.
Yoo Ji-tae's efforts are no less than that. He did not stop practicing throughout the filming process in order to perfectly use legal terms for his role as an elite prosecutor and to deliver lines with clearer pronunciation to the audience. Yoo Ji-tae's determination to never show hasty acting until he feels perfect makes it possible to understand over and over again why Korea's top directors such as Park Chan-wook, Huh Jin-ho, and Hong Sang-soo prefer it. In <The Beast>, you will also be able to reconfirm the aspect of Yoo Ji-tae as an actor.
150 actors, 150 staff
A super-large shooting scene in the middle of the city, unprecedented in Korea, where the best cinematographers in Korea gathered.
In the middle of downtown Yeouido, 150 extras and 150 staff, each with 5 cameras, a power generator, and a crane, gathered. All of them were mobilized for the super-large shooting scene, which can be said to be the highlight of <The Beast>.
Because it is the most important scene in the movie, the entire production team paid special attention to it, and even one mistake could lead to danger, so special attention was required.
There is a reason why it can only be said that it is perfect not only in terms of scale but also in terms of quality. The best cinematographers in Korea were mobilized for this scene, including cinematographer Choi Sang-mook of <The Beast>, cinematographer Jeong-hoon Jeong of <Old Boy> and <Kind Venus>, and cinematographer Choi Young-hwan of <Reconstruction of Crime> and <Blood Nude>. because it has been For <The Beast>, the best staff gather in one place for this one-piece film, a rare and unprecedented scene in Korean film history.
This shooting scene, completed with everyone's efforts, will remain as a memorable scene even after watching the movie.
A brawl reminiscent of a real situation
Court scene with over 200 actors
In the movie <The Beast>, there is a court scene in which all major characters such as Kwon Sang-woo, Yoo Ji-tae, Son Byung-ho, and Uhm Ji-won appear.
For this scene, which can be said to be the climax of the movie, more than 200 actors who appeared as spectators were mobilized to fill the courtroom with intense heat and tension.
In particular, in this scene, you can meet a completely different image from Yoo Ji-tae, who is always remembered as a calm and quiet image. The acting that erupts the anger that was inherent in the heart against a society in which justice is collapsing, stops everyone's breathing for a moment in the filming set. You can expect the charisma of Yoo Ji-tae, who overwhelms the crowd with his unique low tone.
In addition, the realistic acting of Yoo Ji-tae and Kwon Sang-woo, who are dragged away by the police after they can't overcome their anger, make the illusion that it's a real situation.
The realistic acting of the actors who are completely immersed in the situation like this will make you feel the strong scent of men who throw their whole body for the beliefs they sincerely want to protect.
Related Videos