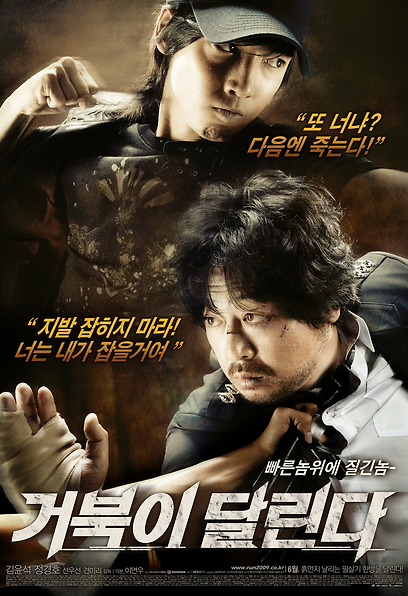 Running Turtle, 2009
release

2009.06.11
genre

drama
country

Korea
ranking

Audience over 15
running time

117 minutes
grade

8.5
cumulative audience

3024666 people
Synopsis
A fugitive from the rookie mall who tricked the Republic of Korea appeared in the budget!
Detective Jo Pil-seong from a rural village budget, whose only job is to prepare for a bullfight competition for regional development. Although he is a pathetic husband who can't show his flag once in front of his wife who is five years older than him, he is a detective who is well known in the village to the extent that he is ranked as the number one daily teacher for his daughter's school. Pil-seong, who was preparing for a bullfight competition, obtains information about a strong winner, and eventually wins a lot of money with the stolen money from his wife. For the first time in my life, Jo Pil-seong is choked at the thought of shouting in front of his wife. But the joy is short-lived! A young man suddenly appears and takes away his money in an instant, and the defector, Song Ki-tae, whose whereabouts are unknown after making the whole country uproar a few years ago.
A tough bout of a tough country detective! Unleash a special move that blows dust away!
Pil-seong, who missed a rare escapee, informs everyone about it, but no one believes him that Song Ki-tae has appeared in such a rural village. Wanting to find the lost money and become a hero in front of his daughter, he directly searches for Song Gi-tae's hiding place and attacks him, but this time he is humiliated by Song Ki-tae cutting off his little finger. Moreover, when the case of the day is revealed to the press, the detectives in the budget office are reduced to incompetent country detectives who have missed the fugitives, and Pil-seong is forced to resign from his job as a detective.
Money, fame, and even the last sense of pride was taken away.
Be sure to grab that guy with your own hands
As a detective and as a man, I am working hard to restore my honor…
[ Prologue ]
It's an absurd fight
Everyone laughed and ignored it,
Nevertheless, like the tortoise that overtaken the rabbit with its silent steps,
Everyone tells me to jump while looking at my opponent.
Here is the one who started the tough battle with him!
Towards a rare fugitive
A fierce battle of the country detective 'Pil-seong Cho' begins!
A tough guy over a fast guy
<The tortoise runs>
[ About Movie ]
Rural action of a rural detective chasing a fugitive.
A bout of dust blowing in 2009 is unfolding!
<The Turtle Runs>, which depicts the tough battle of a rural detective who is deprived of everything by a defector who suddenly appears one day, begins with the appearance of a rare defector who shakes the Republic of Korea in a peaceful and secluded rural village. Detective Jo Pil-seong, who is more familiar with preparing for local events such as bullfighting competitions than catching criminals, becomes an unexpected match for the fugitive, and the fight is a new cinematic with unexpected and fierce sensibility. It adds fun and tension. Pil-seong Cho, a country detective who pursues defector Song Ki-tae, risking all his responsibility as a head of the family, honor as a detective, and a man's last pride. The appearance of him, who seemed to be incompetent with a rare fugitive, and did not give up even though he was broken frequently, made the viewers cry out a word of support without knowing it. shows the essence of rural action that is crude and dusty. <The Turtle Runs> is a brutal version of Jo Pil-seong, a rural detective who pursues a rare escapee with a single ogre and tenacity. The one-shot of the country detective Jo Pil-seong, a character full of humanity, will give the audience a sense of human fun and deep catharsis this summer.
Kim Yun-seok, who returned from an intense pursuer to a dirty country detective
Crossover acting transformation with Jung Kyung-ho!
Following the villain 'Angie' in <Tazza>, which was strong enough to cool his back, he was recognized for his perfect performance last year as 'Jung-ho', the boss of a press room chasing a rare killer in <The Chaser>, which mobilized 5.2 million viewers nationwide in 2008. National actor Kim Yoon-seok, who swept six awards for Best Actor. Kim Yoon-seok, who has mainly played strong and charismatic characters in the previous work, will show a new acting transformation as a rural detective who is bubbly but is united with his brilliance and grit in this work. Cho Pil-sung, a lazy, free-loving detective from Chungcheong-do, a younger husband who can't open his wives once, and a pathetic father who worries about his young daughter. Kim Yun-seok, who played 'Pil-seong Jo', an ordinary person who had nothing better than others or possessed nothing but lacked anything in particular, with a delicious dialect unique to Chungcheong-do and acting without strength, erased the appearances of 'Angi' and 'Eom Joong-ho' and became a rural detective. Jo Pil-sung's acting skills deepen and show the essence of acting transformation. If he touched the hearts of the audience with his strong and charismatic acting in his previous work, Yunseok Kim's new appearance with a simple and emotional charm through <Turtle Runs> will touch the hearts of the audience with a deep pace and sympathy. On the other hand, if Kim Yun-seok has abandoned his intensity, Jung Kyung-ho, who is a rare escapee, throws off the urban and good image of his previous work and shows an acting transformation opposite to that of Kim Yun-seok with a strong and masculine appearance. Jung Kyung-ho has completely transformed into Song Ki-tae, a meticulous and cold-hearted defector. The transformation of Kim Yun-seok and Jung Kyung-ho's crossover acting, who tried different transformations from their previous appearance, will be a special viewing point for <Turtle Runs>.
They are simple, warm and full of humanity!
Draw the image of our ordinary neighbors in our daily life!
Set in a friendly and friendly neighborhood budget, <Turtle Runs> features innocent, strong-smelling characters. Until he met the fugitive, Pilseong was a native detective on a budget with a warm (?) humor and acknowledgment that 'good things are good', eating when the time is right and getting paid when the time is right. However, the image of Pilseong, who is gradually changing, showing the tenacity and tenacity hidden in order to surely catch the man who stole his precious things with his own hands, overlaps with our reality, which is having a difficult time recently, and forms a strange sense of unity and sympathy. do. Pilseong's budget-minded friends, who live a life of little importance with no decent work, but who keep as much loyalty as their life, also participate in his reckless challenge and add laughter and emotion to his confused appearance, and extort money from his husband, who is not earning money in a tight living day by day. Pil-seong's wife and troubled father, who continue to make a living by scratching, but the young daughters who believe that their father is the best, touch the hearts of the viewers with their realistic yet warm emotions. The characters in <Turtle Runs> are united with humanity and friendship. It will captivate the audience by breathing life into the screen with natural laughter and heart-moving emotions in everyday life.
Gyeon Mi-ri, Sun Woo-sun, and Shin Jeong-geun are delicious supporting actors!
Tasty smoke that shines on the screen!
<The Turtle Runs> provides more variety of fun with solid acting and the participation of excellent supporting actors with diverse personalities. Mi-ri Gyeon, who made her debut on the screen for the first time in 25 years of her debut, Mi-ri Gyeon, who has recently gained popularity through her drama [Queen of the Housekeeper], and Woo-seon Seon, who is gaining popularity for her pompous and innocent look, and as a theater actress, she has worked in various movies, plays and dramas in all directions. They were Shin Jeong-geun who did it. Gyeon Mi-ri, who has boldly stripped off the sophisticated and urban image she has shown in TV dramas in the past, becomes the wife of Pil-seong, who runs a comic book shop and constantly nagging her pathetic husband without hesitation in miscellaneous chores. . Seon Woo-seon, who plays the role of Gyeongju, the ex-lover of defector Ki-tae, delicately expresses the character's psychological conflict in a dangerous love with Ki-tae whom he met again and the toughness of protecting love without yielding to all kinds of difficulties, heralding the birth of a new rookie in Chungmuro. Shin Jung-geun, who plays the role of Yong-bae, a loyal friend who supports the challenge of his friend Pil-seong, catches the eye with his comical and charismatic appearance based on solid acting skills that he has cultivated for a long time on the theatrical stage. The supporting actors of <Turtle Runs>, which shine with their unique and delicious acting, will fill the screen with a heavy presence, further adding to the charm of the movie.
Related Videos