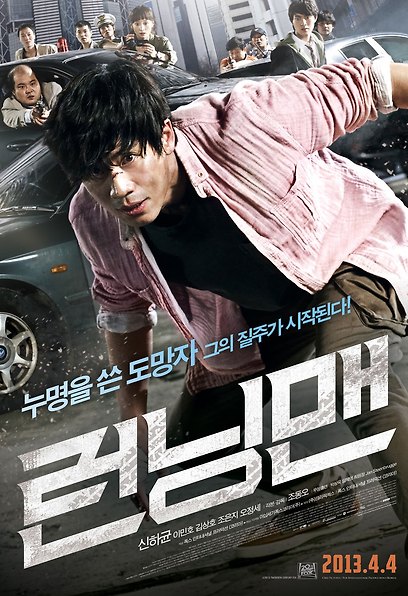 Running Man, 2013
release

2013.04.04
genre

action
country

Korea
ranking

Audience over 15
running time

127 minutes
grade

7.6
cumulative audience

1422844 people
Synopsis
A murder case in the middle of downtown Seoul,
No hiding place, no shelter, no place to trust!
He was once known as a 'flight expert'.
Cha Jong-woo (Shin Ha-kyun) is now a car center employee by day and a call technician by night.
Although he is a childish father, he has an estranged relationship with his 18-year-old son Ki-hyeok (Lee Min-ho), who had an 'accident' at a young age.
My only dream is to have a house where I can live alone with my son.
One day, an incident occurs in which a great customer who is offering a large sum of money is found dead in the car.
Jong-woo, who instinctively runs away from the scene, becomes a prime suspect in a murder case overnight.
In a situation where even his son is suspicious,
Jong-woo, who became a murder suspect in the attention of the public, is pursued by the police, the media, and unknown people.
When the people around him also lose their lives, Jong-woo has nowhere to retreat.
He is preparing a counterattack to get rid of the frame and become a father who is not ashamed of his son…!
fugitive accused of murder
He started running to change everything!
[ Prologue ]
Name: Cha Jong-woo
Age: 35
Occupation: Car center employee, call driver
Education: High school dropout
Family Relations: Son Ki-hyuk Cha (17 years old, high school student)
Special Note: Escape expert (aka 'Tobari', many cases missed by the police)
Current Wanted: Suspect in underground parking lot murder case, fled the scene
CCTV on-site evidence collection completed, on-site fingerprint matching
Fugitive Fugitive!
In the middle of downtown Seoul, his escape begins!
<Running Man>
[ About Movie ]
The first Korean movie chosen by 20th Century Fox!
The first major investment in Hollywood major studio history!
The movie 'Running Man' is a story about a man 'Jongwoo Cha' who witnessed a murder in the middle of downtown Seoul, being framed and being chased by everyone in a moment as a suspect in the attention of the people of the country. <Running Man>, which was selected as a support film for a global business introduced in 2012 by the Korean Film Council to revitalize the overseas expansion of Korean films, is the first Korean film in which 20th Century Fox, a major Hollywood studio, has made a main investment. have meaning There are cases where a major Hollywood studio participated as a partial investor, such as <Bat> (Universal Pictures) and <The Yellow Sea> (20th Century Fox), but <Running Man> is the first Korean film to have participated as a main investor in this way. am. Regarding the selection of <Running Man> as the first major investment in a Korean movie, 20th Century Fox said, "Unlike Hollywood heroes, <Running Man> is an ordinary small citizen as the main character, and various characters, unexpected events, and action scenes are evenly distributed. A finished work. It will be a work that shows the new potential of Korean cinema, from the Korean sentiment contained in the characters and the story to the fresh escape action using the topography of downtown Seoul."
The movie <Running Man> captivated Hollywood with a story that can be sympathized with Korean fun, including vivid sights and rich dramas of a real escape through the heart of Seoul through the story of a man who is chased by everyone in a situation that no one believes in. Following the feat of exceeding 100 million Korean movie audiences last year, interest in Korean films entering and expanding the global market is growing, such as the entry of Korean directors into Hollywood in 2013 and the attraction of foreign capital for Korean films. The movie <Running Man> is a work that presents new possibilities for Korean cinema, and it is a fresh and fun movie recognized by Hollywood, which will give you exhilarating excitement.
A fugitive who is framed, his run begins!
A real escape action spread across the city center!
<Running Man> is a work that delivers the fresh fun of a Korean-style real escape action through the process of a man who accidentally became a fugitive after being framed for murder, continuously sprinting through downtown Seoul to uncover the truth. Cha Jong-woo, a man who is accused of murder when a jackpot customer who promised to pay a large sum of money is found dead while driving a call vehicle. Except for the fact that he had an early accident and had a son in high school, the movie <Running Man> did not stop for a moment and ran through downtown Seoul, as if riding a roller coaster, from the moment he was framed for murder and fled overnight. Continue the thrilling and tense chase. The breathless escape action of a man who is framed and chased provides fun differentiated from existing Korean action films that mainly focused on confrontation, and at the same time presents a realistic action that has not been seen in previous Korean films by using the urban terrain as a bare-body escape action. . Also, in a situation where no one believes in his innocence, and to make matters worse, he is driven to a dead end while being chased by the police, the media, and unknown people. conveys exhilarating pleasure. And in the desperate situation of being chased by everyone, the appearance of a man preparing to counterattack with his father who does not want to be ashamed in front of his son evokes support and support for his escape.
<Running Man> is a movie in which a man who is an ordinary citizen and father of a child becomes a 'fugitive' in the middle of the city and runs fast to get rid of his frame. The escape play of a man who prepares for a cool counterattack at the end of a run that does not stop for a moment will give the audience a refreshing catharsis and intense pleasure.
Representative actor Shin Ha-kyun, the first bare action acting challenge in his life!
From the action fighting spirit that threw your whole body to the charm of anti-war comics
A new comeback as a fugitive that the whole nation pays attention to!
Hakyun Shin, who has established himself as an actor with a unique presence through acting completely immersed in the character in each work, crossing various genres such as <Joint Security Area JSA> <Vengeance is Mine> <Welcome to Dongmakgol> <Bat> <Goji War> . Shin Ha-kyun, who captivated the CRT with her explosive acting skills in the 2011 drama [Brain], not only challenged her first action acting in her screen comeback <Running Man>, but also showed a new transformation by adding a more cheerful comic charm.
Shin Ha-kyun, who took on the role of 'Cha Jong-woo', a fugitive who was chased after being framed for murder one morning, ran around downtown Seoul on his own feet, rolling, rolling, and hanging, literally throwing his whole body into action. To this end, Shin Ha-kyun, who began intensive physical training before filming, showed his passion for the first action challenge by refusing to double over and directing dangerous action scenes throughout filming. In addition, Shin Ha-kyun was not only able to complete the filming until the end while suffering a broken rib, but also shook off the fear of heights and perfectly digested the wire action. He gave a passionate performance with all his heart. The escape action in <Running Man>, completed with Shin Ha-kyun's extraordinary fighting spirit, will give the audience a more realistic and vivid sense of urgency. In addition, Shin Ha-kyun, who took off his previous serious and heavy appearance, was a person who had an accident at one time and was ignored even by his 18-year-old son at a young age. evokes Shin Ha-kyun's colorful charms, which focused on a new transformation by adding to the father's father's love, who cares for his son even in the midst of a crisis, will be a viewing point that cannot be missed in the movie <Running Man>.
Jongno Cheonggyecheon Stream, Dongjak Bridge, Sangam World Cup Stadium…
Real and breath-taking escape action using the terrain around the city!
Running Man, an escape action that runs all over the city without a break, is set in the middle of downtown Seoul, so each escape episode in each space infuses a different personality to provide a different kind of fun with differentiated action spectacles. Selecting landmarks and familiar places throughout Seoul such as Jongno, Dongjak Bridge, and Sangam World Cup Stadium to maximize reality, while delivering differentiated action pleasure through actions that utilize 100% of each geographical feature. In Jongno, it shows lively action moving between buildings in a narrow back alley entangled like a spider's web, and in Dongjak Bridge, it shows a dizzying and urgency escape action, such as riding a guard rail in the middle of a road passing by cars. In addition, at Sangam World Cup Stadium, not only the open square but also the narrow ramps located here and there were used as important action stages. A total of 1,500 extras were mobilized during the filming period that lasted about a week, from a large-scale chase to a witty action using a shopping cart as a prop. In addition to this, in <Running Man>, even everyday spaces such as subways and cafes are used as places where you have to run, jump, roll and run, and add fresh fun and pleasure with natural action sequences that capture the characteristics of each space.
The realistic escape action of <Running Man> was enhanced by the participation of martial arts director Yang Gil-young of <Monster> and <Oldboy>. Martial arts director Yang Gil-young created a differentiated action scene through various ideas and ideas to complete the action that is possible in reality, beyond the exaggerated expression of existing action movies. In addition, <Running Man> emphasized the realism and reality of the action itself to the extent that the action continuity was completed by looking around the scene after confirming the filming location. As the setting in which an ordinary citizen becomes a fugitive was an important concept, the action in <Running Man>, which started from the thought of 'what would happen if you were a fugitive' and gave maximum realism, is a new experience that adds empathy and immersion to the viewer. will provide
Chungmuro rookie Lee Min-ho, <Wan Deuk-i> Kim Sang-ho, personality group Jo Eun-ji,
A strong presence, including Oh Jeong-se and Joo-hyeon
Trustworthy, high-quality acting actors are all out!
Fill the screen with strong personality and charm!
In <Running Man>, the rising rookie Lee Min-ho, Kim Sang-ho, who shows impressive acting in each work, and the charming individual actress Jo Eun-ji, as well as the strong presence Oh Jeong-se and Joo-hyeon, the leading actors with solid acting skills join together to give life to the play. Lee Min-ho, who captured the hearts of women as a charming handsome boy in [Rooftop Prince] following the role of a young 'Yang-myeong' in the 2012 drama [The Moon Embracing the Sun], is disassembled as Jong-woo's son 'Ki-hyuk' in this work. I worked with Shin Ha-kyun. Unlike his immature father, Lee Min-ho, who plays the role of 'Ki-hyeok', who goes out to find out the truth of the murder as a rational and cool personality, is expected to show a more mature charm and a special father-son relationship with Shin Ha-kyun.
Actor Kim Sang-ho, who has conveyed a warm sensibility with his humanistic charm in the 2012 drama [You Who Rolled in a Vine], including the movie <Wan Deuk-i>, is disassembled as a detective class chief who chased Shin Ha-kyun to restore his honor as 'Sang-gi' and acted as a comic pathos. will show the true essence of Kim Sang-ho, who plays the role of 'Sang Sang', who is a detective chief but is often ignored even by junior detectives and colleagues, maintains dramatic tension and shows a unique savory performance that provides laughter. Jo Eun-ji, an actress of Hong Il-jeom from <Running Man>, will show off her energetic acting as Seon-yeong, a passionate reporter who chases after Shin Ha-kyun for a scoop. Recently, Jo Eun-ji, who has shown a personality full of charm in various works such as <The Concubine: The King's Concubine>, <I Am a Murderer> and <Awkward Romance>, brings vividness to the character of the reporter who pursued the case in <Running Man>. It adds to the dramatic tension. In addition, Oh Jeong-se, who has shown various charms through works such as the recent movie <Man's Manual> and the drama [I Miss You], plays the role of 'Do-sik Jang', who has a history of hacking crimes, and actor Joo-hyeon-i Jong-woo, who adds weight to the play just by being there. He appears as 'Pastor Moon' who helps Ki-hyuk and Ki-hyeok, adding a lot of fun. With Shin Ha-kyun at the center, from people who pursue him for different purposes to strong supporters, the tense and thrilling story unfolds by those armed with individuality and charm will further increase immersion in the play.
<Introduction to Architecture> Cho Sang-yoon, cinematographer
<Sunny> <The Chaser> Music Director Kim Jun-seok,
<Monster> <Oldboy> Martial Arts Director Yang Gil-young
Complete the heart-pounding escape with the participation of top-notch production crew!
<Running Man>, which depicts real action unfolding in the city, was completed with the participation of top-notch production crews who were recognized for their skills in filming, music, and action directing. Cinematographer Jo Sang-yoon, who has created a still powerful video of <Disbelief Hell>, a dynamic angle of <The Corpse is Back>, and a delicate video that captured the emotions of first love in <Introduction to Architecture>, is in <Running Man>. The breathtaking escape scenes unfolding all over Seoul were captured with a realistic camera. The moment Shin Ha-kyun runs, he moves dynamically without stopping for a moment, and the video that captures each action vividly is a special viewing point unique to <Running Man>. In addition, music director Kim Jun-seok took on a major role in creating harmony with the flow of the play and doubling the sense of urgency. Through works such as the movies <The Chaser>, <Speeding Scandal> <Sunny>, and the dramas [The Moon Embracing the Sun] and [Evil Spirit], it has a reputation for showing excellent skills in enhancing the immersion of the audience with music in harmony with the video. , Music director Kim Jun-seok, who has won the Daejong Film Festival Music Award twice in a row for <Ssanghwajeom> and <Dream of Barefoot>. The beat-filled music he provides leads to the excitement of action pleasure to the climax. Martial arts director Yang Gil-young, who participated in <Monster>, <Oldboy> <Fighter of the Wind>, etc., took on the action direction of <Running Man>, including a realistic and well-thought-out escape action based on reality, as well as a great car chasing scene with a sense of scale and thrill. was born
In this way, the real escape play <Running Man>, which was completed by the talented staff representing each field, will captivate the eyes, ears and hearts of the audience in April 2013 with videos, music, and action full of excitement that you cannot take your eyes off of for even a moment. .
Immature father – naughty son, rich man with an 18-year age gap
Meet the special fatherhood in real action!
<Running Man> is a drama that touches every corner of the heart by adding the story of a special rich man who is only 18 years old in an escape play of a man who continues to run while being framed for murder. .
It's normal to wake up every morning with his son's bruises, and a young father who insists on the iron rule, "His life is hers, my life is mine", and a naughty son who draws lines indifferently as if it's bothersome to meddle with such a father anymore. . Their strange father-son relationship, as if their roles have been reversed, gives fun to a young father who has a son older than his classmates due to a speeding scandal once committed, and a son who has a young father unlike his friends. Because of this, the process of starting to get to know each other's sincerity as these rich people who are busy waiting for each other repeat the moments of crisis in the growing incident comes with a more special twist. In particular, Jong-woo, who wants to protect his father's honor when his life is threatened, and Ki-hyeok, his son, who opens his heart with his father's sincerity, moves the heart with a deep paternal love in the unfolding of a sense of urgency.
<Running Man>, which adds laughter and emotion to the story between the rich and the rich, which has not been seen in existing action movies, adds to the presence of a father who is framed and a son who is tracking the case together. will provide
[ Production ]
<Running Man> PD Choi Jeong-hwa's shooting diary
<Jongno Camera>
August 11 (Sat)
Filming in Jongno started in the hot summer weather of 33 degrees!
Since Jongno is a very complex and well-understood place, the recruitment process was not a fuss.
Although there was help from the Jongno-gu Office and the merchant association, there was no satisfactory place.
The filming of Jongno started at Coffee Bean, the main space in the movie. Although the filming time originally promised with the cafe staff was somewhat exceeded, with the cooperation of the cafe side, the filming ended happily without any major problems. It was a series of pleasant days because all the shootings so far have gone well.
August 12 (Sun)
The ominous forecast is rain from 3pm. However, we have already made reservations for Coffee Bean and The Place, so we started filming. A large wire crane and an aerial work platform for equipment were called in, and Jimmy's jib and all gripping equipment were mobilized.
10 am. Contrary to the forecast, it is already starting to rain. I try to start shooting indoors where there is no rain, but there is a limit. The rain that comes and goes is disgusting. No later than 12, we have lunch. The sky I saw on the way to the restaurant seemed to be showing a slight blue color.
After lunch, I arrived at the scene with a smile looking at the slightly clear sky… I had only walked 100 meters… It started to rain heavily. In the end, with tears in his eyes, he decided to withdraw. I try to masturbate, pretending to be a wire rehearsal. from this day The Jongno shooting started to get twisted.
August 14 (Tuesday)
There was a lot of floating population of office workers in Jongno, so I tried not to shoot on weekdays as much as possible. But what to do… I had to withdraw due to rain in the last episode (Sunday), so everything was messed up.
However, it is impossible to force a filming in the midst of a huge crowd of office workers rushing to the restaurant during lunch time. In the end, it was decided to start filming early in the morning and take a two-hour break at lunchtime. Passers-by started paying attention to the filming team, and finally recognized Ha Gyun and glanced at him. I didn't know it during the weekend filming, but when I came on a weekday, there were really many people in Jongno..
Still, the citizens of Seoul are really nice. They draw a line and say that you should not cross it, so follow it relatively well.
August 25 (Sat)
Jongno parking lot. It's messed up because of the rain. Recruitment was the most difficult part. It is a place that was finally allowed after three high school years, but it is absolutely impossible to film on weekdays. After two delays, I finally came in… Less than 4 hours after filming started, it started to rain. In this case, the rain is really wild.
October 3 (Wednesday)
I came to Jongno again. Aiming for the holiday season, I shoot with the determination that 'this is really the last'.
When he comes to Jongno, Ha Gyun runs. I don't know if it's somewhere else, but in Jongno, I run and run again and again. Jongno 2 runs hard as it hits the streets of youth, such as the scene where it crashes into a car inside the parking lot and the meeting with the beard.
In the end, we finished all the filming in Jongno. On August 11th, the first filming began in Jongno. Filming in Jongno, which was guaranteed to be over in two weekends, ended on October 3rd, National Foundation Day.
< Dongjak Bridge Camera >
September 9 (Sun)
The original plan was Dongho Bridge, but the police recommended it because Dongjak Bridge had the least traffic, so it was decided here. I also knew that Dongjak Bridge usually has less traffic. Even so, it was not possible to film all day, so we agreed with the local police station to split the morning filming into two episodes.
By the way… who said Dongjak Bridge had little traffic? It's definitely September 9th… It's not June 6th… What kind of cars are there so many… Besides, it's a Sunday…!!!
It had only been five minutes since the production team started controlling the vehicle. The protests from the drivers who had stopped for a while start pouring in, and the police are also panicked. Originally, we were supposed to take full control once or twice, but this is not the case. In the end, we decide to apply two-lane control and one-lane control well without front control. Still, there is a difference between heaven and earth with and without police. Originally, I had no choice but to eat all kinds of cursing when taking pictures with my legs in control. just empty your mind
September 26 (Wednesday)
The second filming of Dongjak Bridge, which both the police and the Seoul Film Commission were nervous about.
However, the filming was finished in 3 hours so neatly. Without lane control.
We made a plan in advance to shoot with a shooting car, and after having the shooting B unit enter early during the all-night shooting on the previous Saturday, we met with the shooting car at 7 o'clock. We prepare for an hour and finish filming at 11 o'clock. In this filming, the observatory cafe where we were going to hold onto our ankles, we ended it without even realizing that we had started filming. End the Dongjak Bridge.
< Sangam World Cup Stadium Filming Machine >
September 11 (Tuesday)
Filming begins at Sangam-dong World Cup Stadium. This is a place where filming is not permitted on weekends.
By the way, it's really spacious here… Since hunting, how to cover this area was the most problematic.
I called 300 extras, but somehow it doesn't seem to work. We got permission to shoot until Friday. shoot as hard as possible The space is limited, so I work hard by arranging it layer by layer. Deploying 300 people is no joke. Goseong comes and goes… Runs and runs… Anyway, we finish filming on the first day safely.
September 12 (Wednesday)
It is still wide and there are not enough people. What should I do… I'm just going to work hard.
Today, Ha Gyun runs and runs again. Although the summer weather has cooled down, it is still hot. Drinks alone seem to cost close to a million won a day. Moreover, as theaters, shopping centers, and subway stations are all gathered here, protests are coming from all over the place. We just run and run and run.
September 13 (Thu)
There is hope and anticipation that the filming may be finished within the scheduled time. All the staff and actors are shouting fighting and filming is proceeding quickly. Today's shooting is focusing on action with bicycle railing jumps and bicycle jumps. Two wire cranes are setting up on the subway stairs, and we run and run in the stadium.
However, a problem occurred in an unexpected place. There is a slope of the flower bed made for bicycles to jump under the run, but the angle is too steep, so the bicycle cannot climb. The front wheel keeps bouncing off. I decided to split the cut and solve it with quick editing, and I forced it to take pictures. Pushing from behind, pulling with wires… In the end, it's ok.
6 pm. Finish shooting and reschedule. First of all, we postpone the shooting of the World Cup Stadium. In order to change the atmosphere, I decided to shoot Wonju first and then come back to finish the World Cup Stadium shoot I couldn't take today.
October 2nd (Tuesday)
Sangam World Cup Stadium is back after Chuseok. Ha Gyun runs today. it runs really well
You have to finish shooting the cart and fly 30 meters up the stairs hanging from the wire. Wire jumping was the biggest problem. Ha Gyun's landing point is not visible from the side pulling the wire. Ha Gyun should be hanging in the air with the bicycle, but the bicycle keeps tilting to one side. Did it fly 20 times… The bicycle fell almost as if it was barely touching the stairs, and then crashed into the stairs once. Fortunately, the impact was small and there were no problems… but from the point of view of the person watching, I thought it was an accident… The assistant performers at the subway station entrance and on the stairs are not aware of this, so they just applaud. clapping while whistling. Ha Gyun is like that. I'm afraid I'm going to die… Because of those people, I can't make a tea…
Related Videos