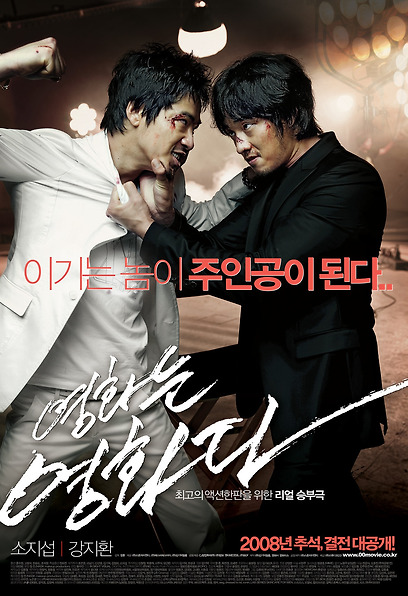 Rough Cut, 2008
release

2008.09.11
genre

Action/Drama
country

Korea
ranking

Youth not allowed
running time

112 minutes
grade

8.9
cumulative audience

1311118 people
Synopsis
The battle for the best bout has begun
A thug who dreams of becoming an actor. More actors than thugs
The completely different lives of the two men begin to intersect.
Actor Jang Su-tae (Kang Ji-hwan), who was filming a movie, can't stand his temper in an action scene, so he assaults the other actor, and the movie is in danger of being discontinued. Also, none of the actors play the role of the gangster-like actor Suta, so they are at a loss. As a desperate measure, he visits Lee Gang-pae (So Ji-seop), the gangster number two, who he knows while signing autographs at a room saloon and offers to appear in the movie.
Kang-pae, who had a dream of becoming a movie star without anyone knowing, is interested in Su-ta's proposal and makes a condition instead of accepting the role. The action scenes are about fighting real, not acting! Handa, who is confident that he would have had fighting skills comparable to a thug if he had not been an actor, also accepts this condition, and filming begins, which is like a fierce battle between the two.
One protagonist! Fight and die!
A thug who escaped from the reality of being a gangster and stepped into the dream world of being an actor, Suta is becoming a real fighter from an action actor for his pride as an actor. The best fight between two men who wanted to live differently even for a moment has begun! There is only one main character, and two men fight for the best ending, and who will be the ultimate winner in this breathtaking showdown?
[ Prologue ]
you are…
Have you ever fought to the point of dying even once?
Everyone has a desire to live differently at some point.
Once upon a time, I dream of living as someone other than myself.
An action star with a fighter's nature offers a movie role to a gangster who once dreamed of becoming an actor.
There is only one condition for a thug to appear!
Not acting, but actually fighting!
At first, they despise each other, but eventually they fall in love with the real fight.
"A man must fight to know his true self."
Have you ever, even once, fought to the point of death?
Have you ever, at least once, realized your dream of living differently from others?
Here, on our behalf, two men are about to plunge into the life they've always wanted to live.
In September 2008, there is a story about them who can die in a fight.
[ Hot issue ]
A match between two fighters for the best action "Bout, it's okay to die fighting"
Question 1. What is the best action you can remember? Who is your favorite action star? Here is an action movie production site. Money was raised, and in search of dreams, dreamers from all over the world gathered. With a dream of Bruce Lee's unfulfilled dream, and of showing a bout of action that Tom Cruise could not have imagined…
Question 2. But what would you do if you were the director of this film? Jang Soo-ta, the main character of the movie really punched two of his opponents. Filming has been stopped, and there is no actor in the world who wants to act with an actor worse than a gangster. And one day, Suta brings a real thug. A gangster who was the number two of a gangster, a brutal and ruthless man, but had a dream of becoming an actor, was selected as the opposite actor. The only condition for a thug is that he actually fights, not acting. The one who wins the fight becomes the protagonist. It's okay if you win anyway…
What if a real fighter who would have spent three or more lives and a star more arrogant than a thug? The fight is already over. But their stage is a movie scene. If it's a battle between an acting novice and a real actor, the result will be different. A battle between two fighters began, sometimes ridiculing each other and sometimes jealous of the other, and rushing towards the best open bout.
the last question. Who will win? Who will be the protagonist of Last? If you were a director, who would you choose as the protagonist, a gangster who dreams of being an actor or an actor who wants to become a gangster for perfect performance? A place where dreams come together to make the best action movie. Their battle, which is worth fighting and dying, will be held in Korea on Chuseok 2008.
S#13. Room Salon, Suta's Room / Night
Suta (looks and ignores) Why are you living like that? short life?
Strong defeat (with a flash of life) !!
Wouldn't you be ashamed of your children later on?
Strong loser (remove his expression first) Hey! The form is right… The form should only be held in front of the camera! Aren't all the acting fakes anyway?
Suta (Looks funny) Do you know what acting is?
Is there anything wrong with the strength? It's a good way to meet life and live comfortably by imitating it…
So Ji-sub VS, a thug who dreams of becoming an actor
Actor Kang Ji-hwan, who is more than a thug, is a real match play.
"The one who wins becomes the main character."
The motto of <Fight Club>, which is evaluated as a masterpiece, was that "A man can only know his true self by fighting." Brad Pitt and Edward Norton of <Fight Club>, who explored the human instinct that emerges when everything is lost, and the men closest to that instinct, can be seen through So Ji-sub and Kang Ji-hwan in <A Movie Is a Movie>. The fight between those who risk everything except their pride brings catharsis of unknown origin to those who see it.
The ridicule and contempt continues between Kang-bae, who insisted on the condition that he will be real in every scene instead of appearing in the movie, and the hand-tapped who doesn't want to lose to him. When filming the fight between these two men, several rehearsals and combinations that are essential for action scenes were omitted. Instead, there was only a battle between two suffocating actors who competed with gang for evil. This is a story in a movie, but it is also not a story in a movie. In fact, the confession of actor Kang Ji-hwan that he did not need all the actions that he tried in the rehearsal in the pre-rehearsal even in the tidal flat battle scene, which is considered the highlight of the movie, proves this.
The star that Korean cinema has been waiting for! Actors So Ji-sub and Kang Ji-hwan, born in 1977. The good fortune to be able to see the contradictory 'raw' action in the stylish video is probably because the two actors really engaged in a fight. The action scene, which was as deep as the friendship between the two actors, gives us a foreboding that it is a real game that puts out pride as an actor. Who will be the main character of the last scene can only be confirmed in the movie.
2008 Chuseok, Variety Match
Action and humor! Awesome men's charms!
The drama of the bout of the 'cunters' gathered at the movie site!
For the best action movie, the best 'slayers' of the time gathered at the filming site! The two 'fighters' Kang Pae and Suta meet fatefully in one movie to create the best action scene, and the real action of the two men begins. In addition to the two main characters in the film receiving the spotlight, there are also various 'filmmakers' gathered at the filming site for their own intentions and purposes to capture them in the camera frame.
Director Bong, who is in charge of the overall filming site, is a director who wants to make a real action movie. As he moves back and forth between the two men who are like a bomb that never knows when they will explode, he pleasantly soothes the atmosphere of the scene with his savvy dialect. When leaving the theater after watching a movie, his cry of 'ready action' will not be forgotten. The appearance of Suta's manager, Director Lee, standing behind the camera is also impressive. If Handa gets beaten by Kangpa, she can't stand the whale whale and screams, and throws herself at the malicious terror (?) of Handa's anti-fans to protect her hand. The appearance overlaps and brings laughter. On the other hand, there are also unfamiliar groups at the filming site. Brothers in black suits called 'Kkakdugi'. Although they are ferocious in their impressions, they also help rehearse for their big brother Kang-pae's screen debut, and sometimes show laughter at the filming site by showing their pure appearance, such as getting drunk on the scene.
<A Movie is a Movie>, which offers a different kind of fun about the world of the 'movie' scene, from the appearance of various human figures gathered at the film site, from the director, manager, to the gangster. As soon as it was first officially introduced through the 2008 Cannes Film Festival market, it was pre-sold at a high price to Pony Canon, a Japanese film company, and its originality has already been officially proven. You can look forward to the 2008 Chuseok, a variety game that you can enjoy with your lover and family.
People who want to live differently
A drama of life-threatening tension and reversal
"The last of this movie is mine"
A strongman and a handful who have lived in a different world are at war. Like the fierce clash of two empires for supremacy, they fight for the best action and the last protagonist, leaving only their pride left behind. They ridicule and collide with each other, and run towards the end of the tension, the explosive last. However, there is another fun hidden in the battle between the two fighters. The setting is that they long for each other's world, just as a frog in a well discovers the world outside the well. Suta, who wants to be 'real' while moving between the real world and the world of cinema, and Kang Pae, who wants to be an actor, want to live differently. Now, instead of killing people, gangsters want to do real acting, and actors want to play real games instead of acting.
The conclusion? Wait here! Nothing is impossible in the world of cinema. The movie ends only when the end credits are over and the lights in the theater are turned on. On Chuseok 2008, the world of laughter, action, tension and reversal of real players gathered at the production site of an action movie begins.
[ Production Note ]
The fighting spirit of those who risked everything for the bout 4!
# 1. Action fighting spirit _ So Ji-sub VS Kang Ji-hwan, Ringer fighting for the best scene!
<A Movie is a Movie> is the story of a movie being filmed under the condition that a real gangster and an action star actually fight. As Suta said in the play, "the concept is real", so we had to pursue real action in every scene. The two actors, who are greedy for acting, do not spare themselves for the best action, so injuries are common in the field. So So Ji-sub and Kang Ji-hwan, who had to live with Ringer and saliva all the time, said that they did not show their naked body to the staff throughout the filming period. The reason is that they considered what they would be worried about if the staff found out that they were injured. On the other hand, Kang Ji-hwan came to the director after filming was over and said that the action movie was not for the time being, and that the next work would be a melodrama film together.
# 2. Acting fighting spirit_ So Ji-sub in 20 black suits! VS Kang Ji-hwan with his own tattoo!
So Ji-sub always had to wear an all-black suit to play the role of the second person in the organization. It must have been difficult to wear an all-black suit throughout the play because he cranked it in in early summer and cranked it up in mid-summer, but So Ji-sub said that he showed a passion for always wearing a suit without taking off his suit even when he was taking a break for the powerful character. Besides, all the black suits appearing in the movie look the same at first glance, but when you get to know them, it turns out that there are a total of about 20 pieces in So Ji-sub's personal collection! On the other hand, Kang Ji-hwan proposed to have the name '首拕' tattooed on the nape and forearm, as well as on his van, for the character of a star actor who was more than a gangster. You can feel the sincerity and passion for the movie in his words that every time he takes on a new work, he falls deeply into trouble for the character. What is more interesting is that in the movie, Suta eats chocolate and puff pastry all the time, and even the scene revealing the character of an actor who is picky about picking watermelon seeds is his big idea!
# 3. Supporting fighting spirit _Where have you all been, and have you gathered for this edition?
Another interesting aspect of <A Movie is a Movie> can be found in the appearance of a large number of people gathered at the filming site. Director Bong, who cast the two actors, and actress Mina, Kang-pae's gangsters, and Soo-ta's manager, Director Lee, made the filming set buzzing, in fact, actors with strong bones in the movie version. Go Chang-seok, who plays the role of director Bong, who gives endless laughter in movies, is an actor who has not left out his name in box-office films. Thanks to the veteran actor who has also acted and directed commercial films such as <Mr. Kind Venus>, <Let's Live Right> and <Monster>, as well as a number of plays such as <Boy Check>, the tension between the two men was able to be controlled quickly. He is such an attractive character that a fan club was formed at once by some audiences who saw the movie for the first time.
Hong Soo-hyeon, who takes on the role of actress Mina in the play, is a character that deepens the conflict between two men in the movie, and adds to the fun of the play by showing an acting that does not lose the pomp like a real actress. Actor Park Soo-young, who plays the role of Director Lee, is also a veteran actor who received the Best Acting Award from the Theater Association in 2006, appearing in a number of films such as <The Court Lady>, <Tazza> and <Detective> and plays such as <Liar>. Han Seung-do, who takes on the role of "A Streetcar Named Desire", is a strong actor who has continuously appeared in about 15 plays, dramas, and short films, including "A Streetcar Named Desire". Jo Seok-hyeon, who plays Tongmani 2, is also an actor who has appeared in more than 20 films, including <The Beast>, <Tazza> and <That Guy's Voice>. How reassuring must be that director Jang Hoon carried on his back the veteran-level acting supporters who were adored in the movie and theatrical versions along with the two lead actors who were immersed in the characters before their film debut! The performances of the real 'slayers', who produced a more realistic movie version, shine brightly throughout the movie like this.
# 4. Overseas fighting spirit_2008 Cannes Film Festival, pre-sale in Japan with explosive popularity!
So Ji-sub, who is gaining explosive popularity in Japan with the dramas <What Happened in Bali> and <I'm Sorry, I Love You>, and Kang Ji-hwan, who is recently recognized as a rising Hallyu star, as <Stay Strong, Geum Soon-ah> and <Kaedo Hong Gil-dong> are on Japanese TV shows. The two actors are already solidifying their popularity in Japan through their respective masterpieces. And thanks to its popularity, <A Movie is a Movie> was introduced at the Cannes Film Festival in 2008. The fact that the two actors appeared in the film alone drew attention from Japanese buyers. Pony Canon, a Japanese film company, bought the rights to the movie at a high price because of the name value of the two actors and the fact that they handled a unique subject matter. <A Movie is a Movie>, which has already proven its workability and box office success through pre-sales before its release. That is why the release is more awaited.
S#32. Jongno back alley/ daytime
Director Bong's Cut! again!
Strong defeat (annoyingly) Why again?
Please make Bong's eyes a little more cruel!!
Kang Pae (looking at the director annoyed) Director! What feelings do you have with me? what? It's not even spinning!
Bong is good. Face like now!
Strong defeat (I stare at it)….
Should Bong stop?
(Kangbae is forced to return to his seat. Handa is sitting on a chair and watching as if having fun.)
Suta (as if sarcastic) There's nothing wrong with acting, right? Don't look at me, look at the camera!
Related Videos