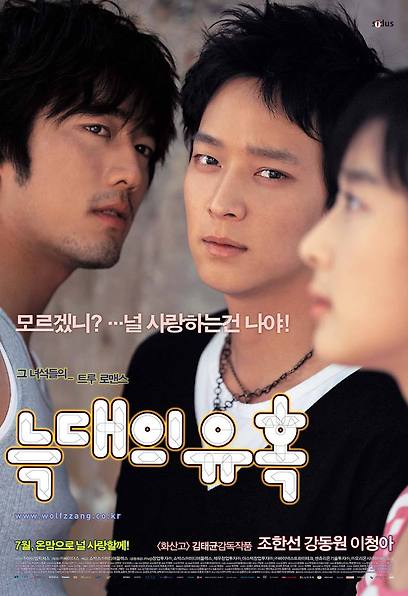 Romance Of Their Own, 2004
release

2004.07.23
genre

Romance/Melo/Action
country

Korea
ranking

Audience over 12 years old
running time

113 minutes
grade

7.7
cumulative audience

1297296 people
Synopsis
The true romance of those guys that even adults cry, <Temptation of Wolves>
Jeonggyeong, go to Tokyo
Hankyung, who exudes a 'fresh Tokyo' feeling in both her personality and appearance, moves to Kang Shin-go, literally 'going to Tokyo' to live with her mother in Seoul…
The original king car, Ban Hae-won, is obsessed with Jeong Han-kyung.
However, her Seoul life is a series of psychological and physical shocks. I'm on the bus, and a slipper thrown by a guy flies over my head. But the problem doesn't end there. The guy named Ban Hae-won who threw the slippers wasn't a typical guy. Ban Hae-won, the original king car who drives girls from a nearby school like a cloud, falls in love with Han-kyung's pitiful and cute appearance. And he acts recklessly according to his personality.
Ban Hae-won touches Jung Tae-seong's character.
The problem is that Jeong Tae-seong, who is also a member of the school's Seonggwon High School, also filmed this Jeong Jeong-gyeong. Taeseong is united with strong fists and stubbornness hiding behind his shy face. The confrontation between the two, betting on both pride and love, escalates into a fight without a single concession.
Their true romance
However, Tae-seong has a fateful secret that he cannot fall in love with, and Han-kyung, who does not know this, struggles to find a way to not hurt both of them. Tae-seong leaves Han-kyung in the end, and Han-kyung and Hae-won find out about Tae-seong's secret. Their heartbreaking but bright appearance makes even adults cry.
Related Videos