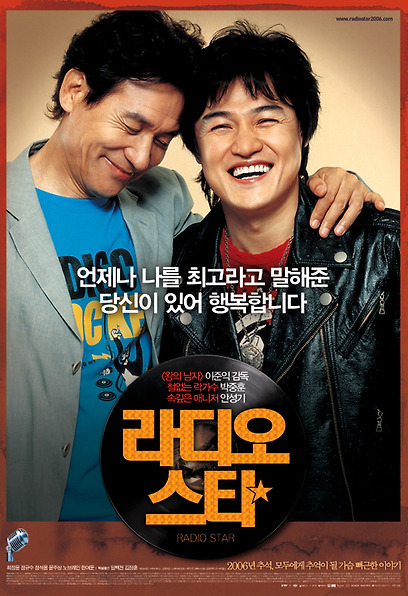 Radio Star, 2006
release

2006.09.27
genre

drama
country

Korea
ranking

Audience over 12 years old
running time

115 minutes
grade

9.3
cumulative audience

1590774
Awards
Synopsis
Choi Gon, the king of singers in 1988, was quiet. The manager does not know the speed and makes an accident again.
Choi Gon, who won the singer king in 1988 with his famous song 'Rain and You', has since been involved in marijuana and assault cases, and is now playing guitar at the Misari Cafe Village against an affair couple, but still firmly believes that he is a star. Choi Gon, who wanted to be quiet, got into an argument with a cafe customer and ended up losing to the jail cell… One-sided manager Park Min-soo meets an acquaintance, a broadcasting station director, while searching for a settlement, and receives a promise that Choi Gon will pay the settlement money if he DJs in Yeongwol.
The fearless broadcast of an immature rock star who made a comeback as a radio DJ begins.
The program name 'Gon's Afternoon Hope Song' However, Choi Gon, who takes the DJ position lightly, ignores the basics of song selection and lacks the reckless broadcast, so he even delivers coffee to the booth. One day, when the broadcast that made both the PD and the bureau chief raise both hands and feet, Choi Gon appeared as an impromptu guest with Kim Yang, who came to deliver coffee, and her story touched the hearts of many people, and the broadcast gradually gained a favorable response from the residents. But there is another price to success…
Because of these two men who seem to know each other just by looking at each other's eyes, the whole country is crying and laughing today.
A person who gets wet just by looking at his face…
do you have
There is a man, Choi Gon, who stopped growing in the best time of '88 Singer King'.
There is a man, Park Min-soo, who is with him by his side and adjusts himself to the paused time.
Now, I am a retired rock singer and a manager with no schedule to manage anymore.
Next to the immature Choi Gon, who has to have an accident according to his temper with an angry heart
Manager Park Min-soo, who compromises with the world to the point where fingerprints are no longer left on his hands and feet.
Their story 'Radio Star' is a small, simple but resonant movie.
How can you be happy without what you have
How can the future be bright without believing?
How can you trust someone who doesn't do anything for you?
How can you hold onto someone who has nothing to give?
To those who grumble and cannot open their heart's eyes
Life can be seriously messed up
There are people who just get tired of looking at them.
There are people who can hear the sound of their heart without saying anything.
I have a last pride with nothing to lose because I have nothing
If only one person like a mirror who resembles each other is by my side
I want to say that life is successful and happy
'Radio Star' to meet on Chuseok in 2006
For some, it is a heartbreaking new story.
For some, it will be a heartbreaking memory.
Director Lee Jun-ik of <The King's Man>, immature rock singer Park Joong-hoon and deep manager Ahn Seong-gi
A happy story of a warm world that met and blended
In this movie, where tears of joy and laughter of sadness, they tell each other
"Sometimes it was hard and I was tired.
I'm happy that you said I was the best."
Movie <Radio Star> Schedule
Power FM. plan
Solid planning, the strongest star corps
It is no exaggeration to say that the movie <Radio Star> is a work that created something out of nothing.
Writer Choi Seok-hwan, who worked with director Lee Jun-ik in <Hwangsanbee> and <The King's Man>, accidentally left on a trip to Gangwon-do and found a pretty station, and then recalled the story of an obsolete singer going to a local radio DJ.
After hearing the story of writer Choi Seok-hwan that there were only three lines in the early days, Seung-hye Jeong, the CEO of the morning of the movie company, intuited that it was a film that touched the analog sensibility through the radio in the digital age, and then thought of Park Joong-hoon and Ahn Sung-ki. As soon as the two actors read the rough synopsis, they decided to appear immediately, and they showed enthusiasm in preparing diligently through joint character analysis work from the scenario development stage.
The film <Radio Star>, planned in this way, was completed with a scenario that emotionally expressed the unique gaze of director Lee Jun-ik, who finds warmth in the stories of ordinary people, and Ahn Seong-gi said that his heart was pounding enough to cry when he saw the finished scenario. .
The movie <Radio Star>, which captured every breath of the actors based on a solid plan, is the most anticipated Chuseok this year, thanks to the reunion of major staff such as filming, directing, costumes, and makeup that Edo Lee Jun-ik worked with in <The King's Man>. gave birth to a small
Love FM. Combi
Park Joong-Hoon, Ahn Sung-Ki. A brilliant comeback of Korea's representative duo!
Park Joong-hoon and Ahn Seong-gi, who have established themselves as the best duo selected by the audience in leading surveys for several years, met again after 7 years in the movie <Radio Star>. Park Joong-hoon and Ahn Seong-ki boasted the power of their combination by making the audience feel catharsis of laughter and tears with <Chilsu and Mansu> in 1988, <Two Cops> in 1993, and <There is nothing to see> in 1999. did. The fact that the two actors, who supported each other's acting transformation and supported the center of Korean cinema, met again through the movie <Radio Star> became a hot topic even before filming.
Park Joong-hoon and Ahn Sung-ki are actually brothers and sisters who have been together for several years, and even outside the movie, they can communicate just by looking at their eyes.
The two actors project each other's faces they've seen for over 20 years on their characters while participating in the screenplay adaptation, and freely radiate the depth of friendship whether it's real or a movie in the movie <Radio Star>.
Director Lee Jun-ik, different from his previous works, which focused on the characters of the two actors, said, "There is no enemy better than Park Joong-hoon and Ahn Sung-ki to show the close friendship and loyalty of a star and a manager that can't be beaten." The two actors expressed their ambition to show the performance of the two actors in the movie <Radio Star>.
The movie <Radio Star> once again radiates the undying breath of the two actors, and heralds another hit at the box office with a true combination performance of Korea's representative actors.
Happy FM. casting
Joining the best actors
In the movie <Radio Star>, actors like Giraseong and individual actors who are notable are gathered in one place to show the true nature of acting.
Choi Jeong-yoon, who was recognized as a horror queen by the audience with films <Scissors> and <Phone>, appeared as PD Seok-young with a bold personality and expressed her ambition to solidify her position as a screen queen. Gyu-soo, who proved that he is the godfather of the theater world with his charismatic acting in "Leave," adds to the fun of the play by appearing as the director of the Yeongwol Broadcasting Station, who keeps an eye on Choi Gon's DJ life.
Jeong Seok-yong, who showed his unique wit and talent in the role of Chil-deuk in <The King's Man>, takes on the role of Park Gi-sa, a naive person who watches the chief of the bureau, and shows his naive and naive acting. Yoon Joo-sang, who crossed plays and dramas and showed the power of middle-aged acting to the audience as Moo-woon in the movie <Operation Arahant Jangpung>, appeared as Kim Guk-jang, who made Choi Gon debut as a DJ for the development of Yeongwol. .
In addition, Yeo-Woon Han, who received attention as a cute novice patisser in the popular 2005 drama <My Name is Sam-Soon>, received applause for her performance that was hard to believe was her screen debut as Kim Yang, a teal coffee shop.
In particular, the movie <Radio Star>, which is expected to be more promising with actors and actresses in the spotlight, is a hidden star, including Lee Moon-sik as a dick in <Hwangsan Bee>, Lee Jun-gi as Gong-gil in <The King's Man>, and Yoo Hae-jin as Yuk-gap. It is a new work by director Lee Jun-ik, who led the birth, and it is attracting attention as to which actor will rise again as the center of the topic after its release.
Cool FM. no brain
Korea's best punk band to appear in a movie!
The representative of the punk band 'No Brain' challenges acting through the movie <Radio Star>. No Brain's role is Donggang, the only rock band in Yeongwol, Gangwon-do, aka 'East River'.
East River in the play is a fan who admires Choi Gon (Park Joong-hoon), who was the singer king in 1988, saying, "In this land where rock is cursed, the only true rocker since Shin Shin-hyun, the only true rocker!" Saying that this is his wish, he closely observes his actions in Yeongwol and follows him.
East River, in particular, is going to create a rather eccentric and wacky look with unusual outfits and hairstyles, such as cosplaying famous rock bands Jimi Hendrix, Elvis Presley, The Beatles, Keith, etc. His unique outfit and hairstyle will provide another highlight in the movie.
In <Radio Star>, No Brain, which has to digest both the actual performance and the acting, is the only hit song 'Rain and You' in <Radio Star>, in addition to their actual representative songs 'You're in love with me' and 'Let's play like crazy'. They also perform famous songs such as 'Beautiful River Mountain' by Shin Ji-hyeon and No-Brain, which is expected to radiate a charm that is no less than the stage on the screen.
It is said that the film crew praised their innate (?) acting skills, saying, "The actual band name is No Brain, but it is a genius to see the bizarre and provocative image of the East River in the movie."
Standard FM. music
The best music blockbuster of Korean movies
In the movie <Radio Star>, masterpieces that cannot be met without this movie are constantly pleasing to the ears.
From the scenario stage, the production team, who focused on selecting music to express the medium of radio more attractively, undertook work behind the scenes to get permission to use the music. Legendary musicians, who would not even give them a chance to use their own music, were moved by the warm and happy message of the movie <Radio Star> and the passionate professional poses of the producers, and they willingly allowed the use of music and contributed to further upgrading the film's perfection. .
The giant of rock music, Shin Shin-hyun's 'Beautiful' and 'Beautiful Gangsan'
Shin Shin-hyun's 'Beauty', sung by Park Min-soo while pretending to play a guitar in the play, is 'Beautiful' when he is happy or sad.
It is a serenade of friendship that is called towards. Another representative song of Shin Shin-hyun, 'Beautiful River Mountain,' is Yeongwol's only rock band.
Called again by the River (No Brain), you can enjoy the dazzling scenery of Yeongwol with your camera.
empty
An unchanging legend, Cho Yong-pil's 'Where Your Foot Stays'
the second half of the movie. Cho Yong-pil's 'Where You Stay', which flows along with the tearful story of Choi Gon looking for Park Min-soo, who has left for Seoul, is a hidden card with only the ambition of the production team. Cho Yong-pil, who had never given permission to use his own songs as music for a movie, read the script for the movie <Radio Star> and volunteered to participate. The movie <Radio Star> will be the first and last film to feature Cho Yong-pil's song.
The prelude of the MTV era, 'Video Kill The Radio Star' by Buggles
Contrary to the meaning of the song 'video killed radio star', the only pop song in the movie <Radio Star>, when the radio becomes friends with the people of Yeongwol, it plays ironically and moves you.
'Turn on the radio loudly' by Sinawi, an authentic heavy metal group
First broadcast of 'Song of Hope for the Worst Afternoon'. As if talking to Yeongwol residents who were not interested in radio, Choi Gon's first song, 'Turn on the Radio Loudly', exudes the charm of rock music that strangely penetrates into everyday life.
A step forward in popular music, Chooja Kim's 'Woman in the Rain'
Kim Chu-ja's 'Woman in the Rain', the first song requested in the play, stimulates the tear glands of Yeongwol people and moistens the rainy Yeongwol due to the story of Kim Yang, a terminal cafeteria, saying, "When I hear this song, I think of my mother."
In addition, the movie <Radio Star>, in which famous songs with their respective stories, such as Wild Chrysanthemum's 'Turn around and round and round' and Kim Jang-hoon's 'Even if the world deceives you', pop out from the right place, giving you a strange nostalgia and pleasure to listen to. It will be remembered in the minds of the audience as a movie that can move.
FM4U. rain and you
The worst and only hit song of 1988
'Rain and You', the theme song of the movie <Radio Star>, is the song that brought Choi Gon to the throne as a singer in 1988, and it is a song that the forgotten Choi Gon puts his last pride on at the Missari live cafe and does not do a revival.
"Rain and You" is a song about missing someone who has left them when it rains. Director Bang Jun-seok, who was in charge of the music for "Radio Star," composed and wrote the radio star's screenplay, Choi Seok-hwan, and Korea's best copywriter CEO Jeong Seung-hye. The song was jointly written and created as a jewel-like theme song unique to the movie <Radio Star>.
'Rain and You', which was completed with great care before filming, not only the charming voice of Park Joong-hoon in the movie, but also the remake version of No Brain's explosive rock music, which appears as East River, is the same song but different. You can taste the pleasure of feeling.
<Rain and You> lyrics
I don't miss you anymore, I don't want to see you anymore.
I forget that I loved you, quietly.
What I don't know is that my heart sheds tears when it rains.
Like the day you left a long time ago.
I'm fine now, but I've forsaken love
Like a fool, will I cry?
Faded memories
how busy was that
I still miss you
I'm fine now, but I gave up on love
Like a fool, will I cry?
I don't want you to come again, I don't like me for not being able to forget
How long will my heart hurt?
As of 2006. I look back at people who resemble 'Choi Gon'.
There were true singer kings who dominated an era.
Wherever they went, they brought their brother's corps and enthusiasts with them, and as soon as they appeared, people from all over the country were excited.
They resemble the 'Choi Gon' of the movie <Radio Star>, even though they are not shining as brightly as in the past.
They breathe with us in their respective places and are still sending their own light to us.
We look back at those who once greeted us with music and now with voices.
If rock was the way out of the poor past, now it's radio. Bae Chul-soo _ from <Peregrine Falcon>
In the 80's, there was a legend among broadcasters who said, "Without the peregrine falcon, you can't make a show for young people."
In 1981, Bae Chul-soo and Koo Chang-mo were the main characters of the peregrine falcon, and presented Korean and powerful rock. Although there have been rumors of discord due to frequent member changes, the Peregrine Falcon, who has been working steadily for over 10 years, decided to stop after 'Get Together' in 1991. After that, Bae Cheol-soo made his debut as a DJ and carried out <Bae Cheol-soo's Music Camp> for over 10 years, captivating listeners with his unique laughter and outspoken expressions.
We part with the past. Now we are debuting. Kim Chang-wan _ from <Sanullim>
December 1977 was the culmination of the student movement. Sanwoolim, who appeared like a comet, is a three-member rock group composed of older brothers such as Kim Chang-wan, Kim Chang-hoon, and Kim Chang-ik. Since the release of the representative hit song 'No Already', it has led the Korean rock music scene and exerted a great influence throughout the popular music scene. Although they nominally disbanded in 1983 due to the advancement of their two brothers into society, after that, they released albums whenever they had spare time, and Kim Chang-wan started out as a DJ in 1981. As a self-confessing style DJ, he is currently running SBS Radio <This is a beautiful morning, this is Kim Chang-wan>, and is engaged in various activities across dramas and movies.
He pours poison with a happy heart. San Haecheol _ Native
Shin Hae-chul, who enjoyed solid popularity as an idol star by appearing as the vocalist of the 1988 MBC University Song Festival grand prize winning team 'Infinite Track', suddenly decided to become a member of a rock band in 1992 and formed NEXT (New Experience Team) and became a 'city man'. They spit out new music that mixed rock and funk rap like 'Turn Off the TV'. In 1993, Shin Hae-cheol's sudden enlistment in the military and his marijuana scandal caused him to pause for a while, but he did not stop and declared his disbandment on the grounds that he was "tired of doing rock music in Korea." Currently, he is walking around with fans as a DJ for MBC <Shin Hae-chul's Ghost Nation>, and he is unstoppable.
sound track
1. Turn on the radio loudly (lyricist) – Composed by Shin Dae-cheol)
2. Even if the world deceives you (composed by Yoo Young-seok) – lyrics by Lee Sang-ho)
3. Beauty (lyricist) – Composed by Shin Jung-hyun)
4. Woman in the Rain (Lyricist) – Composed by Shin Jung-hyun)
5. Beautiful Kang San (lyricist) – Composed by Shin Jung-hyun)
6. Turn, Turn, Turn (Lyricist – Composed by Jeon In-kwon)
7. Always by my side (lyricist) – Composer Lee Seung-yeol)
8. Video Killed The Radiostar (composed by Buggles) – Buggles
9. Where You Stay (Composed by Lee Ho-Jun) – Lyricist: Ha Ji-Young)
10. You fell in love with me (composed by Jung Min-joon) – lyricist Lee Seong-woo)
11. You Can't Erase (Lyricist) – Composed by Bang Jun-seok)
12. Rain and You (lyricist) – Composed by Bang Jun-seok)
Related Videos