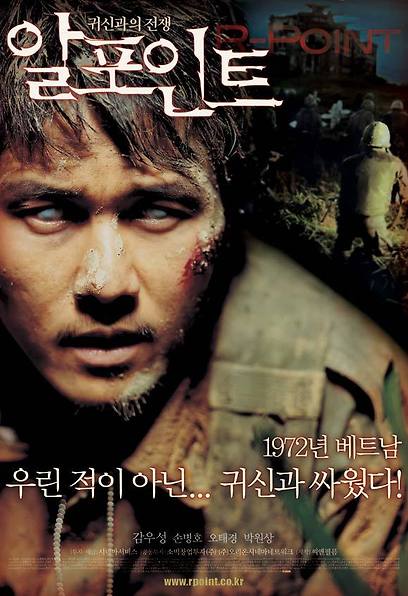 R-POINT, 2004
release

2004.08.20
genre

Horror/War
country

Korea
ranking

Audience over 15
running time

106 minutes
grade

8.4
cumulative audience

1068362 people
Synopsis
不歸!
Those with blood on their hands… they can't go back!
1972, the end of the Vietnam War.
Lieutenant Tae-in Choi (Kam Woo-seong), the only survivor of the Battle of Honbau among 200 members, suffers from nightmares.
However, his request to return to the main unit was withdrawn,
The CID commander issues a secret search order to him.
January 30th at 10pm.
On this day too, the radio of the division headquarters' communication unit is screaming "Donkey Three Gong…".
Rescue requests were coming from 18 searchers who were presumed to have died in the operation area named 'Romeo Point' six months ago.
The goal of this operation is to secure evidence that can confirm the life and death of the unscathed soldiers.
3 days later.
Coordinates 63 degrees 32 minutes, 53 degrees 27 minutes _ Romeo Point entrance.
Behind the nine soldiers entering the jungle where darkness rises
An old inscription hidden by the leaves is revealed.
不歸! Those with blood on their hands can't go back!!
7-day operation, 10 people in the first camp!! I see the soldiers of… But now the day is just beginning.
program notes
In 1972, at the end of the war, a platoon of South Korean troops was dispatched to R Point under a special order. The mission is to find the soldiers who disappeared there six months ago but are still sending rescue signals. However, the missing soldiers are nowhere to be seen, and a terrifying incident begins. The achievement of this year's Korean film simply by exquisitely capturing the humiliation and ravages of war in modern Korean history through the customs of the horror genre. (The 9th Busan International Film Festival in 2004)
Related Videos