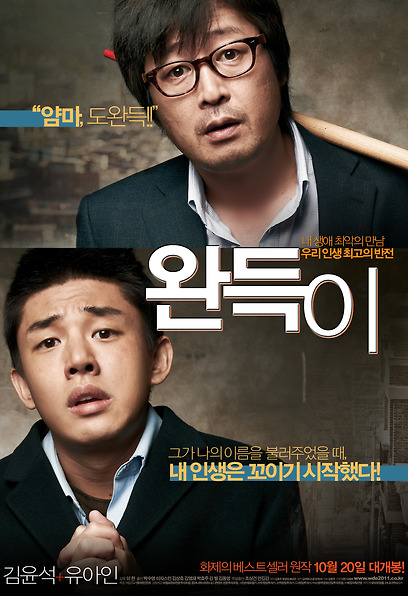 Punch, 2011
release

2011.10.20
genre

drama
country

Korea
ranking

Audience over 12 years old
running time

107 minutes
grade

9.1
cumulative audience

5311353
Awards
cookie video

One
Synopsis
At 18, I met my life's greatest enemy!
Wan-deuk-i, a high school student who lives with his father, who is taller than others, but who is bigger than anyone else, and his uncle, who has become a family for some time. He is a poor and poor family environment and can't even study, but he doesn't lose to anyone as much as he fights. There was only one thing Wan Deuk longed for, who had no possessions, no dreams, no hopes, and that was the disappearance of his homeroom teacher 'Dong-ju'! A 'Dong-ju' who intervenes in his affairs in every case and calls himself day and night while living in the rooftop room next door. Today, Wanduk visits the church and prays earnestly. "Please, kill me asshole"
When he called my name, my life began to twist!
Dong-ju, who is called 'Dong-ju' by students, is a unique educational center that leaves only the mouth open and self-study to true autonomy. Dong-ju, who has an infinite interest in Wan-deuk, humiliates Wan-deuk by revealing his family and private life that he wants to hide at school, and bullies him by stealing even the Hetbahn he received from school when he comes home. It was not uncommon for him to come in in the middle of the night and have a drink with his father and uncle. Then one day, Wan-deuk can't stand it any longer and plans to run away from Dong-ju's wide remoteness to meet his mother, who he didn't even know existed. !
A timid rebel who turned his back on the world 'Wan Deuk'
'Dong-ju', a teacher who rebels against the world
Their delightful and special mentoring begins!
[ Prologue ]
Until he called my name
i just
It was only a gesture.
"Yamma Dowandeuk!"
"Yamma Dowandeuk!!"
"Yamma Dowandeuk!!!"
homeroom teacher and neighbor
The person closest to me under the sky
when he called my name
… My life is starting to get twisted!
"Please, kill me asshole!!!"
The worst encounters of your life are sometimes the best twists!
<Completely>
[ About Movie ]

Two men who have been mentors and mentees to each other
The best mentor who will change my life is coming!
Ahn Cheol-soo/Park Gyeong-cheol, mentors who captivated the youth of Korea with the National University Tour and the Sympathy of Hope Youth Concert following lectures at universities across the country, and Kalin Park of 'The Qualification of a Man', who brought the perfect harmony of the members of the group and impressed them, the importance of a happy life, not first place Even the mentor Kim Tae-won of 'The Great Birth' who preached the Recently, the hottest keyword in our society and the public is 'mentor'. Insecure youth as well as office workers say that they need a genuine mentor who can give warm support and sometimes sincere advice. The time has come for us to dream and want to become a trusted teacher who leads changes in our lives and another name for our friend, a 'mentor'.
The movie <Wan Deuki> tells the story of an 18-year-old rebel, Wan Deuk, who is comfortable hiding from the world, and Dong-ju, a teacher who constantly tries to bring him out of the world, and two men who have become mentors and mentees to each other in their own unique way. it's a movie Dong-ju is Wan-deuk's homeroom teacher, but what he teaches is not to study, but to step out into the world and walk together confidently. Dong-joo talks about Wan-deuk's hidden family affairs in front of the children and asks if there is anything to be ashamed of. It is a moment that Wan Deuk hates more than dying, but Dong-ju's persistent mentoring that revealing rather than hiding is the first step toward going outside the world is a starting point for changing Wan-deuk. Wan-deuk and Dong-ju go beyond the simple priesthood and form a relationship between a mentor and a mentee in life. Although their mentoring is rough and crude, the appearance of the two men moving forward by changing each other's lives in it makes the viewer cherish the fluttering hope that 'I wish I had a person like that'. The movie <Wandeuki>, portrayed with a warm gaze and a pleasant touch, is a movie that will give the audience a pleasant impression and fun with the heartwarming name that everyone wants. will be.
100% synchronized casting that doubles the emotion of the original!
Korea's representative box-office actor 'Kim Yun-seok' + [Sungkyunkwan Scandal] hot star 'Yoo Ah-in'
First acting breath, tied with special mentoring!
From <Tazza>'s 'Maw', to <Chaser>'s 'Eom Jung-ho', 'Turtle Runs', 'Pil-seong Cho', 'Jeon Woo-chi', 'Hwadam', and more recently, 'Myeonjeonghak' in <The Yellow Sea>. Kim Yun-seok has established himself as a national actor with the best acting skills and ticket power by leading the box office with an unforgettable and intense character. Kim Yun-seok, who showed perfect chemistry with young actors such as Cho Seung-woo, Ha Jung-woo, and Kang Dong-won through his previous work, showed impressive acting and transformation in [Sungkyunkwan Scandal] in this work, along with young blood Yoo Ah-in from Chungmuro, who caused a craze Together they evoke new expectations.
In <Wan Deuk-i>, Kim Yun-seok lives with words in his mouth, but he breaks down into 'Dong-ju', a teacher with a unique personality who is warmer than anyone else. Yoo Ah-in, who takes on the role of 'Wan-deuk', shows a more mature acting and a unique charm that harmonizes innocence and rebellious temperament. Kim Yun-seok and Yoo Ah-in, who work together for the first time in the roles of Dong-ju and Wan-deuk, who fight each other without retreating, but become mentors and mentees who change each other's lives. Writer Kim Ryeo-ryeong, the author of the novel, praised it as "the casting with a synchronization rate of 100% or higher" with a sense of satisfaction that "the same actors I remembered when I was writing the novel". Kim Yun-seok and Yoo Ah-in's acting transformation and breathing will be the main viewing points of <Wan Deuk-i>.
Support from readers of all generations! Strongly recommended bestseller 'Wandeuki' with 700,000 copies sold
This fall, we will finally meet on the screen!
Writer Kim Ryeo-ryeong, who unanimously won the 1st Changbi Youth Literature Award by the judges unanimously, communicates with the world through the intervention and interest of Dong-ju, the main character, who was trapped in his own world due to unfavorable circumstances. It has been loved by readers since its publication as a work that depicts the process of going down with lively handwriting and lively wit. In the first year of publication in 2008, 200,000 copies were sold, and 'Wandeuki', which was selected as 'the best work selected by blogger readers' selected by Aladdin, an internet bookstore and a blog site that year, has sold more than 700,000 copies and is currently in steady sales. It is a work that has established itself as a standard seller. 'Wandeuki', which provides a pleasant laugh by unraveling materials that might otherwise be heavy, with witty lines and novel characters, is comforting and sympathetic for a moment with the warm warmth that flows throughout the work. It drew enthusiastic responses and support from a wide range of readers, including adults. Not only that, it was also staged as a play and started the 11th encore performance. Following the publication industry, 'Wan Deuki' has been a hot topic in the performance world as well. While the power of the original with excellent workability and solid storyline, such as <The Crucible>, which was recently adapted into a movie by Gong Ji-young's novel of the same name, has been passed on to the film, <Wan Deuki>, which was newly born on the screen with the support of readers of all generations, is Kim Yun-seok. , Yoo Ah-in's perfect performance will add depth to the audience's emotions and laughter.
Mr. Oji-Ryap, you timid rebel… A character full of surprises
The delightful laughter they create in their witty lines!
The unmissable fun of the movie <Wan Deuk-i> comes from the character full of personality that is full of vitality at the same time as having unexpected surprises. 'Dong-ju', who not only shouts that he only needs to study, but also meddles in every case with basic and unusual words, is a teacher who is not like a teacher, but catches the eye with a fresh character that breaks the stereotype of a problematic teacher. In addition, he has a rebellious temperament with his ability to not lose to anyone in battle, but 'Wan-deuk', whose only rebellion against his homeroom teacher is to pray earnestly to kill the dung-ju, is also curious as to whether there has ever been such a timid and soft-hearted problem child. gives rise to And the fight that begins the moment these two are together and the feast of witty dialogues flow in an unpredictable direction as much as these characters, adding to the laughter. Here, the various character groups that make up the movie, from Wan-deuk's family, who are not ordinary, to the old man next door who makes a series of "bastards" towards Wan-deuk and Dong-ju, to Wan-deuk's school friends who each have their own worries It delivers a wealth of fun with a personality that cannot be left out. The unique but not exaggerated, friendly and fresh characters in <Wan Deuk-i> and the delightful fun they create will leave a pleasant aftertaste that is hard to forget even after leaving the theater.
From top-notch supporting actors such as Kim Sang-ho, Park Hyo-joo, and Ahn Gil-gang
Excellent casting that perfectly matched the characters such as Park Soo-young, Lee Young-jae, and Jasmine
<Wandeuk> offers a variety of fun with the participation of talented actors with solid acting skills and strong personalities, perfect match with the characters in the movie, and talented actors. Luxury actor Kim Sang-ho, who is in his best heyday in dramas and movies, appeared as the 'uncle next door', who swears at Wan-deuk and Dong-ju every day, giving him a smile that cannot be missed, and as a female detective in <The Chaser>. Park Hyo-joo, who left a deep impression, took on the martial arts writer 'Ho-jeong' and created a different kind of fun with a unique and unique appearance and a love line with Kim Yun-seok. In addition, Ahn Gil-kang, an actor with strong charisma, appeared as Wan-deuk's kickboxing coach and showed a strong presence. In addition to these familiar actors with excellent acting skills, the other main characters that make <Wan Deuk-i> shine are the three actors who played Wan Deuk's family. Actor Park Soo-young, who has been recognized for his solid acting skills through theatrical stage, plays Wan-deuk's dwarf father, and Jas-min, who is actually from the Philippines and has appeared in the movie <Sister-in-law>, plays Wan-deuk's mother, perfectly matching the character of the original. It draws emotions with its natural acting. Lastly, actor Lee Young-jae, who has mainly played sophisticated characters through dramas and movies, took on the role of 'Uncle Min-goo', adding vitality to the play by stably digesting a role with a low intelligence but a pure charm. The talented actors of <Wan Deuk-i>, who shine with their unique and delicious acting, are expected to fill the screen with a heavy presence, adding to the charm of the movie.
A healthy gaze that breaks the limits of materials
The best drama in the second half of 2011 with the real life and laughter of various people!
The movie <Wandeuk> has completed a richer drama by portraying the stories of real and vivid characters that seem to be around us while capturing fresh and diverse subjects such as mentors, education, multiculturalism, and the disabled. Wan-deuk, an ordinary 18-year-old high school student, who hides when it's hard, and sometimes struggles with childish rebellion, while gradually communicating with the world. Although it is far from the cinematic splendor, the realistic character of Wan-deuk, as if watching a friend from school days, is ordinary, so it evokes a special sympathy. Dong-ju, a unique teacher who leads such a Wan-deuk, doubles the reality of the character by adding not only a pleasant personality and charm, but also the familiarity that seems to exist somewhere in the world. And Wan-deuk's imperfect family, which was like a "perfect environment for running away," such as a dwarf father with a shorter stature and a curved back, a mentally retarded uncle who had become one family for some time, and a Filipino mother whom he only knew when he was 18. The story of these people who are less than others, but who become a real family with a deeper sincerity, warmly fills the movie <Wandeuki> with unpretentious simplicity. <Wandeuki> depicts new issues in modern society, such as multicultural families and the disabled, with a warm and healthy perspective, with various characters that seem to be around us as the main characters. While <Sunny> in the first half of 2011 captivated the audience with its structured drama and laughter that stimulated nostalgia, <Wandeuki>, a healthy and pleasant look that heals the wounds of the times, is a warm-hearted laughter and rich drama in the chilly autumn theaters and audiences. will heal your heart
[ Epilogue ]
In every case, it is meddling,
there's nothing you don't know about me
I want to hide myself,
calling into the world
Even if I run away to death because I hate it,
still behind me
My family, which I am ashamed to put forward,
Having a drink with my family
everyone is against,
You were the only one who sided with my dreams
When 'he' called my name
My life has just begun… !
Do you also have a 'someone like this'?
<Completely>
Related Videos