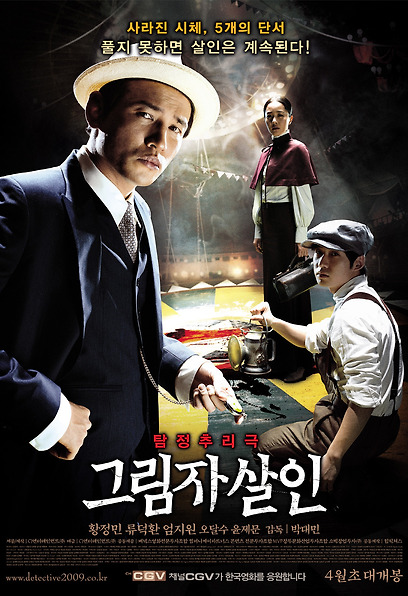 Private Eye, 2009
release

2009.04.02
genre

thriller
country

Korea
ranking

Audience over 15
running time

111 minutes
grade

7.3
cumulative audience

1892467 people
Synopsis
The room is filled with blood and the body is gone! The murder case of the labyrinth that shook Joseon!
The room, located in the quiet backyard, was full of blood, and the owner of the room, 'Min Soo-hyun', disappeared. His father raises a large bounty to find his son, and Young-dal (Oh Dal-su), the head of the police department, is desperate to find Min Soo-hyeon. Meanwhile, at that time, medical student Kwang-soo (Ryu Deok-hwan) finds out that the corpse he accidentally picked up for anatomy practice was Min Soo-hyun. In danger of being framed for murder, he visits private detective Jin-ho (Hwang Jung-min) and asks for a case.
Detective Jin-ho, medical student Kwang-su, and female inventor Sun-deok trace the remaining 5 clues!
What was found in the murdered Min Soo-hyun's room was white powder and a strangely shaped 'Karakuri' doll. Jin-ho and Kwang-soo go to Sun-deok (Um Ji-won), who is working as a female inventor, while hiding their identity, and receive Man Si-gyeong and Eun Cheong-gi ('Secretly Listening Machine') necessary for the investigation, and start a full-scale investigation. And when he learns that the unknown white powder is 'Moruhine', he infiltrates the secretly circulated injection house and finds out that the last destination of Min Soo-hyeon's death right before his death is the acrobatics troupe.
Then a second murder occurs. The victim is none other than the chief of the Police Department, who boasts the highest power. Moreover, it was abandoned in the same place where Min Soo-hyun was abandoned. Young-dal, who is under intense pressure on the investigation due to a series of murders, tries to end the investigation by creating a fake criminal. .
Uncover the great secrets and conspiracies behind the murder case!
Jin-ho and Kwang-soo headed to the acrobatic troupe with the clues left behind. In a place where you can feel an ominous energy, now you have to unravel the mystery of the case to prevent further murders…
Unprecedented murder case and acrobatic troupe, Moruhine and Karakuri dolls, bloody pieces of cloth and two corpses!
What the hell is their relationship and who is the culprit? As we get closer to the truth, great secrets and conspiracies that no one could have imagined await…
[ PROLOGUE ]
Origin of 'Detective'
'Detective' refers to a person who is engaged in secretly finding out secrets or circumstances.
It is known that the world's first detective agency was founded in 1748 by the poet H. Fielding (1707-54), a magistrate in Beau Street, London, and was a small organization belonging to the municipality called the Beau Street Runners. The activity to find out the secret was started mainly by state institutions, but gradually expanded to the private realm as time passed.
The world's first private detective agency is known as the 'Pinkerton National Detective Agency', founded in 1850 by Alan Pinkerton (1819-84). Pinkerton is an immigrant from Scotland. During the Civil War, he was involved in spying in the Union Army and served as the first U.S. intelligence officer.
Pinkerton made the human 'eye' the mark of his office, and for this reason, private detectives in the United States began to be called 'eye' or 'private eye'.
'Detective' characters from each country that fascinated the world
Since being a 'detective' is a job that deals with secrets, little is known about the real detectives' personal information. However, their activities were recognized as attractive subjects and appeared in numerous mystery novels.
As a result, various 'detective' characters that will remain in history were born.
The representative characters are 'Sherlock Holmes', the pronoun of a detective that needs no further explanation.
Edgar Allan Poe created the world's first detective 'Dupin'
Dr. Son Dyke, the first to introduce forensic science to detective investigations
Detective Hercule Poirot was created by Agatha Christie, the queen of mystery novels.
Akechi Kogoro, a detective created by Japanese mystery novel master Edogawa Ranpo, and also a model for 'L', the main character of the manga <Death Note>.
The birth of a Korean detective!
So what about in Korea?
Recently in Korea, the 'Certified Private Investigation Project Act', which legalizes civilians' self-investigation into crimes, illegalities, and unfair acts upon request from others, like 'Sherlock Holmes', is being pursued in Korea. job doesn't exist
That's why, when you think of 'Korean detective', no one comes to mind easily.
But now, you can expect the birth of a Korean detective through <Shadow Murder>.
On April 2nd, the never-before-seen history of a Korean detective begins.
[ ABOUT MOVIE ]
2009 Korean film, a new genre movie you have never seen before!
The birth of a detective mystery drama that will make Korea tense!
In the Korean film industry, the birth of a full-fledged detective mystery drama with the main character 'detective' is in front of us. If so far the main films have been movies in which a detective appears and investigates a case, <Shadow Murder> draws attention as it interestingly depicts the process of unraveling a case based on the 'reasoning' that can only be seen in novels. The amazing reasoning process of unraveling the secrets and meanings hidden in the clues found at the scene is expected to create tension and thrill throughout the viewing.
Above all, in that there are no famous detective characters such as 'Sherlock Holmes' and 'Hercule Poirot' in the UK and the US, <Shadow Murder> presents a Korean-style detective character, raising expectations for new genres and characters. . <Shadow Murder> is attracting attention as it is expected to bring a new wind to Korean cinema, which is expanding its perspective with new genre films through various materials and trials. It is foretelling the birth of an exciting genre film that approaches the case through stories, characters, and 'mystery' that have never been seen before.
Labyrinth Murder Case! Reasoning the case with 5 clues!
Experience the exciting reasoning provided by a solid scenario!
The movie <Shadow Murder> is drawing attention as it foretells the birth of a detective mystery drama that will make 2009 tense. <Shadow Suicide>, the winner of the 7th Makdongi Scenario Contest in 2005, was well-received as a mystery drama with a well-structured storyline and exciting development. The secret of the case through clues such as a room soaked in blood, a missing body, an unprecedented murder case, a karakuri doll, white powder, and a piece of blood-stained cloth, which are clues to the labyrinth. It will unravel the process of digging up and getting closer to the truth in an interesting way. Based on a solid scenario that has already been verified, <Shadow Murder> will present an exciting mystery that has never been seen before.
Hwang Jung-min, Ryu Deok-hwan, Uhm Ji-won, Oh Dal-su
All of the best actors representing Korea are here!
Actors from the film industry all gathered in one place for <Shadow Murder>. Since it is the actor's job to immerse the audience's eyes and minds into the play from beginning to end, casting of actors with acting skills that can express the tension of the mystery play delicately and powerfully was more urgent than any other work. Accordingly, with the casting of 'Hwang Jung-min', who is recognized as an actor who perfectly digests various genres with an animalistic sense of acting, and 'Ryu Deok-hwan', who is well-received as a transformational genius that moves between innocence and madness, coolness and warmth, <Shadows> Murder> completed a solid lead cast. And 'Eom Ji-won', who is constantly receiving love calls from famous directors for her elegant yet strong acting, joins as the female lead, and Oh Dal-su, an actress with a strong personality who is active in the film industry with her skills honed in the theater industry, is cast as a supporting role. Meanwhile, <Shadow Murder> is going to present a sparkly performance showdown between the best actors.
A private detective, a brilliant medical student, and a female inventor who enjoys a double life!
A feast of the most unique and individual characters in the history of Korean cinema.
<Shadow Murder> will feature unique and unique characters that have not been seen in Korean movies, and will be responsible for a different kind of fun. First, 'Hong Jin-ho', who is foretelling the birth of a Korean-style detective character that has never been seen before, and 'Kwang-soo', a hot-blooded medical doctor who is in danger of being framed when he finds out that the body he has picked up for dissection practice is the victim of a murder case. New characters, such as 'Soon-deok', who works as a female inventor with hidden A private detective who deserves as much as he received, and a passionate medical student who is in danger of being framed, these duo are very different from birth. Compared to 'Hong Jin-ho', who fearlessly jumps into a case with instinctive reasoning and driving power, 'Kwang-soo', a prudent character who is not willing to step into illogical situations, bumps into every incident, but at the decisive moment, he shows off a fantastic team play and adds to the fun of the play. In addition, 'Soon-deok', a role coveted by many actresses, is a female character who is ahead of its time, providing inventions to 'Hong Jin-ho' and 'Kwang-soo' as well as providing a decisive hint to solving the case. going to put They plan to provide special fun by conducting an investigation that makes your knees pound through a fantastic combination play that fills in each other's shortcomings.
The appearance of the most advanced investigative equipment of the time, such as the Mansi-gyeong and the silver cheonggi!
Gorgeous stunts of the aerial acrobatics of the Joseon Dynasty!
Armed with splendid historical sights that have never been seen before!
<Shadow Murder> adds to the fun of a detective mystery drama chasing a murder case. At that time, it was a machine that could see distant places up close, and at the same time, it was equipped with a slide film and also functions as a camera. The state-of-the-art investigative equipment of the time, such as 'Silver Cheonggi', will appear to show a fun investigation process that is different from modern dramas.
In addition, an aerial acrobatic troupe from the Joseon Dynasty, which had never appeared in Korean films, appeared, and the distinctive costumes with modern imagination added to a style that reflected the characteristics of that era as well as a variety of circus 'Shamisen' performed by the Dongchun Circus troupe. (Japanese stringed instruments)' elegant and fantastic 'butterfly magic', remodeling an abandoned textile factory, and a secret workshop in Shunde where you can meet various novel experimental tools and inventions. We will show you the sights without any regrets.
Related Videos