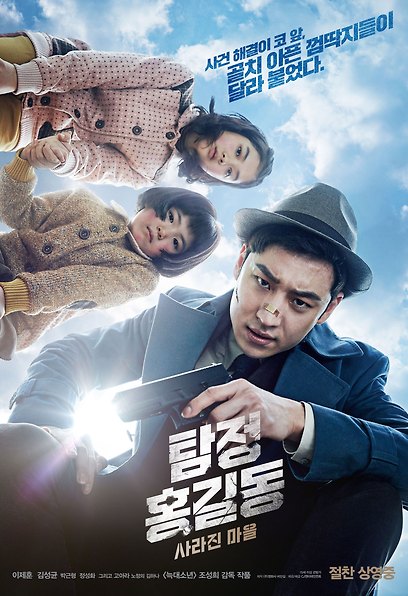 Phantom Detective, 2015
release

2016.05.04
genre

drama/action
country

Korea
ranking

Audience over 15
running time

126 minutes
grade

7.5
cumulative audience

1430960 people
Synopsis
A world run by bad guys,
A new hero is coming!
Detective Hong Gil-dong, who has a 99% case resolution rate and is more notorious than the villain, has only one person he has not been able to find for 20 years. It was Kim Byeong-deok, the enemy who killed his mother. Hong Gil-dong finally finds him after a long effort, but Kim Byung-deok is kidnapped by someone in an accidental car, and only his two granddaughters, Dong-i and Mal-soon, remain in his house.
While chasing the clues of Kim Byung-deok who has disappeared with two sisters who suddenly stick together like gumdrops and ask for their grandfather, Hong Gil-dong encounters the reality of the Kwangeunhoe, a giant organization that is trying to swallow up Korea…
The long-awaited moment of revenge, the annoyed plate grew bigger!
Detective Hong Gil-dong is not good.
No, far from being nice, he is notorious for being cruel and ruthless than the villain.
But why are we going to talk about Hong Gil-dong now?
Hong Gil-dong stole Tamgwan-dori's property and gave it to the poor people.
In the end, they all leave for a happy utopia together.
Even Hong Gil-dong in the classic novel is not good by traditional standards.
But what if it's not good?
We wait for a hero who will relieve our suffering rather than a righteous one.
I eagerly wait for someone to blow away this stuffy world.
Waiting for someone to defeat the bad guys in a worse way than the bad guys.
Our hero who has been looking for you,
The only person who understands our hearts even if we are not good, that person is Hong Gil-dong.
[ Prologue ]
Detective Profile
* Name: Hong Gil-dong
* Family Relations: Not sure exactly
* Occupation: The head of the Hwalbindang, an illegal entertainment center, and a private detective
* Personality: Fearless, affectionate, friendless, without mercy
* Special note: Left hippocampus damaged by the impact of an accident as a child
Loss of emotional awareness and memory before age 8
Suffering from insomnia as a result of the accident
Chasing down a man who hasn't been found in 20 years
* Specialty: Lying, recognizing liars
* Favorite: Caramel
[ About Movie ]
A new hero emerges
'A detective more notorious than the villain' has appeared!
Exciting catharsis that is stronger than cider!
In May 2016, a new hero who completely broke the stereotype of the main characters in the movie that we have seen before appears. 'Hong Gil-dong', known to all Koreans, met with director Jo Seong-hee and was reborn as 'Hong Gil-dong', a detective more notorious than the villain.
"'Hong Gil-dong' is an enterprising character who does not conform to the unreasonable society of the Joseon Dynasty. And they sometimes use the wrong method to achieve justice. I wanted to bring this character of 'Hong Gil-dong' to modern times and draw it in a nice combination." Director Jo Sung-hee, who felt strangely interested in the anonymity of 'Hong Gil-dong', whose name has been called countless times by many people, and his secret activities in the dark without anyone knowing the truth, told 'Hong Gil-dong', such as 'lack' and 'defect'. Korean-style dark & anti-heroes were created by adding special devices that were rarely seen in Korean movie protagonists.
In the drama, Hong Gil-dong is a character who lost both his emotional recognition ability and his memory before the age of 8 due to damage to his left hippocampus in an accident as a child. Because of this, they do not know who they are, whether their origins are good or evil, and they lack the ability to empathize with others. As a result of the accident, he lives on stimulants and suffers from severe insomnia. Unlike 'Hong Gil-dong' as we know it, 'Hong Gil-dong' in <Detective Hong Gil-dong: The Disappeared Village> is a unique character that is immature in personality and has flaws physically. However, he is smarter than anyone, and he is the leader of the Hwalbindang, an illegal entertainment center. The heroic side of 'Hong Gil-dong' is even more pronounced when confronted with Kwang Eun-hoe, a black organization that controls Korea. He runs towards his goal without being afraid of the enormous power that tightens him. 'Hong Gil-dong', which begins with a religious organization and breaks their conspiracy against the gigantic secret organization Kwangeun-hoe, which has infiltrated every organization in Korea, including politics, economy, and the military, provides an exhilarating pleasure to the audience of this age. "'Hong Gil-dong' is a character that cannot be called 'cool' like the main character in other movies. He is neither warm nor friendly, nor is he a belief nor justice, he is a non-ideological character. However, I wanted to show how a character with so many weaknesses can change and how attractive it can be." As director Jo Seong-hee said, 'Hong Gil-dong' in <Detective Hong Gil-dong: The Lost Village> is not just, but has no mercy towards the villains. I will deliver a refreshing catharsis to them.
New creators in the Korean film industry! Director Jo Sung-hee
Upgraded after <A Werewolf Boy>
Meet imagination and directing style!
Director Cho Seong-hee, a new creator in the Korean film industry, has realized a unique mise-en-scène and a new directing style for each film with great imagination. Through the movie <A Werewolf Boy>, which captivated 7 million viewers in 2012, it opened a new genre with beautiful images that transcend time and fantasy about eternal love, as well as the story of 'A Werewolf Boy' and warm people who are willing to become family members. Director Jo Seong-hee, who received rave reviews, will present his style and imagination upgraded to his next film, Detective Hong Gil-dong: The Lost Village.
<Detective Hong Gil-dong: The Lost Village> is a new work that cannot be defined by genre and era, and is a film that can feel the unique and sensuous direction of director Jo Sung-hee. Director Jo Sung-hee said, "I expressed everything differently in directing, from lighting to camera angles, walking, and art so that the movie could become a new spectacle for the audience. In order to be able to experience a new story, it was directed in an expressionist way rather than reality-oriented directing." In fact, he added the fun of boldly trying out effects that were not used in existing Korean films in <Detective Hong Gil-dong: The Lost Village>. Unlike a typical movie that processes CG only in scenes that cannot be filmed, <Detective Hong Gil-dong: The Disappeared Village> created a new visual style by reconstructing the background and vehicle of Hong Gil-dong driving a car with CG. Also, in order to guide the audience to a new cinematic space, the places in the film are intentionally expressed as anonymous cities and places. In addition, he boldly used light, shadow, and fog, the main elements of classic Hollywood noir, emphasizing the genre's characteristics throughout the film. In terms of time setting, unlike general movies that are divided into breakfast, lunch and dinner, there is no time limit, such as using bright light even at dawn or late at night, and more emphasis is placed on expressing the atmosphere of each space. Director Jo Sung-hee completed a new style that had never been seen before by reflecting the character's various emotions in the main spaces of the movie, such as dramatic spaces full of tension, warm emotional spaces, and hard and cold spaces, mainly using pastel-toned colors.
The background of the movie, which is difficult to guess the era, but the most Korean story and characters, director Jo Seong-hee created a story and style that is stronger than ever by combining two different elements with sophisticated visual beauty and sensuous direction. The audience will also be immersed in the film <Detective Hong Gil-dong: The Lost Village>, directed by Jo Seong-hee.
Finally, the 'Lee Je-hoon era' begins!
A NEW Hong Gil-dong that has never been seen before is born!
Actor Lee Je-hoon, who jumped up to the most anticipated star in Chungmuro with just one episode of <The Watchman> and left a deep impression on the audience by being referred to as a next-generation actor through his delicate emotional performances in <Gojijeon> and <Introduction to Architecture>. In the recent drama [Signal], he disassembled as profiler 'Park Hae-young' and established himself as the most popular actor in name and reality. He returned to the screen holding hands with director Jo Seong-hee of <A Werewolf Boy>.
In <Detective Hong Gil-dong: The Lost Village>, Lee Je-hoon transformed into 'Hong Gil-dong', a detective more infamous than the villain, and was fully prepared to capture Chungmuro. Transformed into a new detective Hong Gil-dong, which has never been seen before, Lee Je-hoon received the audience's expectations when the trailer was released, leading to reactions such as 'a cool, sexy, and attractive detective character' and 'Lee Je-hoon's life movie'. have. "Lee Je-hoon is very similar to 'Hong Gil-dong' that the movie wants. A face where good and evil coexist, a comfortable yet very sharp and sharp image, and a serious attitude. I can't imagine who would have played this role if it wasn't for him." As director Jo Seong-hee said, 'Hong Gil-dong', a character who punishes bad guys but is not good, and a hero but not perfect, is a complex that only Lee Je-hoon can digest. enemy character. Director Jo Sung-hee chose him as Hong Gil-dong without hesitation because he was the one who perfectly digested the complex and delicate emotional acting more than anyone else.
Lee Je-hoon, who started 2016 brilliantly with the drama [Signal], will open a full-scale prelude to the era of Lee Je-hoon with 'Hong Gil-dong', a new hero who broke all the typical heroines.
Kim Seong-gyun – Park Geun-hyeong – Jeong Seong-hwa – Noh Jeong-ui – Kim Hana and Go Ara
From casting to acting chemistry, everything is perfect!
A colorful feast of characters who have nothing to throw away
In <Detective Hong Gil-dong: The Disappeared Village>, actors who are active across CRTs and screens with their solid acting skills and unique charms gather to provide a variety of sights and fun.
Actor Kim Seong-gyun, who has shown impressive performances in <War Against Crime: The Golden Age of Bad Guys>, <Neighbor>, and <Hwayi: The Child Who Swallowed a Monster>, returns with the genre and character he stands out the most. Kang Seong-il, played by Kim Seong-gyun, is Hong Gil-dong's most powerful enemy and the only person who knows his secret. Director Jo Sung-hee said, "Kim Sung-kyun had a very diverse face. The spectrum is so broad that I actually learned the real side of the character 'Kang Seong-il' through his acting." He also praised his acting.
Park Geun-hyung, a representative of Korea, plays the role of 'Kim Byung-deok', the enemy Hong Gil-dong has been searching for for 20 years, and unfolds a charismatic performance. It makes the development of the play richer by digesting it. In addition, Go Ara will appear as 'Chairman Hwang', the owner of the Hwalbin Foundation, who has nothing missing from her beauty, brain, wealth, and will show off a unique and differentiated female character that has not been seen in Korean movies until now. In particular, 'Chairman Hwang' helps him both physically and mentally with his enormous fortune and a brilliant brain as good as Hong Gil-dong. In addition, the new faces of Chungmuro, who are divided into 'Dong-i' and 'Mal-soon', who follow Hong Gil-dong wherever he goes, will appear, adding more vitality to the play.
The movie <Detective Hong Gil-dong: Disappeared Village>, which arouses interest and curiosity with a fresh casting combination and unpredictable arrangement of various characters, will allow you to feel once again the meaning of the word 'a new character' and a casting with nothing to throw away.
[ Production Note ]
Welcome to Cho Sung-hee World
Living with the character
Space analysis of <Detective Hong Gil-dong: The Lost Village>
Director Jo Seong-hee, who gave wings to the audience's imagination in the film <A Werewolf Boy> with an unpredictable space and time setting, also put a lot of effort into creating a background and space that overturned the existing formulas in <Detective Hong Gil-dong: The Lost Village>. Creating a space in the film that the audience could accept without losing the Korean color was the biggest challenge that the director and production team had to solve. Based on the first concept art created by director Jo Seong-hee, the production team delicately refined the space through a six-month pre-production period. Introducing new spaces unique to <Detective Hong Gil-dong: The Lost Village>, where strong stories and characters that can be called another main character of the movie live and breathe together. (Concept Art Design: Illustrator Jeon Jong-wook)
The film begins with a city view. The city lights are gorgeous, but people don't feel the warmth. Director Jo Seong-hee created an image of a huge city by re-creating urban landscapes and cars with CG. Detective Hong Gil-dong, who gets into a car through the city, appears for the first time. A glamorous but quiet and cold city that hides many secrets, Hong Gil-dong, the infamous detective whose face no one has seen and whose identity is unknown, resembles this city.
The sewer machine room shows the merciless way of solving the case of 'a detective more infamous than the villain' Hong Gil-dong, and clearly imprints his character, and it is a space that represents the mise-en-scène of this movie. Director Jo Seong-hee tried to break away from the image of an underground machine room that anyone could think of and put a lot of effort into allowing the audience to feel Hong Gil-dong's character in this space. It was set up as a minimal space with almost no furniture or other objects on the cement wall where you can feel the cold air. This is a detective with natural talent, but it symbolically represents Hong Gil-dong's inner side, which is emotionally lacking. In addition, music using woodwind instruments was included in the scene of the sewer machine room to convey the atmosphere of the noir space. Pizzicato music, which is a method of striking a string with a finger, was also applied to prevent the dark and heavy atmosphere of the sewage machine room from being conveyed. Since it is a space that symbolizes the character of Gil-dong Hong, who has had an unusual childhood and is emotionally dry, we tried to revive the character in a three-dimensional sense by inserting music played with broken pianos or toy instruments.
Kang Sung-il, who only moves forward without any emotion to achieve his goal. In his space, there are no everyday household items that can measure life. Furniture used for secret work, hard-textured props, and the color of light that makes you feel chilly. All of this speaks of the devastated soul of Sung-il Kang. Kang Sung-il's apartment is a temporary residence for a conspiracy in Myeongwol-ri, so his actual wealth and power are not revealed. However, this space could only be completed after going through numerous revisions and supplements by director Cho Sung-hee and the production team to show Kang Sung-il's wickedness and emptiness of mind, and to design an effective action with Hong Gil-dong.
The office of Halbindang, an illegal entertainment center secretly run by the owner of the Halbin Foundation, 'Chairman Hwang', is the most luxurious, modern, and huge space in the movie. It is also a place that shows how much wealth Chairman Hwang possesses. The room of 'Chairman Hwang' was placed on the second floor of a two-story structure so that the employees could look down on their work, and the office alone made it possible to gauge the size of Hwalbindang. Her office, which overlooks all movements of Hwalbindang, is a space that symbolizes Chairman Hwang himself, who leads and controls all parts of the organization, and possesses great wealth and extraordinary leadership.
It is a base camp where Hong Gil-dong takes a break from the arduous journey while accompanying his granddaughters Dong-i and Mal-soon to find the missing Kim Byung-deok, and it is an important place where the owner of the inn can get information about the incident. Boseong, laid loosely in a deserted field, acts like a shelter that protects Hong Gil-dong and the children, who are caught in a huge incident, from the outside. Although it is old, the innkeeper's touch is everywhere, creating a warm and cozy feeling.
The owner of a repair shop, one of Hong Gil-dong's important helpers. He always looks blunt and depressed, but he has a warm personality. His space, Taekwang's workshop, looks old and old and looks unsightly on the outside and lonely in a remote suburb, but on the inside, it is filled with simple and sentimental accessories. In <Detective Hong Gil-dong: The Lost Village>, the space of the wicked and the space of the good are divided by color. The wicked were divided into the blue series, which is a cold color, and the good men by the warm color series. Taekwang's repair shop is also limited to colors ranging from orange to green that give a sense of warmth, and the overall tone and accessories are selected and decorated with a set color. Taekwang repair shop is also not flashy, but it is one of the few safe havens for Hong Gil-dong, Dong-i, and Mal-soon in this village.
A large abandoned house in a secluded forest, following the traces of the kidnapped Kim Byung-deok. The back part of the building, which is made of rough stone walls, is buried in a hill, so it is so huge that it is difficult to even estimate its original size. There is a strangely huge door in the center, but it doesn't budge. However, passing through the dark and long cave beyond the gate, the gloomy and bizarre village that the origin of this story hides is finally revealed. Another huge building standing tall in the middle of the village is also the place where Hong Gil-dong and Kang Seong-il's inevitable confrontation takes place. The shooting scene of Hong Gil-dong and Kang Seong-il in the white mist is expressed more suffocatingly in harmony with the dark and mysterious atmosphere unique to the bizarre village.
The spaces of <Detective Hong Gil-dong: The Lost Village>, which break away from the typical image of a space that everyone can think of and melt the emotions and relationships of the characters in it, will become a viewing point where you can enjoy the movie more colorfully.
imaginary space
No. 1 contributors who perfectly implemented it on the screen!
Behind-the-scenes stories from the staff
In order to realize the imaginary spaces in director Cho Sung-hee's head, "I made it ambitious to express unrealistic elements more boldly," on the screen, the staff from all fields including photography, lighting, art, music, CG team, etc. I had to carry out a more challenging mission.
"It will be a new milestone in Korean film history" _ Byeon Bong-seon, cinematographer
"Focused on harmonious grafting of CG and live-action shooting" _ Hyung Joo Hyung, Visual Effects Director
"Focused on expressing the broken hero character and the unique world in the movie"_ Kim Tae-seong Music Director
In order to create a fabricated era and atmosphere, the crew chose to synthesize most of the backgrounds using few real places. For this reason, the collaboration between the filming team and the CG team was more important than anything else. After the shooting team imagined and evaluated the background to be synthesized on the spot, and finished shooting by capturing the lighting and angles, the CG team continued the work in such a way that the CG background was applied to the live-action shooting. Among the videos created through this process, a representative scene is the car scene in which Hong Gil-dong runs through the city at the opening. Although this scene is reminiscent of the background of a developing country in the 1970s and 1980s, there are many skyscrapers that did not exist at that time around the road where cars run. This opening, which shows a special space where the times are mixed, is a scene that clearly reveals the unique direction of director Jo Sung-hee, and plays a role in leading the audience to a new world. The music used in this scene also plays an important role in making the new cinematic space stand out. To this end, music director Kim Tae-seong, who has an outstanding talent for sensibly reviving the movie's visuals and characters on a huge scale in works such as the movies <Myeongryang> and <The Black Priests>, joined the team. He intentionally inserted inhomogeneous and rough music by combining the strawberry flute and rock drum, which are the signature instruments of American detective films in the 1960s. It was to express the ambivalent Hong Gil-dong character and the city in which he works in an attractive way. Also, the shooting scene between Hong Gil-dong's Halbindang and Kang Seong-il's Kwangeunhoe gang at the marina is one of the scenes that the cinematographer and CG team worked hard on the most. The shooting scene, which was shot with a high-speed camera a total of six times and then re-edited as one-scene, one-take, is a scene in which each bullet flies by adjusting the speed such as low and high speed, deceleration, addition and subtraction, to the scene where a wooden board with bullets is crushed. From the scene to the figure of a person being shot down, everything is compressed and presented in detail. Cinematographer Byeon Bong-seon and visual effects director Sung-Joo Sung were able to start shooting for this scene after months of careful design and simulation.
Related Videos