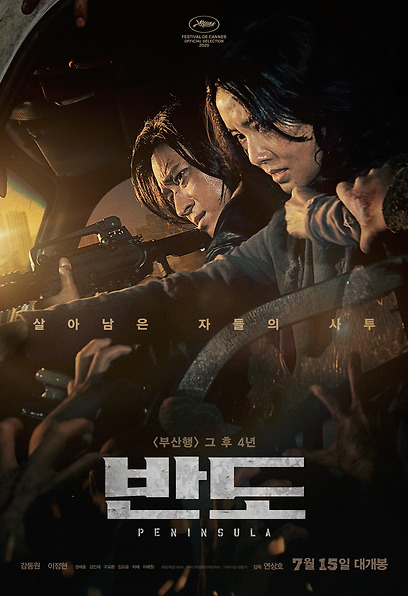 Peninsula, 2020
release

2020.07.15
genre

Action/Drama
nation

Korea
ranking

Audience over 15
running time

116 minutes
grade

5.3
cumulative audience

3812250 people
Synopsis
4 years after the unprecedented disaster
Enter the ruined land again!
Jeong-seok (Kang Dong-won) managed to escape from an unprecedented disaster that swept the entire country four years ago.
He receives an unavoidable offer to reenter a peninsula completely isolated from the outside world.
While performing a mission to secure a designated truck within the time limit and exit the peninsula
Unit 631, which has lost its humanity, and a large horde of zombies that are stronger than 4 years ago attack Jeongseok and his party.
A moment of despair,
With the help of the family of 'Min-jeong' (Lee Jung-hyun), who survived the ruins, the crisis was barely averted.
Together with them, they decide to seize the last chance to escape the peninsula.
Those who returned, those who survived and those who went crazy
The desperate battle begins!
[ ABOUT MOVIE ]
The worldview of 'Yeonni Bus' expanded to <Seoul Station>, <Train to Busan>, and <Peninsula>
Official Invitation to Cannes Film Festival 2020!
The action blockbuster the world is waiting for!
Following the worldwide mega hit <Train to Busan>, <Peninsula> will visit theaters in the summer of 2020. The action blockbuster <Peninsula> is an extension of director Yeon Sang-ho's apocalyptic worldview that continues from <Seoul Station> and <Train to Busan>.
K-Zombie's bible <Train to Busan> achieved dazzling achievements worldwide. As well as selling in over 160 countries, it achieved $140 million in worldwide box office revenue, raising the status of Korean films. Director Yeon Sang-ho, who built his own universe, 'Yeonniverse', which runs through the three works, from 'Seoul Station', the prequel of 'Train to Busan', and 'Peninsula', which is dealt with 4 years later, said, "What kind of situation has unfolded in Korea after 'Train to Busan'? I had a lot of fantasies about losing it," he said, explaining the beginning of <Peninsula>. The story after <Train to Busan> is also the result of long-awaited movie fans around the world. Lee Dong-ha, CEO of Red Peter Co., Ltd., the production company of <Peninsula>, said, "I saw fans all over the world telling various versions of the next story of Train to Busan. I felt that a story that could expand the worldview was enough, and I thought I could tell a new story to the audience." If <Train to Busan> expanded the genre by bringing zombies to the center of popular culture for the first time in a Korean commercial film, <Peninsula> delivers a fresh shock to the audience with the first post-apocalyptic worldview set in Korea. <Peninsula>, born from the end of boundless imagination, captures the urgency of those who desperately fight for survival and escape in a situation where a familiar landscape has been turned into ruins.
As proof of global expectations, <Peninsula> is receiving intensive spotlight even before its launch. As proof of this, <Peninsula> was selected as the official invitation film for the 2020 Cannes International Film Festival following <Train to Busan> in 2016. In particular, director Yeon Sang-ho is the first in Korea that films with a single worldview, such as Train to Busan and Peninsula, have been invited to the Cannes Film Festival one after another. Regarding director Yeon Sang-ho, who was invited to Cannes for the third time, Thierry Fremo, the executive director of the Cannes Film Festival, introduced him as "Korea's representative director following Park Chan-wook and Bong Joon-ho" and praised "Peninsula" as a great sequel to "Train to Busan". did. Subsequently, pre-sales were completed in North America, France, Latin America, and Taiwan, and it is scheduled to be released in major Asian countries at the same time. In addition, it is continuing its global steps, such as signing a global VR rights contract with Vivid3, a Singaporean special effects video production company. Expectations are high whether the most anticipated work of this summer, <Peninsula>, will be able to continue the global syndrome once again, with an expanded scale beyond <Train to Busan>, action full of speed, and intense visuals that have not been seen anywhere else.
4 years after the unprecedented disaster
Those who returned, those who survived, those who went crazy
A desperate battle for survival unfolds!
<Peninsula> is an action blockbuster that depicts the final battle between those left behind in the ruined land four years after <Train to Busan>. From those who risked their lives to return to the ruined peninsula, those who survived like wild dogs there, and those who went crazy who claimed to be wild dog hunters and became more menacing than zombies. It unfolds in a tense story.
"I wanted to show you life in a world where reason has collapsed, a world ruled by savagery. Director Yeon Sang-ho said, "I hope that we can think about what it means to be human through various characters living in a world where savagery is inherent." stack up densely. After the disaster that engulfed the whole country, the world was devastated, and in the city full of hungry zombies, Min-jeong (Lee Jung-hyun) made up a family with Jun-i (Lee Re), Eugene (Lee Ye-won), and Kim No-san (Kwon Hae-hyo), and survived like a wild dog, and the members of Unit 631 survived. They became outlaws who reigned over the ruins and built their own world. And Jeong-seok (Kang Dong-won), who accepted the unavoidable offer, returned after 4 years.
<Peninsula> expands the background from a running train to the vast city center, so the main character Jeong-seok takes the lead in a larger-scale and fast-paced action. In it, the characters break the clichés of gender and age, giving them another freshness. Juni and Eugene actively participate in the battle against zombies with their own wit and special skills, breaking away from the typical disaster movie genre in which an adult saves a child. Juni performs an overwhelming car chasing scene, and Eugene shows off the zombies with an RC car and breathes new energy in the right place. Min-jeong, a female character, also subdues enemies with a strong appearance. The fact that Min-jeong, Jun-i, Eugene, and Kim play a 'one-team play' that transcends generations is also a point of observation that can give a new perspective on <Peninsula>.
"It was a very powerful scenario as a genre movie" (Kwon Hae-hyo), "You can see how evil humans can become in extreme situations, and even those who live by keeping their humanity" (Kang Dong-won), "New adventures and adventures. A story that can give you a new experience" (Kim Min-jae) said the actors did not spare their praise for the work. Based on a post-apocalyptic worldview, fast-paced action performed by colorful characters will explode on the screen this summer.
Kang Dong-won, Lee Jung-hyun, Kwon Hae-hyo, Kim Min-jae, Koo Gwan-hwa, Kim Do-yun, Lee Re, Lee Ye-won
From Genre Master to Little Ma Dong-seok!
A sniper casting for all generations!
<Peninsula> has completed a dream casting that targets all generations. Actors with individuality, charm, and acting skills will be dispatched to herald a fresh acting transformation.
Genre master Kang Dong-won, who has shown infinite character digestibility such as <Kundo: Age of Rebellion>, <Black Priests>, <Prosecutor Gaiden>, <Master>, and <1987>, transformed into Jeongseok, a desperate survivor who returned with a mission to the ruined land. . Jeong-seok is a character who has lost his family in an unprecedented disaster and has lived a helpless life, but he returns to the peninsula and changes little by little as he joins the survivors. Kang Dong-won, who was important to capture the emotions of the character, showed enthusiasm to share opinions through video calls with director Yeon Sang-ho, even while staying abroad, to create a classic character. "Even in the action scenes, he instilled emotions in a rich way, completing Kang Dong-won's unique character. His eyes were so good that I had no choice but to immerse myself in it." As director Yeon Sang-ho said, he gave the character a new color and added breath. In the action scene with the zombie actors, he showed off his shining skills and showed the 'standard of action'. Kang Dong-won created impressive action scenes by exquisitely matching the unique movements that exceed the expectations of zombies.
Returning female warrior Lee Jung-hyun took on the role of Min-jeong, a survivor of the peninsula, and challenged her first action blockbuster since her debut. As director Yeon Sang-ho said, "I first thought of Lee Jung-hyun for the role of Min-jeong", Lee Jung-hyun was Min-jeong. From the strong survival power of fighting for their lives to the deep-seated maternal love, the multi-layered character was brought to life in a three-dimensional sense. Lee Jung-hyun thoroughly prepared for the first action performance in filmography history, saying, "I was so excited that the direction that Min-jeong and Yeon Sang-ho, who drew the character concept and styling in my head, coincided." With meticulousness and sincerity, paying attention to every gesture and holding a gun, she mastered everything from gunfights to car chasing, creating a strong character.
Actor Kwon Hae-hyo takes on the role of Kim No-nam, a survivor who survives with Min-jeong. Older Kim, a former military official, is a person who never gives up hope until the end to get children out of the ruined peninsula. Director Yeon Sang-ho said, "I also showed an unquestionable performance. He showed a good side as a senior and an actor while leading the child actors, so I was able to rely on him and work together."
Lee Re, who will emerge as the next-generation Chungmuro blue chip, and Lee Ye-won, a rookie child actor, are also notable. The children who survived the ruins learn their own skills to fight against zombies. Lee Re plays Jun-i, who shows off her excellent driving skills. "If there is Ma Dong-seok in <Train to Busan>, there are seven days in <Peninsula>. As director Yeon Sang-ho said, "It was lucky to have cast Lee Reh," everyone will be amazed at Ere's thrilling thrill of speedy car chasing through reckless driving. Lee Ye-won plays Eugene, who does not lose her innocence even in the ruins. Eugene, who gives a different kind of fun by dodging zombies with an RC car, evokes the atmosphere of the play every time he appears and demonstrates his presence. "I was able to freely express my emotions. I remember being surprised watching it."
The characters of Unit 631, who became wild dog hunters more dangerous than zombies, also boast a perfect casting. Kim Min-jae takes on the role of Sgt. Hwang, the platoon commander of Unit 631, who pursues Jeong-seok and Min-jeong. Sgt. Hwang is a character who stands at the heart of the tension-filled thrill of <Peninsula>. Director Yeon Sang-ho said, "I thought that Sergeant Hwang was the person who lived best in the peninsula. Actor Kim Min-jae did a good job of portraying the savage side," he explained, explaining that he created the character of Sergeant Hwang with Kim Min-jae. Sergeant Hwang's barbarism, which confines zombies and wild dogs in one space and enjoys a survival game called 'hide and seek', was completed with Kim Min-jae's dense acting. Gu Gwan-hwa, who has built up solid skills in the independent film industry, took on the role of Captain Seo, the commander who leads Unit 631. Captain Seo, who is different from the outside and inside, is a character who runs frightfully toward desire. Director Yeon Sang-ho, who was looking for an actor who could give a fresh shock, expressed satisfaction with his casting, saying, "It is difficult to imagine Captain Seo other than Koo-gwan." The audience will also be surprised by the shocking transformation of Gu Gyo-gwan, which richly expresses Captain Seo's complex emotions, going back and forth between hope and despair.
Actor Kim Do-yoon takes on the role of Goo Chul-min, Jeong-seok's brother-in-law and returning to the ruins with him. Director Yeon Sang-ho, who deeply engraved Kim Do-yoon, who performed impressively in the movie <The Wailing> and the drama [Method], said, "I wrote the character Koo Cheol-min with Kim Do-yun in mind." Gu Chul-min, who was taken to Unit 631, is a person who conveys extreme tension to the audience and is the first contributor to completing the so-called 'hide and seek' zombie run scene. As the director said, "Everything that Kim Do-yoon played was Goo Cheol-min," he conveys not only the action but also the detailed emotions of the character, and immerses the audience into the screen with his highly immersive acting.
With Dongwon Kang, Jeonghyeon Lee, Haehyo Kwon, Minjae Kim, Gwakwan Gu, Doyun Kim, Leere, and Yewon Lee complete the perfect lineup, <Peninsula> is set to hit the screens this summer with a special cast that snipes the tastes of all generations.
Director Yeon Sang-ho X <Train to Busan> crew
Bigger scale, overwhelming visuals!
A fast-paced car-chasing action never seen in a Korean movie!
The veteran staff who worked with <Train to Busan> once again joined hands with director Yeon Sang-ho. With the subject of zombies, which were unfamiliar to Korean audiences, the people who captivated 10 million viewers at once showed their know-how and skills they had accumulated over the years and returned ambitiously with fresh visuals and attractions once again.
<Peninsula> boasts a larger scale and overwhelming visuals. If <Train to Busan> takes place in a closed train, <Peninsula> is a work that depicts the struggles taking place in widely open spaces such as the city center and harbor, and the direction it should take is completely different. As PD Kim Yeon-ho said, "We didn't stay in <Train to Busan," but we tried to show something new and further. Director Yeon Sang-ho focused on the pre-production process above all else. From filming, art, special makeup, choreographers, and VFX, the veteran production team worked together to devote almost a year of time to pre-production. Director Yeon Sang-ho tried to create a familiar but never-before-seen background. The unfamiliar appearance of the peninsula that has been neglected for 4 years is realistically realized with detailed settings such as a road that has become a parking lot, a grass that has grown arbitrarily, and a boat that has washed up on land. Director Yeon Sang-ho said, "I thought it would be interesting to see the ruins of cities I was familiar with," he said, raising expectations for the visuals of the city center, which will be the main stage of <Peninsula>.
The overwhelming speed and the sense of hitting are the unique strengths of <Peninsula>, which will captivate this summer. The shooting scenes and large-scale car chasing that unfold in the background of the ruined city center are overwhelming. The thrilling chase scene, in which you break through the zombie swarms pouring out over the street, and run indefinitely, delivers action pleasure and a sight you can't take your eyes off of. Meanwhile, for four years, starving zombies have become more sensitive to light and sound. Body trainer Jeon Young said, "I showed more upgraded movements every time I met the director to challenge the zombies that went beyond <Train to Busan". A battle was predicted. Martial arts director Huh Myeong-haeng also said, "I changed the zombie action through the action using the ruins of the city's topographical features."
The world's attention is focused on the appearance of the action blockbuster <Peninsula> that will blow the summer away, from the upgraded visuals to the action and sights that the production team and actors talk about together.
[ PRODUCTION NOTE ]
Well-made production that captures spectacle and detail at the same time
Build a unique worldview with overwhelming action!
#From Incheon Port to Guro Digital Complex
A vivid depiction of a ruined city recreated after real Seoul
Convincingly depicting the land ravaged by the unprecedented disaster that swept the country four years ago was the first task of the <Peninsula> production team. The production team, who wanted to show a new visual that transcends the limits of imagination rather than simply old and messy ruins, went through a year of pre-production, and through close collaboration between the art team and the VFX team, the entire city was redrawn and <Peninsula>'s unique worldview has built
Incheon Port is the first place where Jeong-seok and his party meet for the first time after returning from an unavoidable mission. Art director Lee Mok-won, who said, "When familiar spaces change rather than unfamiliar spaces, becomes more realistic." Through the visuals of the devastated Incheon Port, the situation of the 'Peninsula' is completely isolated while losing its national function. The unfamiliar appearance of Incheon Port, where traces of natural disasters such as ships washed down over the pier and roads entangled with damaged vehicles, remain intact, shocks in itself and immediately draws the audience to the worldview of <Peninsula>.
The hideout of Unit 631, where zombies and survivors play a game of hide and seek, started from a photo of an abandoned shopping mall in Thailand. Inspired by the appearance of fish inhabiting a large shopping mall submerged in water, the production team created a large set with a two-story structure of 600 pyeong that mimics an actual large shopping mall. Although the underground road leading to the shopping mall appears briefly, 80 scrap cars and 50 tons of soil were put into the actual parking lot to completely transform it into a space that retains the signs of flooding. The production team, who needed numerous road sections for a large-scale car-chasing action across the city, took on the challenge of creating a 50-meter asphalt road in an indoor set to express the cracked and broken texture of old asphalt. In addition, he planted and managed grass himself to express the weeds that grow freely among the cracked roads, and did not miss a single detail.
Reality is further maximized by adding the touch of the top VFX team to the overwhelming scale space elaborately created by the art team. Director Yeon Sang-ho, who said, "I tried to create a familiar yet unseen background," and 250 of the country's top VFX production crews, scanned real places in the movie, such as the history of Guro Digital Complex, with 3D Riders to create a new realization of the entire city. . In addition, in order to create a high-quality visual that does not feel a sense of heterogeneity, VFX work was started from the pre-production stage, and the old textured work was added to the image of the real city to create a realistic image. The spaces in the film, meticulously completed by the art team and the VFX team, will deliver a vivid cinematic experience to the audience as if they were in the middle of a ruined land.
#gun action #one scene one cut zombie run #massive car chasing
Overwhelming scale action across the city!
IMAX, 4DX, ScreenX, 4DX SCREEN, SUPER 4D, and ATMOS were the first Korean films to be released in 6 format special theaters, and the highlight of <Peninsula> is its overwhelming and spectacular action sequence. <Peninsula>, which expands the stage from a running train to the middle of the ruined city center, presents a cool spectacle with a gigantic scale and formidable speed. In Train to Busan, where I did not know the characteristics of zombies, zombies were the object of fear to be avoided. On the other hand, as the martial arts director Huh Myung-haeng said, "We changed zombie action through action using the ruins of the city," the survivors of <Peninsula>, who perfectly understood the characteristics of zombies, were able to use all kinds of weapons and cars, including firearms. Use it to face zombies head-on. The survival action of those who relentlessly aim their guns at the rushing zombies and charge, provides intense catharsis. The so-called 'zombie run' scene in Unit 631's hideout is also a must-see point. Martial arts director Huh Myung-haeng, who said, "I wanted to give the audience the feeling of being together as if they were there," composes a one-scene, one-cut action of a breathtaking chase between survivors and zombies in a space reminiscent of the Colosseum, leading to a long breath of vitality and immersion. added the figure. A 20-minute large-scale car-chasing scene in which survivors and a swarm of zombies are chasing each other while crossing the ruined city center cannot be missed. This scene, completed in close collaboration between the filming team and the VFX team, draws attention as an all-time car chasing where the emotions of the characters reaching their climax and the dynamic sights coexist. In order to realistically embody the survivors fighting to the end to survive, the production team created a fast-paced screen by carefully calculating the changes in lighting, the position of the camera, and the speed of a moving car and the expression of the moment of collision. A super-scale action that unfolds a storm drive for survival in a vast expansive land of ruins will decorate the climax and provide an intense sense of immersion.
# Zombies that have become more sensitive to light and sound, this time it's darkness!
Shooting & lighting that enhances character and style
If <Train to Busan>, which depicts the process of spreading an unprecedented virus, showed a struggle in broad daylight, <Peninsula>, which reverses the characteristics of zombies and depicts the stories of survivors who survived in a ruined land for 4 years, is a film where the movement of zombies is minimized. Night scenes are predominant. At the request of director Yeon Sang-ho, "I wanted to make a bright and cool night scene so that the audience would not feel stuffy", director of photography Hyung-duk Lee actively utilized Day for Night shooting, which shoots night scenes during the daytime. In addition, by choosing a lens that shoots brightly even at night when there is no light, it captures the dark center of the moonlight that is bright and barely illuminates. In addition, by using lights such as RC cars and flares with colorful lights, it is possible to add diversity by contrasting various colors instead of the monotone mainly shown in apocalyptic movies. "The space in <Peninsula> was a good element to explain the characters," said cinematographer Lee Hyung-duk, who added liveliness to each space by using suitable lighting and lenses. Losing hope and captivated by madness, Unit 631's hideout captured the savagery of those who had turned into more menacing creatures than zombies by using cold, gloomy blue lighting and wide lenses that distort the image. On the other hand, Minjeong's hideout, which has not lost its love for humanity, such as helping Jeong-seok in crisis, captures a hopeful and human image with warm-colored lighting and a character-centered screen composition using a telephoto lens.
Related Videos