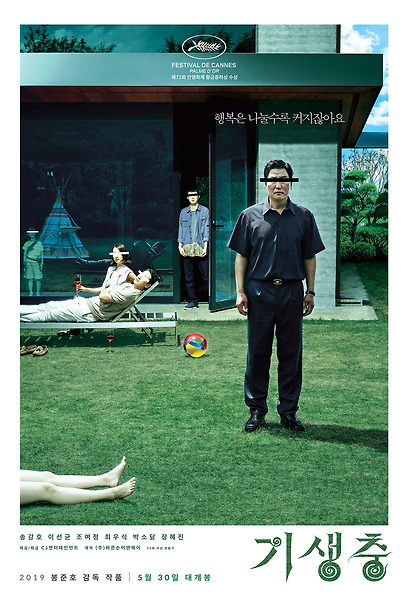 PARASITE, 2019
release

2019.05.30
genre

drama
country

Korea
ranking

Audience over 15
running time

131 minutes
grade

7.9
cumulative audience

10313163 people
Synopsis
"I didn't want to bother you"
Ki-taek (Song Kang-ho) and his family are close, but they are good friends.
The eldest son Ki-woo (Choi Woo-shik) was given a high-paying tutoring job by a friend from a prestigious university.
It is the hope of a fixed income that has just sprouted.
With the help and anticipation of the whole family, Ki-woo heads to the house of Dr. (Lee Sun-kyun).
Let's arrive at the mansion of Dr. Jang, the CEO of a global IT company.
Yeon-kyo (Jo Yeo-jeong), a young and beautiful wife, welcomes Ki-woo.
But after the meeting of the two families that started like this, an outrageous incident awaited…
[ ABOUT MOVIE ]
A fresh story created by the meeting of two families who live opposite lives.
"Can't we live well together?"
The story of people living in harsh times when it is difficult to coexist
Director Bong Joon-ho set the family members in the form of parents and children together for the first time in all his previous works in Parasite. In addition, it is a film in which the temporal and spatial characteristics of the here and now are considered the most important among director Bong Joon-ho's works. The main characters are two families who seem to be living right here and next door to us. These two families have a similarity in that they consist of four people, parents and children, but the circumstances of their lives are so polar opposites that there seems to be no meeting or connection in everyday life. However, given the situation of a 'tutorial interview', a connection is made between the two families, and an unpredictable encounter begins.
In retrospect, Bong Joon-ho's films have always been about the present age. In <Snowpiercer>, we saw the class problem of our time, which was ranked according to wealth and power, and in <Okja> there was the problem of animals suffering in the age of factory farming.
The main characters he introduced in <Parasite> are 'two families' with extreme conditions of life that seem unlikely to ever meet. The fate of two families falling into an unpredictable situation with overlapping 'clumsy intentions' and 'a few coincidences' shows a self-portrait in modern society where dreaming of symbiosis itself is gradually becoming a fantasy.
It is also worth noting that there are no villains in the movie "Parasite". The clash of two families brings laughter and sorrow to the audience by bursting into unpredictable events every time, but none of the characters in <Parasite> have evil intentions.
We always wish for win-win or symbiosis. But I also feel that it is not easy. It became irrelevant to one's will or right or wrong. Director Bong Joon-ho poses a question in his own way about 'living well together' to us living in the current capitalist society.
Comedy, suspense, and sad sympathy across the unpredictable life!
A new family comedy that is not confined to a genre <Parasite>
Director Bong Joon-ho has always received the support of critics and the love of the audience by dealing with fresh materials in an interesting and high-quality way with his own topic and style. Bong Joon-ho's original genre has been presented with satire and sharp criticism of reality and society in a new story created by imagination that is not confined to a specific genre.
The seventh feature <Parasite> presents the most unpredictable development and fun among them. Ki-taek's family, whose entire family is unemployed, is unable to pay their bills and their cell phones are cut off. However, the peaceful daily life and conversation of the family provokes laughter regardless of the seriousness of the situation. In addition, Ki-taek's eldest son and youngest daughter's aspirations, which have to pass an interview with a tutor to secure a fixed income for the family, are not a meticulous criminal conspiracy, but rather an absurd urgency to lead a normal life for the family, making people laugh.
<Parasite> is a story that revolves around two families. The unfolding of the play, in which the unreasonable hope of the Baek-soo family, who wanted to live well together, spreads out of control, conveys the tragic emotion that is a characteristic of reality and life with shock and sympathy, completing Bong Joon-ho's own family tragedy.
Song Kang-ho, Lee Sun-kyun, Cho Yeo-jeong, Choi Woo-shik, Park So-dam, Lee Jeong-eun, Jang Hye-jin
Transformation and performance of actors
An interesting ensemble of two families <Parasite>
In <Parasite>, which closely follows two families, the presence of actors who can complete unique characters was more important than anything else. In addition, since they have to play a family, the breath and ensemble between the actors who can be convinced that they are a family at a glance as much as their individual presence was a point not to be missed.
In the case of Ki-taek-ne, an unemployed family, actor Song Kang-ho for Ki-taek and Choi Woo-shik for the eldest son Ki-taek were established early from the conception stage of the movie. Director Bong Joon-ho was filming his previous work <Okja>, and thanks to actor Woo-shik Choi, he thought it would be fun to see them as a father and son. Since then, as well as acting, actress Park So-dam, who naturally creates a sibling atmosphere due to her resemblance to Choi Woo-shik, was cast as the youngest daughter Ki-jeong. As the wife of actor Song Kang-ho, Chung-suk was selected, a family was completed.
The eldest son of Ki-taek's eldest son, Ki-woo, is set to become a tutor. The father-in-law of a wealthy family is filled with actors who can express the familiar image of a rich man often seen in dramas and the feeling of a young and nice person who is very different from the chaebol family. Actor Lee Seon-gyun was cast for Dong-ik, an elite doctor who built a global IT company on his own, and actor Jo Yeo-jeong was cast for his naive and trusting wife Yeon-kyo. And Jung Ji-so will play the role of their eldest daughter Da-hye, and Jung Hyun-joon will join the family through an audition for their cute youngest son Da-song.
In this way, two different families were born with 8 actors with unique charms and solid acting skills.
<Snowpiercer> Cinematographer Hong Kyung-pyo, <Okja> Artistic Director Lee Ha-joon, Music Director Jeong Jae-il
A movie where you can meet the most dazzling present of Korean cinema!
The best staff of Korean cinema got together for <Parasite>. Director Bong Joon-ho, who worked with world-class staff and technology in his latest film, brings together 100% of the domestic staff and their talents in the movie Parasite to confirm the dazzling present of Korean cinema.
Cinematographer Hong Kyung-pyo, who created unforgettable scenes in <Mother> and <Snowpiercer>; Art director Lee Ha-joon, who has realized the golden combination of filming efficiency and mise-en-scène in <The Maid>, <The Thieves>, and <Okja>; Music director Jeong Jae-il, who has worked as a film musician and creative music artist, and created the original score for <Okja>, joined in bringing <Parasite> to the screen. In addition, costume director Choi Se-yeon, who impressively expressed the character and charm of characters in the movies <Mother>, <The Thieves>, and <Solo Battle>, and actresses such as <Snowpiercer>, <The Black Priests>, <The Secret Service>, and <The Wailing> Make-up director Kim Seo-young, who helped them find the face of a new character, also contributed. As such, the top-notch staff in Korea, who created good chemistry and synergy in director Bong Joon-ho's previous work, once again worked with director Bong Joon-ho to achieve the dazzling quality and delicate perfection of <Parasite>.
[ PRODUCTION NOTE ]
From the house of Ki-taek, a semi-basement unemployed, to the house of the doctor on the hill!
A production design that captures the living space of two extreme families!
The space unfolded in <Parasite> is directly related to the story of the film. The production of <Parasite>, which uses both a location and an actual open set at the same time, starts from the semi-basement house, the home of Ki-taek's family, and reaches the house of Dr. This vertical structure, which is also Ki-woo's private tutoring interview, represents the social position of the two families. Therefore, the stairs that Ki-Woo climbs while going for an interview and the stairs that he has to descend to reach the semi-basement house go beyond the role of connecting space and function as a metaphor for the vertical order of modern society.
The plot of the house, which takes place more than 60% of the time, was built by a famous architect, so it had to be an architecture that reflected taste and artistic insight. In particular, the unique structure of this house, which seems to reveal a new secret every time you turn a corner, was something that director Bong Joon-ho ordered before writing the screenplay. It had to have a multi-layered structure where the characters met and disconnected while being seen as a natural and beautiful living space for the audience.
The spaces of <Parasite>, completed through the contrast between the two houses, the reality of each space, and many details that contain the message of the film, convincingly show the background of the lives of two families living in the same time but seemingly unrelated. And it provides an excellent reason for the secrets and events that are revealed along the character's movement.
Related Videos