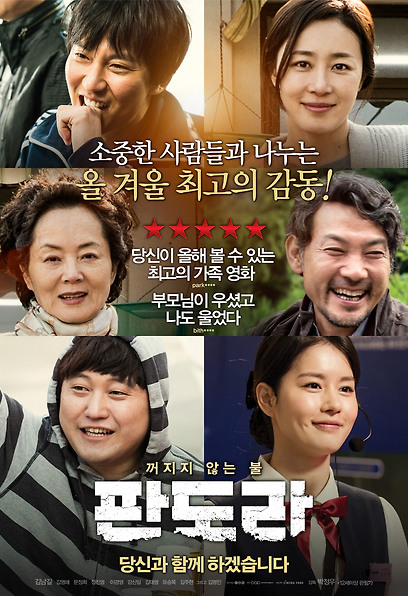 Pandora, 2016
release

2016.12.07
genre

Drama/Thriller
country

Korea
ranking

Audience over 12 years old
running time

136 minutes
grade

7.7
cumulative audience

4585116 people
Synopsis
Korea is in danger!
The Korean Peninsula is engulfed in chaos in the face of an unprecedented disaster that has come without notice, from the largest earthquake in history to a nuclear explosion, and even the control tower that we believed in shakes without mercy.
The fear of a radiation leak gradually reaches its peak, and in order to prevent the risk of a second explosion that will cause the worst, 'Jae-hyeok', a power plant employee, and his colleagues start a life-threatening battle… !
[ ABOUT MOVIE ]
01.
A mega-disaster blockbuster following <Train to Busan>!
Korea's first nuclear disaster that no one has ever experienced!
A huge scale that overwhelms everything, a story full of tension!
The movie <Pandora> is a work depicting the struggle of ordinary people to prevent the worst from the unprecedented disaster in Korea, from the largest earthquake in history to the nuclear accident that threatens the Korean Peninsula. It is the first disaster blockbuster with a nuclear power plant as a material, and it contains an urgent story, a super-large scale, and hot emotion and humanism. 2016 was a year in which disaster blockbuster performances were more prominent than ever before, with <Train to Busan> with 10 million viewers and <Tunnel> with 7 million viewers. <Pandora> is considered a film that will decorate the end of the 2016 mega-disaster blockbuster with a differentiated material.
The title <Pandora> is based on the story of 'Pandora' in Greek mythology, who opened a box that should not have been opened and brought disaster to mankind. The movie raises expectations as a mega-disaster blockbuster by injecting new imagination into the subject of a nuclear power plant, which can cause unprecedented disasters like the story of a myth. It also contains a hopeful message that overlaps with the ending of the mythical 'Pandora' through the stories of ordinary people and families struggling to prevent the worst. In particular, in the midst of an active national discussion on the management of nuclear power plants, which had been dormant due to several earthquakes in Gyeongju in September last year, <Pandora> is a work that will arouse interest in nuclear power in our society. is attracting attention. Director Park Jung-woo, who was in charge of directing, said, "I hope that our film will be of some help in making a better world to live in."
In addition, <Pandora> was unanimously passed during the scenario review stage within the distribution company, drawing public attention even before production. Director Park Jung-woo said, "I think it's worthwhile to think of yourself as proud in that a movie dealing with such a story and scale can be made in Korea."
02.
<Pirate: The Bandit Who Goes to the Sea> <The Shameless> Kim Nam-gil's new transformation!
Kim Young-ae, Moon Jeong-hee, Jung Jin-young, Lee Kyung-young, Kim Dae-myung and Kim Myung-min!
Actors who believe and see in Chungmuro are all out!
<Pandora> is expected to present an outstanding ensemble with the actors who believe and see in Chungmuro. First, Kim Nam-gil takes on the role of 'Jae-hyuk', a power plant worker who fights disasters to save his family. Kim Nam-gil, who proved his ticket power through <Pirates: The Bandit Who Went to the Sea>, which mobilized 8.66 million viewers, and was nominated for the Best Actor Award at the 24th Buil Film Awards for <The Shameless>, was also recognized for his acting skills. He tried a new acting transformation into the role of a power plant worker who experiences an unprecedented disaster. Kim Nam-gil, who revealed the motivation for participating in the film, said, "The scenario itself was very interesting and the story about nuclear power plants came to me very attractive." He also showed a special affection for the film.
Kim Young-ae, who became a top 10 million actress with <The Attorney> in 2013, will take on the role of Jae-hyeok's mother, 'Mrs. He kept his pride as a luxury actor by renewing his life's performance once again by performing brilliant acting in the midst of the disaster of Abi Gyu-hwan. Expectations for Moon Jung-hee, who worked with director Park Jung-woo for the second time after <Love Poem>, are also exceptional. Moon Jeong-hee, who was recognized for her acting skills by winning the Special Jury Prize at the 34th Golden Photography Awards for her overwhelming performance in <Hide and Seek>, presents a rich emotional performance as 'Jeong-hye', raising a young son alone. Luxury actor Jung Jin-young, who appeared in three 10 million films with <The King's Man>, <The Gift of Room 7>, and <International Market>, will play the role of 'Pyong-seop', a power plant manager who struggles to prevent disasters. am. Jung Jin-young said, "I read the scenario and got excited. It seemed like it would be the movie of my life."
Here in Chungmuro, Lee Kyung-young is a prime minister who wants to control the young president, showing his unique charisma, and Kim Dae-myeong, who is attracting the audience's attention as the protagonist of the topical drama [Misaeng], Jae-hyuk runs into a dangerous disaster scene to save his colleagues. He plays the role of 'Gil-seop', his friend. Kim Joo-hyeon, a promising newcomer from Chungmuro, plays the role of Jae-hyeok's girlfriend, Yeon-ju, an employee of the power plant publicity center. Lastly, Kim Myung-min, a leading actor in Korea, made a special appearance in this work because of her relationship with director Park Jung-woo in <Love Song>. Kim Myung-min appears as a young president who is confused in the face of an unprecedented disaster, building a powerful lineup of <Pandora>, making the actors anticipate the synergy of acting.
03.
<Sonata Poetry> Directed and written by Park Jung-woo!
Thorough preliminary research and 4 years of production period!
<Veteran>, <Train to Busan>, <Attorney> staff participated! High-quality production and CG implementation!
Director Park Jung-woo, who is considered a representative storyteller in Chungmuro, won the Best Screenplay Award at the 23rd Blue Dragon Film Awards for <Liberation Day Special Envoy> and the Screenplay Award at the 39th Baeksang Arts Awards for <Turn on the Radio>. He created a box office syndrome with the disaster movie <Sonata>. Through this <Pandora>, director Park Jung-woo will be the first in Korea to direct and write a screenplay based on a nuclear power plant, and will show the true face of a director optimized for a disaster blockbuster with a screen full of sense of urgency and scale that was not seen in Korea. Director Park Jung-woo said, "It is not an exaggeration to say that this is a film made by consolidating everything that I have learned and experienced over the past years. It is a film that has a different meaning from the films that many people who participated in the film have done in the past," he said.
Director Park Jung-woo and the production team worked hard to maximize the reality of the film from the planning stage. During the four-year production period, the production team conducted a comprehensive research on nuclear power-related books as well as novels, films, and TV documentaries. In particular, in order to examine the complex interior of the nuclear power plant, which is not open to the public, the production team directly went to the Philippines to visit the Bataan Nuclear Power Plant, which was developed as a tourist destination, to observe the internal system of the power plant in detail and collect related data. A lot of effort was put into building it.
In addition, this work includes cinematographer Choi Young-hwan of 2015's top-grossing film <Veteran>, VFX supervisor Lee Seong-gyu in charge of visual effects for <Train to Busan>, and music director Cho Young-wook of <The Attorney>. Together, they present a high-quality production. In particular, in order to realize the overwhelming scale of the unprecedented nationwide disaster situation and the huge and complex nuclear power plant facility on the screen, more than 1,300 scenes out of 2,400 shots were worked with cutting-edge CG technology. From the nuclear power plant explosion scene to the pipe and screw, the visual effects team paid close attention to the visualization work that took place over a year of post-production to perfect the visual. Producer Baek Kyung-sook, who oversaw the production, said, "I am confident in everything. Basically, the story has a solid storyline, and there is interest and emotion. Seen on the screen, the scale and tension, as well as the actors' passionate performances, are so good," he said, expressing his strong confidence in the film.
04.
The first Korean movie ever signed for worldwide distribution on Netflix! Published in over 190 countries around the world
A mega-disaster blockbuster that drew attention from all over the world
Foreign buyers pay attention to the first nuclear power plant material in Korea!
<Pandora>, which is expected to be a mega-disaster blockbuster that will decorate the end of this year, was also held at the 21st Busan International Film Festival Asian Film Market held in October, with a tense story, extra-large scale, and high-quality production. paid In particular, it drew attention by signing a worldwide distribution contract with Netflix, the world's largest content platform. Netflix is a global platform that distributes various contents such as movies and dramas and is serviced in more than 190 countries around the world. <Pandora> is the first time in history that Netflix has purchased the overseas rights of a completed Korean movie in advance and decided to distribute it worldwide. <Pandora> will be serviced worldwide through Netflix after its domestic theatrical release.
"We are very pleased to be able to present high-quality Korean movies like <Pandora> to Netflix subscribers," said Robert Roy, vice president of content licensing at Netflix. What is more noteworthy here is that Netflix decided to pre-purchase only the highlight video of <Pandora>. It is said that the fact that it can appeal to global audiences and gain sympathy as it is a disaster movie based on a nuclear power plant played a major role in deciding to purchase in advance. Accordingly, it is reported that <Pandora> is expected to be a 'second train to Busan' and is expecting a worldwide box office hit.
[ PRODUCTION NOTE ]
01.
800 pieces of concept art, production period of 4 months, a nuclear power plant with a set area of 5,000 pyeong
Seoul, Gyeonggi, Gangwon, Chungcheong, Jeolla, Gyeongsang! A location that traverses the whole country with a total travel distance of 6,100 km!
Thorough preparation and production of overwhelming scale!
As <Pandora> is the first in Korea to deal with a nuclear disaster, director Park Jung-woo and the production team conducted a variety of data research and preliminary research. I searched for movies about disasters around the world, and reviewed as many references as possible through videos and specialized books on nuclear power plants in the scientific field. In particular, we tried hard to realistically realize the complex and specialized spaces inside the nuclear power plant that had never been disclosed to the audience vividly. It was difficult. Accordingly, the production team paid attention to data research, including visiting the 'Bataan Nuclear Power Plant' in the Philippines, which is preserved in a state that is almost similar to the model of a nuclear power plant in Korea. Director Park Jung-woo, who was in charge of directing, said, "The biggest core of a disaster movie is 'realism'. For this, both the staff and actors studied a lot in advance, and they did not miss what they were trying to express in a realistic way."
The art team worked on 800 drawings from rough sketches to concept art for realistic implementation of several sets, including the nuclear power plant in <Pandora>. paid After that, it went through a process of simulating with 3D images so that all teams from filming, CG, and set production could work together in one big picture. This was a particularly necessary process for <Pandora>, because not all scenes in the movie could be completed as a result of one team. In order to understand the angle of the angle and the pros and cons of CG to be applied in one space, and to make a more detailed work in the process of realizing it, a careful check was carried out through simulation. After a long period of pre-location, a huge nuclear power plant with a size of 5,000 pyeong was completed in Chuncheon, Gangwon-do, after four production periods. In addition, a realistic and scalable production was completed with locations covering a total travel distance of 6,100 km from Seoul to Gyeonggi, Gangwon, Chungcheong, Jeolla, and Gyeongsang, such as the quarantine camp, Cheongwadae, and Wolchon-ri village that appear in the background of the movie. Art director Kang Seung-yong said, "Pandora has a lot of space and places, and it moved a lot over the distance, and everything was a new experience and an unknown world. To overcome that limit, the staff put all their efforts and passion into it, so I think it will be able to shine."
02.
Of the total 2,419 cuts, only 1,322 cuts for CG work!
Unprecedented CG work that embodies the nuclear disaster for the first time in Korean film history
In order to realistically embody the unprecedented disaster of a nuclear power plant explosion, the production team of <Pandora> put a lot of effort into each scene. In particular, it required a lot of manpower and technical skills to create scenes with little visual reference, such as the nuclear power generation process, explosion accidents, and melting nuclear scenes. Director Lee Seong-gyu, who was in charge of CG, said, "Because of the background of a nuclear power plant, CG work was carried out in a variety of scenes and various elements. He said, "I invested close to two years in the CG part, not only in post-production, but also in the material research process and filming process, proposing solutions on how to implement them."
Of the total 2,419 cuts of <Pandora>, 1,322 cuts are CG work, which is a high proportion of 60% of the movie. Producer Baek Kyung-sook said, "Compared to other films, it can be said that the volume is huge. In particular, it was a very time-consuming task to create places that I had never been to before." The production team created everything from CG to small props such as a pipe inside the power plant and a screw fragment, and the scenes after the explosion of the power plant, an important event in the movie, went through many simulations and tests. In addition, a lot of effort was put in to create these simulations on a scientific basis because the development process of the existing energy called nuclear energy and the probability of a problem occurring in the nuclear energy should match.
CG director Lee Seong-gyu said, "Pandora was a new challenge in terms of visual and technical aspects, and it is not a simple 3D work used in existing Korean films, but contains a lot of technology from various elements. It can be said that it is a very advanced work," he explained, adding, "I think it can be of great significance to the fact that the subject matter of this film can be realistically expressed and aroused a good social awareness." revealed The visual beauty created through the hard work of the producers and high-quality CG work raises expectations for the high level of perfection of the film.
Related Videos